As the COVID-19 pandemic wreaked its devastating impact on our world this year, hundreds of thousands of people turned to pets to support their emotional and physical well-being as they struggled to cope. To ensure that pet owners were able to continue to care for their beloved companions, and that they knew the latest information about pets and the virus, the Pet Industry Joint Advisory Council (PIJAC) and our association partners took the lead on a number of efforts to educate the public and engage with lawmakers.  
But the important work to build relationships on Capitol Hill didn't start with our response to the COVID-19 crisis. For the past two years, PIJAC has hosted an annual Pet Care Community DC Fly-In, bringing the responsible pet care community together to carry the message of the power of pets to lawmakers in Congress. In 2020, on Sept. 9, we will again host this important event, but this year, it will be virtual.  
The conversion to a virtual, online event was the best way to keep pets and pet care front-of-mind with lawmakers, while also protecting human health and doing our part to mitigate the spread of COVID-19. You will still bring your stories and messages to members of Congress and their staffs, but it will be via video monitors, and from the safety of your home, office, store or another safe, socially distanced location. 
It's never been more important to ensure that the lawmakers who are making decisions on issues that could significantly impact your business—including trade tariffs, animal importation, environmental policies and more—hear your voice. And it's never been easier for you to participate, as this year, you can do it by video. You don't have to incur travel expenses or leave your community, and it will only take a few hours—not days—away from your business.  
During past fly-ins, participants have advocated for important legislation, including the Pet and Women Safety Act (PAWS) and the Puppies Assisting Wounded Servicemembers Act (also PAWS). In 2020, we will again focus on a few key issues, including protecting public health through animal importation regulation and oversight, and the importance of continued support and funding for both PAWS Acts. 
We will start the day with online guest speakers and advocacy training before beginning video meetings with members of Congress or their staffs. You'll get updates on political, regulatory and legislative developments and how they could affect you and your business, and other information on the role and value of pet ownership in America. 
There is no cost to participate in the virtual fly-in, and PIJAC does all the preparation work. We schedule the meetings, give you talking points on the issues and create the materials for you to send to lawmakers electronically. 
Another change for 2020 is that the annual Pet Night on Capitol Hill reception is now Pet Week on Capitol Hill, and it will be held online over three days, Sept. 8-10. Hosted by the Human Animal Bond Research Institute (HABRI), the new format will feature members of Congress, industry leaders, the veterinary community, animal welfare advocates and research organizations. Topics include the importance of pet ownership in the United States and the scientific evidence that shows how policies that strengthen the human-animal bond can improve well-being for both people and companion animals. Pet Week news updates are available at petnight.com.
Registration links for both the 2020 Pet Care Community DC Fly-In and Pet Week on Capitol Hill is available here. It's never been easier for you to show our country's lawmakers the real power of pets, and make our issues relevant through sharing your stories of who you are, what you do, and how local, state and federal laws affect you, your family, your business and your community. 
Don't forget that PIJAC serves as the legislative and regulatory voice of the responsible pet care community year-round, and can help you advocate for your interests with all levels of government. You can actively support our work to protect and strengthen the pet care community by becoming a PIJAC member here.  
We hope to see you online for the 2020 Pet Care Community Virtual DC Fly-in.
---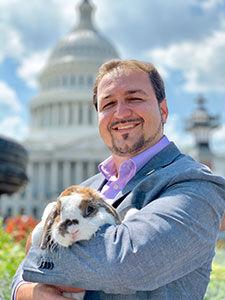 Mike Bober is president and CEO of the Pet Industry Joint Advisory Council (PIJAC).