How's the U.S. pet industry doing? From a macro perspective, the short answer is: pretty darn well given the market's size and maturity. But drilling down, the response is more complex and dependent upon who's being asked. 
Marketers of grain-free pet food or pig ear treats likely have a different take than marketers of cannabidiol (CBD)-based pet supplements and treats; privately owned veterinary clinics probably do not share the outlook of Mars Petcare (Banfield, VCA, et al.) or developers of apps connecting pet owners with pet care service providers; and independent pet specialty retailers definitely are not of the same mind as Chewy or big-box brick-and-mortar stores better able to roll with the e-commerce punches. 
Industry performance also varies by classification, with sales growth of veterinary and nonmedical pet care services outpacing that of pet food and nonfood pet supplies. At the same time, due in large part to e-commerce and IT, the products and services areas of the business are overlapping like never before, with, for example, marketers and retailers advancing into veterinary and other pet care services in order to defend their brick-and-mortar business. Across all areas of the market, premiumization and humanization continue to bolster dollar growth, but both trends are less potent than in years past because they are par for the course, and all the more so now that superpremium/natural pet food has crossed the pet specialty/mass-market Rubicon. 
The biggest drag on the industry is slow growth in pet ownership. Even with millennials picking up some of the slack left by the aging baby boomer population, advances in the number of new pets and new pet households have been minimal and are expected to slow from 1.1 percent for dogs and 1 percent for cats in 2019 to 0.9 percent for dogs and cats alike in 2023.
All in all, the U.S. pet industry—including food and nonfood products and veterinary and nonmedical pet care services—racked up sales of $90.1 billion in 2018 and is projected to grow 4.3 percent in 2019, placing the market just north of $94 billion. Vis-à-vis other long-established consumer packaged goods categories, this rate of growth is impressive. But it is lower than the 4.9 percent compound annual growth rate of 2013-2018 and higher than the projected 4 percent compound annual growth rate for 2018-2023. As in years past, pet food continues to account for the largest share of sales, at 38 percent, followed by veterinary services, pet supplies and nonmedical pet care services.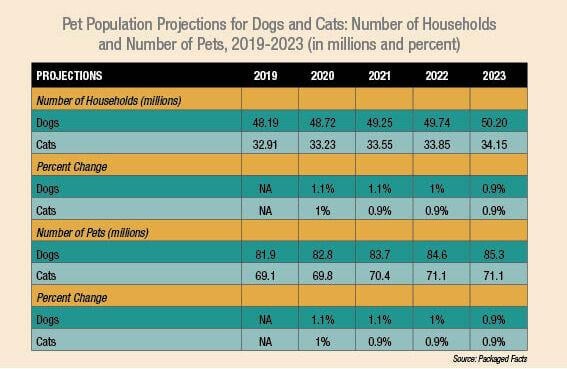 E-commerce Reshaping the Industry
E-commerce continues to impact every area of the U.S. pet industry, products and services alike. U.S. retail sales of pet food and treats and nonfood pet products totaled $52 billion in 2018, up 4 percent over 2017, and they are projected at almost $54 billion in 2019. E-commerce has been making enormous strides and will rise from 20 percent of pet product sales in 2019 to 26 percent in 2023, driven in large part by Chewy and Amazon, which together account for approximately three-quarters of online sales. Although some of this growth is incremental, the brick-and-mortar side of the business is expected to lose market share during the 2019-2023 period, with pet specialty (including chains and independents) slipping from 29 percent to 25 percent, a loss exacerbated by the ubiquity of superpremium pet food online and in mass channels. In addition, with marketers directing more of their energy into e-commerce and pet product shoppers migrating online, big-box retailers have had little choice but to embrace e-commerce themselves at the potential expense of their own brick-and-mortar sales. Rife with opportunities though it may be, e-commerce puts aggressive price pressure on brick-and-mortar retailers, marketers and service providers as traditional retail boundaries dissolve and lower-cost options proliferate online and in-store. 

Pet Food Sales Moderating Due to Multiple Challenges
The largest pet industry classification, pet food and treats, grew 4.3 percent in 2018 to reach $34.5 billion. For the past few years, the business has gotten a shot in the arm from the grain-free craze, which helped lift annual sales growth from 2.4 percent in 2014 to 5 percent in 2017. In 2018, however, sales growth started to slow, a moderation expected to continue through 2023. During the 2018-2023 period, pet food is projected to register a compound annual growth rate of just 2.6 percent, the lowest of the four industry classifications. 
More than any other area of the pet business, e-commerce has been taking a toll on pet food dollar growth by breaking down the pet specialty/mass divide and making most brands available at lower prices, through auto-replenishment programs, and with free shipping and convenient home delivery. E-commerce is also a factor in the mass-market entry of brands such as Nutro and Blue, forcing them to seek growth beyond pet specialty. The pet specialty defection of brands like these has had a domino effect, spurring names including Champion (Acana and Orijen), Tiki, Weruva and Taste of the Wild to expand their "pet specialty exclusive" distribution from independents into chains.
Also dampening pet food sales is the ongoing controversy about the possible link between grain-free diets and canine dilated cardiomyopathy (DCM). Although the U.S. Food & Drug Administration (FDA) has yet to establish causality, its cautionary announcements generated much concern in the pet food market, which has been a grain-free bonanza for several years. The media attention generated by the FDA's warnings and conflicting responses from pet food marketers and veterinarians have created uncertainty among pet owners and retailers to such a degree that marketers are promoting new "grain inclusive" formulations. In addition, the human and pet health threats posed by foreign-sourced treats and chews continue to cast a cloud over the treats segment, with recent FDA warnings about pig ears centering on products sourced from South America.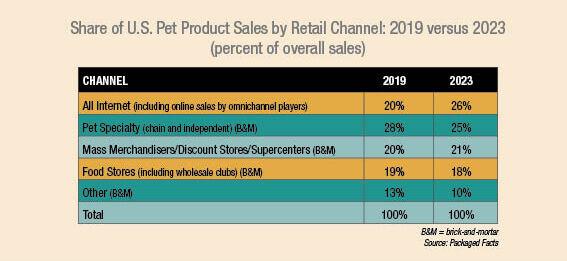 Nonfood Pet Products Benefiting from E-commerce and IT
Far broader than the pet food business, nonfood pet supplies encompass more than a dozen product categories including flea/tick products, dog chews, cat litter, toys, collars and leashes, bedding, carriers and crates, housing, feeding and watering devices, litterboxes and accessories, clean-up products, nutritional supplements and apparel. In 2018, sales grew 3.2 percent to reach $17.5 billion, with the same rate of growth expected for 2019. 
When it comes to pet industry e-commerce, pet food has gotten most of the attention during the past few years as only fairly recently have e-tailers and marketers figured out how to turn a profit while integrating the shipping costs of heavy items. E-commerce penetration is, however, a good deal deeper on the nonfood side, accounting for 21 percent of nonfood pet supplies sales in 2018 compared with 17 percent for pet food. Years before pet food players mastered the art of selling online, sellers of nonfood pet products had gone all in, a head start owing to a vast range of products that are less expensive to ship and to scores of marketers selling directly to the consumer as well as through third-party e-tailers. With the online pet food boom, nonfood pet supplies are feeling a positive ripple effect and tapping in to the lucrative business of subscriptions, including for high-tech monitoring products that connect pet owners with their pets and with pet care service providers.
During the past few years, the most dramatic pet product marketer acquisitions have occurred on the food side of the business. But nonfood pet supplies have seen their fair share of investment and mergers and acquisitions activity, underscoring two trends. First is intense interest in technological innovation. Second is high-level cross-over movement as powerful pet food marketers invest more heavily in the nonfood side of the business. Major pet food companies including Hill's, Mars and Nestlé Purina are acquiring groundbreaking health-related products and technologies and funding promising startups. For example, in October 2018, Hill's acquired Vetrax wearable pet monitoring technology from AgLogica (AGL), and, in March 2018, Mars launched its own venture fund to back pet tech products and services.
Health and Wellness Trend Bodes Well for Veterinary Services
Not surprisingly given the pet industry's overarching focus on health and wellness, the outlook for the veterinary business is bright. During 2018, sales of veterinary services rose nearly 6 percent to reach $28.5 billion, and sales are forecast to grow 5.7 percent in 2019 to $30 billion. During the 2018-2023 period, veterinary services are expected to register a compound annual growth rate of 5.3 percent, compared with 2.6 percent for pet food and 3.1 percent for nonfood pet supplies. As of fall 2019, three trends are reshaping the veterinary business:
App- and cloud-based technologies connecting pet owners with veterinarians online and affording easier access to pet health information, as with Petco's PetCoach platform and Vet24seven's AskVet platform.
Consolidation via mergers and acquisitions, such as the merger of Henry Schein's animal health business with Vets First Choice and the acquisition of VCA by Mars. Brakke Consulting senior consultant John Volk predicts that 25 percent of veterinary practices—representing half of all veterinary visits—will be corporately owned by 2023, with contributing factors including mass veterinarian retirement, fewer veterinarians wanting to run their own practices and strong interest among investors (Veterinary Practice News, Aug. 17, 2018).
Expansion of veterinary services by major retailers, as with Petco's addition of Thrive full-service animal hospitals in Petco stores and launch of PetCoach clinics, and Walmart's addition of in-store vet clinics via multiple partners including PetIQ.
When it comes to product sales, e-commerce is taking an especially heavy toll on the brick-and-mortar vet channel as more pet owners purchase pet supplies and fill prescriptions online. In July 2018, PetSmart's Chewy.com introduced Chewy Pharmacy, a one-stop online pharmacy for prescription pet medications, and, in May 2019, Walmart launched WalmartPetRx.com, "making it easier than ever to access quality pet care at great prices." In order to remain relevant as product sellers, more veterinarians are competing online themselves with the help of third-party outfits such as Vets First Choice, which creates online pharmacies for veterinarians.
Nonmedical Pet Care Services Out Front in Market Growth
For the past few years, nonmedical pet care services have been the fastest-growing pet industry classification, up 6.5 percent in 2018 to reach $9.7 billion and registering a 6.7 percent compound annual growth rate during the 2013-2018 period. The market comprises several types of pet care services, with boarding and grooming each at about a third of the market, and other services including pet insurance, pet sitting and walking, pet waste removal and bereavement. 
Despite the massive and ongoing inroads made by PetSmart, Petco and other pet chains, the nonmedical pet care services business remains a mostly local or regional one. The large majority of participants are single-outlet sole proprietorships, many of which have developed a long-standing rapport with their neighborhood clients.
As in nonfood pet supplies, "tech" is the watchword in pet care services. Mars' new Companion Fund, launched in March 2018, is looking to back pet-tech startups including service providers. During 2018, both of the leading app-based pet care service providers—Rover and Wag!—completed major funding rounds. And Nestlé Purina's 2018 Pet Care Innovation Prize went to Barkly Pets, whose dog walking app is "designed to simplify everyday and essential pet care needs with services available to users 365 days a year in 60 minutes notice or less."
For years to come, pet care services will continue to benefit from pet owners' increasingly direct involvement with the health of their pets, the millennial boom, urbanization, and the graying populations of pets and people, as well as the higher-income households driving much of the discretionary spending in the U.S. pet market overall. Also helping the market to advance will be additional venture capital investment, particularly in the areas of tech-based outfits fielding app-based pet care service provider locators, and "smart" products connecting pet owners with veterinarians and other pet care service providers.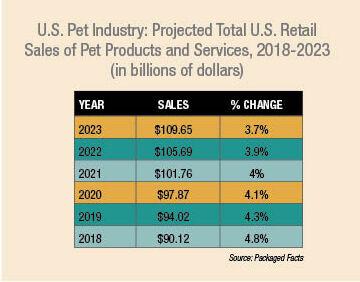 A $110 Billion Business by 2023
Taking a step back, the performance of the U.S. pet industry over the past 10 years has been pretty amazing, including positive growth during the Great Recession of 2007-2008. And despite headwinds including slow growth in the pet population, the price pressures of e-commerce, and safety concerns surrounding grain-free pet food and imported pet treats, the outlook remains positive. Based on a projected compound annual growth rate of 4 percent for the 2018-2023 period, sales are forecast to reach nearly $110 billion in 2023.
The biggest X factor is the U.S. economy, which has been on a healthy growth path for several years. As of fall/winter 2019, record low unemployment signals strength. On the other hand, the U.S. deficit is about to exceed $1 trillion, the GDP is forecast to slow from 3 percent in 2018 to 2.1 percent in 2019, and the stock market has been gyrating due to the trade war with China. Political turbulence is seldom a harbinger of economic prosperity, and with President Trump facing possible impeachment for soliciting foreign interference in the 2020 U.S. presidential election, America's in for a bumpy ride.
Even if the economy remains strong, the slowing rate of growth in the U.S. pet industry signals that the market gains of one player will be increasingly at the expense of another, making it all the more essential to capitalize on opportunities as they emerge. Often crossing over from the human side, novel and functional ingredients can be big winners as evidenced by the CBD boom in pet chews and supplements, based on CBD's purported ability to alleviate anxiety, stress, pain and allergies. Perennial winning pet market appeals include health and wellness, products combining function and pampering, product safety and transparency themes, including made in the USA and sourced in the USA, pet food that is fresh and composed of natural ingredients, and pets as family members deserving the same level of care we give ourselves and rewarding us many times over with enhanced physical and mental health.
---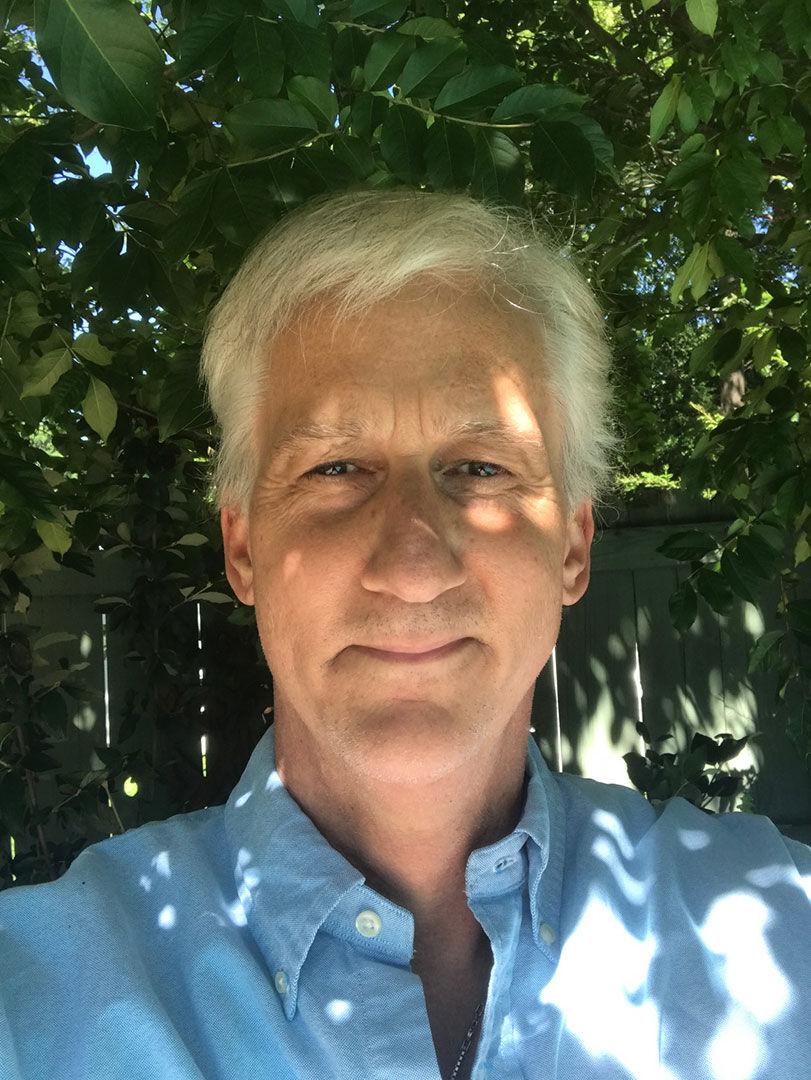 David Lummis is the lead pet-market analyst for Packaged Facts, a division of MarketResearch.com. The statistics and projections cited here are drawn from Packaged Facts' Knowledge Center database of pet industry historical statistics and projections, Packaged Facts quarterly Surveys of Pet Owners, and Packaged Facts reports including Packaged Facts' annual U.S. Pet Market Outlook and U.S. Pet Market Focus: New Dog and Cat Owners.