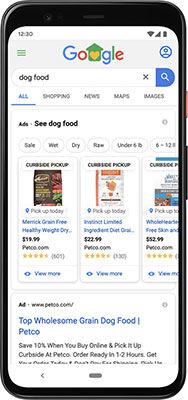 Petco has begun using Google's new
local inventory curbside pickup badge
to highlight the products it has available for store pickup. The feature, announced by Google in early May, was created in the wake of the COVID-19 pandemic.
"In today's rapidly changing environment, people are looking for real-time updates when it comes to store information and product availability," Google officials said in a statement. "Searches for 'in-stock' grew more than 70 percent globally from the week of March 28 to April 4, as consumers sought to avoid e-commerce shipping delays."
Petco is using the curbside pickup badge to highlight contactless pickup availability on essential products like pet food and supplies that are available nearby for same-day or next-day pickup, officials said.
"As a trusted partner in caring for the overall health and wellness of pets, we're committed to ensuring pet parents have the essential products they need during this time," Jay Altschuler, Petco's vice president of media transformation, told Google. "To make shopping easier and safer for both pet parents and our own employees, we've proudly made a number of changes including launching curbside pickup at most Petco stores nationwide."
The new feature, which is currently in beta, is available to advertisers who have completed the onboarding for store pickup. Currently, the feature is available in the United States, Australia, Austria, Brazil, Canada, Denmark, France, Germany, Japan, Netherlands, Norway, Sweden, Switzerland and the United Kingdom.