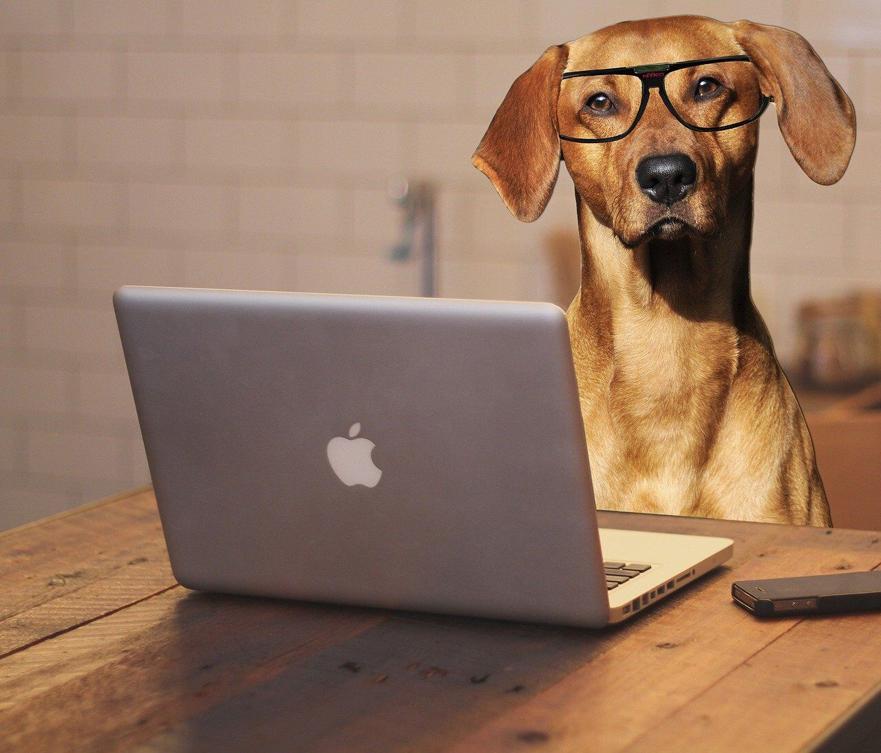 For more than 20 years, pet lovers have celebrated Take Your Dog to Work Day, bringing their dogs to their place of employment. The event was created by Pet Sitters International (PSI) in 1999 to celebrate dogs and promote pet adoptions. Each year, PSI has encouraged employers across the United States and Canada—and around the globe—to open their doors to employees' dogs for one fun summer Friday.
However, in light of the COVID-19 pandemic, PSI has spruced things up a bit to match the times. Pet lovers and businesses are encouraged to host virtual celebrations this year on the big day, June 26.
"While Take Your Dog to Work Day traditionally offers a fun opportunity to have dogs at work, its purpose since the inaugural celebration has always been to celebrate dogs and encourage pet adoptions," said Patti Moran, CEO of PSI. "With creativity and technology, participating companies can still achieve that."
PSI officials offered several celebration ideas:
Invite employees' dogs to a virtual staff meeting. "While co-workers can't meet one another's dogs face-to-face at the office, seeing their canine co-workers on the screen during a virtual meeting will be a morale booster," officials said.
Share photos of employees' dogs on the company's blog or social media sites. "Encourage employees to submit photos of their dogs in their home office and post on the company blog or social media pages to celebrate the important role dogs (or other pets) play in the lives of employees," officials added.
Invite a local animal shelter or pet rescue to virtually introduce adoptable pets to staff. "The goal of Take Your Dog to Work Day is to promote pet adoptions," officials said. "Whether inviting a local pet-rescue organization to attend a staff Zoom meeting to introduce pets available for adoption or sending photos of adoptable pets through a company email, participating businesses can help pets find their forever homes."
Host a virtual lunch and learn with a pet care expert. "Invite a veterinarian, professional pet sitter or other pet care professional to speak on an important pet care topic, such as pet first aid or helping pets deal with separation anxiety post-pandemic," officials said. "Businesses could host this talk through Zoom, Microsoft Teams or another virtual meeting platform for staff."
Participating companies with staff back at work can plan celebrations such as a dog photo contest or "doggy bag" lunches for staff to adhere to social distancing guidelines, officials further noted.
The week leading up to the event, June 22-26, is Take Your Pet to Work Week, with Take Your Cat to Work Day celebrated on June 22. PSI officials said that they feel this year's virtual celebrations will allow participants to include cats and other pet types easier than ever before.
"Now, perhaps more than ever, employees need the joy that Take Your Dog to Work Day, Take Your Cat to Work Day and Take Your Pet to Work Week bring," said Beth Stultz-Hairston, president and event spokesperson of PSI. "While it may not be possible to have dogs or other pets at work this year, companies can still celebrate the day and boost employee morale with alternate celebrations."
PSI will be hosting its 2020 Take Your Dog to Work Day Photo Contest on the Take Your Dog to Work Day Facebook and Instagram accounts. Participants are encouraged to upload photos of their dogs—or other pets—working with them remotely and tag Take Your Dog to Work Day and Pet Sitters International in the post, June 22-26. PSI will select a winning photo each day and donate $100 to the animal shelter or pet-rescue group of the winner's choice.
For additional details, click here.