In the first half of 2020, with the COVID sky coming down, who would have thought the U.S. pet industry would have its best year ever? During the "year of the pandemic," the business as a whole grew by more than $9 billion, with the annual percentage gain edging over 9 percent compared with the 4 percent to 6 percent per-year growth of previous decades. In Packaged Facts' February 2021 Survey of Pet Owners, across all four pet industry product and service sectors, a higher—and in most cases dramatically higher—percentage of pet owners reported spending more on their pets in 2020 as opposed to less, with 35 percent increasing spending and just 7 percent decreasing spending. The gap was widest for pet food, at 29 percent increasing versus 5 percent decreasing, and impressive as well for non-food pet supplies (22 percent versus 8 percent) and veterinary services (25 percent versus 10 percent). Even non-medical pet services, hard hit by the travel bust and at-home sheltering, saw slightly more pet owners spending more (14 percent) rather than less (11 percent).
The banner year has been widely and rightly attributed to the behaviors of homebound humans, who took in millions of dogs, cats, and other animals during the health crisis and allocated more time and money to pet health and pampering as a function of being in closer contact with their furry, feathery and scaly friends. Also doing much to keep the pet dollars flowing was the accelerated migration of shoppers online, where they were energetically received not just by Amazon and Chewy, but by brick-and-mortar-based operators implementing curbside and virtual accommodations.
With the health crisis receding, the question is which of these pandemic-propelled trends are likely to stick, so here are a few quick looks into the crystal ball: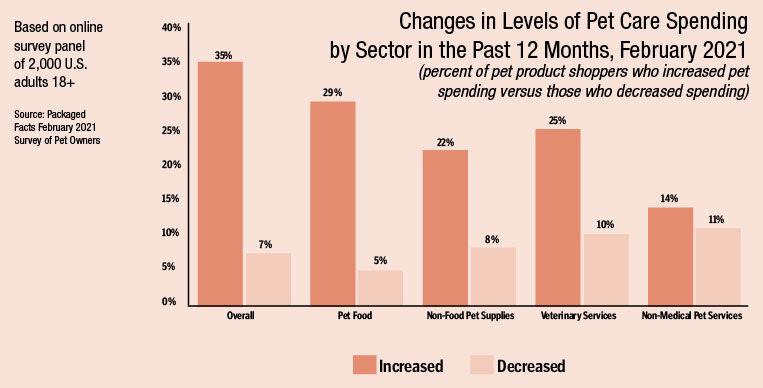 Focus on Home
The pandemic-era surge in e-commerce, pet population and overall pet industry spending has been a direct function of pet owners spending more time at home, thanks in part to the fast-tracked work-from-home (WFH) trend. The percentage of pet owners working primarily at home doubled from 8 percent in fall 2019 to 16 percent in fall 2020, based on MRI data, and the percentage with a home office setup jumped from 18 percent to 27 percent. Conversely, the percentage working from a company or office location fell from 61 percent to 46 percent.
Although the shift will likely see a degree of correction, the WFH movement is a long-term trend now on a faster track because millions more workers and employers have experienced the time, cost and sustainability benefits firsthand. So is the shift to more home-centric and pet-centric lifestyles in general, a key indicator being the real estate and home improvement boom in bigger and remodeled homes that are more pet-friendly, often including well-equipped outdoor living spaces, with even urban consumers adopting more suburban-style "indoor/outdoor" lifestyles prioritizing pet friendliness. Marketers are responding with products and services that tie in to pet owners' heightened consciousness regarding their home environment, such as Central Garden & Pet with its new "Central to Home" corporate strategy and theme, and providers of home-based services such as mobile grooming and private training.

Pet Population Growth
Even more so than the e-commerce boom, the pet population boom of 2020 was an extraordinary event. It was expected that pets would get a boost among Americans well aware of the mental and physical health benefits of pet ownership, who suddenly found themselves socially isolated. But the degree to which pet appeal would be unleashed was underestimated. From 2015 to 2019, the number of U.S. households with pets rose from 67.8 million to 69.5 million—less than 1 percent annually on average; during 2020, the number of pet households jumped nearly 6 percent to 73.5 million. In relation to the pandemic, 12 percent of current pet-owning households added a pet in part for personal companionship, 9 percent in part because children were at home more (representing 20 percent of pet owners with children at home) and 8 percent partly because they were working from home more.
The benefits of this pet population boom will remain in force as pandemic impacts fade, coloring and invigorating pet product and service demand, supply, development, marketing and retailing for years to come. But factoring in the likelihood of some pet relinquishment as Americans resume more normal life schedules, pet population growth will likely slow across one or more of the next few years, due in part to the many "other pets" (i.e. other than dogs and cats) acquired during the crisis receiving less attention from kids no longer stuck at home.

E-commerce
As has been widely reported, e-commerce received a huge pandemic boost, gaining 6 percentage points to account for 30 percent of total pet product sales in 2020. But well before COVID-19, e-commerce was going strong with internet sales tripling from 8 percent of total pet product sales in 2015 to 24 percent in 2019. Looking ahead, there is virtually no scenario under which e-commerce will not continue to gain ground over the next five years, with pandemic-related momentum driving up the online sale of pet products another 5 percentage points in 2021 and to more than half of total pet product sales (53 percent) by 2025. Brick-and-mortar shopping resurgence due to pent-up demand notwithstanding, these projections reflect a permanent reset of physical and digital (omnichannel) shopping behaviors, including a rapidly expanding role for retailer-based autoship and same-day delivery, along with direct manufacturer-to-consumer (DTC) selling and shipping.
---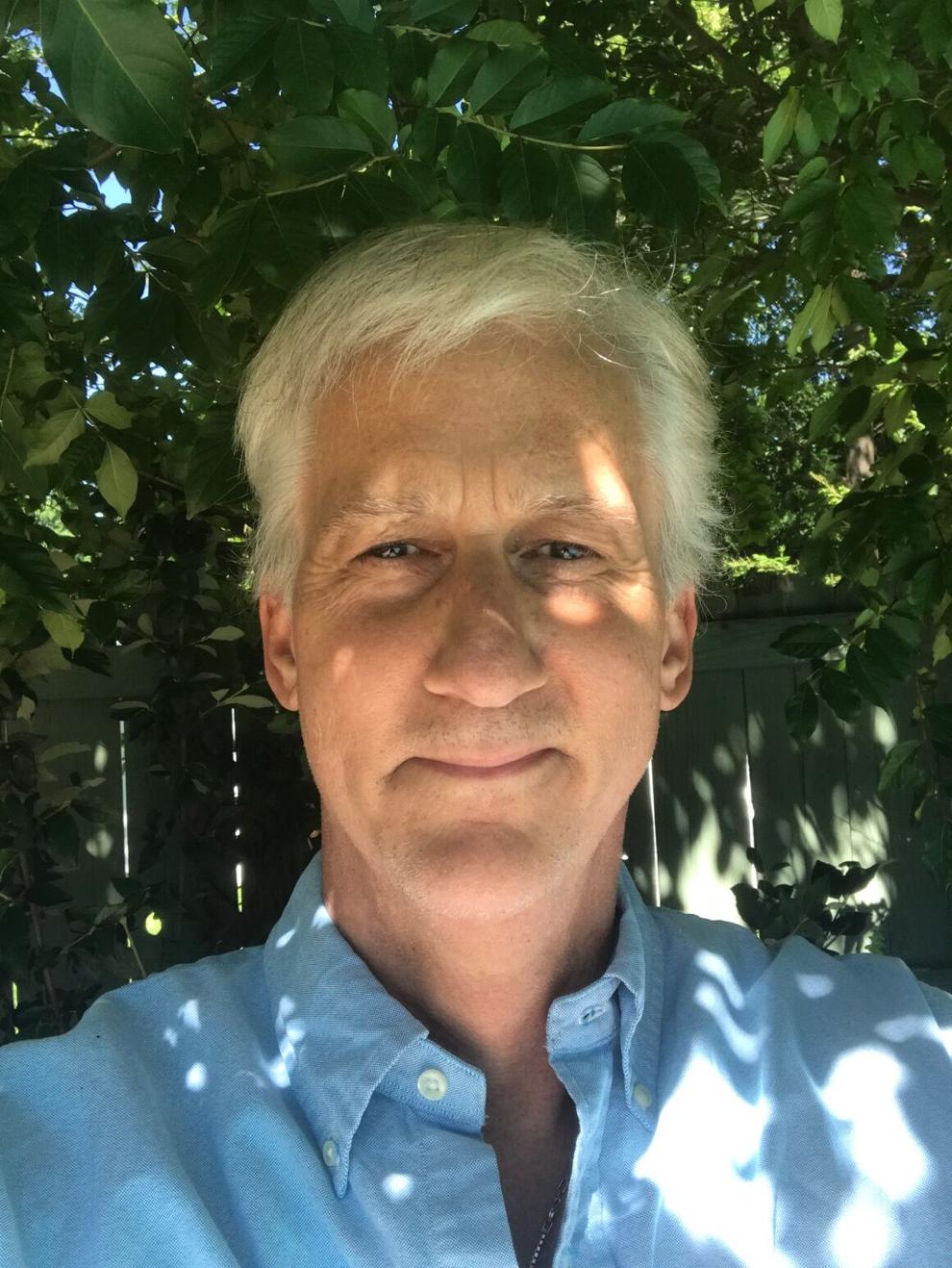 David Lummis is the lead pet market analyst for Packaged Facts, a division of MarketResearch.com, and co-author of Packaged Facts' U.S. Pet Market Outlook, 2021-2022.