Fall is so close that you can almost taste it. If you're a pumpkin spice latte fan, you probably already are. Why not bring your pet in on the flavorful fun? From pumpkin broth to pumpkin chew treats, these five pet products will help you and your pet get excited for the season.
Take a look at PPN's picks for the week: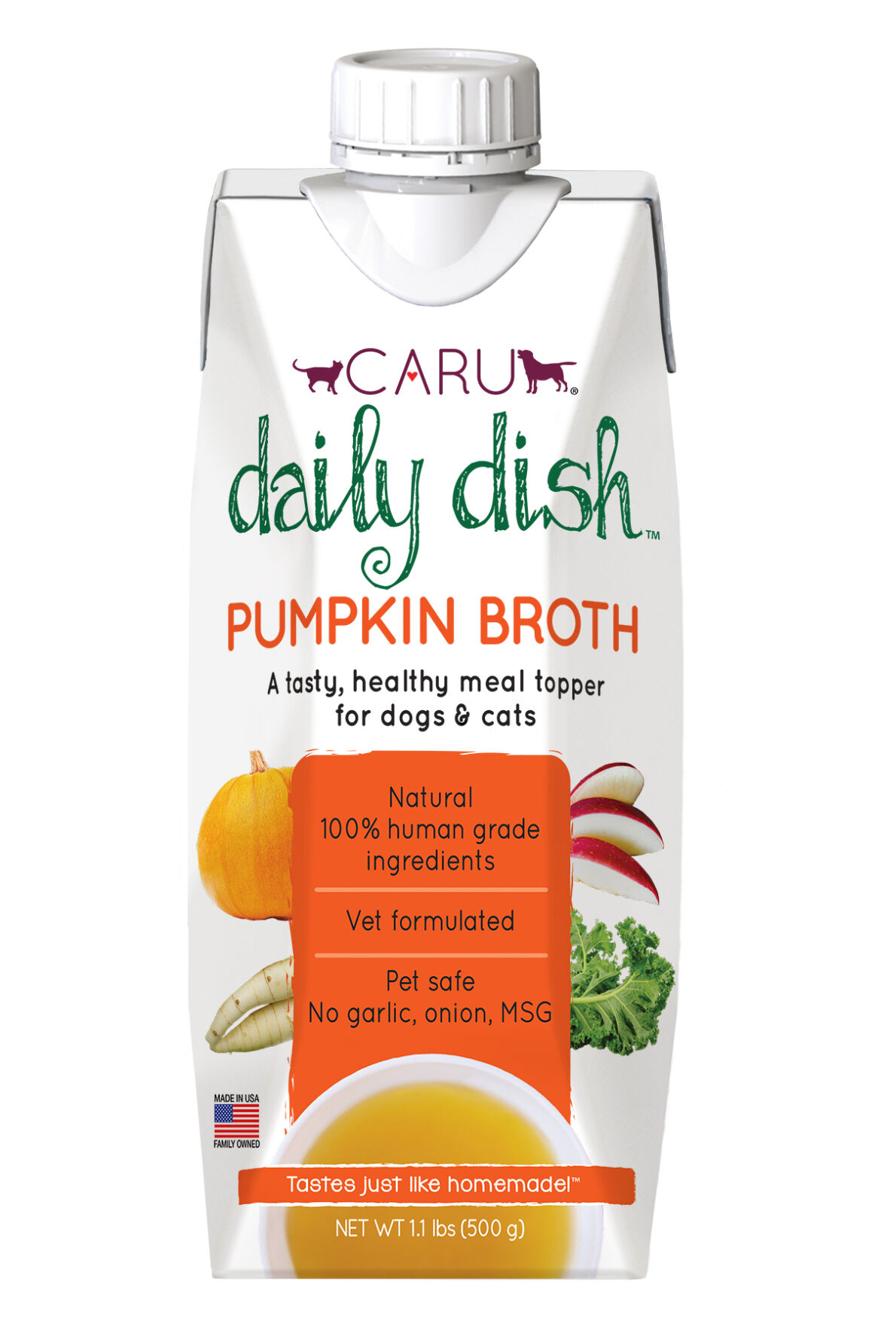 Just Like Homemade
Caru Pet Food presents Daily Dish Broths for dogs and cats. The savory, vet-formulated broths are made in the United States with limited ingredients that are natural and 100 percent human-grade, according to officials. The broths come in three flavors: pumpkin, chicken and beef. Prepared in small batches without garlic, onion, MSG, added colors or preservatives, the broths are also GMO, corn and soy free. Daily Dish Broths can be served as a treat, used as toppers or as a nutritional enhancement for dry kibble, freeze-dried or dehydrated pet food. Not only can the broths help pets that need additional hydration, they can also increase appetite appeal for picky eaters, according to officials. To preserve freshness and make them easy to serve and store, the products are packed in Tetra Pak cartons, which are made from up to 59 percent paper, a renewable source.
---
Pumpkin Patch
Emerald Pet Products introduces the flavor Pumpkin + Blueberry to its line of plant-based Pumpkin Harvest chew treats. Pumpkin Harvest oven baked, low-fat treats are made using pumpkin puree as the first ingredient, and do not contain meat, poultry or fish proteins, according to company officials. The pumpkin-shaped treats also do not include wheat, corn, dairy or soy. The treats, which are made in the United States with U.S. ingredients, do not include artificial ingredients, colors or flavors and no added sugars, sweeteners or salt, officials noted. Other flavors include: Pumpkin + Apple, Pumpkin + Chia and Pumpkin + Sweet Potato.
---
Power in Powder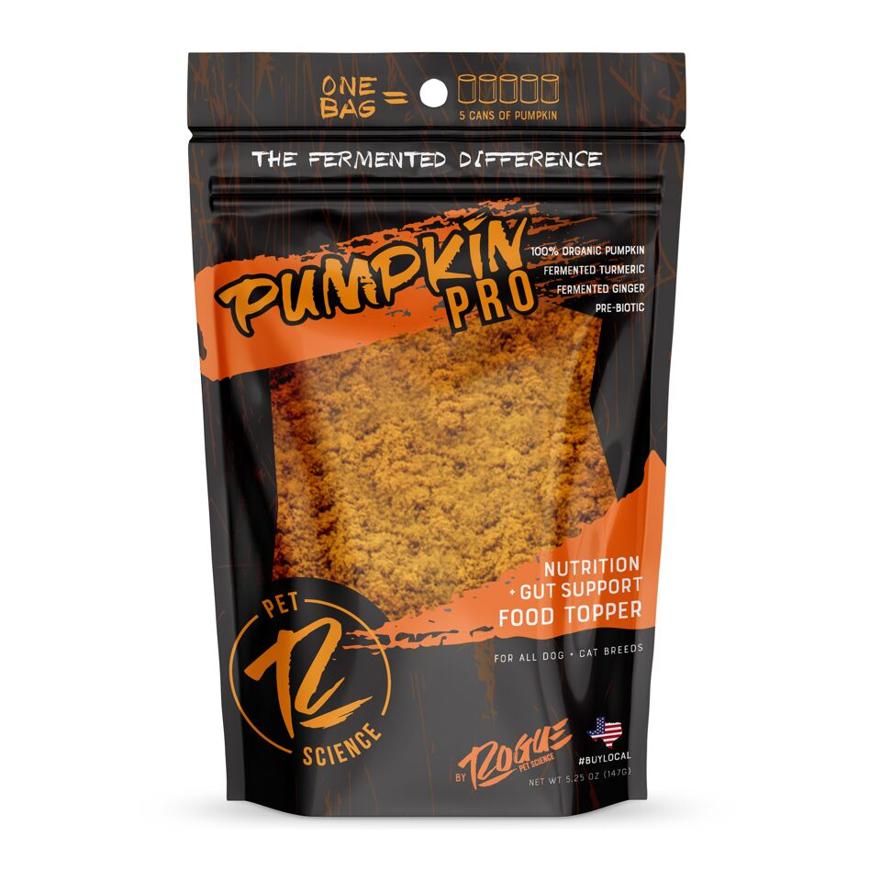 Rogue Pet Science offers its new Pumpkin Pro for dogs, created to fix diarrhea. The product, which comes as a powder, contains human-grade organic pumpkin. Rogue Pet Science sources organic U.S. grown pumpkin, while ensuring no skin or seeds are used. Pumpkin Pro combines the treatment that people want from a pumpkin-based product for their dog's loose stools with a product worthy of daily nutritional consideration, according to officials. The company includes fermented organic turmeric and fermented organic ginger ingredients in conjunction with pumpkin. Turmeric, which contains a compound called curcumin, is proven to boost immunity, reduce inflammation and help arthritis, according to officials. Ginger is a digestive aid full of antioxidants, officials further noted.
---
Scrumptious Pumpkin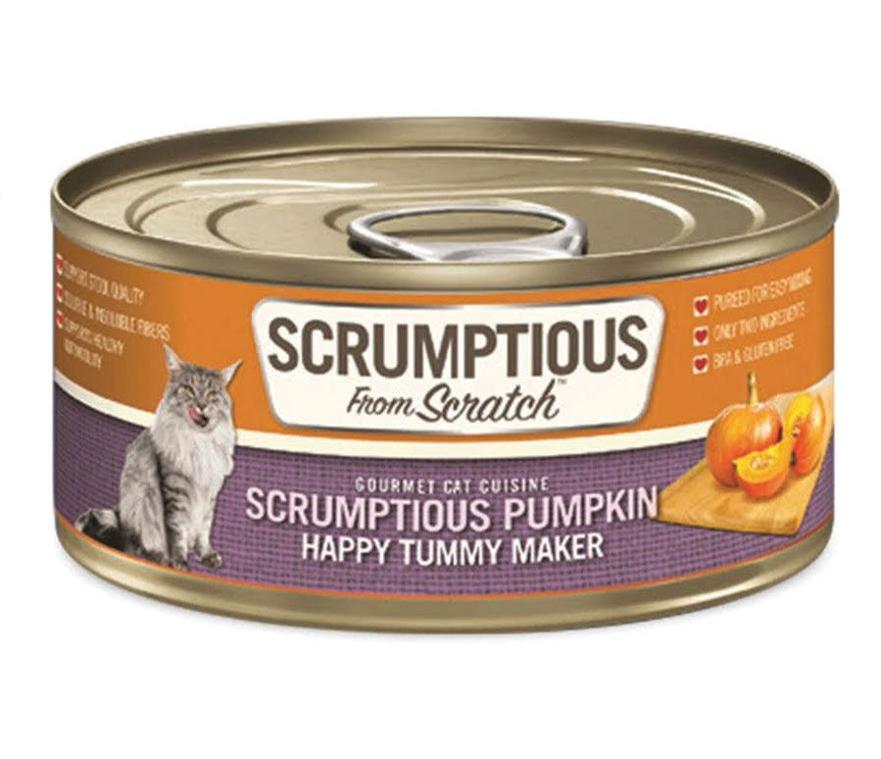 Sustainable Pet Products presents Scrumptious From Scratch gourmet cat food, with shredded cuts of chicken, shredded cuts of turkey and flaked seafood in succulent gravy. These formulas, which include Scrumptious Pumpkin, are grain free and gluten free, and they feature human-grade meats. Each recipe has large shredded cuts of meat or flaked seafood with no mechanically deboned meat (MDM) and no meat byproducts. The products contain no corn, wheat or animal byproducts, and they are free of artificial colors, flavors and preservatives.
---
Mix and Match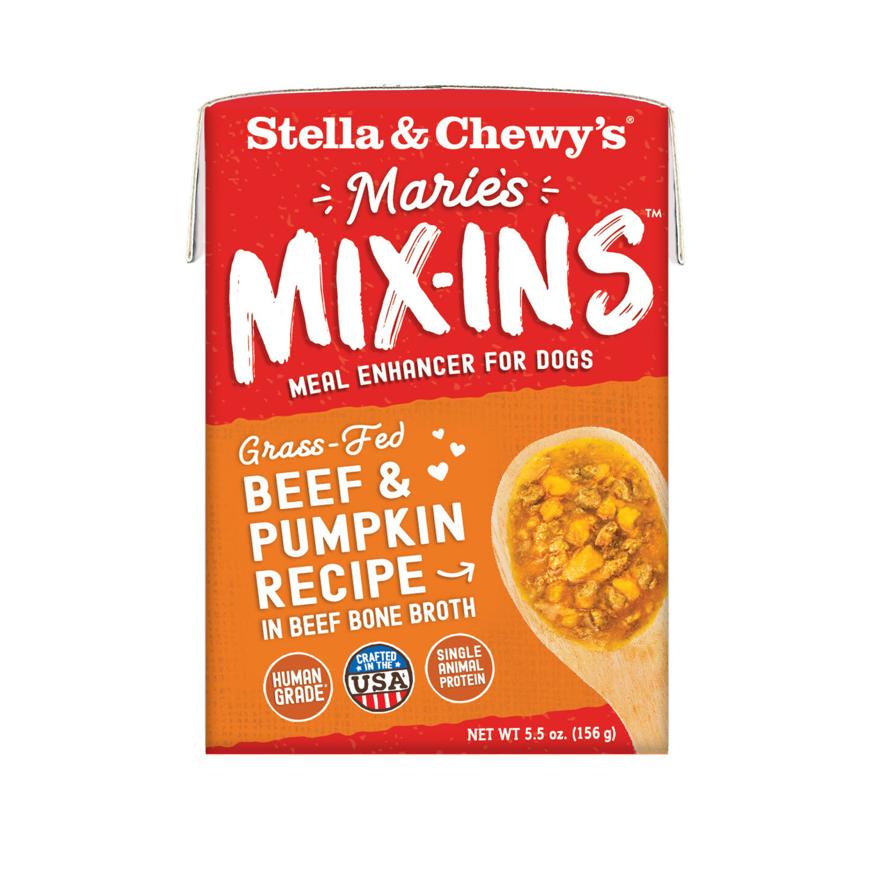 Stella & Chewy's offers Marie's Mix-Ins, a new product line that can be served as a treat or topper to a dog's meal. It includes real, whole muscle meat in nutrient-rick bone broth, and has turmeric added for joint support, according to officials. Marie's Mix-Ins are 100 percent human-grade, include responsibly sourced animal proteins, and are grain-gluten-pea and lentil free, officials further noted. Flavors include beef, chicken, salmon and turkey—all include pumpkin as a primary ingredient.