It's no big secret: For the better part of a decade, pet product shoppers have been migrating online, to the detriment of brick-and-mortar retailers. But during the past five years, the movement has picked up freight-train momentum, accelerated even further, like many trends, by the pandemic.
From 2015 to 2019, internet sales tripled from 8 percent of total pet product sales ($3.6 billion of $45.3 billion) to 24 percent ($13.9 billion of $57.8 billion), and during "COVID 2020" the internet sales leapt another 6 percentage points to 30 percent of total pet product sales ($20.3 billion of $66.9 billion). On the flip side, brick-and-mortar sales declined from 92 percent of total pet product sales in 2015 to 76 percent in 2019 and to 70 percent in 2020.
Packaged Facts' February 2021 Survey of Pet Owners shows that a third (34 percent) of pet product shoppers changed significantly "where or how" they bought pet products in 2020 because of impacts from COVID-19, with 39 percent shopping in stores less and 40 percent shopping online more. Across the 2015-2020 period, the brick-and-mortar losses have been pervasive across the top four retail channels, but pet specialty chains have taken the hardest hit, losing 7 market share points from 2015 to 2020 compared with a 4 percentage point drop for food stores and a 3 point drop for mass merchandisers/supercenters. Independent pet shops have, relatively speaking, fared even worse, falling from 8 percent of total pet product sales in 2015 to 4 percent in 2020. The online infiltration has been so daunting that traffic-deprived physical stores have, at times, resembled an albatross vis-à-vis the touchless convenience of virtual shopping coupled with rapid delivery, to such a degree that many brick-and-mortar operators have reallocated space to services and online purchase pickup. Other retailers have simply been unable to cope, with, for example, Pet Valu folding under the last straw weight of the pandemic.
Now, brick-and-mortar retailers are turning the tables by tapping their physical stores for on-trend advantages that e-commerce cannot replicate, not unlike pet stores have been doing with in-store services. Beating e-tailers at their own instant-gratification game, brick-and-mortar retailers are implementing same-day delivery within hours of an order's being placed, using their stores to solve the tricky last-mile logistics issue.
Speaking with Forbes in January 2021, Petco chairman and CEO Ron Coughlin said 30 percent of Petco's e-commerce orders are same-day deliveries—as in, even faster than the usual two-day Amazon or one-to-three-day Chewy shipment—with Petco leveraging its stores as "micro distribution centers" into a "distinct structural advantage" over pure play online competitors in terms of ship-from-store order fulfillment and curbside pickups. Taking a similar approach are PetSmart—a featured vendor on DoorDash ("Get pet food and supplies delivered with DoorDash")—and Target, which offers same-day delivery through stores rather than warehouses via Shipt.
Same-day shoppers are, in a sense, the polar opposite of the Autoship/subscription customers upon whom Chewy and Amazon have largely built their fortunes, but the need-it-now customer base appears to be full of potential. In Packaged Facts' February 2021 survey, more than half (52 percent) of pet owners agree that they like the idea of same-day delivery of pet products ordered online, with more than one-quarter (28 percent) in strong agreement.
Playing offense against pure play e-tailers on another timely front, in keeping with its new "Health and Wellness" platform, in April 2021 Petco announced a sustainability initiative to increase its assortment of eco-friendly products to 50 percent by the end of 2025, according to a April 13 Pet Product News story. Already moving in this direction, by fulfilling online orders in its Petco Pet Care Centers, Petco used 92 percent less plastic and 23 percent less cardboard in its packaging compared with online-only retailers in 2020, reducing cardboard waste by 3.6 million pounds and plastic waste by 30,000 pounds.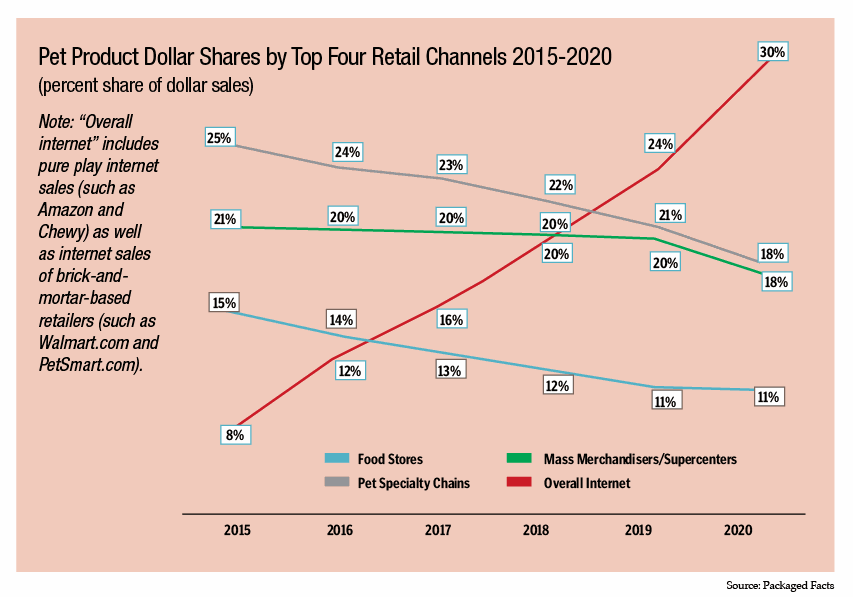 Responsible packaging such as containers designed to be refilled with the same type of product (e.g., cat litter) is one of five "sustainability pillars" along which Petco is aligning its operation, together with responsible manufacturing, sustainably sourced materials, sustainably sourced ingredients and animal welfare. "Improving the lives of pets and people means improving our impact on the planet too," Coughlin said in the press announcement. "We know pet parents find it important for companies they do business with to carry more sustainable products and options." As with same-day delivery, Petco is on solid ground. Along with e-commerce—and pandemic-related exigencies notwithstanding—sustainability is the top trend in Petfood Industry's annual top trends report for 2021.
For independent pet retailers, the certainty of additional e-commerce advancement remains the overarching reality against which all physical store operators should calibrate their pet market engagement. Key, of course, is developing an online presence of their own, and the range of resources available to help them along these lines is rapidly expanding. But at least equally important is fully embracing and exploiting brick-and-mortar perks such as same-day delivery, curbside or inside pickup of preplaced orders, online or otherwise, carbon-footprint-light packaging and sustainable product offerings, as well as in-store services.
At the same time, locally owned and operated pet shops often enjoy deep ties to the community, and when it comes to differentiating pet indies from pet superstores and other pet chains, mass-market big boxes and the pure play pet product Goliaths online, local is arguably the new natural. In Packaged Facts' April/May 2020 Survey of Pet Owners, 79 percent of dog or cat owners agreed that "Due to the coronavirus situation, it's especially important to buy from local, independent merchants" and 90 percent agreed that "it's important to support the local community."
With the economy on the rebound and, by many accounts, poised for a boom, there's no time like the present for pet shops to welcome back pet owners—and the millions of new dogs, cats and other animals added during the pandemic—ravenous for the recreation, socialization, sensory experience, culled product selection and in-person pet care indies on the ready are best suited to provide.
---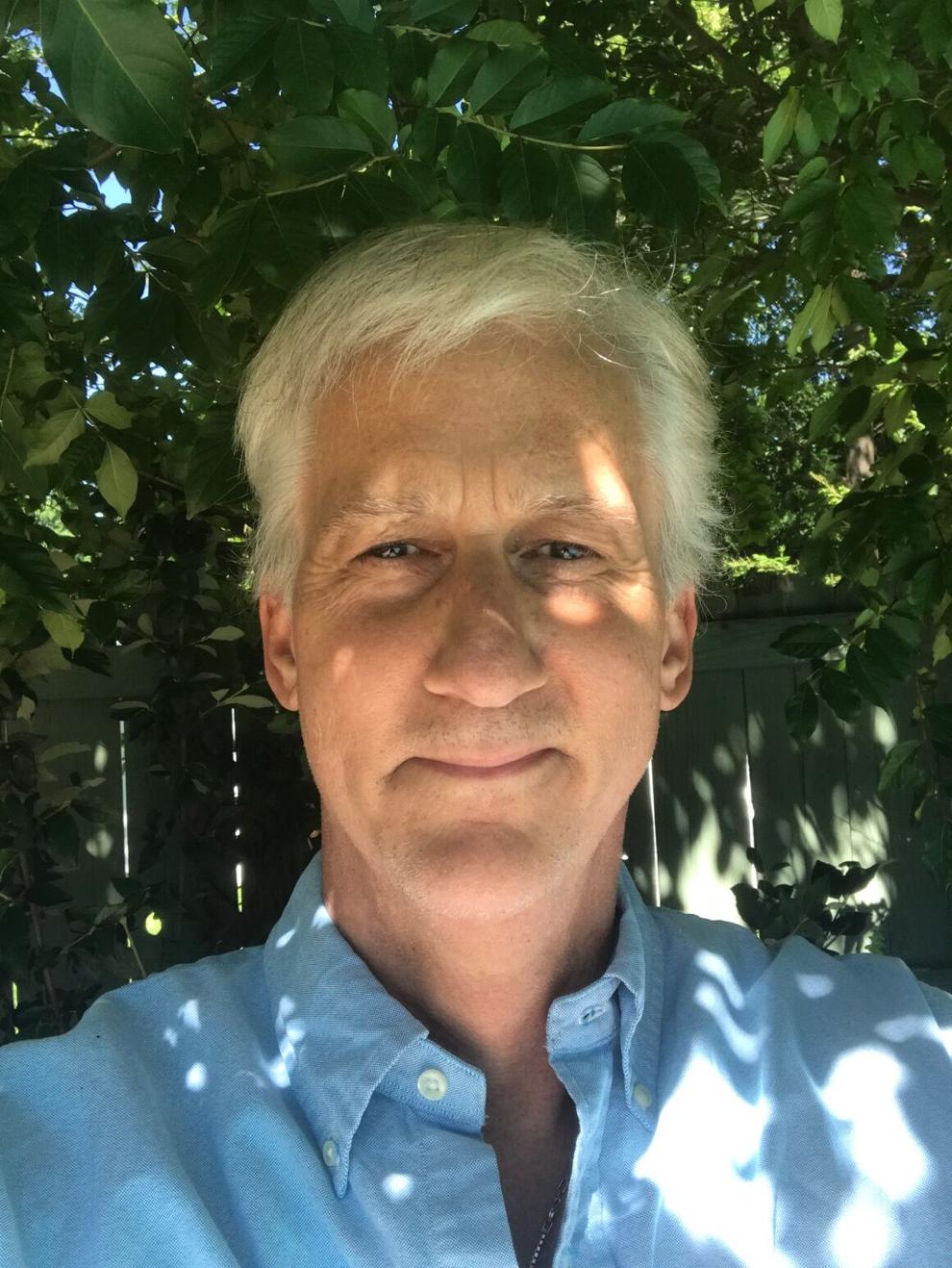 David Lummis is the lead pet market analyst for Packaged Facts, a division of MarketResearch.com, and co-author of Packaged Facts' U.S. Pet Market Outlook, 2021-2022.