The thriving market for cat treats is at the intersection of a number of encouraging pet market trends that bode well for feline-focused marketers and retailers and the pet business at large.
Like numerous pet industry trends, many of the opportunities in the cat treat category relate to forces set in motion or accelerated by the pandemic, dually energized by pent-up potential stemming from the industry's tendency to accentuate dogs over cats. Top of mind is the "homebody" trend—a homebody defined by the Urban Dictionary as someone attuned to the "warmth and simple pleasures of being at home."
As MarketResearch.com CEO Robert Granader wrote in a Forbes article published Sept. 23, "As schools, offices, restaurants, and entertainment venues closed their doors and shut off the lights during the initial stages of the pandemic, we morphed into a nation of homebodies. And even though we returned home by force and not by choice, market research shows we embraced these simple pleasures—and some of the more complicated ones, like sourdough bread."
Among the simpler ones, as any pet market observer is by now aware, have been our furry family members, whose numbers climbed as a function of the "pandemic pet" phenomenon. In the feline category, Americans added approximately 2 million cats during 2020, bringing the percentage of U.S. households with a cat to an even one quarter.
One reason cats have traditionally gotten the short end of the stick pet market-wise vis-à-vis dogs is their smaller share of the pet population—not entirely unreasonable since dogs do outnumber cats by about one-third. Another cause, not so reasonable, is the stereotyping of cats as being less affectionate than dogs, a wrongheaded notion clearly not shared by cat owners. In survey after survey, cats are on par with dogs when it comes to being viewed as family members by their owners (95 percent of cat owners and 96 percent of dog owners) or having a positive impact on their owners' mental health (87 percent versus 88 percent), based on Packaged Facts pet owners surveys conducted in 2020 and 2021. Reflecting the stresses of COVID-19, strong agreement that cats are important to mental health rose from 52 percent in early 2020 to 59 percent in February 2021.
For pet owners, more time at home means more time with pets, including more opportunities for DIY pet care and pampering during stressful times. At the intersection of indulgence and pet health, "functional pampering" has long been a thing in the pet market, particularly when it comes to treats, so it almost goes without saying that pandemic-era pet care sent treats into overdrive. In Packaged Facts' August/September Survey of Pet Owners, the most popular type of functional cat treat is dental/oral hygiene, purchased by 28 percent of cat-only owners, with calming/stress next in line, at 17 percent, strikingly tied with the longtime market mainstay of hairball remedy.

Cannabidiol (CBD) has yet to make much of an impact in the cat edibles space, but calming remedies are going strong, with Meowijuana playing off the shifting cannabis landscape with its namesake Crunchie Munchie Cat Treats containing catnip and valerian —and perhaps positioning for an expansion into CBD products. The CBD writing is definitely on the wall in the pet supplements market. Among the many pet supplement makers that became certified by the National Animal Supplement Council (NASC) in the past year, more than half offer hemp and/or CBD products. Moving beyond calming remedies, NPIC's new Get Naked Biteables line of functional cat treats targets cat-specific wellness concerns including urinary and digestive health with ingredients such as cranberries, taurine, probiotics, psyllium and DHA.
Along with many other pet product categories, wet pet food has benefited from the pandemic effect of homebound pet owners' spending more time with their pets, resulting in an increased desire to indulge them, including with snack-sized servings of gourmet wet pet food. As North American Divisional president for Mars Petcare Ikdeep Singh told Petfood Industry in January 2021, "With pet parents spending more time with their pets, consumer behaviors are shifting as well—like their desire to add variety to their pet companion's diets. One way they're doing this is by feeding more wet food … " In response, Mars is expanding the capacity of its manufacturing facility in Fort Smith, Ark., by upward of 40 percent, focusing on tray formats including the new Sheba Bistro line of chef-inspired wet pet food dinners.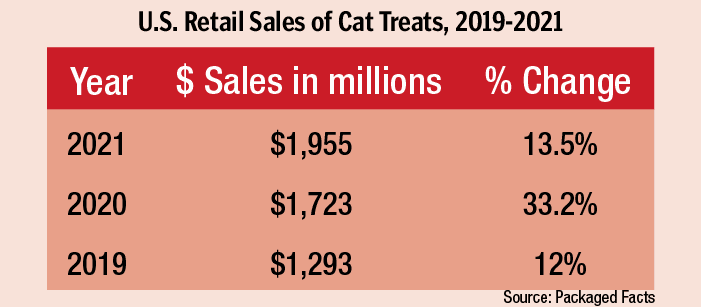 More cats, more homebodies, greater heath awareness, and a growing desire to indulge and pamper our fur "children" come together to create a potent recipe for ongoing robust cat treats advancement. Following a blockbuster 2020, when sales surged 33 percent, sales of cat treats are expected to rise 14 percent in 2021 to reach almost $2 billion. Because treats are often an impulse purchase—57 percent of cat owners agree that their treat purchases tend to be unplanned, impulse purchases, per Packaged Facts' August/September 2021 survey—their rising fortunes represent a particular opportunity for brick-and-mortar pet retailers tapping into the feline flow. Pet-specialty-exclusive winners in pet treats aisles, endcaps and checkouts will include those featuring functional ingredients as well as other in-demand product qualities such as locally sourced, limited ingredient, freeze-dried, and—the ultimate—baked on site, as well as strategically merchandised and promoted snack-sized containers of gourmet wet food.
---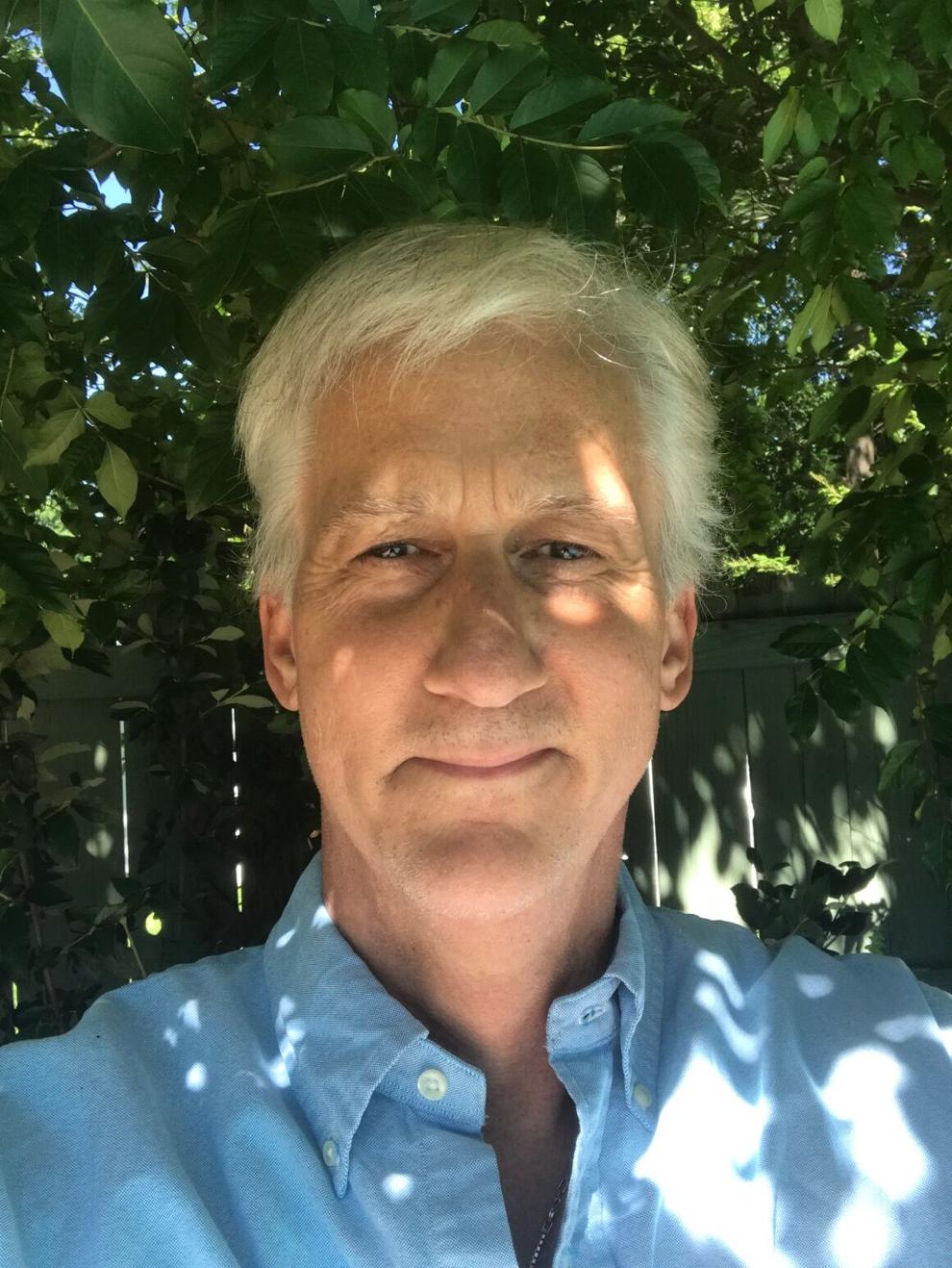 David Lummis is the lead pet market analyst for Packaged Facts, a division of MarketResearch.com, whose latest pet market report is Pet Treats and Chews in the U.S., 4th Edition.