Glucosamine, omega fatty acids, probiotics. Like the pet market at large, the pet supplements business is accustomed to transformative cross-overs from the human side, with the above-noted ingredients and others driving key product segments. Looking back, however, it's hard to recall anything making more of a splash in human and pet supplements simultaneously than cannabidiol (CBD), the explosion of which has birthed an extraordinary cottage industry targeting people and pets. Even before COVID-19, CBD was going gangbusters. But with the year-long boost of pandemic-related stressors over health, livelihood, kids, the elderly—and the list goes on—sales have skyrocketed, with no sign of slowing down.
Due in part to the freewheeling nature of the pet supplements business in general and the CBD niche in particular, and in part to the not uncommon conflation of CBD products with hemp and other non-CBD-containing products, estimates of market size vary enormously. But all sources agree that the business is growing like, well, a weed, tripling during each of the past two years to nearly $100 million in 2020.
Already, a preponderance of U.S. pet owners are onboard. As of November/December 2020, more than half (54 percent) of U.S. pet owners liked the idea of CBD supplements for their pets, up from 38 percent in February/March 2019. An even half of dog and cat owners in 2020 agreed they would be interested in purchasing CBD supplements for their pets if they were legal, compared with 29 percent in 2019, and almost as many (48 percent) said they would be interested in purchasing these supplements even if they remained in a regulatory gray area. Top of mind for most CBD users, for themselves and their pets alike, are conditions including anxiety and immune support, both of which were already high interest before the pandemic struck. One of the factors attracting pet owners to CBD products is strong interest in natural remedies thought to be safer and more affordable than prescription medications.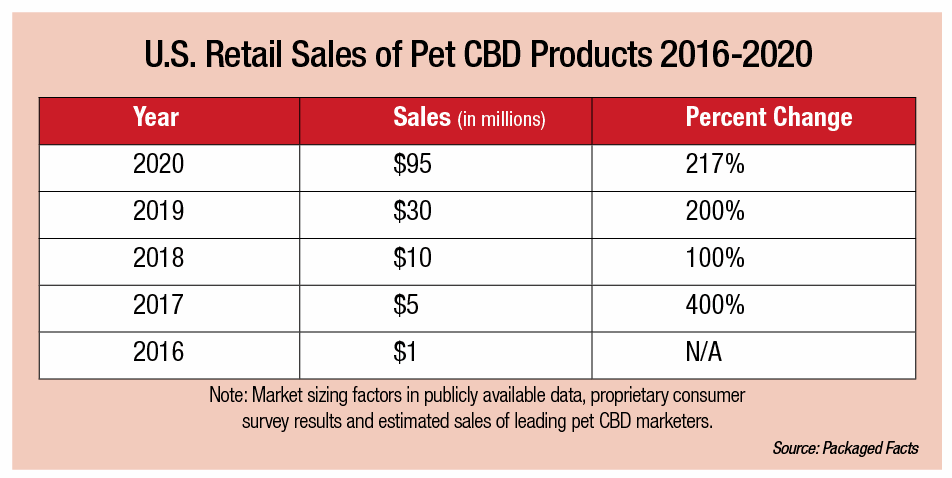 Moreover, this may be only the beginning of the boom as CBD appears to be helpful for a wide range of conditions, from anxiety to pain management to digestive issues and immune support, with research and trial in the early stages. One promising recent finding comes from the Baylor College of Medicine, where researchers working with Medterra CBD found that CBD can reduce the production of inflammatory molecules and immune cells associated with arthritis, with nine of the 10 dogs on CBD demonstrating benefits that lasted two weeks after cessation of the treatment.
Naturally a big selling point during the pandemic, CBD may also bolster immunity by working through the endocannabinoid system, described by Julianna Carella, founder and CEO of CBD maker Treatibles, as "a biochemical communication system that regulates the peripheral and central nervous system (including the brain), immunological system, organs, and vital physiological functions" in a Nov. 4, 2020 article on petproductnews.com.
In theory, a huge sticking point for CBD is that its use in human and pet edibles is technically illegal; on the pet side, the U.S. Food & Drug Administration (FDA) has sent warning letters to approximately a half dozen marketers, and veterinarians are unable to officially recommend CBD and are divided on the issue of its efficacy. In reality, major retailers have made a full court press into CBD products in the past few months, including CVS, Walgreens, GNC, The Vitamin Shoppe, and Martha Stewart, and on the pet side, Petco with Charlotte's Web, PetSmart with Mary's Tails, and Pet Supplies Plus with Medterra and Kradle. Given this level of enthusiasm and investment, the coming years will likely see a flood of data detailing the areas in which CBD can be effective, and once CBD's legal and regulatory status is resolved, the product and marketing floodgates will open even wider.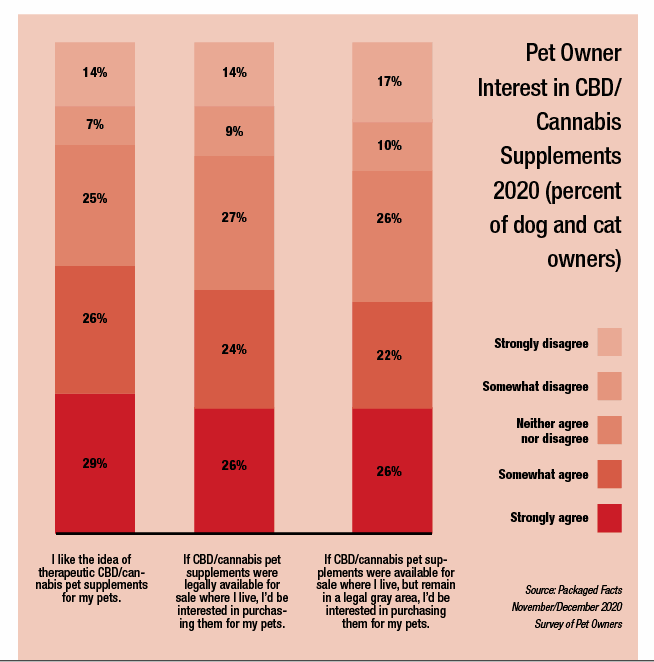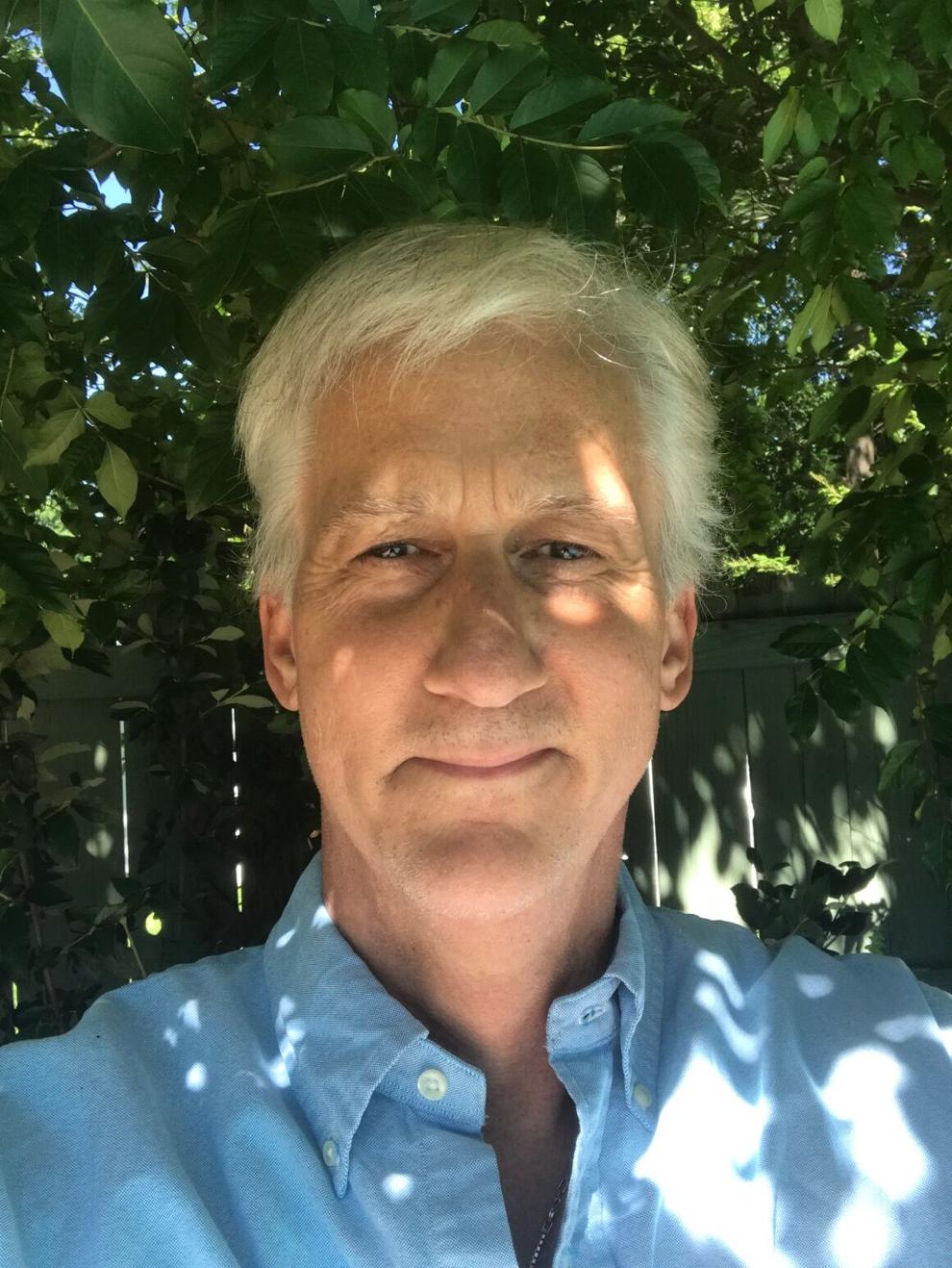 David Lummis is the lead pet market analyst for Packaged Facts, a division of MarketResearch.com, and author of Packaged Facts' U.S. Pet Market Outlook, 2020-2021: The COVID-19 Impact. Data cited are from Packaged Facts' quarterly Surveys of Pet Owners and market report Pet Supplements in the U.S., 8th Edition.