Industry insiders report rising cat litter sales, with manufacturers working to create a solution to suit every cat and independent retailers looking to keep up with the online and mass markets.
Cat owners want litter that is healthier for their pet and their household, is environmentally conscious, combats odors, creates less dust, reduces tracking and requires less scooping, said Jenna Harrison, store manager of NorthPoint Pets & Co., a pet store in Cheshire, Conn.
"The caveat is that many of these factors vary between individual households, cats and consumer preferences," she said. "The same litter can be perceived by one person as 'the best odor control ever,' while another customer will say it had no odor control at all."
To get to the bottom of which litters will work best for a particular customer, Harrison asks questions about the cats' litterbox habits, behavior and cleanliness; the litterbox setup and location; and the owner's frequency of scooping.
Hao Xu, manager at Shanghai Chowsing Pet Product Co., a Shanghai-based manufacturer, said consumers seek out litter that will remove litterbox odor, simplify the cleaning process and reduce the amount of dust that comes out of the litterbox. Reducing dust is also important for another reason, Xu said, noting that owners want to "protect the respiratory health of the pet."
The company will soon launch Chowsing Tofu Cat Litter, which is made of natural raw materials based on plant fiber and reduces dust, Xu said.
"The 2-millimeter particles quickly absorb water, [clump] and are tightly wrapped to isolate odors," he added.
The environmentally friendly cat litter is flushable.
Ultimately, cat owners are looking for a litter that helps promote a clean cat, clean box and clean home, said Jean Broders, director of marketing for Muscatine, Iowa-based Kent Pet Group, the maker of World's Best Cat Litter.
"Time and time again, we continue to hear that consumers want litters that are easy to clean and long lasting," she said. "They really expect their litters to work hard to eliminate odor, be dust free and not track all over their homes."
Calling on Independents
While cost and convenience may drive customers to purchase litters from big-box retailers, customized recommendations and advice can help draw cat owners to independent retailers and build customer loyalty.
"Independents benefit over big-box and online sellers because of the personal approach and opportunity to build relationships with patrons," said Helen Cantrell, director of marketing and sales for Naturally Fresh Cat Litter, a manufacturer in Corning, Calif.
Cantrell said the manufacturer's cat litter sales are up across most channels, with particularly strong growth in pet chains, e-commerce retailers and neighborhood pet stores.
Gina Zaro, marketing director for Dr. Elsey's Cat Products, reported similar trends for the Cheyenne, Wyo.-based manufacturer, with online sales seeing the greatest growth. She said Dr. Elsey's solution-based products differentiate it from other litter brands and fit into independent retailers' model of customer education and problem-solving.
Earlier this year, Dr. Elsey's launched its Paw Sensitive fine-grain clumping litter for cats with sensitive paws, seniors and those that prefer a softer texture. The formula is 99.9 percent dust free and provides premium odor control, Zaro said.
"At Dr. Elsey's, we always put ourselves in the cats' paws—we speak for cats—being the only feline veterinarian-owned litter company," Zaro said. "Cats are extremely texture driven, so they gravitate toward litters that provide a good paw feel."
Greater focus on sustainability is a big shift in the cat litter category, with cat owners seeking litters that are good for their pets and the planet.
"This sustainable trend has accelerated over the last few years and is now more evident than ever," said Andre Santos, sales director for Sustainably Yours Natural Cat Litter by Miami-based manufacturer Petfive. "Products that meet these standards without compromising performance will get more attention from cat parents."
Santos said young adults make up the largest segment of pet owners.
"They are the driving force behind sales growth, especially when it comes to alternative litter," he said. "Their home has also become their office, gym, theater, etc., so the need to have high-performance products becomes a necessity."
At SuperZoo in Las Vegas in August, cat behaviorist Jackson Galaxy helped launch Petfive's Sustainably Yours Multi-Cat Large Grains natural litter. Petfive produces eco-friendly litters made from corn and cassava that are chemical free, fragrance free and low dust.
Like the other litters in the Sustainably Yours line, Multi-Cat and Multi-Cat Plus, the new Multi-Cat Large Grains formula is light in color, which helps pet owners to keep the litterbox clean and keep an eye on changes in their cats' urine, according to the company.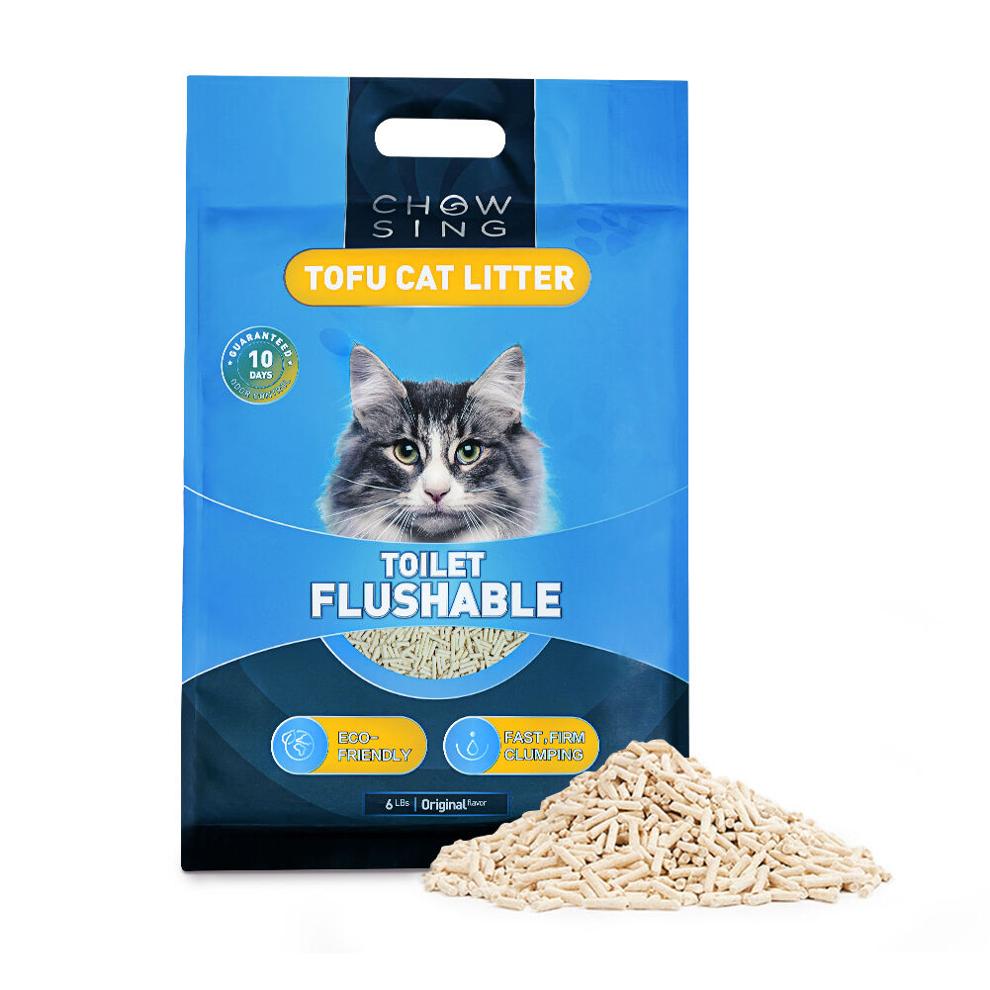 Materials
More than What Meets the Nose
In pursuit of the "perfect litter," manufacturers have turned to a wide variety of formats and materials to tackle odor control and other concerns such as dust, cleanliness and sustainability.
Shanghai Chowsing Pet Product Co., a Shanghai-based manufacturer, uses a variety of natural raw materials in its Chowsing Tofu Cat Litter.
"Chowsing Tofu Cat Litter selects high-quality soybeans, peas, corn and other plant materials, without adding any preservatives and chemical [ingredients]," said manager Hao Xu. "The tofu material is highly soluble and can be flushed after use."
Because its raw material is made of natural plant fiber, it is not a big problem if cats accidentally eat it, Xu said, adding that another advantage of litter made with tofu is that it is almost dust free.
In the company's Green Tea litter formula, the natural scent contained in the raw material itself is blended with the fragrance extracted from natural green tea, which can better conceal odor, he added.
Dr. Elsey's Cat Products approaches odor control by combining heavy non-tracking granules with a medium-grain clay.
"The result is an excellent clumping litter that prevents moisture from reaching the bottom of the litterbox while providing a clump that will not break down," said Gina Zaro, marketing director for Dr. Elsey's Cat Products, a manufacturer in Cheyenne, Wyo. "When litter clumps break apart and can't be scooped, this results in bacteria and odor."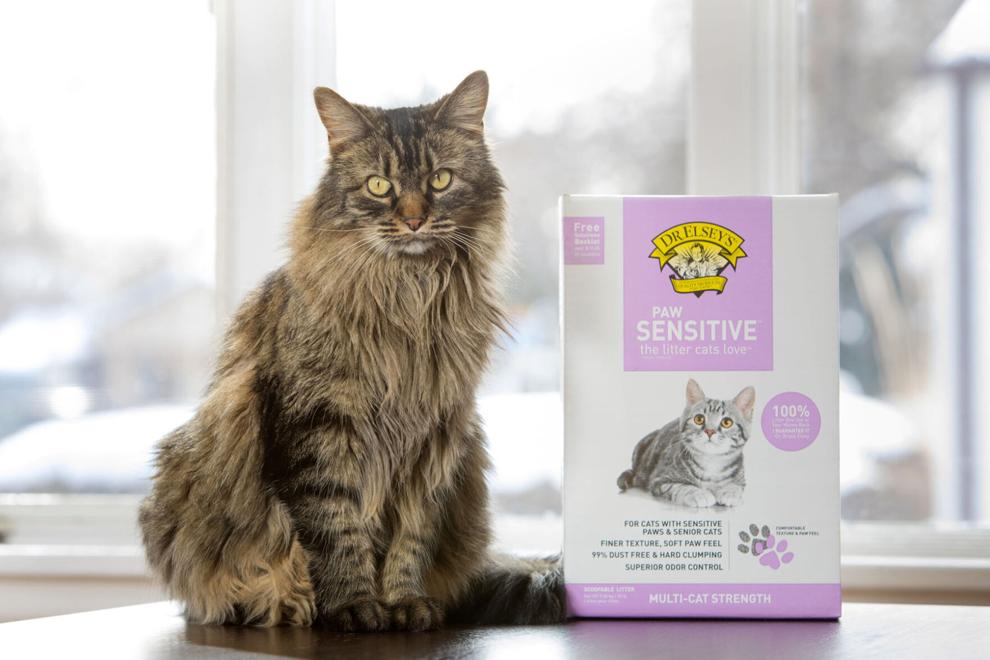 Dr. Elsey's is the maker of Cat Attract Litter and Kitten Attract Litter, which feature additives that aim to address litterbox aversion and avoidance. First developed in 1999, the Cat Attract additive is a blend of natural herbs that draws cats to the box by giving off a scent similar to a freshly turned garden. The Kitten Attract Litter contains a kitten-specific natural herbal attractant. 
"Litterbox aversion is the No. 1 behavioral reason cats are surrendered to shelters, abused and euthanized," Zaro said. "[Dr. Bruce Elsey] feels [Cat Attract] has been the greatest accomplishment in his practice and career, since it has saved cats' lives."
The manufacturer also offers a multitude of specialty litters, including R&R Respiratory Relief Litter in both silica gel and clumping clay formulas for cats with respiratory issues, Paw Sensitive Litter for cats with sensitive paws, Senior Litter designed to help prevent urinary tract infections with its silica gel formula, and Post Surgery Litter that traps odor and bacteria in silica crystals.
Of Dr. Elsey's clumping clay, crystal and silica gel options, clumping clay leads in sales, Zaro said.
Naturally Fresh Cat Litter, a manufacturer based in Corning, Calif., offers a variety of formulas—including both clumping litter and non-clumping pellets—made with all-natural walnut shells.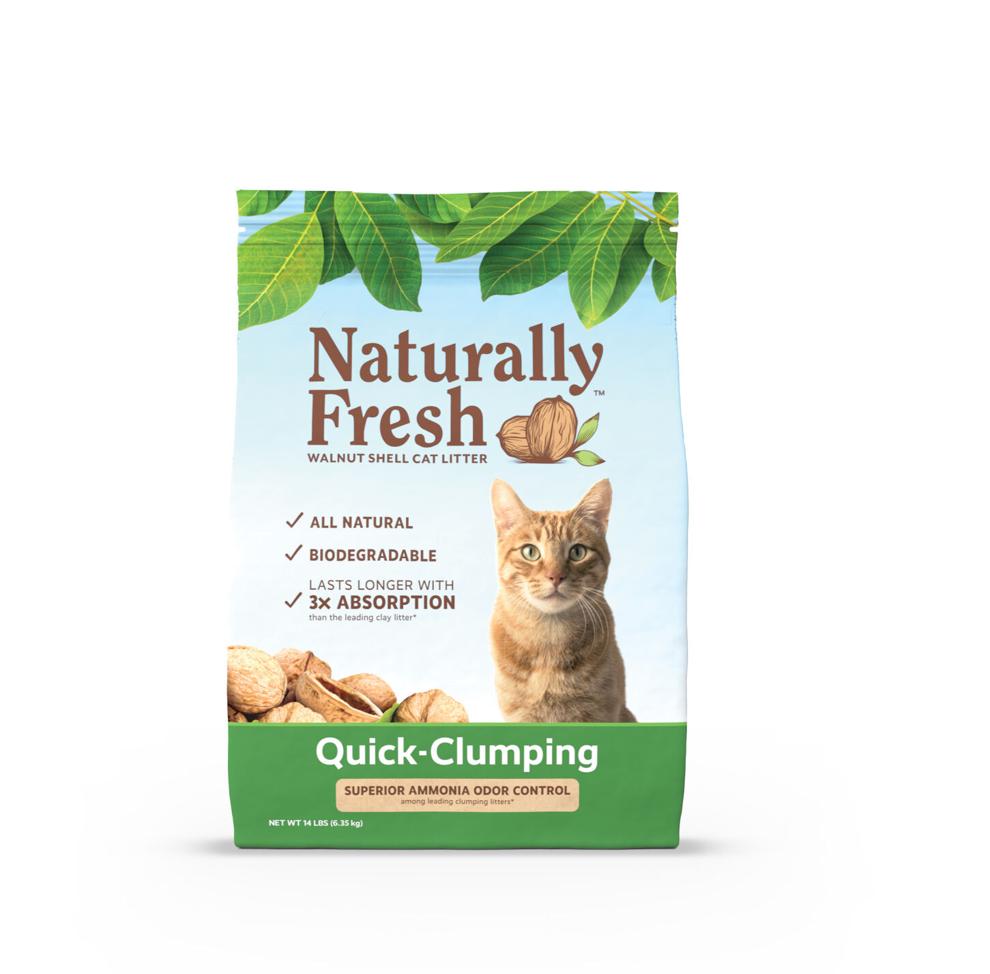 "Odor control remains at the top of the priority list for cat owners," said Helen Cantrell, director of marketing and sales. "Naturally Fresh is made from the fibrous material found in walnut shells, which has the proven ability to organically absorb ammonia odors."
Customers are increasingly seeking litters that are eco-friendly and sustainable, Cantrell said. Naturally Fresh litter is grown without GMOs, made from a food byproduct, biodegradable and compostable. The company also stands by commitments to Sustainably Grown certification and 100 percent solar-powered production.
Petfive, a Miami-based manufacturer, uses an environmentally friendly, natural formulation in its Sustainably Yours Multi-Cat, Multi-Cat Plus and Multi-Cat Large Grains options. The litters are made from corn and cassava, a tuberous root vegetable. Cassava is rich in starch, helping litter clump faster and firmer, while trapping residual odors, said sales director Andre Santos.
"Starches quickly eliminate moisture that bacteria thrive on," Santos explained.
Sustainably Yours litters are essentially dust free and have no chemicals or fragrances. They are 100 percent safe if ingested and do not have any artificial smells that may bother cats or their owners, Santos said.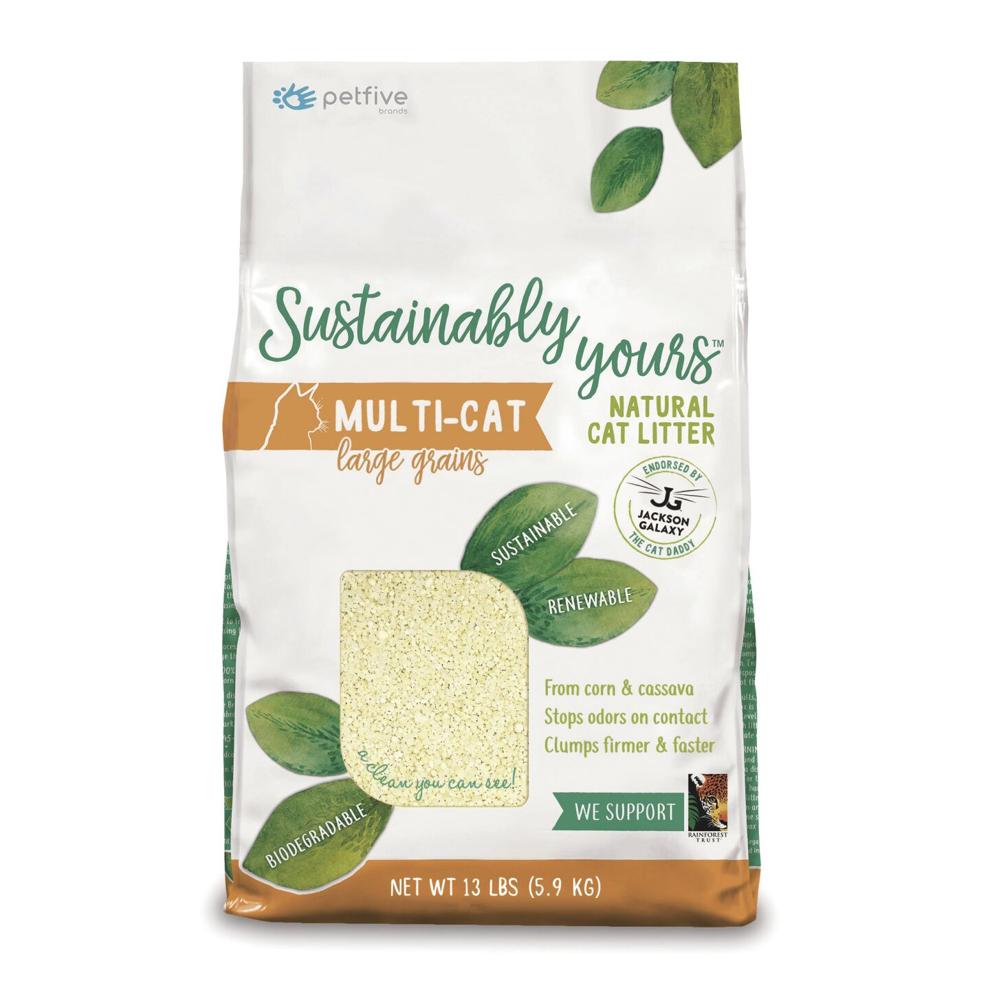 Corn is also the key ingredient in World's Best Cat Litter, which is made by Kent Pet Group in Muscatine, Iowa. The whole-kernel corn litter is available in a variety of formulas, including unscented, lavender or lotus blossom scented; Zero Mess with better clumping and more odor control; and Attraction Action with a plant-based additive to draw cats to the litterbox.
Corn's perks include being naturally absorbent and a renewable resource, said director of marketing Jean Broders.
"Our corn litter is naturally safe, with no harmful chemicals, no artificial perfumes and no silica dust," Broders said.
Assortment Optimization
Sifting Through Your Options
With so many different types of cat litters available on the market, it can be tough for pet specialty stores to decide which ones to carry.
"We have a small footprint dedicated for litter, so we need to be picky," said Jenna Harrison, store manager of NorthPoint Pets & Co., a pet store in Cheshire, Conn. "Ultimately, there is no sense in building out a department merely for the sake of having a larger variety. … We have learned that it's better to have a smaller selection of best-selling items than it is to have a huge array of products that don't move off the shelf."
When given too many options, customers can find choosing a litter to be just as overwhelming as choosing a pet food, Harrison said, adding that it took trial and error to fine-tune the store's selection, and listening to customer feedback was an important part of the process.
"We have built a selection that offers a variety of benefits to cover all the bases of frequent customer concerns," she said. "Before we consider introducing a new litter, we ask, 'What problem does this solve?' and 'How does this differ from our current selection?'"
One of the best ways for independent pet stores to get a leg up on big-box stores is employee expertise, and having a smaller selection means retailers can know their products inside and out. Employee sampling helps, too.
"Before we introduce a new product to our store, we request sample bags for our team to try with their cats so that—even if it wasn't their favorite litter—they can speak confidently about performance, compare brands and answer customer questions from firsthand experience," Harrison said. "I've had some pretty in-depth conversations about variations in scoopability that never would have been possible without a trial of the product."
Another point to consider when building a litter assortment is that some manufacturers offer frequent buyer programs, which can help make the cat litter category more worthwhile for retailers, said Christine Mallar, co-owner of Green Dog Pet Supply in Portland, Ore.