With the proliferation of cannabidiol (CBD) products for both people and pets, the category is seeing more acceptance amongst a variety of consumers.
"Many assume it is the millennials and the upcoming gen Z who are the primary demographic [for CBD]," said Rick Witte, pet sales manager for Boulder, Colo.-based CBD manufacturer Charlotte's Web. "At Charlotte's Web, we see all kinds of consumers, including many 55 and up, seeking CBD products for themselves and their pets. We view this as the evolving mainstreaming of hemp CBD products in the U.S."
Charlotte's Web was founded in 2014 and got its start with the creation of a CBD marijuana strain that reduced seizures for a young girl named Charlotte Figi, according to the company. Figi's story was featured in CNN's 2013 documentary "Weed."
Today, in addition to CBD products for humans, Charlotte's Web offers oils, chews and balm for dogs.
Witte pointed to a 2019 report from Brightfield Group that found that 51 percent of people using CBD for their dogs are age 36 or older.
Larger gaps were reported across race (67.7 percent of those using CBD for their dogs are Caucasian), political affiliation (just 28.1 percent identify as Republican) and income (only 34.7 percent earn less than $50,000 per year).
There is also a large gap based on location—77.4 percent of those using CBD for their dogs live in a city or suburb, and just 22.5 percent live in a rural area or small town.
Kat Donatello, CEO and founder of Seattle-based manufacturer Austin and Kat, also noted geographical variation.
"Regionally, there might be some differences," Donatello said. "If you're talking to someone in Alabama versus someone in LA, your conversation might be a little bit different. But I think, for the most part, consumers are getting really well educated. They trust their independent retailers. If anything, now is the time that they're supporting small businesses and having those conversations with the stores."
As awareness and information about CBD products for pets spreads, more and more pet owners are seeking them out to alleviate symptoms of anxiety, hip and joint problems, aging and more.
"As awareness continues to rise about the many benefits of hemp-derived CBD products, sales continue to be on an upward trend," said Julianna Carella, founder and CEO of Treatibles, a manufacturer in Nashville, Tenn. "A combination of widespread availability of products, both in brick-and-mortar retail stores and online, greater acceptance from the public and medical community, and the stressful events of 2020 have all played a part."
Retailers reported increased interest from consumers.
"People are inquiring about CBD all the time, mostly for calming down their pet," said Randy Klein, owner of Whiskers Holistic Petcare, which has two stores in New York.
Klein said products for dogs still lead category sales, but cat owners are showing an increased interest in the benefits CBD might offer their elderly cats.
The rapid category growth means retailers are wading through an ever-growing pile of product pitches.
"There are currently so many CBD products available [that] it's a wonder any of them get sold and get sold the right way," Klein said. "We must get three calls a day about a new product."
Retailers must be picky about which products they choose to carry.
"We don't really think CBD should be in every treat that comes to market," said Pattie Zeller, owner of Animal Connection, a pet store in Charlottesville, Va. "A lot of those things are built on marketing versus actual results."
Animal Connection keeps its CBD products under lock and key, as theft is an unfortunate reality.
"We have them in a glass case at the front of the store," Zeller said. "Because they're expensive, they can 'walk' if you're not careful. It also gives us the chance to market and promote, and sometimes they're a last-minute purchase."
Klein said Whiskers Holistic Petcare stores only sell CBD under specific conditions. They also display CBD products in a locked glass cabinet, so customers cannot just walk up and grab them.
"All CBD products should be sold after an educated description of why and how one might want to try CBD for their pet's ailment," she said.
New Products
Introductions and Accreditations
As manufacturers seek to innovate in an increasingly crowded space, new cannabidiol (CBD) products are emerging, and improvements are also being made to existing products.
In August, Charlotte's Web in Boulder, Colo., introduced a new and improved dispenser for its pet CBD tinctures. The tincture formulas remain the same but now come with a new plastic dropper made from BPA-free polypropylene with markings at 0.25, 0.5, 0.75 and 1 milliliter for easy dosing.
"This new ergonomic dropper design not only makes it easier for pet parents to select the exact amount of tincture to administer to their dog, but the design also reduced the overall weight of the packaging," said Kelsey Morrison, director of new product development.
This weight reduction helps reduce the overall environmental impact of the product, Charlotte's Web officials explained in a press release.
Also in August, Charlotte's Web announced that it had earned B Lab's B Corporation certification. The B Corporation, or B Corp, certification recognizes for-profit companies that have rigorous standards for social and environmental performance, transparency and accountability. Charlotte's Web joins more than 3,500 companies that share the B Corp certification.
In June, Chicago-area manufacturer The Green Pet Shop released its CBD Pet Care Calming & Soothing Gel. The gel is applied via a transdermal pen, bypassing the digestive system.
"This absorbs into the system much more completely and efficiently," said president Larry Wright. "It provides all of the same benefits [as orally delivered CBD], but in a much more complete and efficient manner."
A few years ago, The Green Pet Shop offered a different transdermal CBD pen before ceasing production. Wright said today's pet CBD market is much more competitive, and he knew the company needed to step up its game before re-entering the market.
"We really had to bring something special in," he said. "And so we found a way to integrate other ingredients that are very unique and nobody else has—that most people aren't even aware of—into the CBD pen, which increase the benefits of the CBD itself, as well as having their own ancillary benefits."
One such ingredient is lemon myrtle, which is sourced in Australia and has been used by the country's indigenous people to combat anxiety for hundreds of years, Wright said.
Also in June, Seattle-based manufacturer Austin and Kat launched the following new functional CBD tinctures:
Austin's Active Formula, which is designed to help active or working dogs stay in top physical form. Blueberry, ashwagandha root, wild Alaskan salmon oil, wild cordyceps mushroom and cinnamon support physical stamina and encourage muscle recovery, according to the company.
Bailey's No More Wiggles, which features a calming blend of lavender, valerian root, passionflower, chamomile and rosemary.
Brady's Senior Formula, which was created to aid cognition, eye health, immunity and circulation in older dogs. Ingredients include turmeric extract to decrease inflammation, bilberry to promote eye health and function, gingko biloba to support the brain and nervous system, and green-lipped mussel to benefit joint flexibility and reduce stiffness and soreness.
Bakko's Hip & Joint Formula, which includes astaxanthin, green-lipped mussel, Ceylon cinnamon, glucosamine, and chondroitin to promote hip, joint and back function and health.
This summer, Treatibles, a Nashville, Tenn.-based manufacturer., updated its packaging to include the National Animal Supplement Council (NASC) Quality Seal.
"During spring 2020, we received word that Treatibles had earned the NASC Quality Seal and could now feature it on our packing," said Treatibles' founder and CEO Julianna Carella. "The NASC Seal is synonymous with quality and compliance. This ensures customers that Treatibles products are adhering to the stringent protocols set forth by the NASC with guidance from the U.S. Food & Drug Administration and FDA Center for Veterinary Medicine."
Product Formats
From Treats to Topicals
There are numerous ways to get cannabidiol (CBD) into a pet's body, and manufacturers strive to provide options that will appeal to pet owners.
"At Charlotte's Web, we offer functional chews, which is an easy delivery method for pet parents," said Rick Witte, pet sales manager for Boulder, Colo.-based CBD manufacturer Charlotte's Web. "These full-spectrum CBD hemp extract chews are available in Calming, Hip & Joint and Senior varieties. Other popular delivery methods of products containing CBD include tinctures and topicals."
Charlotte's Web also offers tinctures and a hemp-infused balm for dogs.
At Animal Connection, a store in Charlottesville, Va., the best-selling CBD products are always treats and chews, despite the fact that CBD works more quickly and effectively in oil formats, said owner Pattie Zeller.
Julianna Carella, founder and CEO of Treatibles, a manufacturer in Nashville, Tenn., agreed that chewable CBD products are good sellers.
"We find that our hard and soft chewables for dogs and cats are consistently popular due to ease of administration and flavors that pets love," Carella said.
Charlotte's Web and Treatibles both offer topical CBD products that they recommend as solutions for skin issues and joint discomfort.
Charlotte's Web's director of communications, Sylvia R. Tawse, has had success using the company's topical balm on her 11-year-old Rhodesian ridgeback mix, Bucket. Bucket is a "tripod," having had his back left leg amputated after he was hit by a car when he was 4 months old.
"Sylvia reports Bucket is responding well to the Charlotte's Web Hip & Joint Chews and loves having the Charlotte's Web Balm rubbed on his back hips," Witte said.
Similarly, Treatibles' Topical Cream is designed for local applications for inflammation, scratches or skin conditions. It can also be applied to the inside of a dog or cat's ear for calming effects.
Chicago-area manufacturer The Green Pet Shop released its CBD Pet Care Calming & Soothing Gel in June. The gel is delivered through a transdermal pen that releases 2 milligrams of CBD per pump. President Larry Wright said the recommended application is one pump per 20 pounds of dog weight, and that the product should be applied to the inside of the dog's ear. This bypasses the digestive system and gets the CBD straight into the bloodstream.
"It's just another delivery system that is actually more efficient than any edible, oil or chew or anything that goes through the digestive tract," Wright said. "You lose 25-50 percent of the dosage [in the digestive system], and you don't even know how much because you don't know how much is going to pass through."
Wright said the product could be used locally for skin irritation, but it is designed to provide relief for anxiety, joint pain and the other issues that orally delivered CBD is used for. The inside of the ear is one of few places where a dog's fur doesn't get in the way of absorption, and the dog won't be able to lick the product off, Wright added.
---
The Ins and Outs of the Endocannabinoid System
Cannabidiol (CBD) products work through the endocannabinoid system, or ECS, to help maintain body function.
"The endocannabinoid system is a biochemical communication system that regulates the peripheral and central nervous system (including the brain), immunological system, organs and vital physiological functions," said Julianna Carella, founder and CEO of Treatibles, a manufacturer in Nashville, Tenn.
With the exception of insects, all animals have an endocannabinoid system, explained Jen Palmer, certified naturopathic doctor and director of education for Charlotte's Web, a Boulder, Colo.-based manufacturer.
"I like to call the ECS the 'master switchboard' because it creates homeostasis for all systems of the body," Palmer said.
Homeostasis is the balanced state or basis of normal for the body's systems, said Kat Donatello, CEO and founder of Austin and Kat, a manufacturer in Seattle.
"When a pet is super anxious, it goes really, really high," she said. "If a pet is in a lot of pain, it's knocked down really low."
Receptors in the ECS sit waiting for specific cannabinoids. When these receptors go unfilled, it creates a state of need or unbalance for the animal, Donatello explained.
CBD products can help, manufacturers report.
"When there is a deficiency of endocannabinoid—cannabinoids that are made within the body—production, the ECS's multiple receptors utilize the addition of phytocannabinoids (cannabinoids from plants, like hemp) to help create calm, balance and ease, and provide support for relaxing, repairing or restoring," Carella said.
CBD is one of more than 60 phytocannabinoids found in the hemp plant. When a pet is given a hemp chew, oil or topical product, CBD helps fill those empty ECS receptors and tip the scales back toward homeostasis, Donatello explained.
"[CBD] provides it with that key going into that hole, and it brings the pet back to balance," she added.
While humans and pets have similarly functioning ECSs, humans are less sensitive to phytocannabinoids than most animal species, Carella said.
"Dogs are especially responsive to these compounds, as they have the highest concentration of cannabinoid receptors in their brains and bodies—even in their salivary glands and hair follicles—compared to other animals, including humans," she noted.
Because the ECS connects systems throughout the entire body, CBD's reported benefits range from anxiety and pain relief to improvements in cognitive function.
Benefits such as increased alertness and pain relief are especially easy to see in senior dogs, Donatello said. She was inspired to bake her very first homemade CBD-infused treats to help her Nova Scotia duck tolling retriever, Brady, cope with symptoms of aging.
"So many older dogs seem to 'check out,'" she said. "That's one of the things that I noticed with my own dog, was that he
had checked out from our family and he wasn't part of the engagement anymore. If we were all in the kitchen chattering, he was off in his crate in the other room."
After Donatello began incorporating CBD into Brady's routine, he became active and engaged with the family again, she said. His quality of life increased, and Donatello saw "that bright-eyed expression again."
"It wasn't like he was going to go back on a five-mile run with me, but you just saw that pep in his step," she said.
---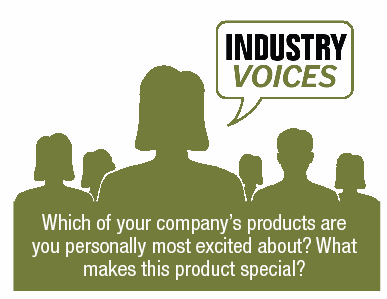 "At our home, [Charlotte's Web's] Calming Chews are quite popular. My 5-year-old briard, Beau, became terrified of thunderstorms in the past year. So, when there are storms forecast, he gets a couple Calming Chews 20-30 minutes beforehand. The added benefits of valerian root, chamomile and passionflower extract, along with the Charlotte's Web hemp genetics, allows him to weather the storm."—Rick Witte, pet sales manager for Charlotte's Web in Boulder, Colo.
---
 "[Our] new functional tinctures. They are by far and away like nothing we've ever created and like nothing on the market."—Kat Donatello, CEO and founder of Austin and Kat in Seattle
---
"[Treatibles is] currently developing several products that I'm super excited about. Stay tuned!"—Julianna Carella, founder and CEO of Treatibles in Nashville, Tenn.