When it comes to making decisions about food, dog owners want to feel that they are well-informed, but they can easily get overwhelmed by information. It's important that pet specialty retailers stay in touch with what dog owners are seeking in terms of food—and help them make wise choices, according to industry insiders.
Health and wellness remain top of mind for consumers, said Brian Connolly, CEO of Natural Balance Pet Foods in Upland, Calif. Pet owners want to feel confident that the nutrition decisions they make for their dog will have a positive impact, he added.
In addition, pet owners want to be informed about the different aspects of pet nutrition, said Kambria Newton, trade marketing and communications manager for Petcurean, a manufacturer based in Chilliwack, British Columbia, Canada. They're looking much deeper than just proteins, fats and calorie counts.
"They seek recipes formulated to help their dogs with specific issues like digestive health, skin and coat health, boosted immunity, and healthy bones and joints," Newton said. "This means that, in addition to looking for quality ingredients like fresh deboned muscle meat, whole eggs, nutrient-rich fruits and veggies, and probiotics, pet parents also understand the added benefits of superfoods like cranberries, coconut oil and even New Zealand green mussels. By selecting products formulated with these types of functional ingredients, pet parents communicate that they expect pet food makers to focus onscience-proven research to ensure their recipes do everything possible to keep their pets happy and healthy."
Petcurean was recently involved in research to closely connect with customers who choose their premium-quality recipes and find out what matters most to them, Newton said.
"One of the key things we confirmed in our research was the importance for pet parents to be able to trust their pet food manufacturer," Newton said. "Pet parents want to be able to trust that the recipes they choose contain all of the vitamins and nutrients their pets require and are formulated in the perfect quantity to achieve complete and balanced nutrition."
Kelli Stoll, vice president of sales for Freely Pet, a manufacturer based in Brentwood, Mo., said that dog owners continue to seek simple recipes and ingredients—but place a higher focus on single-source protein and meat as the first ingredient.
"We're also seeing a trend toward the thoughtful protein philosophies of limited-ingredient diets, both with and without grains, because consumers are realizing that allergies or sensitivities are not always linked to the grain portion of their dog's foods," Stoll continued. "In addition to ingredient focus, dog parents are also looking for natural, limited-ingredient-diet recipes that complement or mirror bigger lifestyle choices, and are seeking vegetarian and flexitarian options, especially those looking for grain-friendly options for dogs."
Assortment Optimization
Carry Choices
While dog owners want options, they also don't want to be overwhelmed by too many foods to choose from. Plus, owners want the confidence that independent retailers are being selective about what foods they carry.
Nicci Cammack, owner of NorthPoint Pets & Co., a retailer in Cheshire, Conn., said that pet owners know there is not a one-size-fits-all solution for choosing the best dog food.
"They want a customized answer and are seeking real guidance—not just a canned response," she said. "Along with that, they want some choice. They want to know that you've curated an assortment of foods to choose from—but that they really can't go wrong with any of the options."
That's how it works at Pawz on Main, a pet supply store in Cottonwood, Ariz. Owner Denise Strong said that she's already narrowed down the options to only those products she believes in.
"My pet food selection is quite limited here because I only carry the brands I've researched extensively and those that I trust," Strong said.
Kambria Newton, trade marketing and communications manager for Petcurean, a manufacturer based in Chilliwack, British Columbia, Canada, agreed that a selective variety is key.
"Overall, a retailer can curate an optimal assortment of top dog food brands by adopting Petcurean's own philosophy when it comes to variety—that every pet is unique, and their food should be too. A one-size-fits-all approach doesn't work in pet nutrition because pets, like people, have a variety of different dietary needs and preferences. We recommend carrying a variety of different options on store shelves, ranging from recipes with high to moderate protein levels, recipes bursting with fruits and veggies, and recipes that feature limited-ingredient formulations. We also recommend stocking a variety of wet and dry food options, and even a vegan recipe for dogs, like [our] Gather Endless Valley."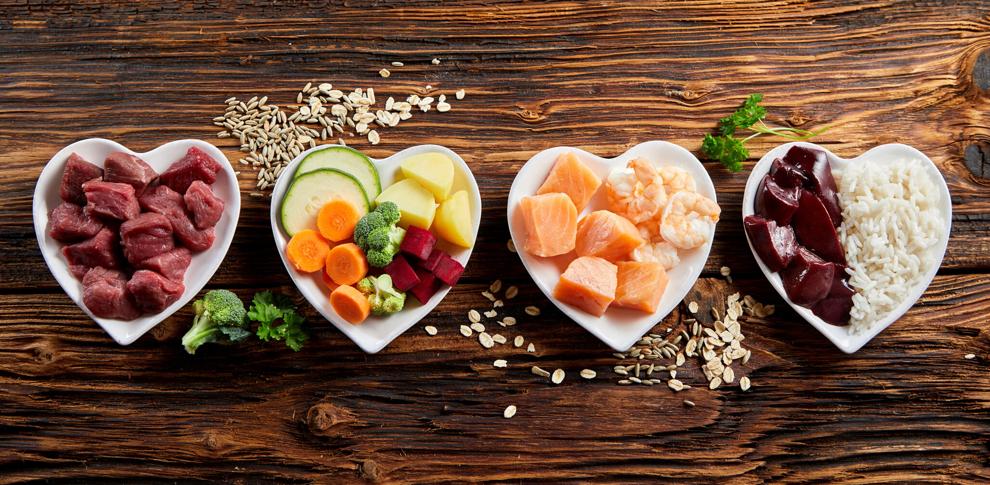 On the Market
Options in dog foods
There is no question that food choices for dogs are expansive—and continue to grow. New options are continually being added to the market.
Still a newer entrant in the premium pet food category, Freely Pet has seen success across its dog lineup, according to Kelli Stoll, vice president of sales for the Brentwood, Mo.-based company. Freely's Whole Grain Turkey Recipes for Puppy and Whole Grain Vegetable recipes have been particularly popular, Stoll noted.
Brian Connolly, CEO of Natural Balance Pet Foods in Upland, Calif., said that the company's Targeted Nutrition line is addressing the fact that pet owners want specialized products.
"As the specialty pet food space continues to grow, shoppers are seeking higher-quality nutrition for their pets," he said. "Pet parents are looking for more than just standard nutrients and instead are actively seeking out functional ingredient solutions that help support their pets' unique needs."
The options in the Natural Balance Targeted Nutrition line include four dog formulas—Gentle Balance, which offers benefits of healthy digestion, skin and coat support, and ideal stool quality into one formula; On The Move, which combines the benefits of supporting joint structure, lean muscle mass, and natural sources of glucosamine and chondroitin into one formula; Zen Life, which aims to support overall well-being from the inside out; and Fat Dogs, which is formulated specifically for overweight adult dogs.
In April, Petcurean, a manufacturer in Chilliwack, British Columbia, Canada, unveiled a global brand refresh of its Now Fresh recipes for dogs and cats. Under a new tagline "Fresh. Simple. Whole. For every size and stage of life," Now Fresh continues to provide pet owners the ultimate peace of mind, knowing they're feeding their companions perfectly balanced and minimally processed recipes, company officials said. According to the company, as part of the refresh, Now Fresh recipes have undergone minor changes that do not affect nutritional performance or palatability, which means most pets can switch to the updated recipes with no transition time.
Consumer Education
Make a Difference
Even educated dog owners are likely to welcome education from pet retailers when it comes to problem solving or making diet decisions.
"The pet food industry has seen tremendous growth, and along with that growth it has become extremely complicated for pet parents to navigate," said Kelli Stoll, vice president of sales for Freely Pet, a manufacturer based in Brentwood, Mo. "The number of options, confusing claims, and ways to feed have left dog parents largely unsupported and left to answer, 'What is best for my dog?' all on their own.
"At the same time, millennials have become the largest group of pet parents and are adopting pets more than any other generation," she added. "And they're shifting what pet parenthood looks like—they're deeply committed to their role as a pet parent and have high expectations of the brands they choose, yet there are still meaningful gaps in the available resources."
This is a vital space for the independent pet retailer to make a difference.
Denise Strong, owner of Pawz on Main, a pet supply store in Cottonwood, Ariz., said that although customers definitely want to be educated and attempt to do some of that research on their own, there's so much information out there that they often need a lot of extra help.
"Sadly, a lot of pet owners just don't know what they're looking for in a pet food," Strong said. "There is too much misinformation out there. So, I take the time to educate the public about pet food including sourcing, manufacturing, processing, ingredients and, often, a history of recalls."
Strong said this is a major differentiation from big-box stores that will carry everything and whose employees typically can't answer a lot of food-related questions.
Nicci Cammack, owner of NorthPoint Pets & Co., a retailer in Cheshire, Conn., said that a reason why people choose independent retailers in the first place is that they want the help and guidance they won't receive at a big-box store. It's the reason why NorthPoint Pets offers nutritional consults.
"There is so much misleading and biased information that pet parents have to weed through just to make a food choice," she added. "It can be exhausting for pet parents, and they are eager for help."
---

Trade Talk
Jessika Zulic, senior brand manager of Whitebridge Pet Brands in St. Louis
Dog owners have a lot of options when it comes to food for their pets, and the category is always evolving. What types of foods (format, proteins, etc.) are popular with owners, and why? What does Whitebridge offer to meet dog owners' needs?
The supplement category and, in turn, supplemented foods are growing quickly as more owners become do-it-yourselfers with regards to nutrition and problem solving for their pets. The combination of better health care, more emphasis on nutrition and savvy owners equals healthier pets, which also means dogs are aging longer. Regardless of health, aging dogs may experience things like hip and joint issues. Overweight dogs are subject to digestive issues as their mobility lessens, and seasonal skin and coat issues affect many dogs during the spring and summer months.
Available this fall, our new line of Dogswell foods perfectly complements our popular meat jerkies. Both are made in the USA, with natural ingredients and fresh meats. Supplementation levels exceed other products and deliver real benefits for dogs with common health issues. High-protein diets with probiotics, turmeric, and dried fruits and vegetables are further supplemented with glucosamine, chondroitin, and omegas-3 and -6 essential fatty acids.