In the realm of dining accoutrements for the furry set, the once humble dog or cat dish has transformed, and the pet dishes and feeding accessories category now encompasses a vast array of product types, including decorative dishes, treat and food jars, fountains, feeders and lick mats. The number of choices can be daunting, and today's pet owner selects these items based on an equally wide range of demands.
"Pet parents are looking for solutions-based products that enhance the health and wellness of pets and provide solutions in their already hectic lives," said Damian Hall, senior marketing manager at Mansfield, Mass.-based the Hagen Group, manufacturer of the Catit brand.
Options like Catit's automatic feeders and fountains can provide these types of solutions for all types of pet owners, "from the retired person who travels to the pet parent who is returning to the office and no longer working remote," that want to improve their pets' lives, Hall added.
In addition, functionality, price point and styles that complement a home's décor are important to pet owners, said Eric Abbey, president and founder of Loving Pets, a manufacturer in Cranbury, N.J.
When it comes to feeding bowls, convenience and durability are key components to the selection process, added Neil Peters, sales manager for Carmel Ceramica, a manufacturer in Carmel, Calif.
"Our stoneware bowls are popular because they are dishwasher and microwave safe," Peters said. "These are hefty, ceramic pieces that are also very durable."
George, a retailer with several locations in California, manufactures its own proprietary bowls, said owner Bobby Wise.
"All our bowls are ceramic or porcelain, and we try to balance out 'poppy' colors and bowls featuring bold graphic statements with plenty of styles that have neutral palettes and understated graphics," he said.
At Wag Heaven, which has stores in Georgetown, Texas, fountain waterers along with feeders for dogs and cats are in the mix.
"We have many different types of feeders to keep pets occupied, including slow feeders with multiple internal patterns and designs," said co-owner Jeff Manley.
Price considerations are a factor for Wag Heaven customers, where practicality reigns.
"We pride ourselves in being simple and practical with the products we carry, but they must be functional as well," Manley said. 
Likewise, cost and function are considerations at Odyssey Pets, a retailer in Dallas, according to co-owner Sherry Redwine.
"I've tried all the cutesy stuff, but my best-sellers are always stainless steel rubber-bottom bowls as well as simple, bright-colored ceramic bowls," she said.
At Wag Heaven, sustainability is taken into consideration in determining the product mix, Manley noted.
"We are well aware that we must take some responsibility in carrying products that are made from sustainable materials, such as bamboo and recycled materials," he said.
In addition, locally sourced and manufactured products are highlighted.
"We have established a working relationship with the Sun City Sewing Club here in Georgetown. They manufacture snuffle mats made from recycled felts that are washable," Manley said. "The snuffle mats are used to hide foods or treats, so pets work for their rewards." 
All sales proceeds from the mats are earmarked to support local rescues and shelters, he added.
Adam Baker, founder and president of SodaPup, a manufacturer in Longmont, Colo., noted an uptick in requests for enrichment-oriented feeding products, such as lick mats featuring innovative patterns and designs.
"We have been very focused on this category, looking for ways to improve existing product types, and are creating new products that haven't been in the market before," Baker said.
SodaPup's color strategy focuses on deep, rich hues that will complement home décor, as opposed to bright, dog-toy colors, Baker noted.
"Our marine-blue and deep-purple products perform really well for us," he added.
Redwine noted that maze-type slow-feeders are a must have.
"They can be displayed in the bowl section or in your interactive section with lick mats," she said.
New Products
Meeting Pet Owner Demand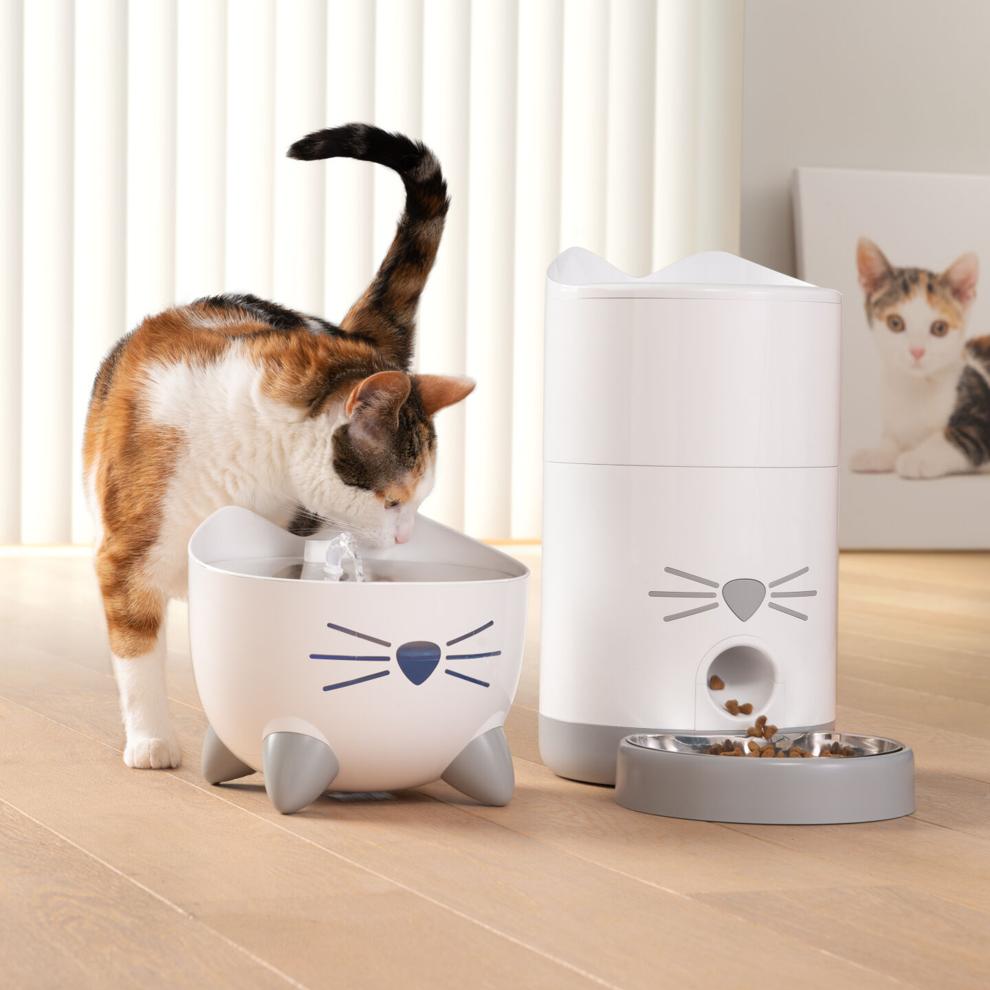 Pet owners are seeking functionality, ease of cleaning, and durability in feeding accessories that will complement personal style and décor, and manufacturers are meeting these needs with several new products in a variety of materials and styles.
Catit, a brand by Mansfield, Mass.-based the Hagen Group, has been offering automatic feeders and hydration solutions that meet the health and wellness requirements of cats for more than 20 years.
"We know cats are smart and instinctively don't like drinking still or standing water," said Damian Hall, senior marketing manager at the Hagen Group. "One of the healthiest things you can do for your cat is to get them to ingest more water. We also know that cats can have feeding issues, becoming too finicky, overeating and such. Automatic feeders and fountains address these needs."
Catit recently introduced its Pixi Smart Fountain and Feeders in response to consumer demand for solutions-based products.
"Consumers want the ability to control feeding and hydration, from portion control to diet variety to knowing when the water bowl needs to be filled and filters changed," Hall said. "As our homes have become more connected and app driven, it was only logical that our pet products would as well."
Catit's Pixi products are app-driven automatic feeding and watering solutions. The app-connected Pixi Smart Fountain allows for continuous monitoring of the water quality and levels, and notifies pet owners when the filters need to be cleaned and replaced. The company also offers the Pixi Smart 6-Meal Feeder, which has six individual compartments that can be filled with dry kibble, treats and wet food. Each unit includes an ice pack to keep wet food fresh during the day, Hall said. Owners can schedule meals using the app.
The company also offers a feeder designed just for dry food.
"The Pixi Smart Feeder is controlled by the same app as the fountain and allows you to program how much and how often your cat gets dry food," Hall said. "You can also manually dispense the food by pushing the cute nose."
Offering a range of designs is incredibly important to appeal to a wider scope of pet owner requirements, noted Eric Abbey, president and founder of Loving Pets in Cranbury, N.J.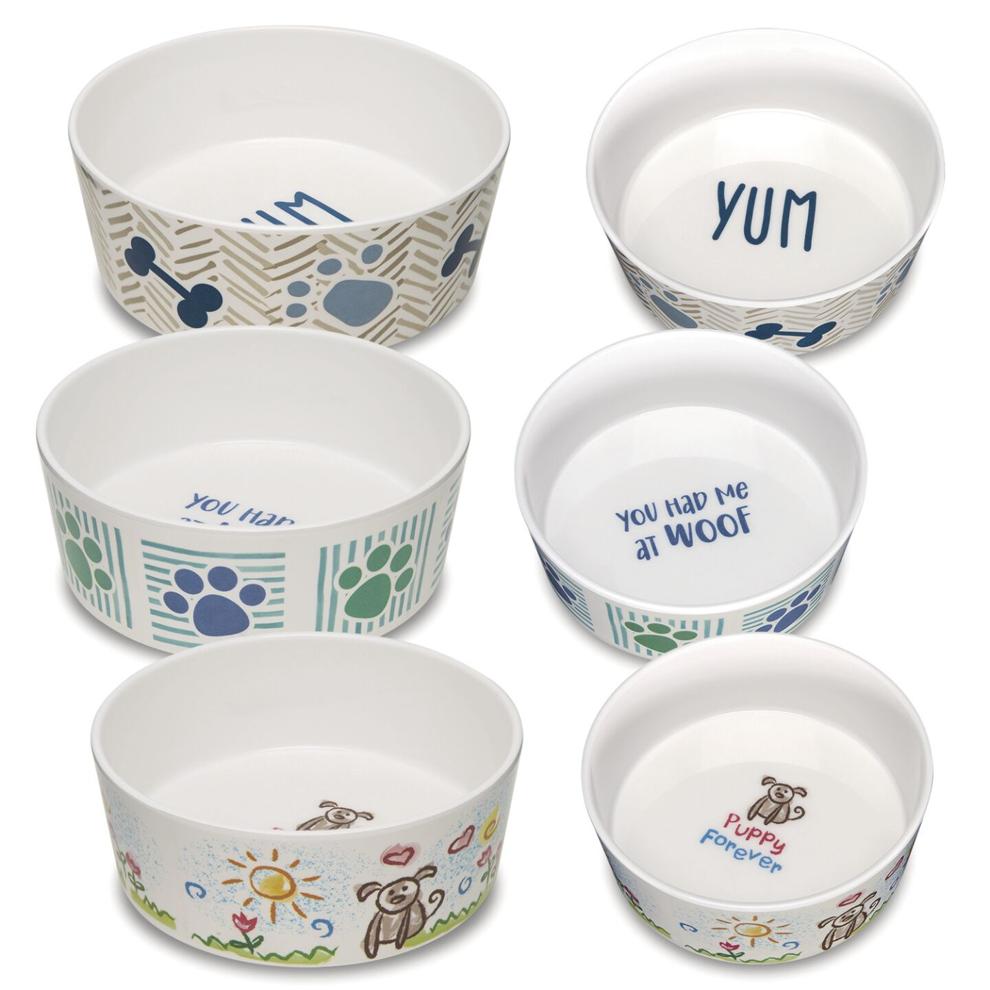 Loving Pets' recently launched Dolce Moderno bowl line is inspired by the look and feel of ceramic. The durable plastic bowls are dishwasher safe, have rubber feet and are available in six fashion-forward designs, Abbey said.
Loving Pets' Retro Bowl collection offers on-trend colors that "pop," such as hot pink and electric blue, Abbey added. The durable, glossy-finished melamine bowls feature a dishwasher-safe removable stainless steel bowl insert for ease of cleaning. The no-tip design includes rubber feet to prevent sliding and noise.
Traveling or spending time outdoors with the furry set is easier with the Bella Roma Travel Bowl collection, according to Abbey. The collapsible bowls will keep dogs hydrated and well fed and can go from storing dry dog food to standing upright to create an on-the-go elevated feeding station.
SodaPup is committed to making better lick mats.
"Lick mats retain food better, take longer for dogs to use and hold up better in the dishwasher," said Adam Baker, founder and president of the Longmont, Colo.-based company.
Love was in the air with SodaPup's Valentine's Day release of the Love eMat, an enrichment lick mat featuring an art deco-inspired heart design. At press time, a larger version was set for release this summer.
"In April, we donated 30 percent of net sales of this design to the International Committee of the Red Cross for humanitarian relief in Ukraine," Baker said.
SodaPup's strategy is to introduce seasonal novelty designs; for instance, a Halloween-themed Zombie eMat is in the pipeline, as is a Christmas-themed design.
Lathered pups will be well entertained with SodaPup's Bathtub series. Released this spring, the suction-cup-backed lick mats feature fun water themes, including Duckies and the Whale design, which features a complete picture as the licking pattern.
To accommodate dogs that might become excited and chew their lick mats, SodaPup created the new eCoin, an indestructible enrichment/licking device constructed from nylon, Baker said.
Slow-feeder bowls are also joining the SodaPup offerings.
"Research shows that most slow-feeder bowls do not slow down a dog's eating in a meaningful way—and therefore do not provide much enrichment," Baker said. "Our first design is called Honeycomb, with a domed/curved top creating greater depth in the center."
A second slow feeder will be released by summer's end, with more to follow, according to Baker.
Unstoppables are also joining the SodaPup lineup.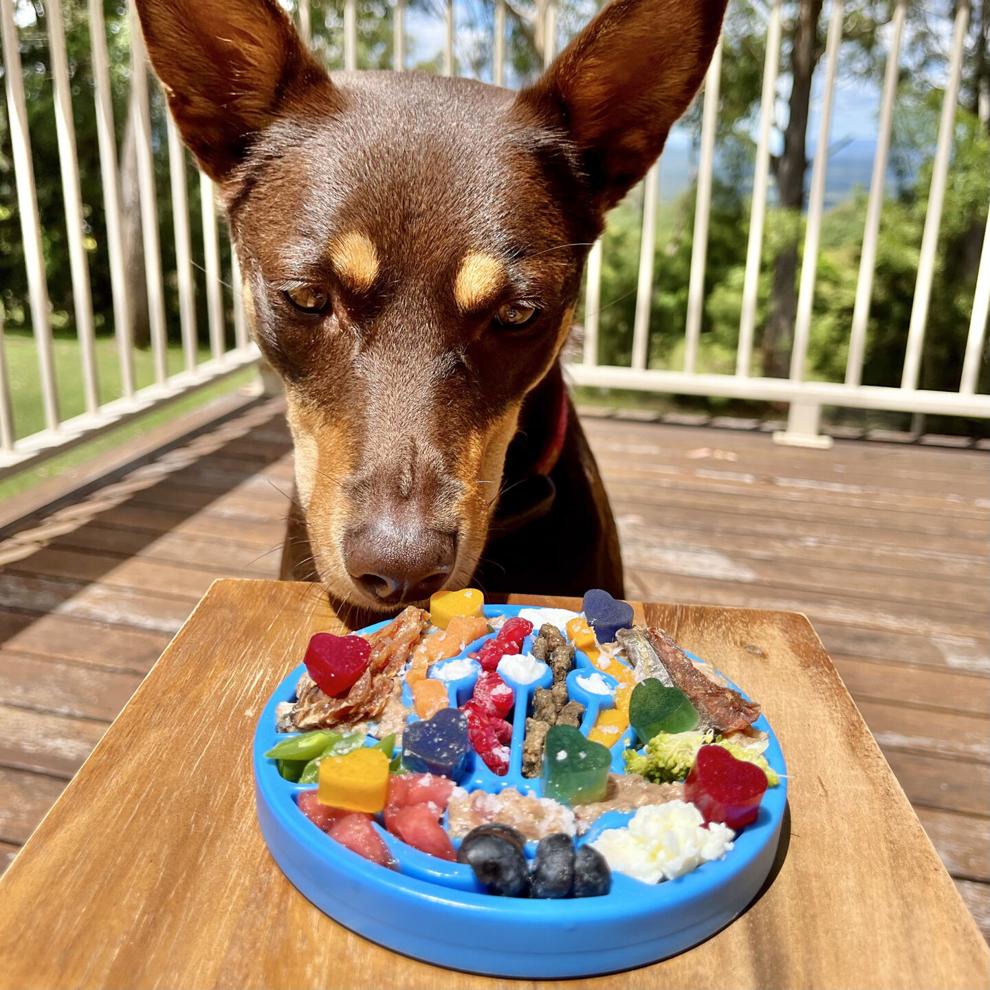 "Many consumers feed their dogs meals inside of enrichment toys, often preparing several toys at once to freeze for use throughout the week," Baker said. "The challenge is that the treat dispensers often don't stay upright because of the shape of the toy or will leak because of the moist or wet food items placed inside the toy."
Available in four-packs, Unstoppables are designed as a stand to keep the toy vertical, and a plug to prevent leakage, making filling easier and keeping the toys upright in the freezer. They fit all SodaPup rubber enrichment toys.
Treat jars with matching bowls are the staple of Carmel Ceramica's pet collection, according to Neil Peters, sales manager for the Carmel, Calif.-based company. 
 "In dog items we offer four colors, and for cats we offer two," he said. "While we have not introduced a new color or size in a while, the popularity of the collection has us looking at a few different options."
Merchandising
An Enticing Array
Pet bowls and other feeding accessories lend themselves well to display, and retailers who take care in the merchandising of these products are more likely to gain extra sales, whether they're from pet owners in need of a feeding solution or shoppers just stopping in for their usual supplies.
Variety and selection are the key components to merchandising feeding accessories, according to Neil Peters, sales manager for Carmel Ceramica, a manufacturer in Carmel, Calif. 
"Generally, the more selection the better," he said. "I have always found that the bigger the display the better the impression is made to consumers while shopping."
Modeling a bowl aisle to resemble that of a home goods store will allow customers to easily navigate to the design and price point that will suit their individual needs, said Eric Abbey, president and founder of Loving Pets, a manufacturer in Cranbury, N.J. Sections might focus on needs such as everyday use, travel and raised diners versus traditional bowls or materials used such as melamine, plastic, stainless steel, ceramic or wood, and could include items for a new puppy or home design-focused styles, Abbey said.
Sherry Redwine, co-owner of Odyssey Pets, a retailer in Dallas, suggests displaying bowls on a matching mat in a diorama style alongside household goods such as candles.
At George, a retailer with several locations in California, presentation often depends on the style and shape of a bowl, said owner Bobby Wise.
"We love to stack them vertically, to 'pyramid' them, stand one up inside another one—anything to create visual excitement using either color, texture or grouping," he said.
Jeff Manley, co-owner of Wag Heaven, which has stores in Georgetown, Texas, said that color is a factor in creating an attractive display.
"Choosing vibrant colors helps make our shelving and merchandising more interesting and appealing," he said.
Manley noted that pet feeding accessories are displayed throughout the sales floor.
"We move them around to give our customer another chance to look and, most importantly, for our staff to explain," he said. "We have them near the kibble and have moved them to the treat sections or with our chews."