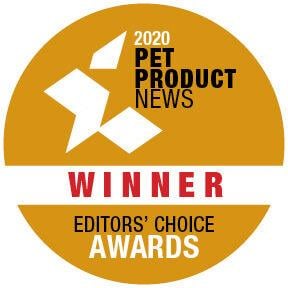 Each year, manufacturers submit their very best products for us to review as part of our annual Editors' Choice Awards, and the editors of Pet Product News get to see what exciting new products they've been working on.
In 2020, we selected the finalists for the Editors' Choice Awards, and, this month, we're excited to present the very best products from that field of finalists, products that have earned an Editors' Choice Award. In the following pages, you'll see products designed to promote play, make snack time more rewarding, enrich pet health and more.
We know that the past year has been a difficult one for everyone, and for business owners in particular. It is our hope that the winners of our annual Editors' Choice Awards will offer inspiration for freshening up your product selection—and reminding your loyal customers why independent pet shops really are the best place to find those special products that enrich pets' lives.
To the winners, finalists and everyone who submitted their products to our annual Editors' Choice Awards: Thank you for sharing the results of your hard work with us. It truly is an honor for us at Pet Product News to be able to review your products!
Here are the winners by category:
Aquatics & Exotics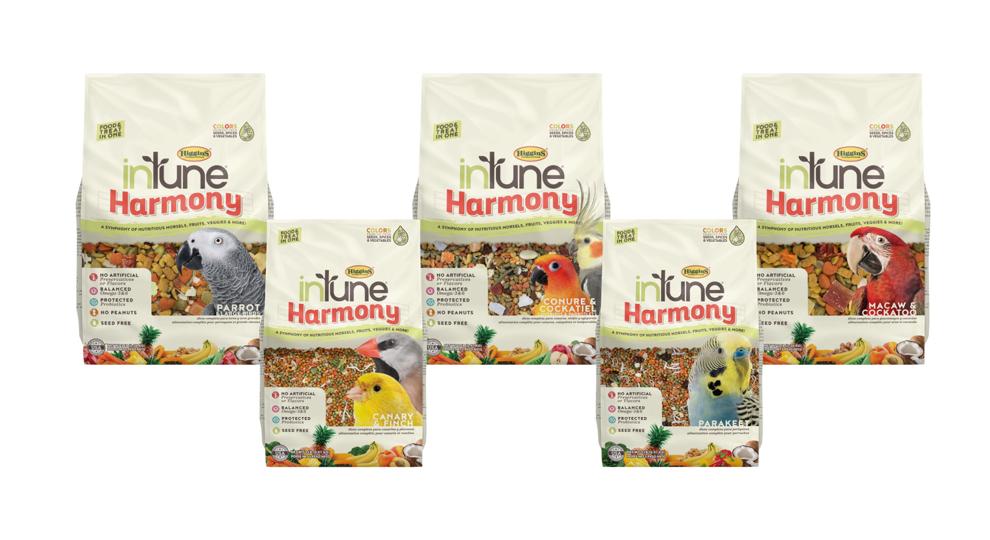 Higgins Premium Pet Foods' inTune Harmony is a seedless extruded bird food and treat in one. The product is a balanced symphony of nutritious inTune morsels, fruits, vegetables and nuts. It brings variety to pellet diets by adding healthful, natural treats in appropriate portions. The morsels bring together fun shapes with naturally sourced colors for a diet free of artificial preservatives and flavors. The food also has the added benefits of protected probiotics, balanced omega 3s and 6s, and stabilized vitamin C and vitamin E to support the immune system. It is available for companion birds, from canaries to macaws, in attractive, resealable packaging. higginspremium.com
---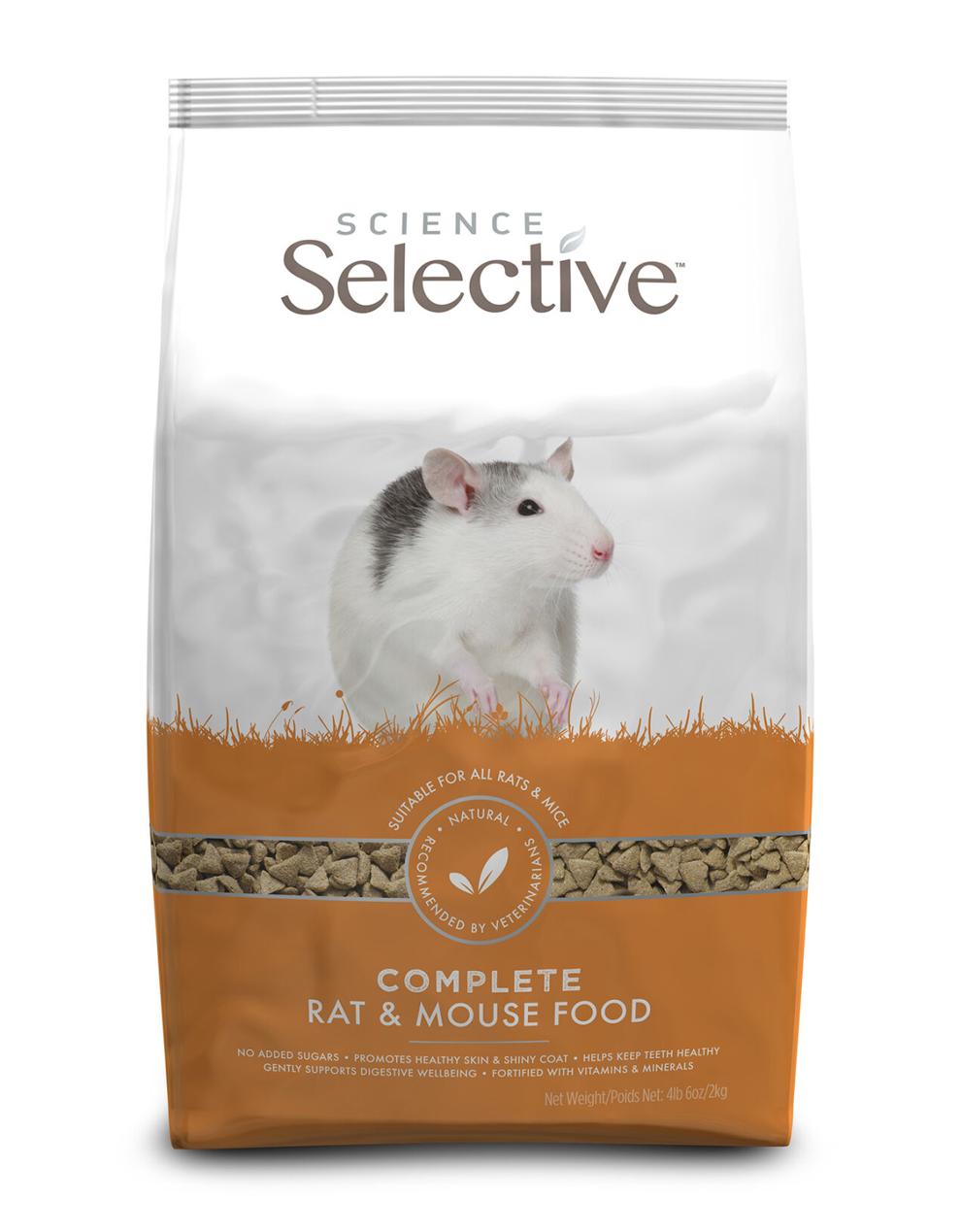 Supreme Petfoods presents Selective Rat & Mouse. Each mouthful contains the balance of nutrition rats and mice need. Easy to handle and carry, the light, airy kibble has lots of crunch, making it very palatable. As it's cooked under pressure and temperature, the ingredients bind together without any sugary syrups being present; the process also helps to make the raw ingredients more digestible. The formulation offers 14% protein from wholesome whole grains, providing the building blocks for tissue repair and a thick coat. Apples and blackcurrants provide a tasty source of useful antioxidants. Linseed oil ensures the omega fatty acids needed to have robust skin barriers and shiny coats are all present in the right balance. supremepetfoods.com
---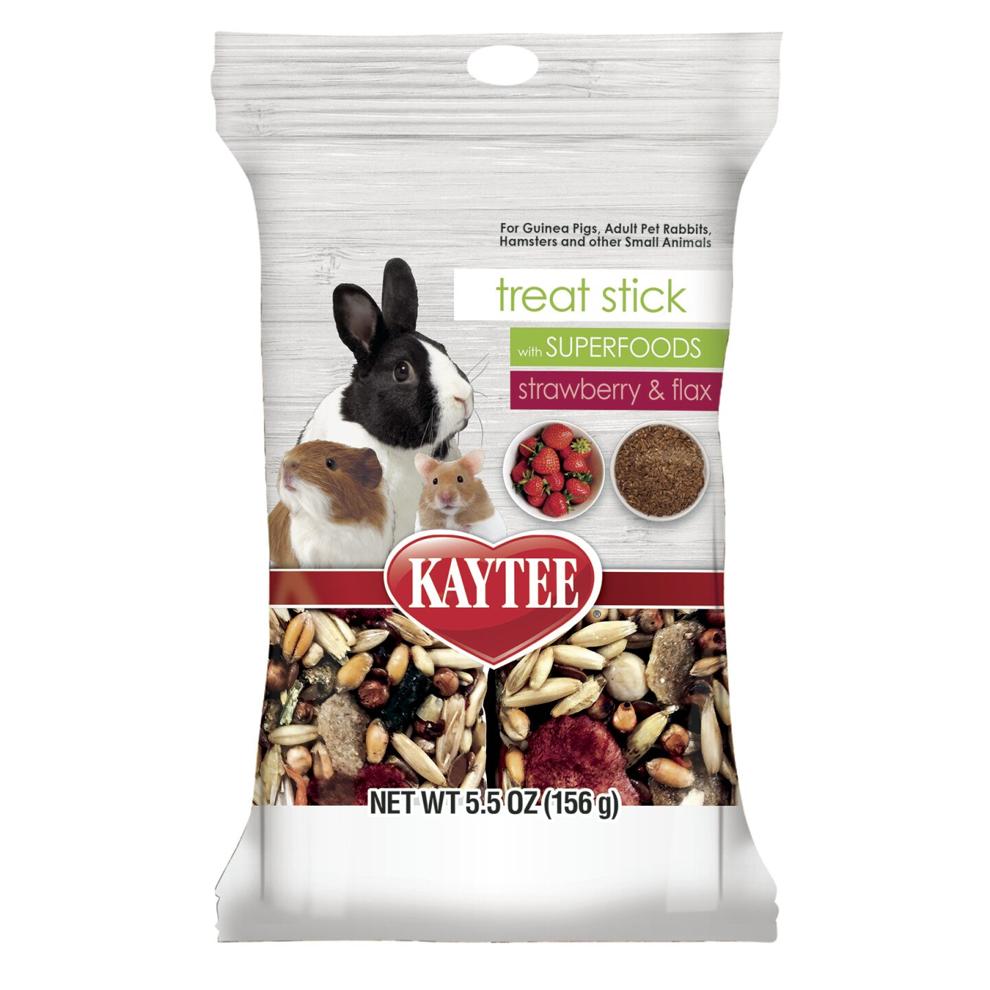 Central Garden & Pet's Kaytee Superfood Treat Sticks combine the convenience of a treat stick with the addition of a nutritious punch for a guilt-free treat experience. Each stick provides pets a source of vitamin C, antioxidants, fiber and omega 3. The sticks offer a fun way to add healthful and tasty enrichment to a pet's diet. They are available in two nutritious flavor combinations for ingredient variety: Spinach and Kale, and Flax and Strawberry. The sticks are great for adult pet rabbits, guinea pigs, chinchillas, hamsters, gerbils, mice and rats. kaytee.com
---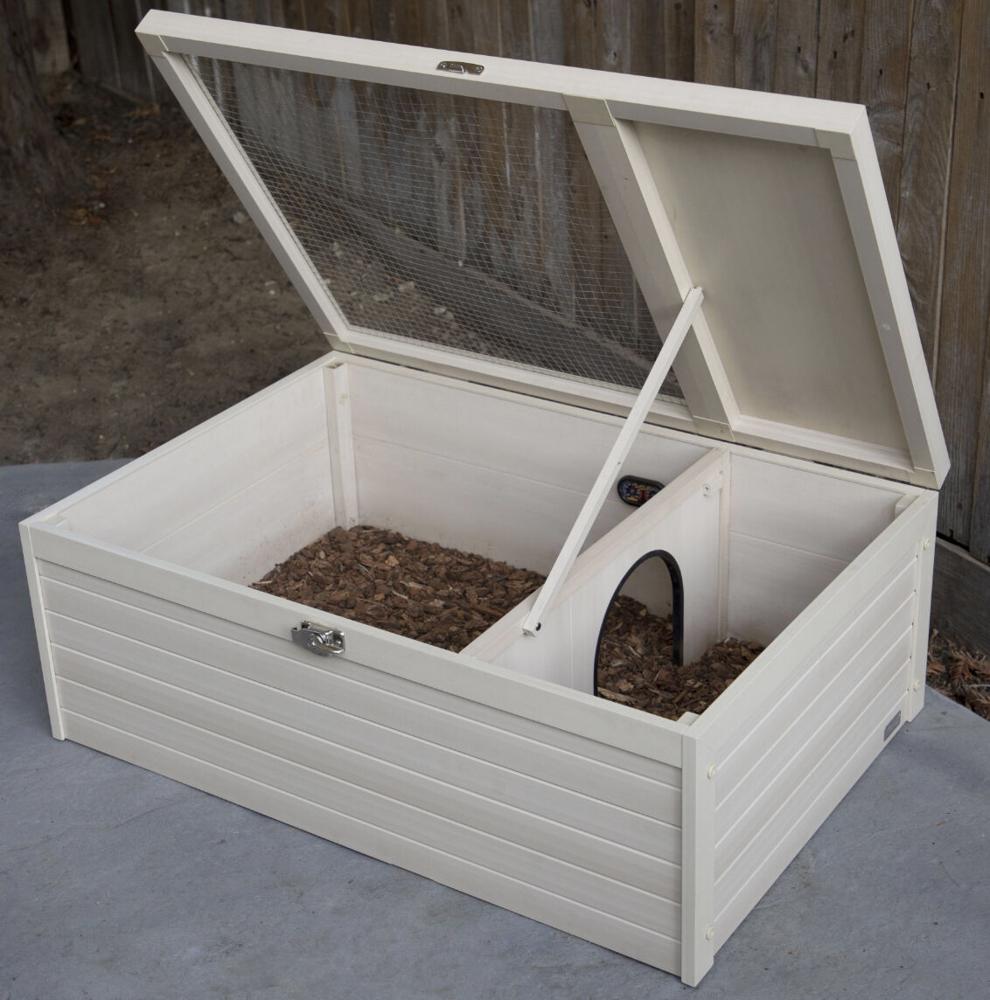 New Age Pet's Sonoran Tortoise House provides a safe place for any tortoise to live in year-round, indoors or outdoors. Features include a hinged lid and a private weather-resistant sleeping area with a solid roof panel. Tortoises can bask in the sun safely with the large NeveRust stainless steel screen over the living space. newagepet.com
---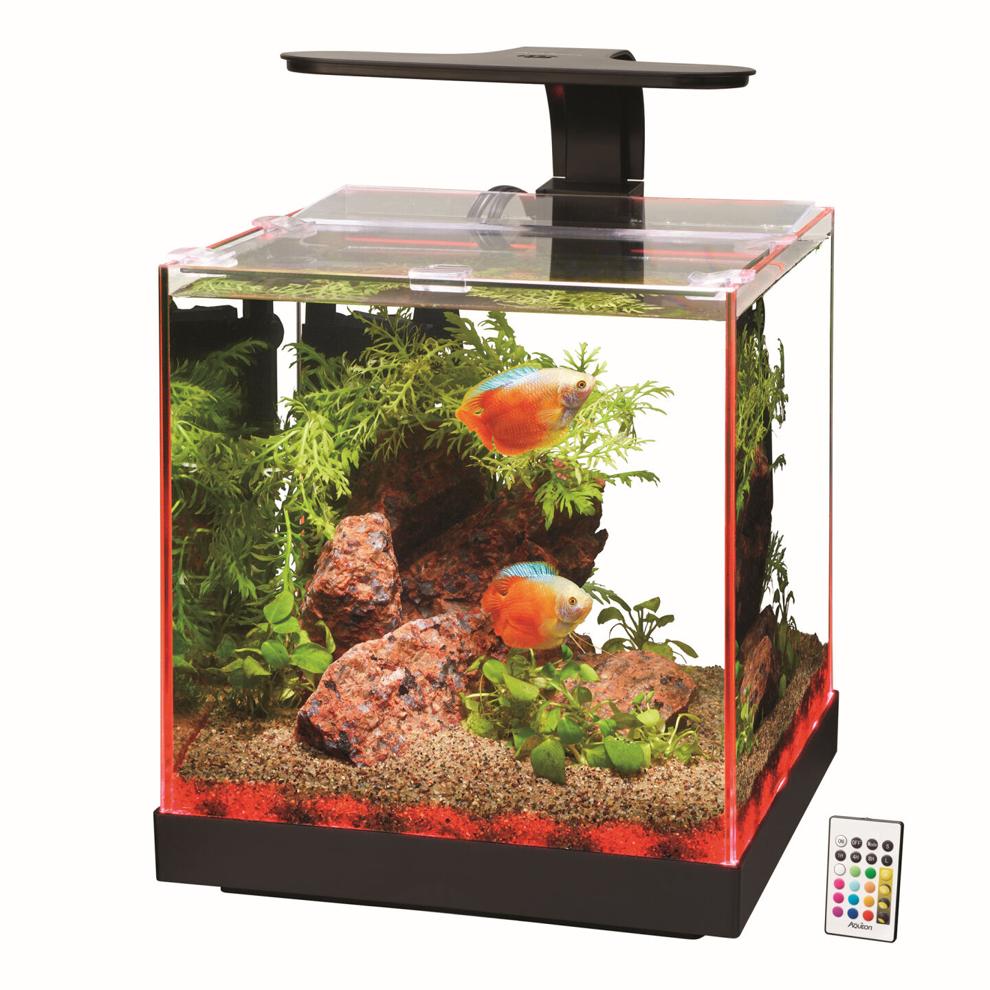 Central Garden & Pet presents the Aqueon Edgelit Rimless Glass Aquarium. Equipped with concealed LEDs that illuminate the base and side seams, this aquarium has clean contemporary lines that will surely make a statement. The aquarium is available in three sizes; the larger two include a remote to select between 12 vibrant colors and adjust the brightness. aqueon.com
---
Boutique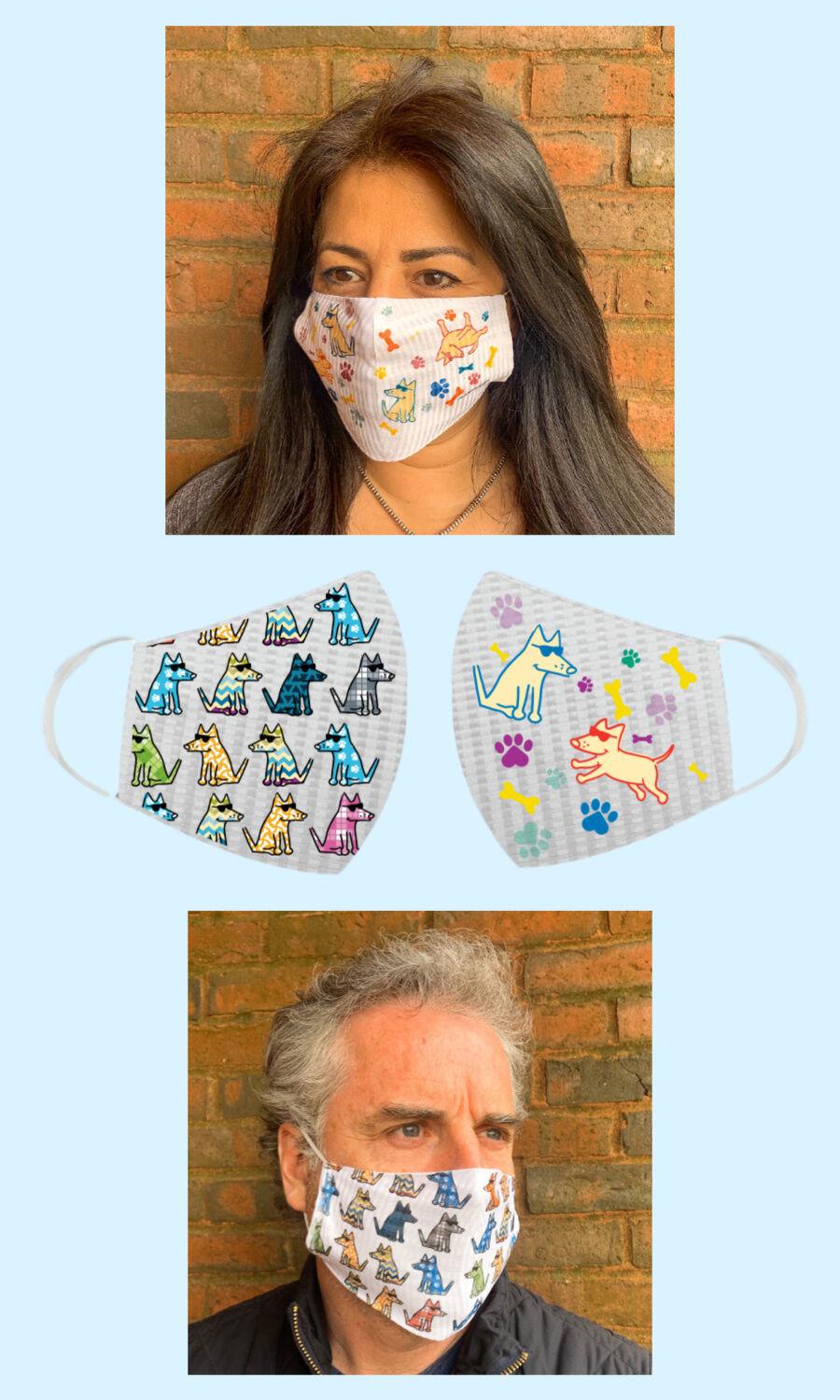 Teddy the Dog Apparel presents its face mask collection. These fun, colorful face masks come with a super-soft outer polyester lining, an inner cotton gauze lining and three filters. They are available in designs such as Groovy Teddy, It's A Dog's Life, Choose Love, Social Distancing, Bark My Words, Petriotic and Dirty Dogs Have More Fun. teddythedog.com
---
Cat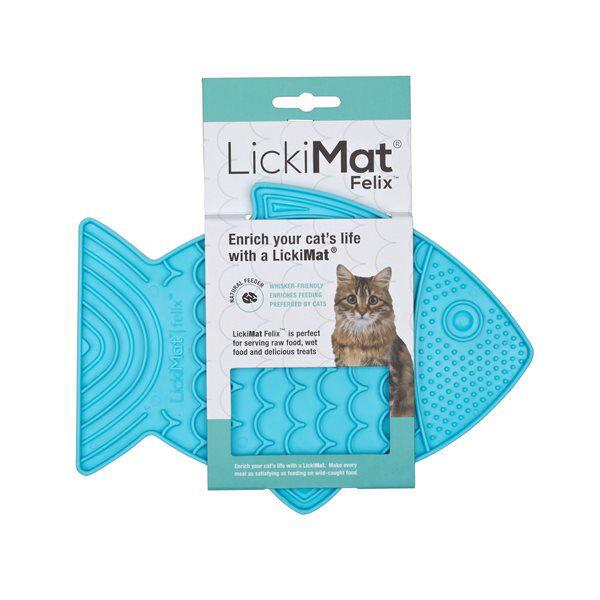 Innovative Pet Products' LickiMat Felix and LickiMat Casper are designed with a wild-feeding approach. The mats mimic the bone structure of wild-caught prey. When owners press raw food, wet food or a fishy treat into the grooves, it replicates a wild eating experience. Cats use their tongues with hooklike papillae to pull the food from the grooves. The whisker-friendly mats are available in different colors. lickimat.com
---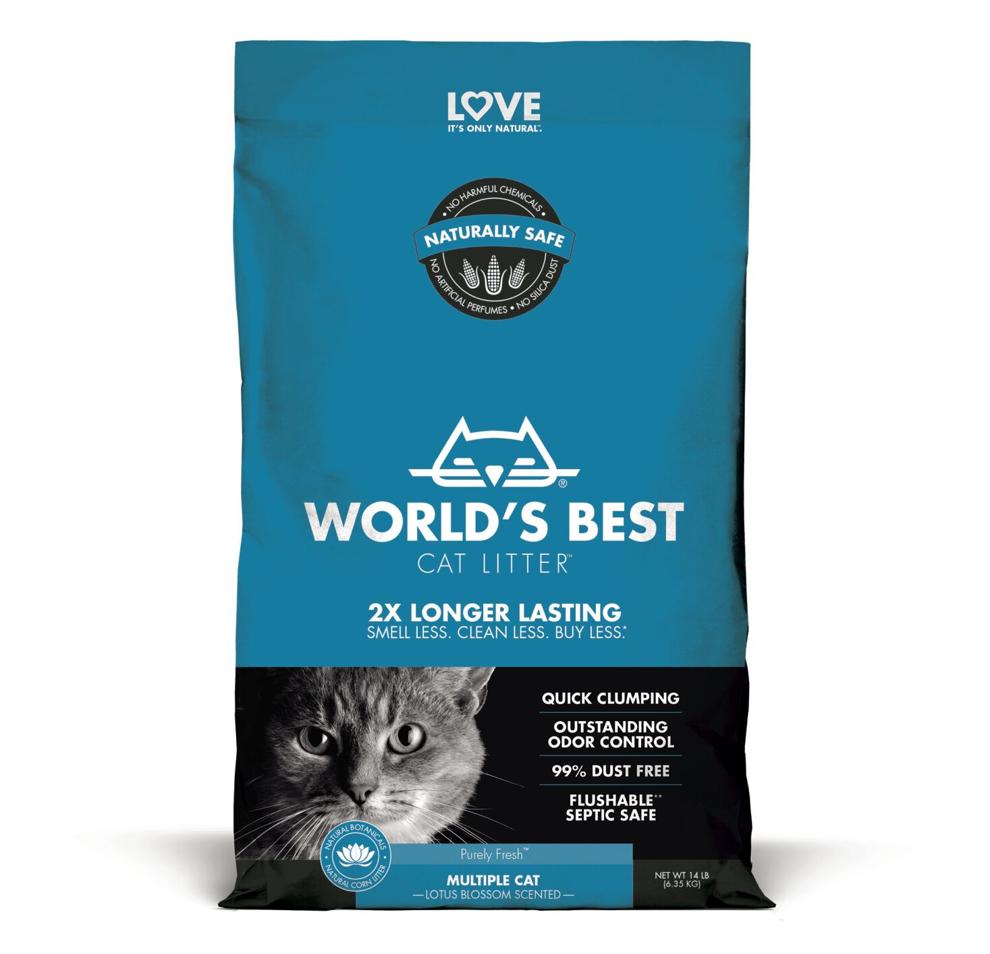 Kent Pet Group's World's Best Cat Litter Multiple Cat Lotus Blossom Scented answers cat owners' desire for a product with a subtle floral scent. Developed as a result of in-depth consumer research, the litter combines super-absorbent corn with natural botanicals to deliver long-lasting performance. The litter offers long-lasting odor control and easy cleanup. It is available in 14-, 15- and 28-lb. bags. worldsbestcatlitter.com
---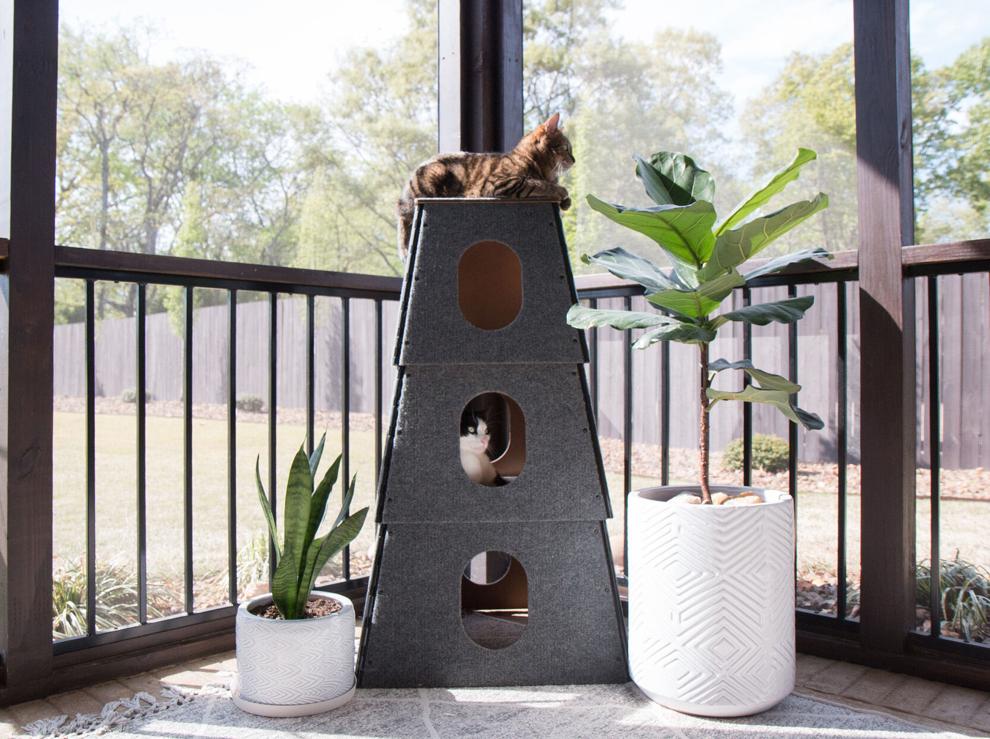 WiseWhisker's Happystack is modular, standalone cat furniture with a functional design that is safe and looks great with any interior home décor, the company states. It is also durable for outdoor covered catios, decks or barns. The stackable units are easy to transport and store, with the ability to nest each unit inside the other or take them apart to lay flat. Happystack is constructed of quality home building materials and made with non-piling indoor/outdoor carpeting, which is safe and nontoxic for pets and humans, the company adds. The materials are 100% sourced and manufactured in the USA. wisewhisker.com
---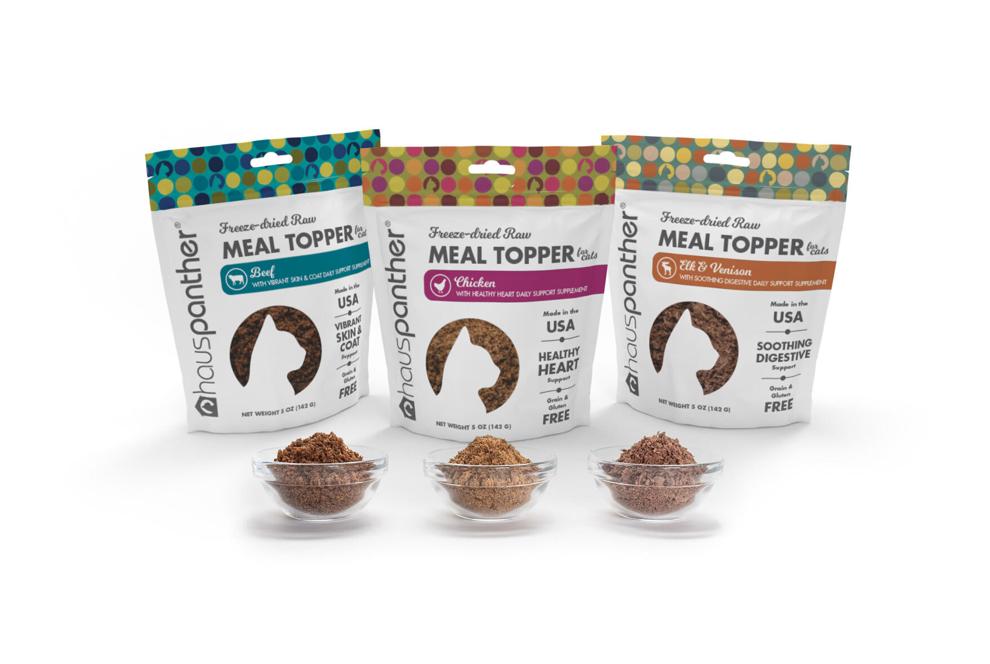 Primetime Petz's Hauspanther Freeze-dried Raw Toppers Just for Cats add variety to mealtime and are great for enticing picky eaters. The toppers also include supplements with daily support for healthy heart, skin and coat or digestion. The Chicken Meal Topper has heart-supporting taurine, an essential amino acid; the Beef Meal Topper includes omega-3 and -6 fatty acids, DHA gold, and biotin for a vibrant skin and coat; and the Elk & Venison Topper offers an alternative protein combined with soothing digestive prebiotics, probiotics and enzymes. The toppers are made in the USA. primetimepetz.com
---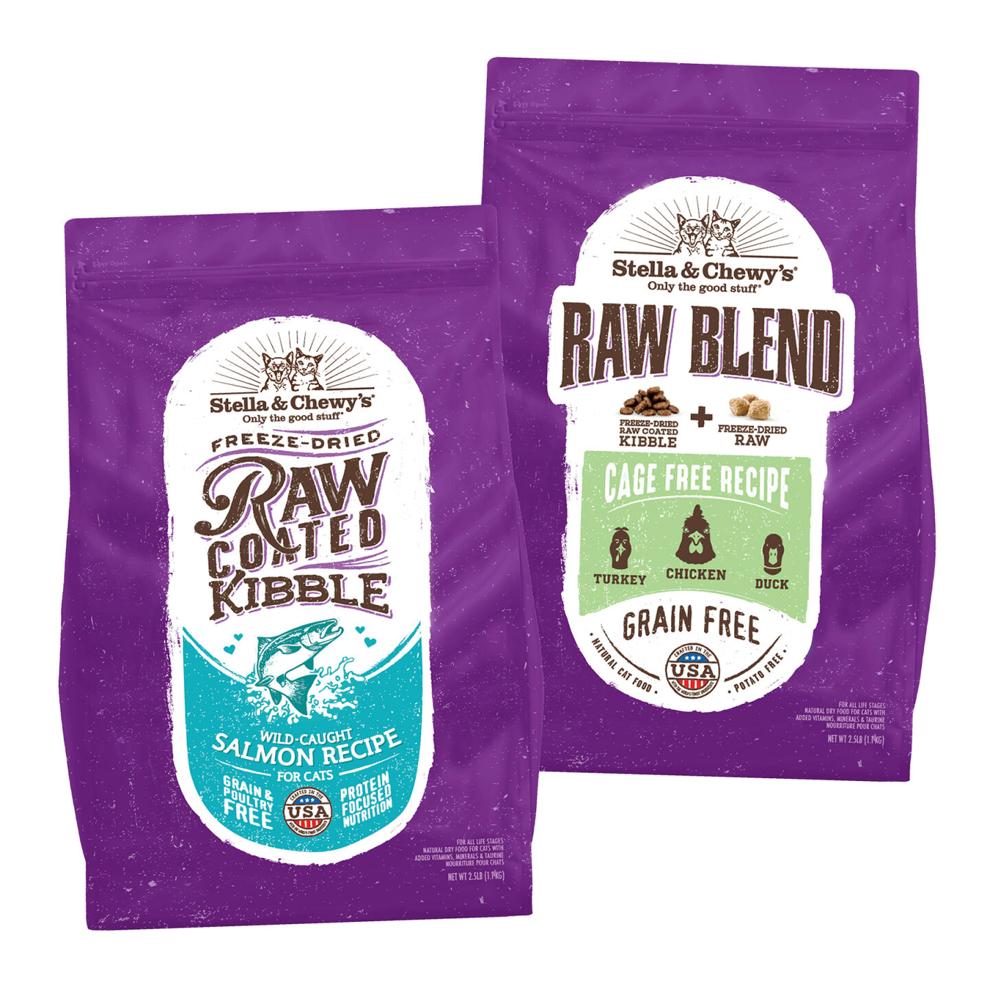 Stella & Chewy's Raw Blend and Raw Coated Kibble is high protein and grain free, with meat being the No. 1 ingredient and animal meal the second. The kibble is potato free, has a low glycemic value and is low in carbohydrates. It is rich in omegas benefiting the skin and coat, and the only fruit added is cranberry, which helps promote a healthy urinary tract. The kibble includes probiotics for optimal digestion. stellaandchewys.com
---
Dog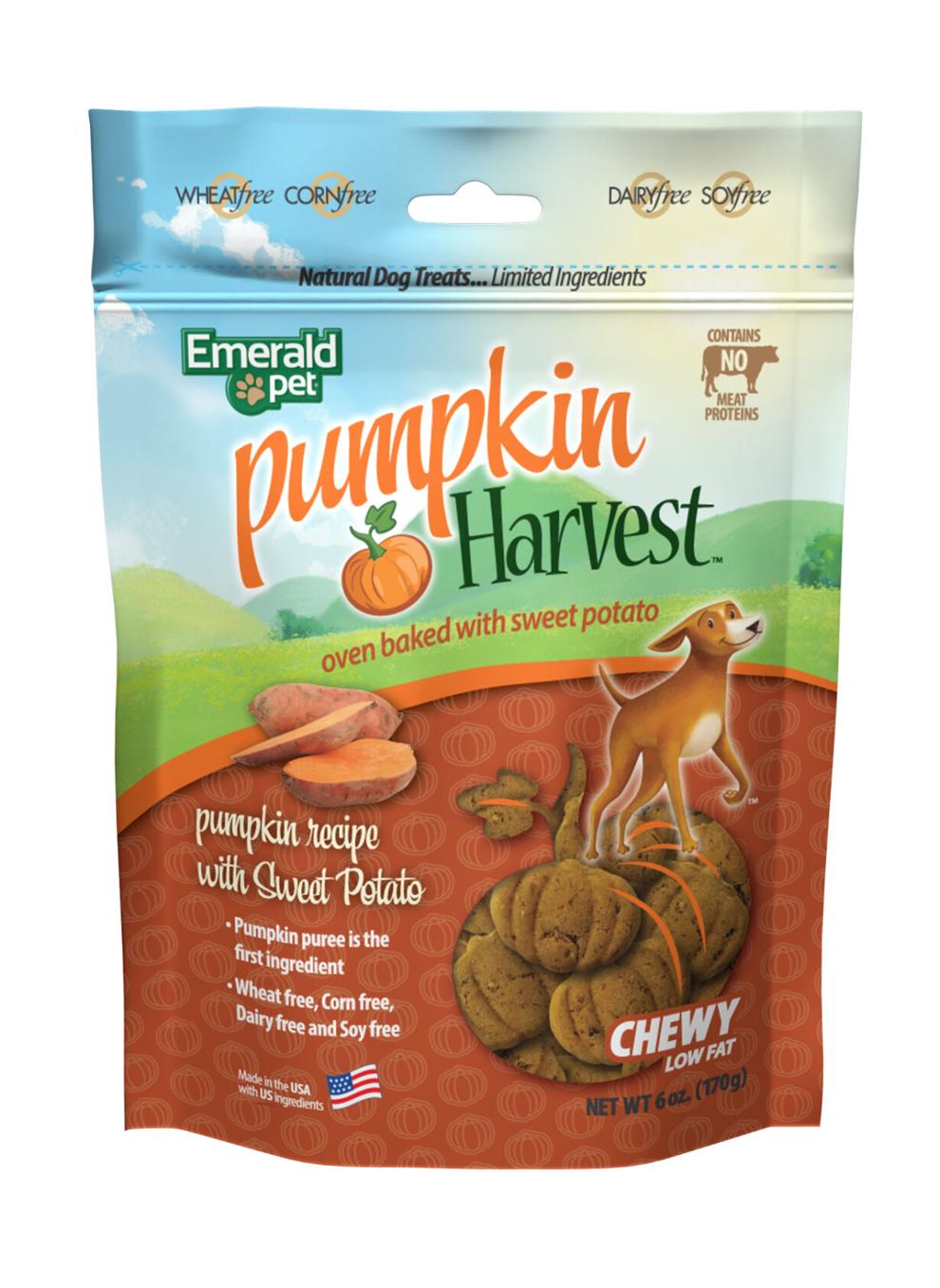 Emerald Pet Products' Pumpkin Harvest dog treats are oven-baked, low-fat, chewy treats made using pumpkin puree as the first ingredient. They do not contain any meat, poultry or fish proteins. The pumpkin-shaped treats are made in the USA with U.S. ingredients and are wheat, corn, dairy and soy free, making them the perfect solution for dogs with protein and ingredient sensitivities. Their soft chewy texture and amazing aroma make these delicious treats ideal for dogs of all ages. They contain no artificial ingredients, colors or flavors and no added sugars, sweeteners or salt. emeraldpet.com
---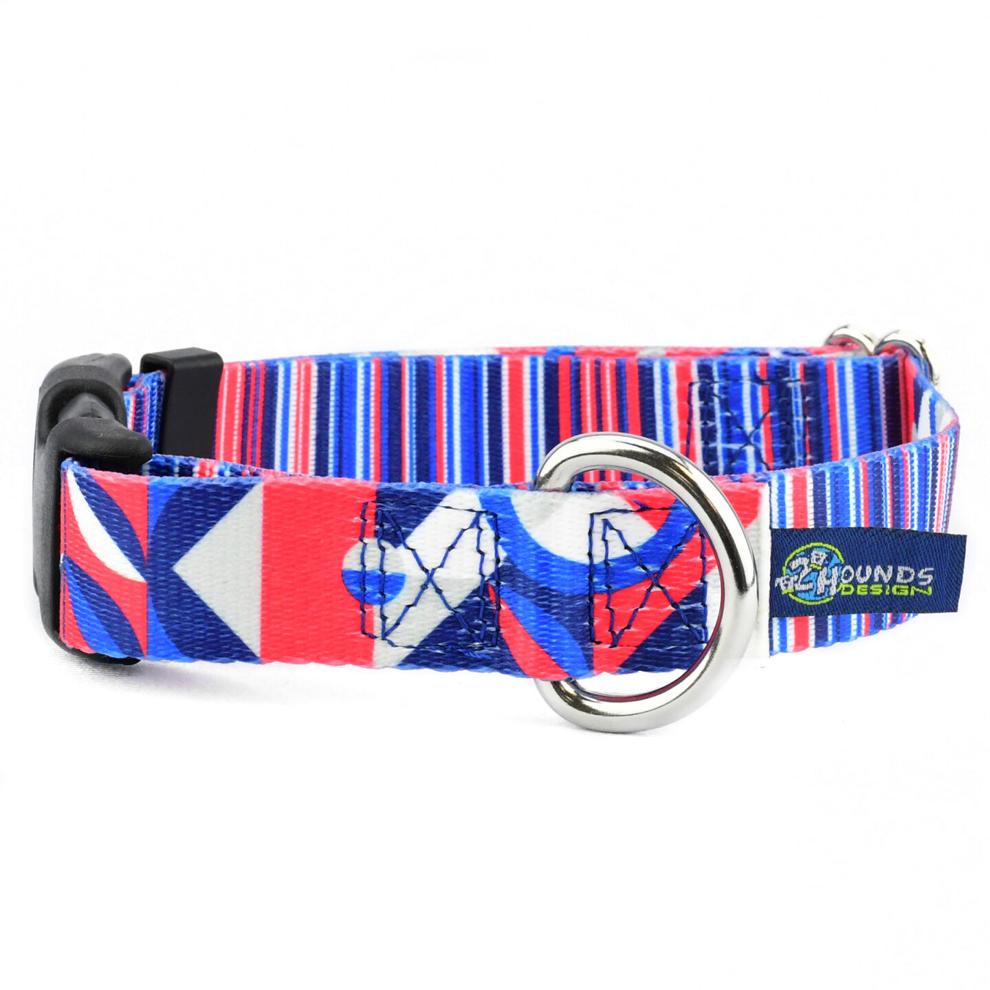 2 Hounds Design's EarthStyle collection of harnesses and collars combines colorful, upbeat designs with earth-friendly webbing made out of 100% recycled plastic bottles. The harness is the same great 2 Hounds Design Freedom Harness that customers have loved for years, the company states. It still has the super-soft Swiss-velvet lining that goes behind the front legs to prevent rubbing and chafing as well as the double connection points. The EarthStyle Collection is available in multiple fun and stylish patterns. 
2houndsdesign.com
---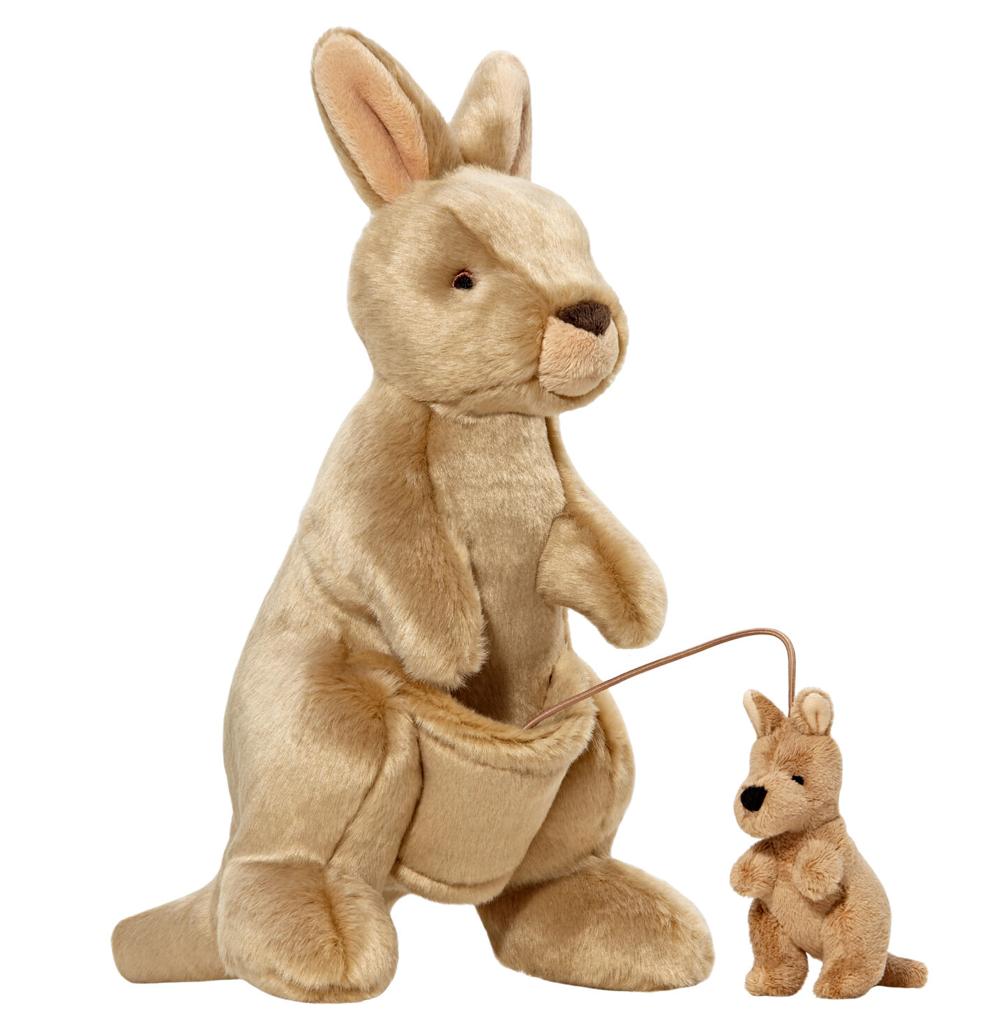 Fluff & Tuff's Phoebe & Joey Kangaroo is a large interactive toy that is great for snuggling and cuddling or tossing and tugging. Joey sits in Phoebe's pouch and is connected by a removable string that doubles the fun. The toy combines superior-quality materials with proven construction methods such as a thick Tuffweb mesh liner and double-stitched seams. fluffandtuff.com
---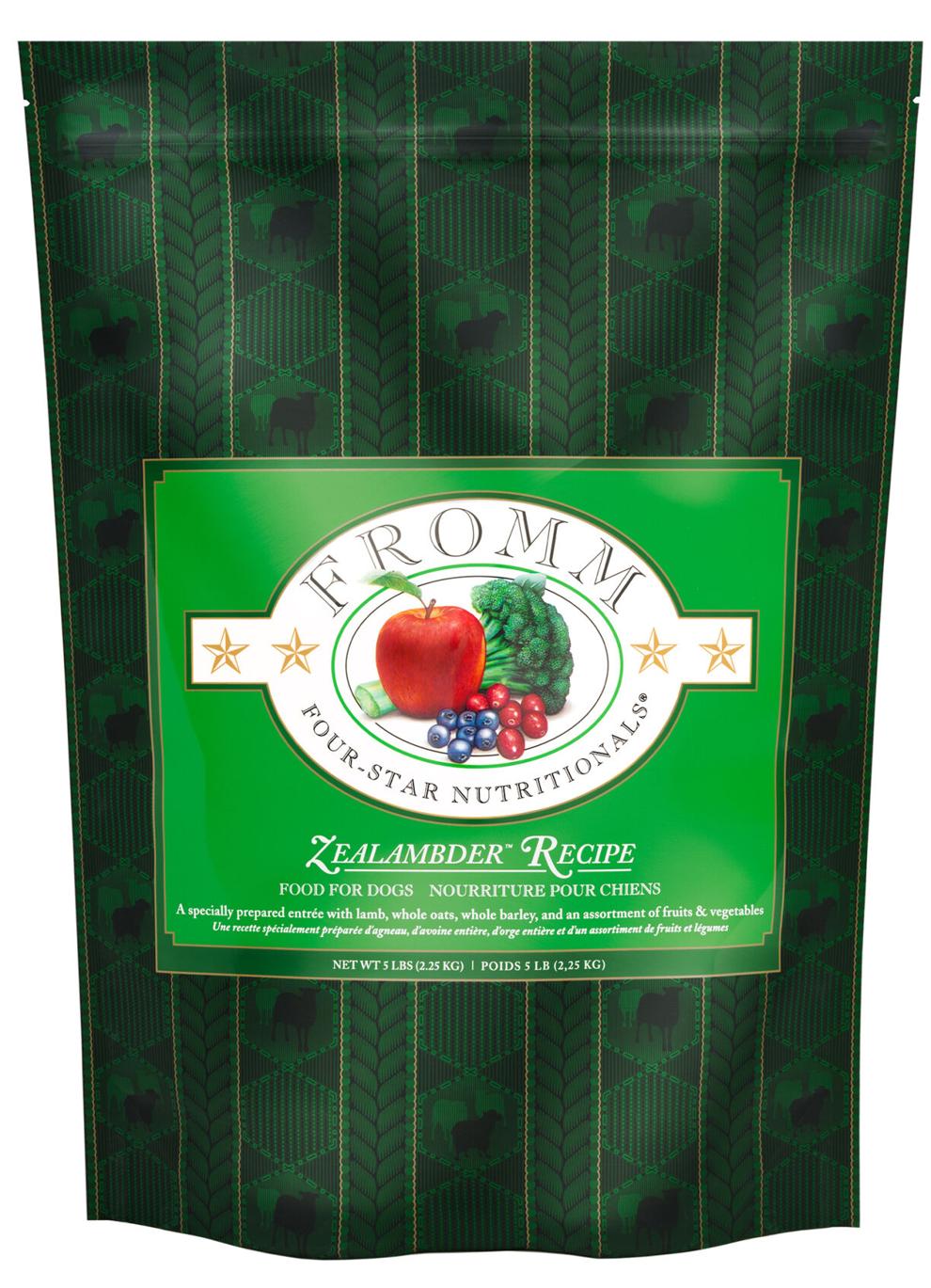 Fromm Family Foods' Zealambder Recipe is part of the company's interchangeable Four-Star Nutritionals line. The entrée brings together the goodness of lamb, salmon, venison, wholesome grains, and select fruits and vegetables including kiwifruit and pumpkin. The food is chicken and potato free, and its ingredients provide a diverse profile of nutrients including protein, fat, high-quality complex carbohydrates, vitamins and minerals. Because joint health and support is so important for all breeds and sizes, the food also includes green-lipped mussels, which are packed full of nutrients including glucosamine, chondroitin, zinc and magnesium, the company states. frommfamily.com
---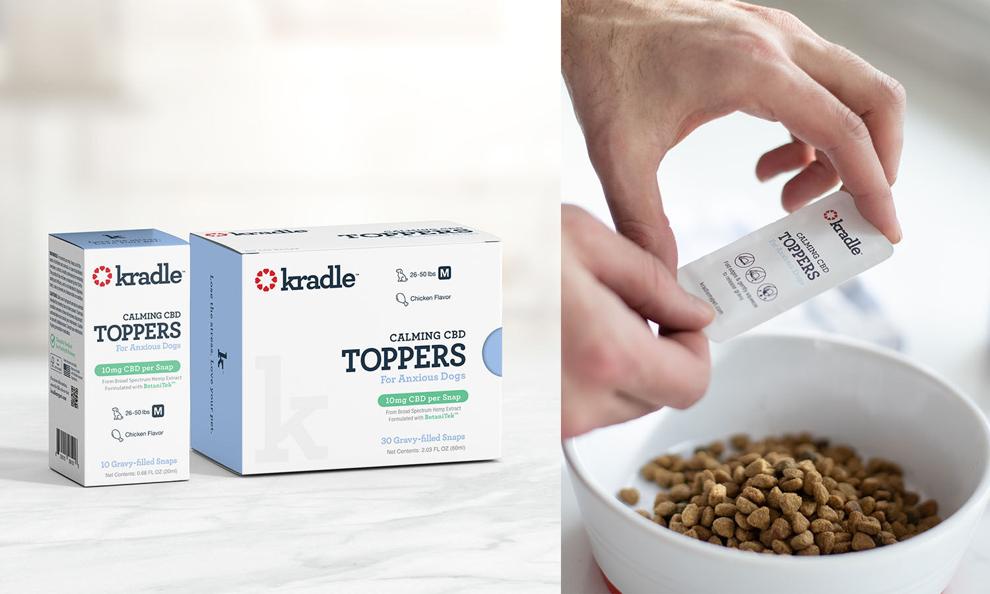 Kradle presents Calming CBD Toppers. The single-serve topper packs are a snap to use and come in a delicious chicken flavor that dogs love. The toppers contain a targeted dose of the company's patent-pending BotaniTek formulation, combining pure hemp-derived compounds and other premium ingredients to reduce stress and calm dogs from the inside out. They are tested and verified to work naturally with a pet's biology to reduce their stress without diminishing their personality, the company reports. They also work quickly and reliably and are suitable for daily use, the company states. kradlemypet.com
---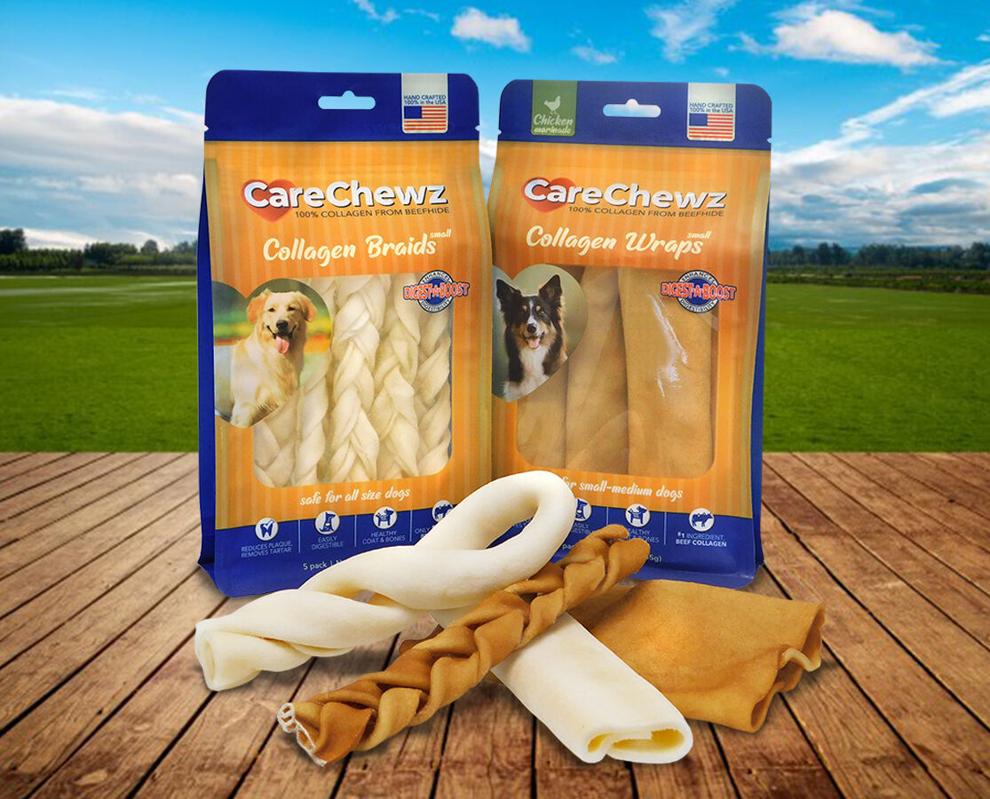 Pet Factory's CareChewz are a 100% collagen dog chew made completely in the USA with only certified USA collagen from beefhide. The long-lasting safe chew combines excellent dental care and the benefits of all-natural collagen from beefhide, the company states. Giving dogs these chews as a daily dental care solution rewards them with cleaner teeth and stronger gums. Digest-A-Boost, a bioavailability blend, is added in the preparation process; it provides 25% faster digestion after chewing. The chew is available in a variety of shapes in both 100% Natural and Chicken Marinade. carechewz.com
---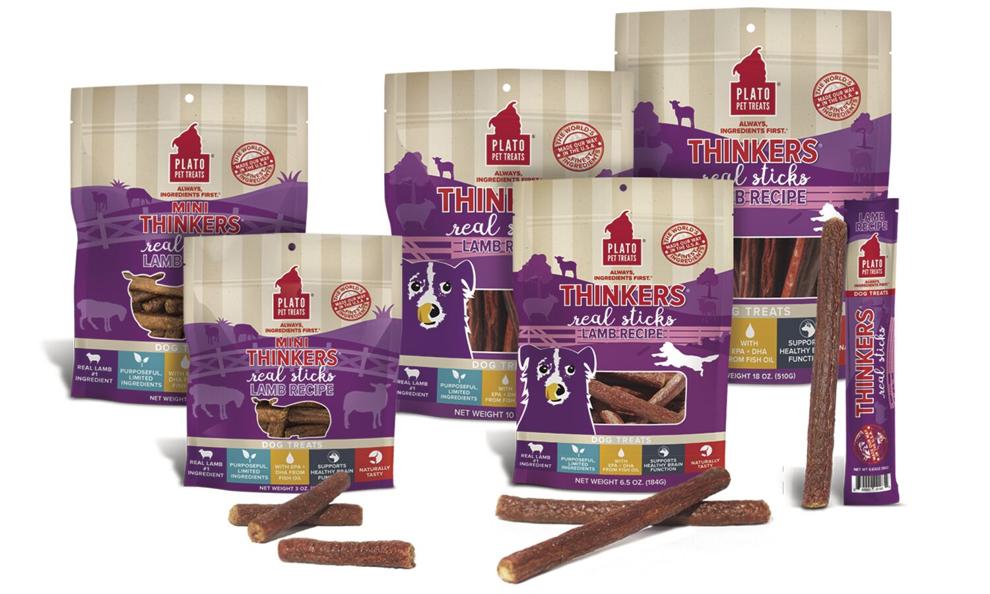 Plato Pet Treats' Lamb Thinkers and Lamb Mini Thinkers are made with real New Zealand lamb as the first ingredient. They also contain healthful brown rice and are boosted with EPA and DHA from fish oil to help support healthy brain function and maintain skin and coat health. They do not contain corn, wheat, soy or artificial flavors. The treats are naturally preserved and are air-dried to avoid high-temperature processing. Mini Thinkers are sized smaller than Thinkers in order to be more appropriate for smaller dogs or for multiple treating occasions. platopettreats.com
---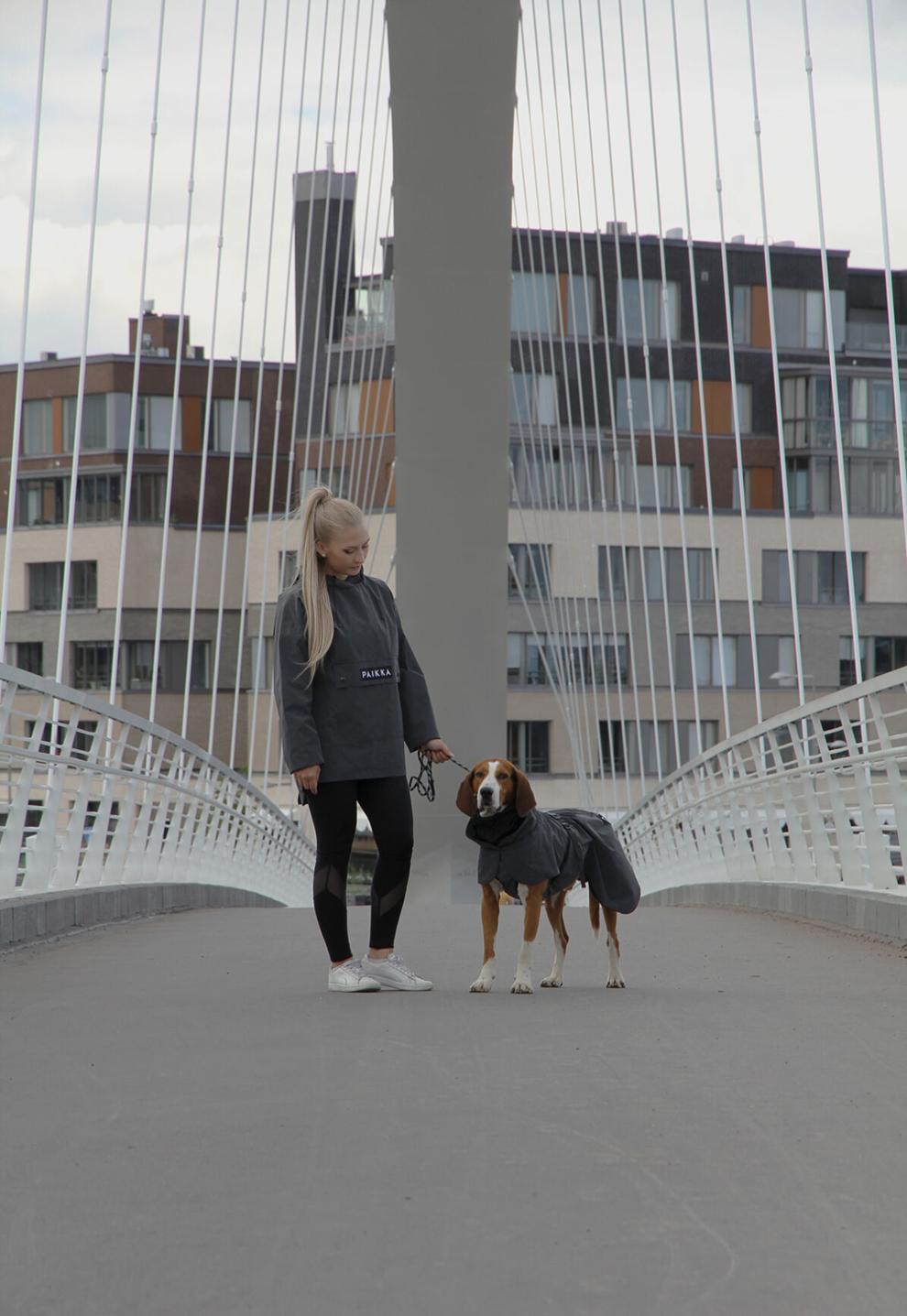 Paikka International Oy's Paikka Visibility Raincoat is made of special allover reflective fabric that looks dark but has a bright reflective effect when light hits the fabric. Its shell fabric has a waterproof coating, and all seams are taped. The waterproof hood can be pulled up to protect the dog's ears from rain and wind, and the hood can be adjusted so that it works as a tube collar, making sure moisture will not get in through the collar. The harness opening has a waterproof zipper. The coat's wool-mix lining makes this jacket suitable for different weather conditions. Wool adapts to changes in the carrier's body temperature. It has great warming qualities in cold weather, yet it is also comfortable when it is warm. paikka.pet
---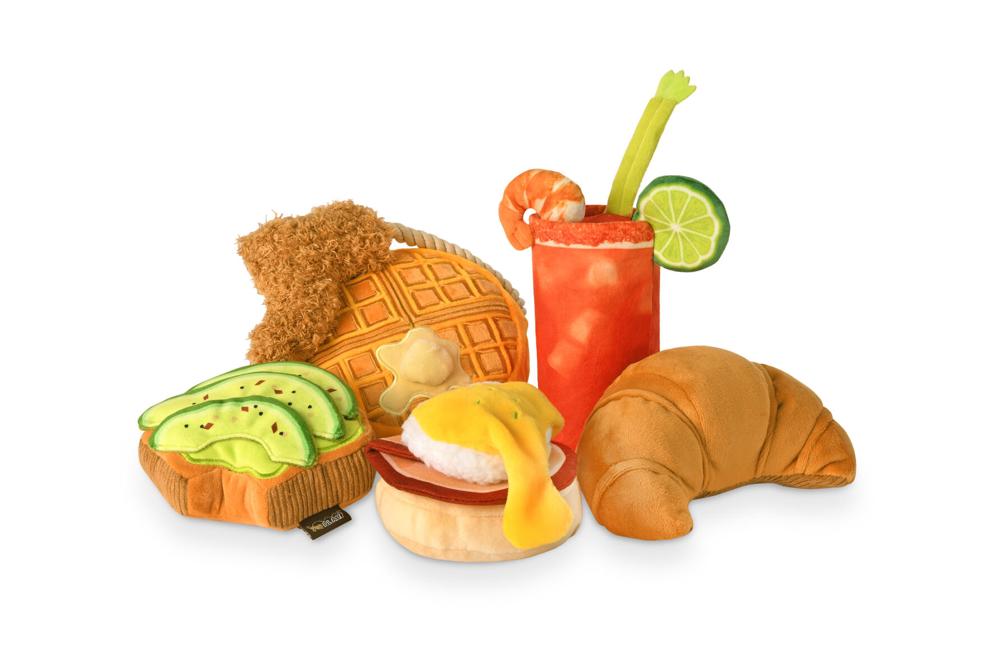 P.L.A.Y. (Pet Lifestyle And You) offers the Barking Brunch Plush Toy Collection. Now pups can have a bloody mary while enjoying a buffet consisting of a flaky croissant, eggs benedict, chicken and waffles, and avocado toast. These toys are packed with hidden features, like the Buddy Mary's bungee shrimp and detachable egg in Benny's Benedict. The toys are eco-friendly and stuffed with the company's certified-safe PlanetFill material made from 100% post-consumer recycled plastic bottles. For easy cleaning, they are 100% washer and dryer friendly. petplay.com
---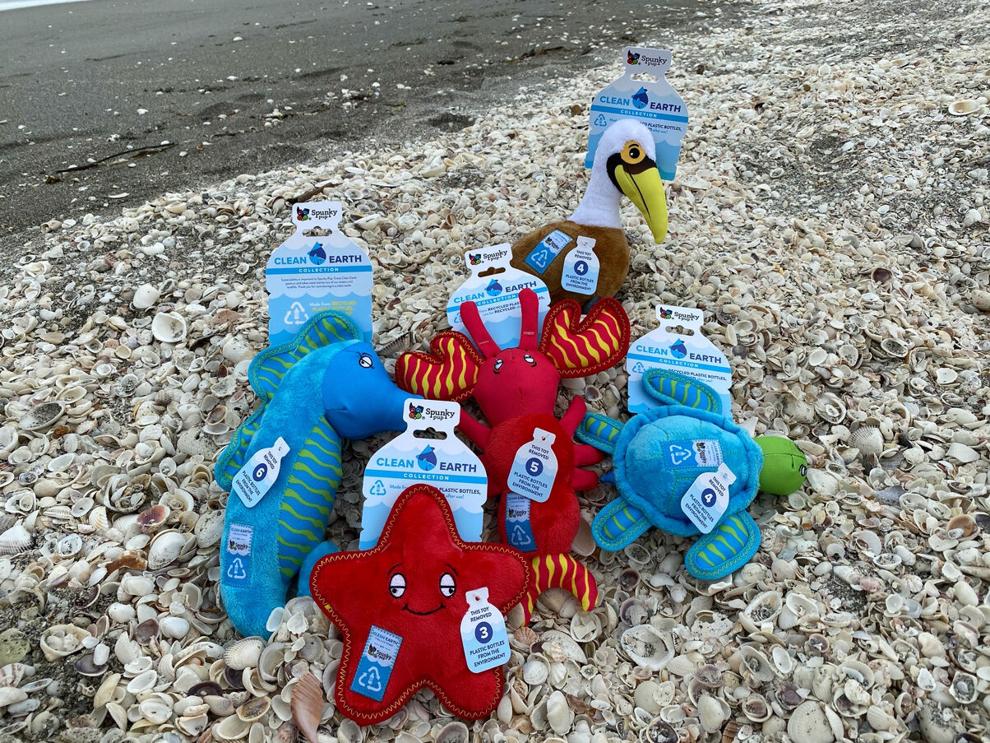 Spunky Pup Dog Toys' Clean Earth line includes 20-plus dog toys made from 100% recycled plastic bottles taken from our oceans and the environment. The line includes hard chew and rope toys that are made in the USA, and 14 plush toys that are durable and float. spunkypup.com
---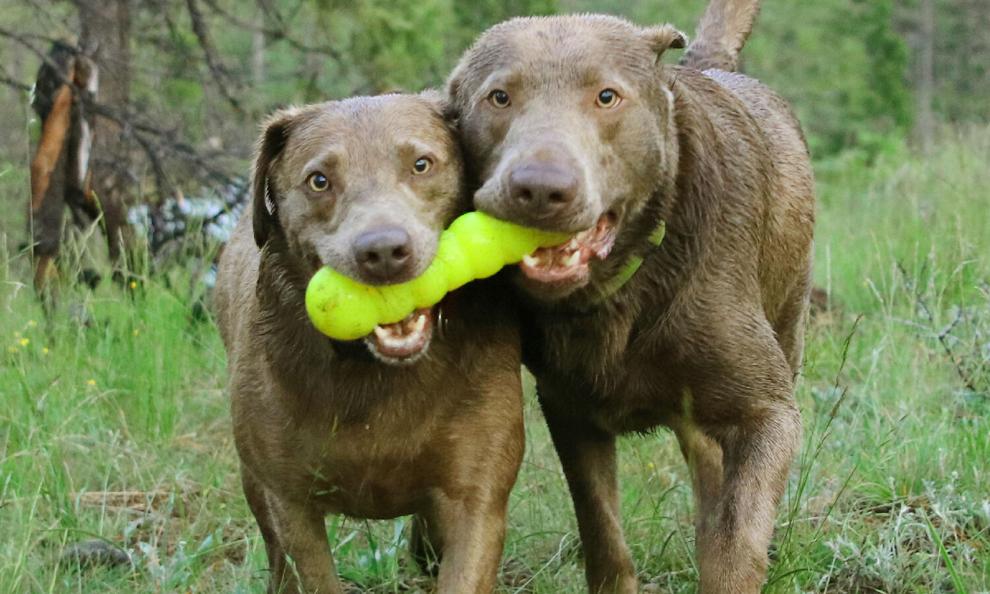 Ruff Dawg's Dawg-Buster is part of the company's Indestructible Guaranteed line of retrieving toys. It is made of the highest-quality, chew-resistant, solid, weatherproof rubber and has an easy lifetime replacement guarantee. The toy is 100% made in the USA, FDA approved, completely recyclable, and free of phthalates, latex and BPA. It is designed to provide safe, fun and durable play—for even the largest and toughest toy-destroying dogs. The toy comes in two sizes, regular and XL. It floats for water retrieval and comes in high-visibility neon colors. ruffdawg.com
---
Dog & Cat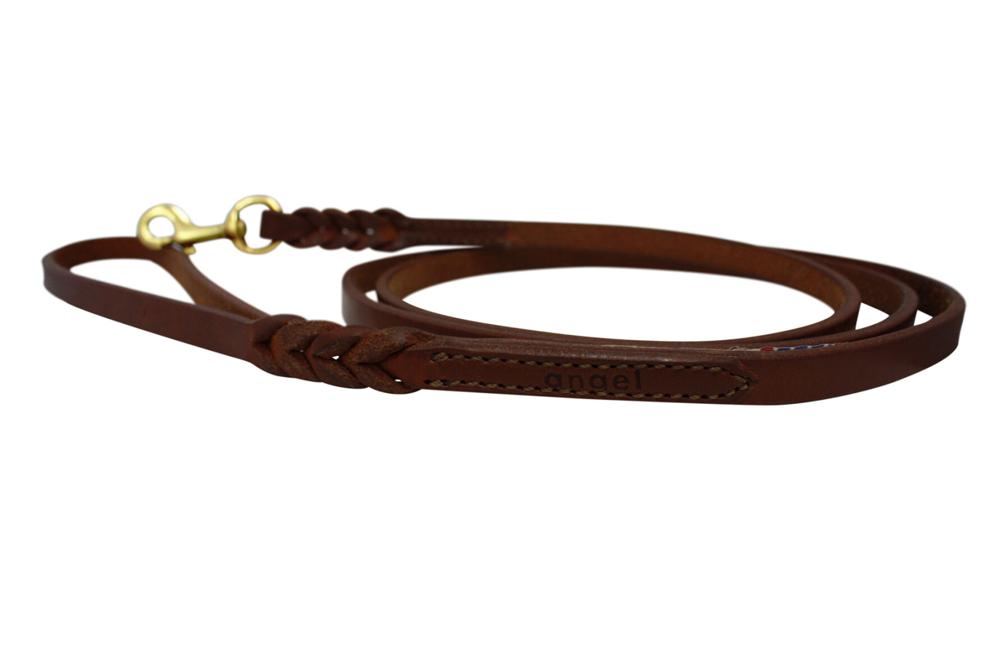 Angel Pet Supplies' 6-ft.-by-3/8-in. Braided Leather Leash is made with 100% top-grain Argentinean leather. Soft and supple yet extremely durable, the leash is handmade and features genuine brass hardware. It is well oiled and tanned, and becomes softer with age. The leash is ideal for very small dog breeds, such as Yorkies, Chihuahuas, toy poodles and more. It is also ideal for use with kittens, cats, and small animals, and it can be used as a show lead. angelpetsupplies.com
---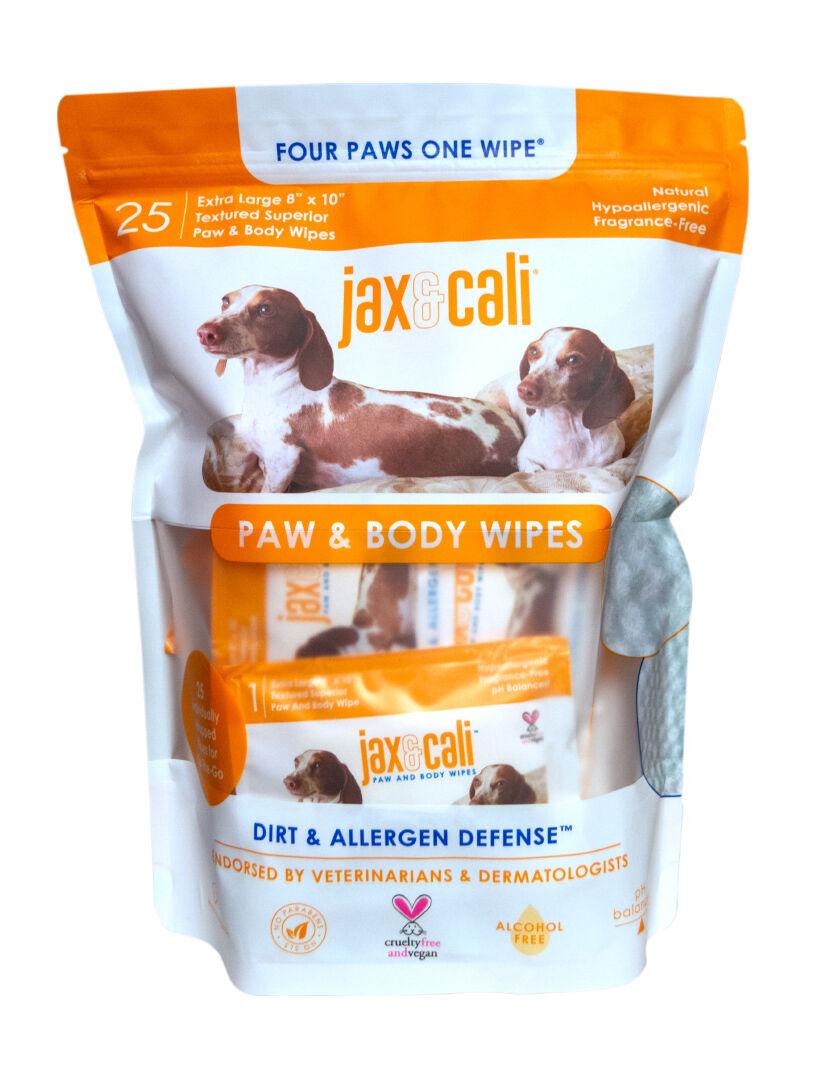 Jax & Cali presents 25-Pack Paw and Body Wipes. The natural wipes ensure sanitation through the removal of dirt, allergens, bacteria, and potential carcinogens that can be found on a pet's paws and body after the pet is in the elements. The pH-balanced, fragrance-free wipes cleanse, nourish and protect using vitamins B3 and E. They do not contain ingredients such as alcohol, parabens, sodium lauryl sulfate (SLS), formaldehyde or harsh chemicals. They are hypoallergenic and are People for the Ethical Treatment of Animals (PETA) certified as cruelty free and vegan. Their extra-large size, super thickness and textured surface make them easy, economical and effective to use. jaxandcali.com
---
The Green Pet Shop presents the CBD Pet Care Transdermal Pen, developed in partnership with HempVet. It features an expertly blended combination of all-natural, sustainably sourced essential oils, broad-spectrum hemp, naturally occurring cannabidiol (CBD) and a proprietary transdermal gel base. The transdermal properties of the product allow it to penetrate deep into the skin, effectively reducing anxiety and inflammation as well as relieving aches and pains more quickly and more effectively than CBD products that are ingested orally, the company reports. The portable pen dispenses 50 2mg doses and allows for precise and mess-free dosing. It features a measured viewing window. thegreenpetshopcbd.com
---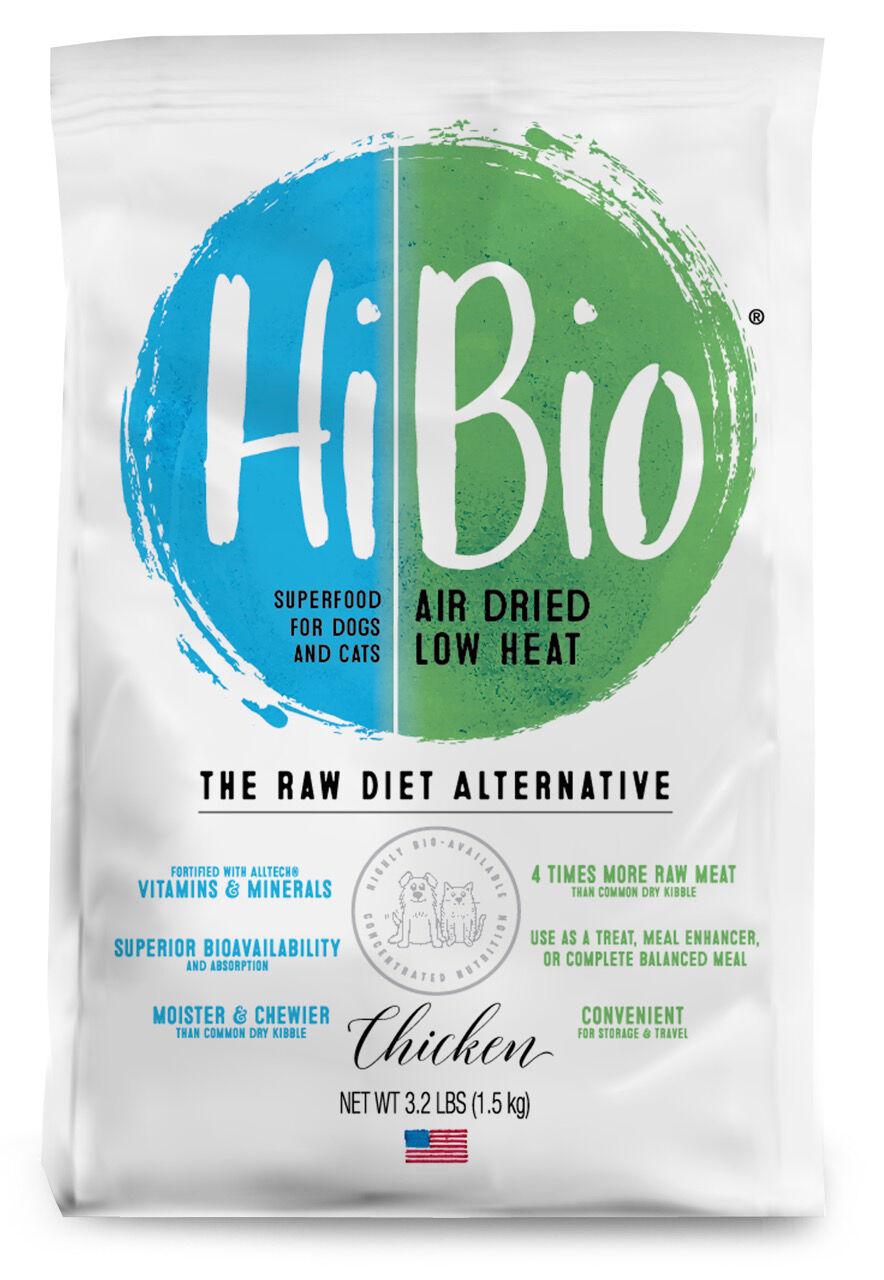 Evanger's Food For Dogs & Cats relaunched its Hi-Bio Superfood for Dogs & Cats with a new look and updated formulation to include both dogs and cats. It is a high-biological, high-nutrient food that is air-dried at low heat. It contains the nine essential amino acids that are vital for a pet's robust health throughout all life stages, the company states. A raw-diet alternative, it can be used as a treat, meal enhancer, or complete and balanced meal. Available in both Chicken and Beef, it is fortified with Alltech vitamins and minerals. evangersdogfood.com
---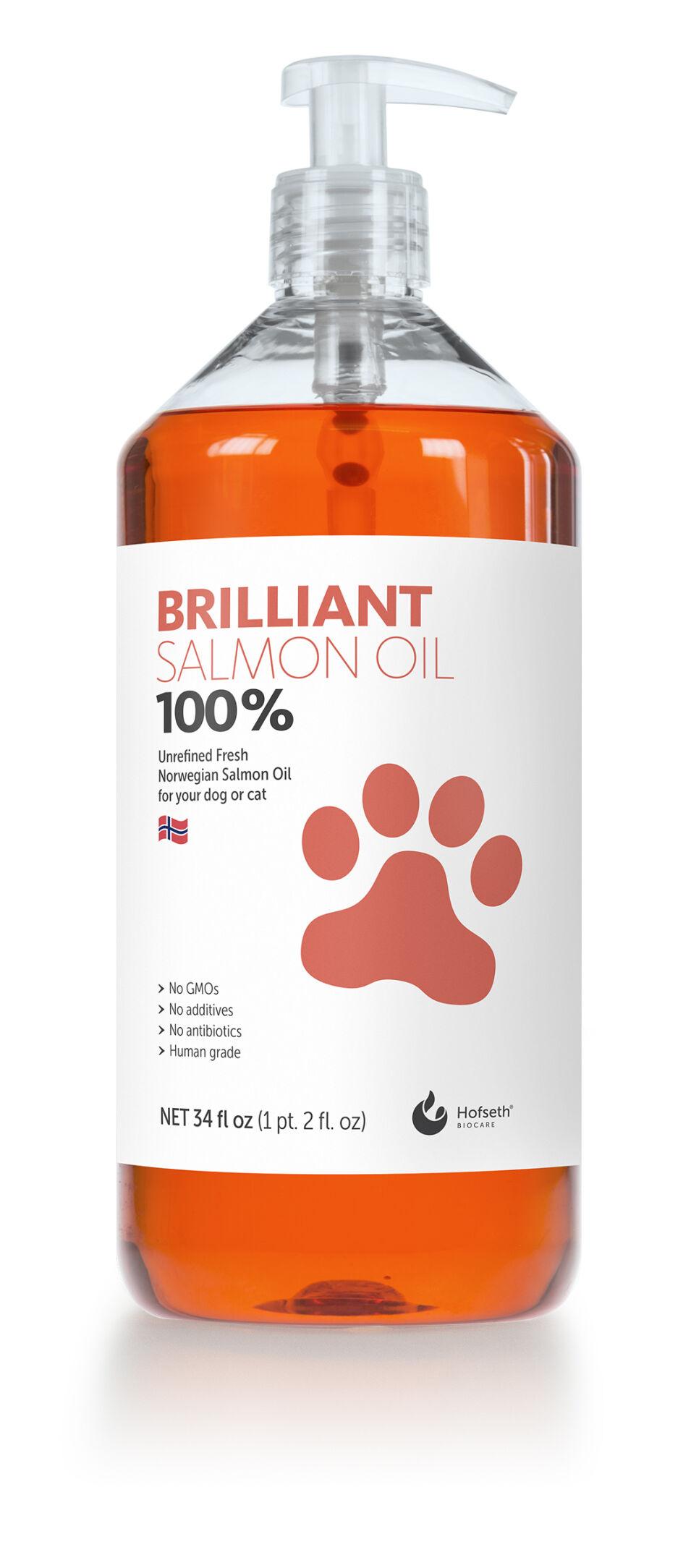 Hofseth Biocare offers Brilliant Salmon Oil. Created for both dogs and cats, the heart-healthy oil gives pets glossy fur, softer paws, increased energy and enhanced appetite. The human-grade, all-natural product is 100% fresh Norwegian salmon oil. It contains no additives, no GMOs and no antibiotics. The oil helps prevent cardiovascular diseases, according to the company. The product's easy-to-use drip-free pump doses the perfect amount every time. The bottle is transparent and UV protected. brilliantsalmonoil.com