The holidays are a great time to boost sales as many pet owners are looking to purchase gifts for their furry family members—as well as their friends' and family members' pets. But to maximize those sales, retailers should plan ahead and find ways to make the holiday shopping experience feel special.
Stephanie Davis, owner of Mirage Pet Products, a manufacturer in Mount Vernon, Mo., said that planning events and promoting them on social media is a fantastic way to bring shoppers in for the holidays.
"Pictures with Santa, good dog/naughty dog events and cutest elf contests are all things that have really drawn a lot of attention for retailers," Davis added.
Denise Strong, owner of Pawz On Main, a pet store in Cottonwood, Ariz., said that right after Thanksgiving she typically hosts a professional pet portrait event. A professional photographer donates his time, and Strong donates her space. Participants pay a $10 donation fee, which includes a photo printed on-site—with the option to buy more. The proceeds are then donated to a local pet rescue.
Strong said that holiday gift sales are always big the day of the event. The store is already decorated for the holidays, which puts shoppers in the mood for gift buying.
Robin Kershner, founder of Huxley & Kent, a manufacturer in Washington, D.C., said that there are a lot of ways that retailers can get shoppers into the holiday spirit. She suggested playing holiday music, adding twinkling lights to the front or inside of the store, scenting the store with pine air fresheners and, of course, capitalizing on front window displays.
"Store displays can include a 'stuff your own stocking' station with smaller items that fit into a stocking—and then offer an additional service of customizing the stockings with the pet's name," Kershner said. "A decorated Christmas tree can also be added to the store that features pet portrait ornaments, ready for their pet's photo with Santa. Shoppers love the convenience of being able to buy pre-wrapped gifts, so consider wrapping a couple of gifts that might make the difference to shoppers."
A "create your own stocking" table is something that Kim McCohan, chief happiness officer at Bend Pet Express, which has stores in Bend, Ore., said performs well for them.
"We have a cat and a dog section with two different sizes at two different price points," she said. "There's a predetermined number of items per stocking/size, and we have a good variety so that our customers' stockings can accurately represent what their pup or kitty loves. We have this table up toward the registers, so people end up creating their stocking while waiting to check out."
Debbie Barr, senior ambassador at Just Dog People, a pet store in Garner, N.C., said that they like to dedicate tables for holiday displays. For Halloween, Just Dog People will have two tables set up to celebrate the month of October. For Christmas, there will be three tables.
"We also decorate everyday toys with ribbon and add them to our themed tables if we end up selling through seasonal items," Barr said.
Barr added that one table that stays out year-round is the birthday table.
"Who doesn't want to celebrate their pup's big day?" she added. "Whether it's a birthday or a gotcha day, we have a variety of treats to celebrate both including [from] Bubba Rose, Lazy Dog, and a new treat from Puppy Cake that features ice cream and a variety of cake mixes."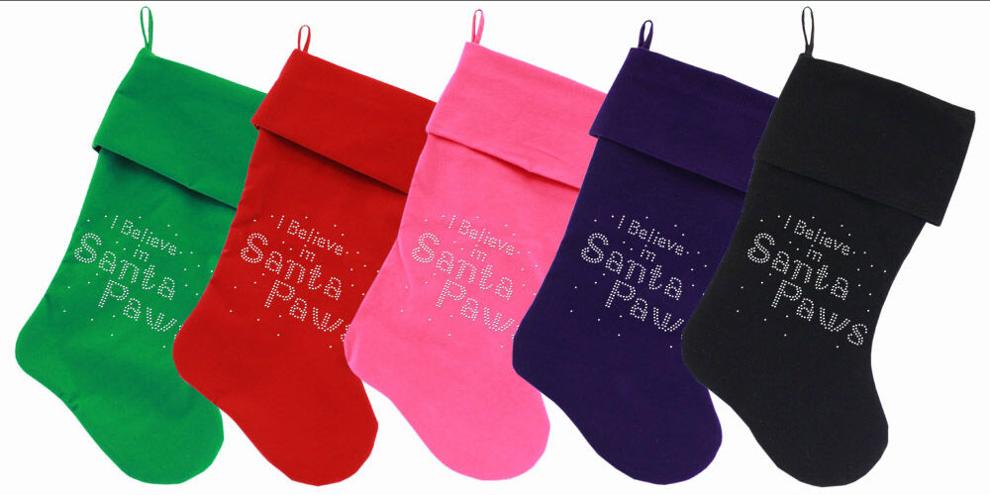 Stocking Up
Both Mirage Pet Products and Huxley & Kent are offering products that allow pets to celebrate the holidays with their owners.
Davis said that Mirage Pet Products is introducing new Christmas pet stockings, Christmas ornaments, and Christmas and Hanukkah plush toys. Mirage will also have new Christmas apparel and new bling-y collars.
Huxley & Kent has a large assortment of holiday and winter items including Santa hats and scarves, neckwear, accessories, stockings, ornaments and the company's Buffalo Check Antler Hat, which is perfect for holiday photo-ops. The company has released several new products this year.
"The most popular have been our Lulubelles Fireball Dragon dog toy and our Lulubelles Tree-Rex Dino toy," Kershner said. "Both make people smile, and they are made with our PowerPlush construction, so the customer has a more durable toy and better experience than with standard plush toys. We have also added to our stocking line and our ornament line this year since those did so well for us last year."
Offer An Assortment
Having a good mix of holiday products that will suit everyone's needs is key.
"We recommend working with suppliers who offer low or no minimums as well as fast shipping to make sure that you can meet each customer's unique situation, especially during the holidays," Davis said. "Mirage has no minimum. It's so hard to stock for everything, but pre-orders are an amazing tool when partnered with social media. Some of our most successful retailers start these as early as October."
Kershner said that retailers should remember that people are buying for all pets in the household, so it's fun to have a little something for everyone.
"Holiday is a great time to offer home décor such as ornaments and stockings as well as pet-themed items for dress up and play," she said. "A day of 'photos with Santa' can lead to more sales of hats, scarves, ruffs, bow ties, and the like to make the pet portrait more festive and fun. If you have pet portrait ornaments ready at the checkout, they have a place to put their new photo. And don't forget Hanukkah."
Handling Leftover Stock
Pet specialty retailers have a variety of ways for dealing with product post-holiday.
Denise Strong, owner of Pawz On Main, a pet supply store in Cottonwood, Ariz., said that with space always at a premium, packing up and storing leftover holiday items is simply not worth it for them. As soon as she's back in the store after Christmas, she shifts everything to a sale table and marks it down to cost.
Kim McCohan, chief happiness officer at Bend Pet Express, which has stores in Bend, Ore., agreed that selling items quickly is the way to go. But she does save products that remain in large quantities.
"We run a massive sale the week of Christmas to try and clear out anything that screams 'holidays,'" she said. "Anything that is left over in a large amount we will bring out for a 'create your own stocking' table the following year. Anything that is not enough to carry over we donate to local nonprofit groups—specifically in time for New Year's fireworks in the hopes of being a distraction."
But McCohan said that they have gotten quite good at predicting what they will need each year.
"We love our holiday-themed products," she continued. "But we have really narrowed down the amount we will need each year, so we don't have a ton of leftover items. We also look for items that could be holiday themed and squeak by for a couple months during the winter months—no pun intended there. So, some cute snowflake items can carry through the holidays, while a Santa toy needs to be sold by Dec. 24."
Stephanie Davis, owner of Mirage Pet Products, a manufacturer in Mount Vernon, Mo., said that big sales are always a good idea and can bring in foot traffic. But she also suggests talking to manufacturers about alternative solutions.
"Reaching out to vendors and requesting to exchange sales items for products that are more in season is a win-win for the retailer and the vendor," Davis said. "No one benefits from leftover stock."