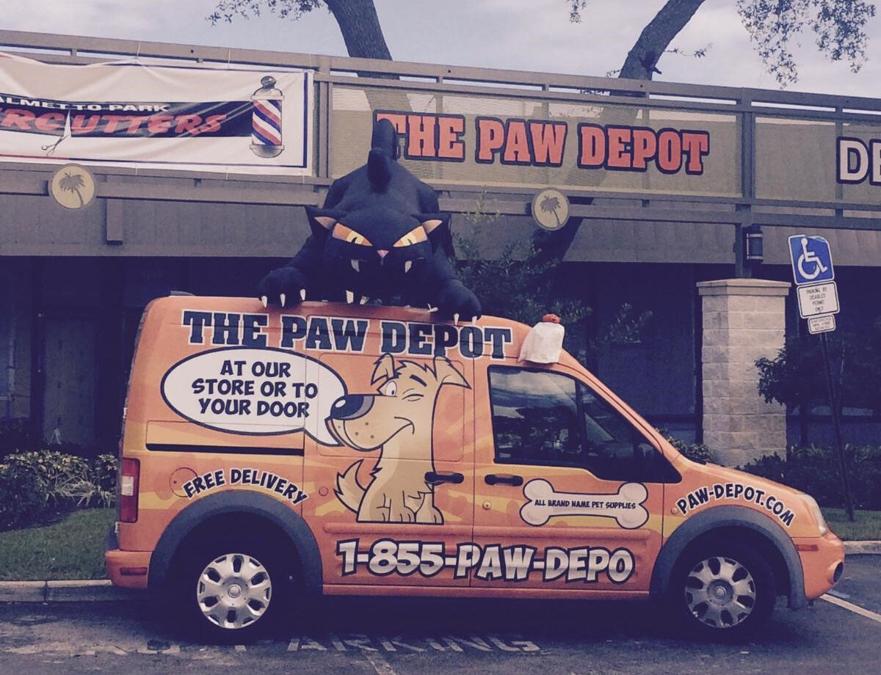 What do you get when a former director of telecommunications for a Fortune 500 company leaves the corporate world behind to open a neighborhood pet store? A personable, homey endeavor centered on nutrition, customer service, knowledge, and sound organizational and marketing strategies.
"I designed and built data centers in my last life for a very progressive company," says Matt Aschendorf, owner of The Paw Depot of Boca Raton in Boca Raton, Fla. "We had to be really creative in our customer service, so I took a lot of those ideas and applied them to the pet industry. Sometimes they work, and sometimes they don't, but our organizational skills come from the information technology side."
Aschendorf's journey from pet lover to store proprietor began when his dog Lexi, a Wheaton terrier/Labrador mix, suffered from severe allergies. In search of a solution, Aschendorf delved deeply into the biology of pets. While examining traditional Chinese medicine, which embraces natural supplementation and homeopathic remedies, he also explored resolutions presented by western science, such as prebiotics and probiotics.
The outcome of this research spelled relief for Lexi and a desire on Aschendorf's part to share his findings with pet owners experiencing similar issues. In 2012, the entrepreneur began welcoming fellow animal lovers to The Paw Depot of Boca Raton. In blending eastern and western ideals, he has been able to support pet owners in determining the best nutritional path for their furry family members.
"Our philosophy is a little different," he says. "We focus on finding the perfect diet for both dogs and cats, with protocols in place to assist in finding the right food based, for instance, on breed or age. Everything else is the gravy—treats, toys and grooming services are all very profitable, but they are accessories to proper nutrition."
The product mix at The Paw Depot of Boca Raton features a broad range of foods; however, selective benchmarks are exacting.
"We carry all types of food but are particular about brands," Aschendorf says. "We call ourselves the 'Whole Foods of pets.' I personally go through everything we sell and stock only USA-made products that have never been recalled."
Product inventory is expanded through Endless Aisles, an e-commerce solution for pet retailers from distributor Phillips Pet Food & Supplies, allowing customers from across the country access to a catalog of up to 10,000 items through The Paw Depot of Boca Raton's website.
"Product is shipped from regional warehouses, so a customer ordering from the East Coast will receive product shipped locally," he says. "And we always try to match prices."
In-store or via the website, nutritional consultations cover a range of dietary protocols addressing the frequent problems that pets encounter, such as allergies, cancer, weight management and senior or puppy diets.
With many dogs developing sensitivities and allergies to specific proteins, the allergy protocol, for example, highlights traditional Chinese medicine as well as western science, Aschendorf says.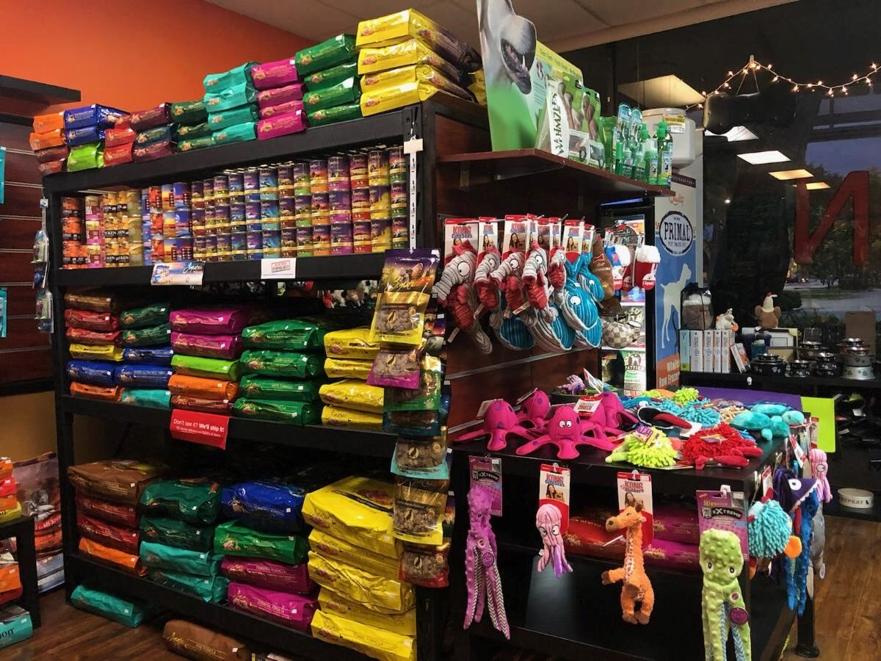 "We recommend the cool meats, like duck, rabbit, turkey for allergies and strip chicken and beef and a few other proteins out of the dog's diet. It's going to a very limited diet," he says. "This holistic approach includes everything that touches the dog's mouth and goes inside the body, and that includes treats. You can't feed chicken treats to your allergic dog."
The cancer protocol has proven very successful in halting disease and boosting immunity, he notes.
Solution protocols move beyond foods to encompass supplements and even water.
"We use alkaline pH water, and supplements such as [cannabidiol] CBD, turmeric, mushroom blends," Aschendorf says. "Our mushroom-blend supplements are from traditional Chinese medicine.
"It's more than just food, it's a complete diet," he adds. "We try to be a proactive service."
People, Products and Proactive Service
An atmosphere of professionalism and serenity in the workplace is promoted through The Paw Depot's three C's: communication, consideration and cooperation.
"It's the Golden Rule; this is how we treat each other," Aschendorf says. "It's vital that everyone conduct themselves in a professional manner to communicate and cooperate together and with our customers."
When considering a new hire, Aschendorf looks for personality, attitude and a love of animals.
"Everything else is trainable," he says. "However, we are very picky when we interview and look for candidates that see a career in this industry, rather than just a part-time job until something better comes along. We try to provide that career ladder."
With a goal of offering five-star customer service, Aschendorf emphasizes customers and pets as the No. 1 priority.
"It all starts with the experience," he says.
For this reason, The Paw Depot's three P's encourage this stance: exemplary people, products and proactive service.
"We spend a lot of time educating our staff so that everybody is basically a nutritionist and can provide the right information for problems a pet might encounter," he says.
Curriculum falls under the umbrella of Paw Depot University and includes computer-based instruction utilizing Pet Store Pro, a free retail training tool from the Pet Industry Distributors Association (PIDA), and manufacturer-provided modules. In-house nutritional guidance covering traditional Chinese medicines as well as western science is presented by Aschendorf.
"It's all pulled together," he says. "When someone starts at The Paw Depot, they have tracks they can take to become either a groomer or a pet nutritionist."
The path to pet nutritionist comprises the study of customer service, sales and communication skills, inventory procedures, nutrition and proactive pet care. The grooming track allows associates to study and learn the grooming trade.
"We want to differentiate from the big-box stores and to provide our people a career path," Aschendorf says. "These strategies and systems will be in place for us when we open more locations."
Associates going above and beyond expectations earn bonus incentives. For example, those completing a specific training course ahead of schedule, whether in-house or computer based, will earn a monetary bonus.
"I always try to provide an incentive if it's something that we can measure and manage," he says. "If a staffer meets expectations, that's their job, but those exceeding expectations are eligible for a bonus."
Upon completing formal training, a test is administered and successful candidates are designated as pet nutritionists.
"We then call them a 'pet expert,' and we basically have three or four people in the store at all times that are considered experts," he adds.
In addition, customers visiting The Paw Depot's website are able to obtain free, real-time nutritional advice by accessing the Ask A Pet Expert feature.
The Paw Depot's proactive service policies reach out to embrace communication with the customer base. This contact increases overall efficiency.
"We try to reach out to our customers before they run out of a food that might need to be ordered," Aschendorf says. "It's a helpful reminder that prevents them from running into an emergency or having to go to a different brand or store."
Grooming customers are also contacted when it's time to schedule a grooming appointment, with optional free pickup and drop-off services available.
"We offer three free services—diet and nutritional advice, same-day delivery, and drop off and pickup for grooming," Aschendorf says. "If a customer calls by 3 p.m., we can deliver their product order that afternoon."
Corporate customers also take advantage of free delivery at the workplace.
"We deliver food to local companies and drop the orders off at a designated area in the building," he says. "It's convenient because those people don't have to rush out at lunchtime to buy dog or cat food or supplies. We offer a corporate discount, too. It's a great benefit for the companies; free delivery, discounts and free advice—all in one spot."
During the COVID-19 pandemic, as branded Ford Transit delivery vans made their rounds about town, residents took notice, with many becoming new customers.
"It will be interesting when the dust settles to see how we actually grew," Aschendorf says.
Although the business was deemed essential and remained open during the shutdown, curbside pickup was spotlighted and has become a popular offering.
"It's a service that was always available by customer request; we just made it official," he says.
The Paw Depot of Boca Raton's grooming services include Basic and Ultimate offerings. Squeaky clean, stylish pups don a new bandana, pose for a Facebook photo and savor a treat before heading home.
First-time customers are eligible for a $10 discount. Further, Tuesdays and Thursdays are discount days, with services priced at $10 less than the standard fees.
"Those were our slowest days from a grooming standpoint, and now they are our busiest," Aschendorf says.
Pickup and delivery of clients is always complimentary. Seatbelt harnesses tether canine passengers safely in well-spaced-out seats as they travel to and from home.
"We do the grooming pickups in the morning and food and dog deliveries in the afternoon at the same time," he says.
Encircling the Community
The proper care and feeding of pets encircles all furry residents and their people in the communities served by The Paw Depot of Boca Raton. In this way, Ask A Pet Expert, a column published in the local newspaper, combines education and a little culinary creativity with a shopping discount.
"Every month, an article is featured with informational pet tips," Aschendorf says. "At the end of the story, we provide a homemade doggie treat recipe and coupons for grooming or product purchases."
Content for these articles, as well as for the store's Facebook page and website, are either written by Aschendorf, or provided by the retail marketing platform Promoboxx or vendor partners.
Pre-pandemic, adoptions days took place in front of the store on a regular basis.
"We usually hold adoption days on Saturdays and work with all rescues," Aschendorf says. "Tri County Animal Rescue is the largest no-kill shelter in Florida and is a major rescue effort for us, but we work with everyone."
Pet adoption is also championed at community events. For example, at the annual Chris Everett Pro-Celebrity Tennis Classic, The Paw Depot of Boca Raton is on hand, grooming local shelter dogs, passing out samples, providing expertise and setting up a kissing booth where, for a dollar's donation, those in need of a canine smooch can soak up a little slurpy love.
"During the tournament intermission, we will walk the dogs around the tennis court for spectators to see," Aschendorf says.
The Paw Depot of Boca Raton is a presence at at least two community events per month, according to Aschendorf.
"Whenever we do an event, if a rescue or shelter can bring dogs for adoption, that's even better," he says.
On the educational front, Lunch and Learn Yappy Hours reach out to local corporate entities or a local Boca Raton hospital.
"We set up a tent at the hospital during their Health Days event," he says.
Free samples are provided, and pet nutrition are questions answered.
"The doctors and nurses come down for lunch and to check out the Health Day booths," Aschendorf says. "We are very targeted to being out in the community."
Corporate events feature samples and nutritional information. A PowerPoint presentation detailing pet nutrition is also on the docket at these get-togethers.
"We partner with manufacturers of premium foods or quality products for samples and information," Aschendorf says. "We attend events that are not pet centered, where we are the only pet supplier present."
Another means of promoting pet adoption occurs through The Paw Depot of Boca Raton's Yappy Hours, where pet owners and their furry charges gather for snacks, drinks and socializing. This partnership with local restaurants reaches a broader swath of the community where pet adoption is also championed.
"We have some dog-friendly restaurants where we hold a Yappy Hour every month," Aschendorf says.
At every event, treat samples are handed out to attendees, along with a card inviting newly adoptive pet owners and potential customers to visit the store and receive a free gift.
"We hand out a little card that says, 'Visit our store, or adopt a dog, to receive a free bag and can of food, treats, a toy and $10 off the first grooming,'" he says. "This is our standard giveaway at events and for pet adoptions."
As a result, store traffic is generated as vouchers are redeemed. However, a major plus for these visitors is the opportunity to experience The Paw Depot of Boca Raton's personalized service.
"We are able to ask questions, learn about their dog and create a profile in our [point-of-sale] POS system," Aschendorf says. "We partner with manufacturers in providing product, and it's a great package. We call this our 'client acquisition kit.'"
While the pandemic has temporarily slowed momentum, The Paw Depot of Boca Raton is actively franchising. Uniform protocols and procedures, tools and systems, including the Paw Depot University program, will be available to every store, whether a franchise or company-owned enterprise.
"From our POS system to the way we do inventory and order, everything will be standardized," Aschendorf says. "We don't want people learning how to start a business; we want them learning how to take care of pets and people."
Aschendorf noted two essential keys to the success of a new venture.
"It's getting clients and keeping clients," he says. "Everything else falls into place from an operational standpoint." 
---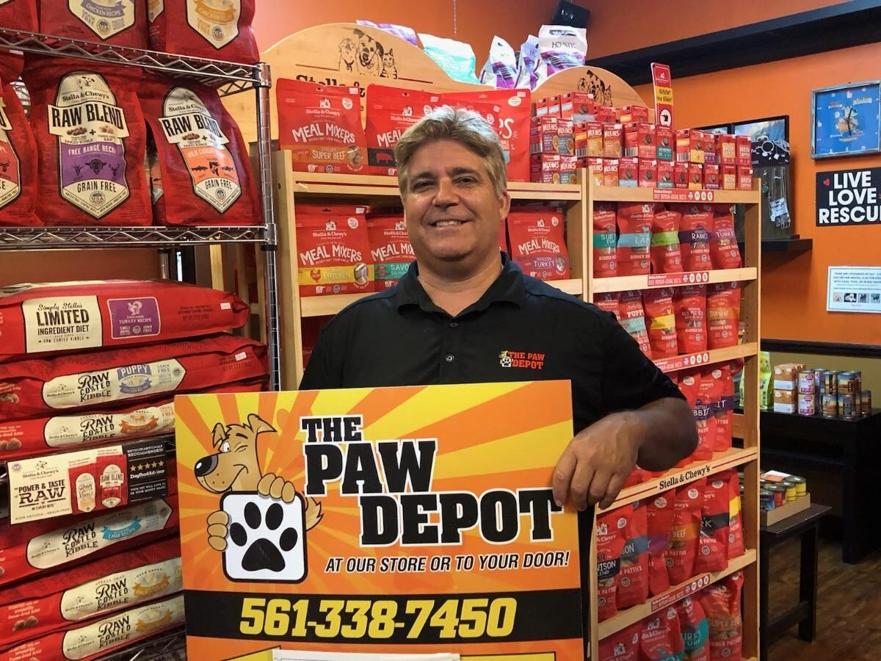 The Paw Depot of Boca Raton At A Glance
Owner: Matt Aschendorf
Location: 1393 W. Palmetto Park Rd., Boca Raton, FL
Number of employees: 7 full time
Years in business: 8 years
Square footage: 1,200
Website: paw-depot.com
Products and services: Cat and dog food, treats, supplements, free diet and nutritional advice, pet diet protocols and solutions, grooming, free pickup and delivery of dogs for grooming, free delivery of product, corporate discounts, online store
---
It's A Retail Life
What is The Paw Depot of Boca Raton best known for?
Matt Aschendorf: Our diet and nutritional advice and our knowledgeable people.
What is the biggest challenge for the independent retailer today and the pet industry overall?
Aschendorf: The pet industry is being chewed up by the online retailers. From an advice and informational standpoint, industrywide, the personal touch of providing specific solutions is being lost. A lot of the small companies that we utilize are very loyal to independents and offer products that aren't available from the online retailers. But what often happens is we introduce and educate consumers regarding certain products, and then they buy them online. The challenge for the pet industry is not to sell out to the highest bidder. Getting customers into the right brands and foods and the best nutritional track is not something that usually happens online. That's a loss to the industry.
Are you watching any interesting trends?
Aschendorf: During the [COVID-19] pandemic, one trend has emerged that is very interesting: The shelters are out of inventory. With stress at an all-time high and people at home, they are turning to pets for comfort and compassion. I'd never have thought something like this would create a run on pets.
What do you see for the future?
Aschendorf: More stores and more pets living healthier, happier lives through simple changes to their diets.
---
Loyal Customers for Life
When Jasmine stepped into Rita Arnett's life, the adoptive pet owner placed a priority on providing a loving home for the diminutive terrier mix.
"We call her Jazz," Arnett says. "I rescued her from a friend who was moving and wasn't able to take her along."
Initially, Arnett purchased grocery-store pet food brands or shopped at the local big-box pet supplier. Three years ago, Arnett spied an advertisement in the local newspaper for The Paw Depot of Boca Raton, along with a discount coupon. When she headed out to pay a visit and redeem her coupon, a pleasant experience transpired.
"It was great! Matt came out and met with me personally to talk about my dog. He is so knowledgeable," she says. "We've since become friends."
At the time, Jazz suffered from skin allergies, and with Aschendorf's assistance and expertise, the issues cleared up quickly.
"Matt has helped me out so much," Arnett says. "His entire staff is so knowledgeable and well trained; they can pretty much answer any question. I have never had a bad experience."
Along with shopping visits, Jazz also enjoys her spa days at The Paw Depot of Boca Raton.
"They love her, give her little treats and know her name," Arnett says. "They treat Jazz like a little baby."
For these reasons, Jazz and Arnett remain loyal customers.
"There are very few stores these days where you meet the owner directly," Arnett says. "It's the personable customer service and overall knowledge that keeps me coming back."