Artvark Pet Products
Van Nuys, Calif.
Amy Morishita, manager
What happens when we join hands around paradise? We save and restore it! The paradise of Hawaii is more than just a place to vacation to us. It's the place that nurtures and supports us. It's the foundation of our family community. You become ohana (family) when you purchase GoGo Stressless venison treats for your pet. Each purchase drives a cycle of good that extends back to the soil of Hawaii.
Living stress-less lives, free from predators, farming and corralling, Hawaiian venison populations have grown and are now damaging the Hawaiian ecosystem. Where they roam, as much as 90 percent of the original Hawaiian grasslands and forestlands have been clear-grazed and destroyed. Our community is working to fix this.
To begin, Hawaiian reforestation experts have determined that 500,000 pounds of wild protein needs to be removed to succeed. The animals are now being harvested humanely, not simply slaughtered and wasted. The largest portions of the harvest provide a healthy source of food for local communities in need. The excess beyond this is shared by the human restaurant industry and Artvark Pet Products for GoGo Pet Products. As invasive venison are removed, original Hawaiian trees and vegetation are reintroduced. To date, 4,500 acres are in the first stage of reforestation.
Another way we are participating in the cycle of good in Hawaii is through our GoGo Turkey Tendons Strips, which are made with care in the USA from locally raised turkeys. Each bag is hand-packed through our partnership with New Horizons, a local [to California] nonprofit organization that helps transition individuals with special needs into the community through job training programs. Monthly, Artvark donates a portion of GoGo Pet Products' proceeds to New Horizons. They, in turn, use these funds to enhance their programs to better serve their client families.
Caru Pet Food
Vero Beach, Fla.
Adrian Pettyan, co-founder and CEO
This year, Caru Pet Food had the wonderful opportunity to give back to our hometown in Canada. Along with the kind folks at 98.1 CHFI, a local radio station based in Toronto, we donated our nutritious dog and cat stews to the Toronto Humane Society. Because of the Toronto Humane Society's huge support to 98.1 CHFI listeners and the community, the station hosted a fabulous event and invited us to participate, allowing us to donate more than 2,400 meals to feed cats and dogs in the Toronto area.
We find it very important to always give back to pets in need, especially when it comes to our own community. We started Caru Pet Food to give our dog, Karu, the best food for his health, and we want to ensure that every dog and cat has the ability to receive that same care. We are especially humbled to give back to shelters, ensuring that these animals can receive the best meals. This is why throughout the years we have given back to many shelters, including the Humane Society of Pinellas County, Humane Society of Vero Beach & Indian River County, Tender Loving Care, and the San Antonio Humane Society, to name a few.
We always aim to take part in as many opportunities to give back as we can. Whether it be through our marketing partners, through our local connections or through invited activities, we're excited to be able to give back to those who have supported us.
Charlee Bear
St. Francis, Wis.
Patrick McGarry, general manager of Gott Pet Products, parent company of Charlee Bear
Charlee Bear began with a rescue dog named Charlee. Charlee was a little dog that stole everyone's heart because he looked like a teddy bear. He was so cute and cuddly that his nickname became Charlee Bear. Because Charlee was so lovable, his name naturally came to mind when our founder set out to create a healthy, super-tasty treat for dogs.
More than 25 years and millions of treats later, Charlee Bear products are still brought to you by a family-owned company. We're still dedicated to making simple, nourishing, natural treats that dogs absolutely love, while celebrating the incredible friendship shared by people and pets.
Our company has also committed itself to supporting shelters and rescues all over the country. As part of our mission, we have made monetary donations to rescues as well as donated 15,000 product samples to more than 80 shelters and rescues throughout the United States. Additionally, our dog treats are often sent home with caring adopters to make sure their new dog feels comfortable in their forever homes.
As a family-owned company, we understand the importance of giving back to the community and our supporters. With this in mind, we have donated to different community events, allowing our dog treats to be given out as prizes or included in goody bags at these important occasions.
At Charlee Bear, we feel that every pup has the undeniable right to be healthy, happy and loved. That's why, along with working with various shelters and rescues all over the United States, we partner with benevolent organizations like Guide Dogs of America to provide hardworking service dogs with nutritious treats. We want every dog to be able to enjoy our treats and live a happy life.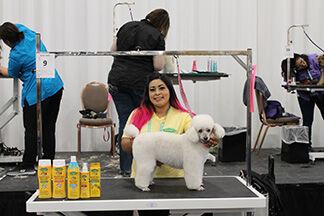 Cardinal Pet Care
Azusa, Calif.
Tony de Vos, president and CEO
As a founding member of the Pet Sustainability Coalition (PSC), we are devoted to pets, people and the planet. Our mission is to be planet-friendly while providing eco-friendly pet products that improve life for people and their pets. Many of our outreach efforts involve community partners in order to drive impact.
For example, we partnered with King Wholesale to donate grooming products, like our Gold Medal Pets shampoo, and pet first-aid products under our Remedy+Recovery line to help groomers rebuild their businesses after the Camp Fire in California last November. Under our EcoBath Manuka Honey brand, we sponsored professional groomer Jillian Ramirez in the Rescue Rodeo Grooming Competition at SuperZoo. Our Sweet Dogs for a Sweet Cause campaign utilized social media to raise awareness for shelter dogs by featuring a photo contest that gave EcoBath shampoo donations to local animal shelters in the pet's name.
For many years, we have worked with the local K-9 training unit. This year, we sponsored the 20th Annual Police Canine Demo and Safety Fair at Redondo Union High School. The event is held by the Los Angeles County Police Canine Association (LACPCA) to increase awareness and appreciation for the indispensable services police dogs provide in detecting and preventing crime, covering officers and protecting the public's safety. This year's event featured a Safety Fair and K-9 Demo.
Another example of our outreach efforts is the wonderful Pet Week program that Crazy Dog recently participated in at KidZone, a California preschool. One of the highlights of KidZone's Pet Week was a photo contest sponsored by Crazy Dog, which invited the preschoolers to submit photos of their pets. The photos were judged by KidZone's teachers and staff on the basis of how well they illustrated categories reflecting Crazy Dog's "Play & Care for Your Pet" motto and the importance of teaching kids to love, care for and train their pets. First place in the contest went to student Brielle and her puppy Capone. Her photo depicted "Patience & Kindness." Second place was awarded to Aidan and his dog Dasher for "Learning New Skills." Third place went to Ezekiel and his pet Kaya in the "Manners & Politeness" category. Each of the three winners received a Crazy Dog prize pack that included stickers, a Crazy Dog toy and Crazy Dog Train-Me! Dog Treats. Additionally, all students who submitted photos received a stuffed animal provided by Crazy Dog.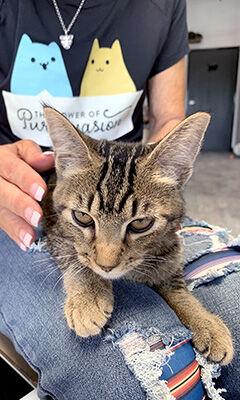 Dr. Elsey's Cat Products
Englewood, Colo.
Gina Zaro, marketing director
Dr. Elsey's is hosting adoption events nationwide at cat cafés for our Power of Purrsuasion campaign. The Power of Purrsuasion aims to increase adoption rates by raising awareness of the benefits of owning a cat to those who might need "purrsuading" to adopt.
The campaign kicked off at Meow Parlour in New York. During the course of the event, 35 cats were adopted, and their new owners received complimentary adoption starter kits full of items from Dr. Elsey's line of products, as well as campaign partners. Adopters also received financial support with entrance and adoption fees. The event then moved to CatCafe Lounge in West Los Angeles, with more cat cafés scheduled for this year.
With 3.4 million cats entering shelters each year, Dr. Elsey's is on a mission to change this statistic through the interactive Power of Purrsuasion campaign. Dr. Elsey's believes that donating litter is a generous act, but creating behavior that leads to adoption is a powerful movement.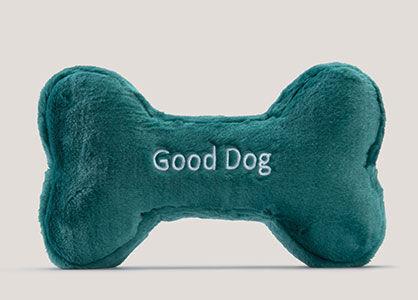 Fluff & Tuff
Troy, Mich.
Ellen Lawson, owner and president
At Fluff & Tuff, we consider giving back a priority all year long. We feel that dogs waiting for their forever homes deserve as much joy and happiness as they can get! In addition to supporting events and fundraisers throughout the year, two of our own annual charitable initiatives are #igiveafluff and our Holiday Charity Toy.
Each June, for every picture of a Fluff & Tuff toy on social media with the hashtag #igiveafluff, we donate one toy to a dog in need. We set a company record this year of 1,242 toys donated to nearly 20 rescues throughout the U.S. The campaign began in 2015, and we have now donated more than 4,000 toys with the help of our loyal followers!
Since 2013, we have donated 100 percent of our profits from the sale of our annual Holiday Charity Toy to various animal-related causes. This year, our Holiday Charity Toy is the Good Dog Bone, and we are donating our profits to rescues and shelters to purchase food for their dogs. Every Good Dog Bone sold can provide 16 meals.
Our charitable campaigns are growing exponentially every year, and we have our retail partners to thank for the added awareness. Their enthusiastic support helps us easily spread the word on these great causes that help make a difference to so many dogs.
We will be celebrating our 10-year anniversary in 2020 and plan to make it our biggest year yet for giving back!
Gold Paw Series
Gresham, Ore.
Rebecca Gadd, CEO
At Gold Paw Series, we have been working toward increasing our charitable giving. To do so, we have teamed up with 1% for the Planet. By joining 1% for the Planet, we are part of a global movement that connects businesses, individuals and nonprofits, empowering all to drive a big positive change for the earth.
As part of this partnership, we will be donating 1 percent of our annual sales back to a diverse variety of environmental organizations. We are a company that is lucky enough to benefit from the resources the earth gives us, and we wanted to show appreciation by working to protect these beneficiary resources.
This year, as a 1% for the Planet member, we have decided to partner with the amazing Eden Reforestation Project. Since 2004, this organization has been reducing extreme poverty and restoring healthy forests by employing local villagers to plant millions of trees every year. Here at Gold Paw, we set the goal of planting 1 million trees by January 2022. We've planted more than 176,500 trees with our partnership so far!
At Gold Paw, nearly 80 percent of our materials used are Bluesign certified, meaning the mills are assisted in achieving continuous long-term improvements in five key areas of the production process: resource productivity, consumer safety, water emissions, air emissions, and occupational health and safety. We have even decided to upgrade our packaging by using materials that are 100 percent plant based and derived from cassava root, making them certifiably marine biodegradable.
We are a company that is as committed to the environment as we are to our customers, and we look forward to continuing to work toward reducing our carbon footprint!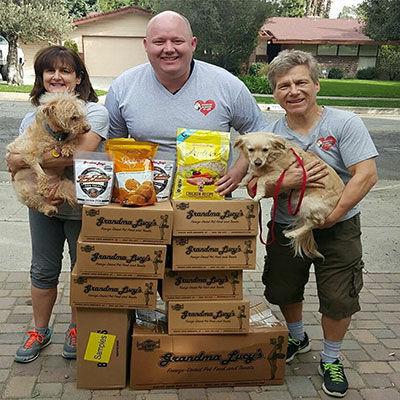 Grandma Lucy's
Rancho Santa Margarita, Calif.
Nathan Valdez, marketing and social media coordinator
It is our passion for giving pets the healthiest lives possible that has driven us to design and create our Grandma Lucy's products since 1999. With that same drive, Grandma Lucy's created #ProjectPetRAK, a charitable initiative to give back to animal communities across the nation.
Each month, we partner with a different pet specialty retailer and a 501(c)(3) rescue, shelter or charity to promote kindness to animals and facilitate donations through Grandma Lucy's. We strive to provide healthy products to all pets, regardless of where they call home!
We donate a meal for every Random Act of Kindness (RAK) posted to our monthly campaigns. Since 2014, we have worked with hundreds of rescues, shelters and charities, and we plan on partnering with many more in the future.
Whether it is leaving some extra balls at your local dog park for others to play with or collecting some warm blankets for shelters near your home, your RAKs will make another pet's day while earning food for those who might otherwise go without a healthy meal. Please join us in our mission to give back to pets in need while spreading a little kindness along the way. You can be the driving force to spread kindness and the best possible nutrition to special pets in need.
If you have a favorite pet charity, rescue group or animal shelter you would like to see as the #ProjectPetRAK of the month recipient, please email us at projectpetrak@grandmalucys.com.
Gyms For Dogs—Natural Dog Park Products
Indianapolis
John Sarver, design and development
Gyms For Dogs teamed up with Friends Foundation to help place new benches in the outdoor dog kennels at the Indianapolis Metropolitan Police Department Animal Shelter. The old benches presented challenges, from appearance to function and health. The new benches are way friendlier when it comes to seating people while they meet with possible adoptive dogs, withstanding the outdoor weather and offering a healthy design. The benches also provide staff and volunteers a place to take a break from the hectic pace of walking the dogs to the kennels. Potential adopters now have a chance to sit down on the same level as the dog, relax and give the dog they are looking at a chance to warm up to them, which improves adopter-dog interaction and encourages them to spend more time with the dogs. Truly within minutes of placing the new benches, people and dogs used them; it was simply awesome. And our hope is that the new benches help improve adoption rates at the shelter.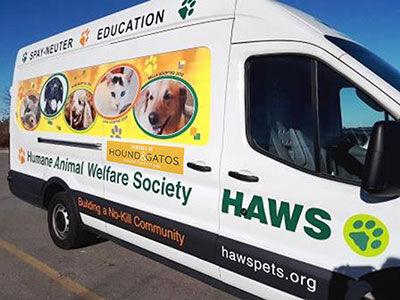 Hound & Gatos
St. Francis, Wis.
Patrick McGarry, general manager of Gott Pet Products, parent company of Hound & Gatos
At Hound & Gatos, we believe that every dog and cat deserves a long, healthy, happy life. That's why we actively work to support many pet rescue and adoption organizations by donating food with love to disadvantaged pets. This year, we have been able to donate more than 2,000 dog and cat food samples to shelters nationwide, including the Humane Society of Naples and the Heart of the Valley Animal Shelter.
Since we are a family-owned, Wisconsin-based company, we are proud to be on the board of the Humane Animal Welfare Society (HAWS) in Waukesha, Wis. With our donations, we have been able to support HAWS by sponsoring its shelter vehicle. This shelter vehicle has made it possible for HAWS to bring adoptable pets to community events throughout the area. They are also able to travel around the U.S. to help rescue pets after natural disasters and transport them from other states, keeping these adoptable pets safe and helping them find loving homes.
Because of our love of helping pets in need, we strive to always partake in opportunities to give back. With the launch of our new dry dog and cat foods, we look forward to providing even more shelters and rescues with our nutritiously complete meals.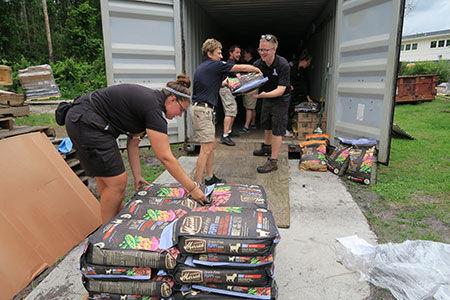 Merrick Pet Care
Amarillo, Texas
Jilliann Smith, director of communications
Since 2015, we've been the exclusive dog food partner for K9s For Warriors, an organization that trains rescue dogs to aid and empower veterans with post-traumatic stress disorder (PTSD) to adjust to civilian life with dignity and independence. Over the last three years, we have donated more than 115,000 pounds of high-quality food and treats for the K9s For Warriors dogs in training. We provide all the food and treats needed to feed all the dogs across their facilities.
To help raise awareness for this important cause, we also introduced an assortment of Merrick Backcountry Hero's Banquet recipes to celebrate our longstanding partnership with K9s for Warriors. And we've contributed $500,000 to Purdue University and K9s For Warriors to help fund research designed to prove the healing power of service dogs.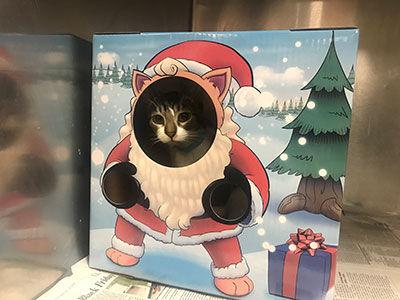 Kitty Cardboard
St. Petersburg, Fla.
Liene Golovatjuka, founder and CEO
Kitty Cardboard is a small, woman-owned and bootstrapped business founded in 2017 with a unique product line based around felines' natural obsession with boxes. After being set back by Hurricane Irma, we launched to the public in the fall of 2018 and have been supporting animal shelters and foster care programs around the country ever since.
Our mission is to raise brand awareness while creating a community of cat lovers around it. As our business grows, so does our main goal of helping cats in need find their "fur-ever" homes and spread joy in their lives! Kitty Cardboard is more than just a cardboard box to cats; it helps them feel safer and adapt to new environments faster, which is an important issue for rescue cats. Another benefit to our product is all of the awesome photos posted by shelters on their social media pages, which help to grab the attention of future cat moms and dads who are looking to adopt.
In 2019 alone, we have donated more than 500 boxes to more than 30 animal shelters. We have also supported dozens of fundraisers and raffles hosted by independent charities and pet welfare organizations nationwide.
Some of the rescues we support include:
• MeoozResQ in California
• West Suburban Humane Society in Illinois
• Recycled Love Animal Rescue in Texas
• Pure Bred Cat Rescue in Wisconsin
• ACCT Philly in Pennsylvania
• Humane Society of Manatee County in Florida
• Seattle Area Feline Rescue in Washington
• Blind Cat Rescue in North Carolina
Although we are a young company, the demand for our innovative product line has been growing exponentially. We hope that this next year will noticeably stand out in terms of helping kitties in need, as we recently launched our most charitable campaign: For Every Box Sold, One Box Is Donated! We hope that you will join us on this journey by thinking inside of the box!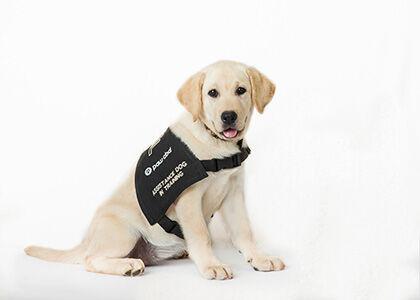 Paw CBD
Charlotte, N.C.
Paul DiBrito, president
We are proud to partner with Project2Heal (P2H), a North Carolina nonprofit that raises and trains award-winning service dogs and donates them to veterans and people with disabilities. This year, we supported P2H with monthly contributions, a new sign for their facility and vests for the service dogs in training. We also invite them to events that put a spotlight on them and the work they do within the community.
In May, we donated more than $50,000 of pet cannabidiol (CBD) oil to the Humane Society of York County. Shelter animals are often under high stress, causing fear, anxiety and even behavioral issues that can make adoption more difficult. Making the shelter experience a little easier can make the difference in the lives of these vulnerable animals as they wait for forever homes. We chose the Humane Society of York County for its dedication to animal wellness and making sure cats and dogs are treated in a humane manner.
We also proudly supported the Humane Society of Charlotte as a presenting Diamond Collar sponsor of its 2019 Ties & Tails Gala, which raises funding and awareness for the organization's ongoing mission to deliver effective, innovative services that strengthen the human-animal bond and improve the lives of companion animals and the people who care about them.
Petcurean Pet Nutrition
Chilliwack, British Columbia, Canada
Christine Mallier, public relations and community relations manager
This year, we continued our Uplift the Underdog Campaign to raise awareness of the need to adopt the millions of cats and dogs in shelters across North America, many of whom have languished there for years only to be put down without knowing the love and comfort of a forever home. Hundreds of thousands are euthanized each year, despite research showing that most are healthy and could be adopted.
Our campaign's goal is to inspire people to focus on the amazing heart and spirit of these underdogs rather than their so-called imperfections.
We have run three Uplift campaigns—two focused on dogs and one on cats. Rescue groups across North America were invited to nominate "underdogs." To draw attention to the cause, finalists were chosen and supporters were asked to cast their votes for their favorite and to share their stories to help increase their chances of adoption. A total of 140,000 supporters voted. Each finalist received food to last one year, three years or a lifetime, and their shelter received a 500-pound donation.
From the finalists chosen, eight dogs have been adopted, including a blind dog, a paraplegic dog and a deaf senior. Of the eight cat finalists, two have been adopted so far—a cat with feline immunodeficiency virus (FIV) and feline leukemia virus (FeLV), plus a super shy senior cat. It is also our belief that the awareness raised by this campaign made a difference in the lives of many deserving cats and dogs by encouraging people to take a second look at overlooked "underdogs" longing to find forever homes. We expanded Uplift the Underdog in the fall.
Giving back truly is at the heart of Petcurean. In 2019, we have donated more than 92,600 pounds of food to pets in need through a variety of initiatives beyond Uplift the Underdog.
PetGuard
Pittsburgh
Bill Shaner, managing partner and CEO
At PetGuard, our guiding principle is to provide the highest quality wholesome and all-natural products for a healthier lifestyle for pets and their PetGuardians. That's why we partnered with Animal Friends, a large shelter and adoption facility in Pittsburgh, to sponsor its Black Ties & Tails event in September. Through this partnership, PetGuard has made a monetary donation to Animal Friends for the event, which Pittsburgh Magazine has named the Best Benefit Gala in Pittsburgh.
Having recently relocated our headquarters to Pittsburgh, it was important for us to become more involved in our local community and give back in any way that we can. We remain committed to guarding the health and happiness of cats and dogs by nourishing them with the finest quality, grain-inclusive, all-natural food, and that includes shelter animals. We look forward to many more opportunities to come in which we can support rescues both locally and nationally.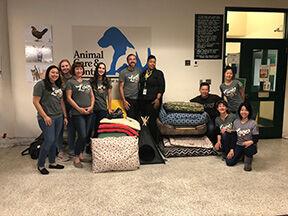 P.L.A.Y. (Pet Lifestyle And You)
San Francisco
Laura Morgan, social media specialist
P.L.A.Y. was founded with a mission to make things better for pets, people and the planet, and through our various giving-back initiatives, we are proud to be changing the world one dog bed at a time.
Over the year, we've donated hundreds of beds to animal shelters in need across the country through our Warm Bellies Initiative. This program was formed in partnership with the Petfinder Foundation with the belief that all animals deserve a warm place to sleep. Through this, beds are donated to shelters through monthly grant recipients, quarterly Voters' Choice Polls where individuals get a chance to nominate their favorite shelters to receive 20 of our Chill Pads, and through our Buy a Bed, Give a Bed program where one bed is donated to a shelter for each one purchased online. We've also proudly continued our efforts to help support rescue groups nationwide by donating more than 450 products to assist in raising vital funds.
In addition, we partner with the International Fund for Animal Welfare to give back to animals worldwide. As a result, all of our animal-themed plush toy collections give back to their wildlife protection efforts, adding up to thousands of dollars donated per year. In fact, we also designed a limited-edition Snow Leopard Toy that gives 30 percent of proceeds back to the Snow Leopard Conservancy.
Lastly, we are proud to offer our Scholars Helping Collars annual scholarship program. Through this, three high school seniors are awarded prizes ranging from monetary compensation to be used toward higher education to donations made to a local shelter on their behalf. This program rewards young adults who have made an impact in helping animals in need, and we are happy to give back to those who are truly changing their communities.
Pure and Natural Pet (formerly Pura Naturals Pet)
Norwalk, Conn.
Julie Creed, vice president of sales and marketing
As we have grown, so has our philanthropy initiative at Pure and Natural Pet. While we had a name change earlier this year, our commitment to the environment, rescue animals, and promoting legislation on animal safety and organic farming has never wavered.
In January, Pure and Natural Pet launched our Collegiate Veterinary program, providing veterinary students with wellness products. Our program launched with the acclaimed Cummings School of Veterinary Medicine at Tufts University to support their work in clinical care.
We celebrated Earth Day with planting hundreds of trees in conjunction with One Tree Planted domestically and internationally. Our team was in the trenches planting, and we planted more trees through our combo tea tree products.
We have partnered with Paws for Life K9 Rescue (PFL) for the past three years and continue our sponsorship of its program where animals are pulled from high-kill shelters and placed in maximum state prisons where inmates train the dogs. Upon graduation, the canines are gifted to a U.S. veteran with post-traumatic stress disorder (PTSD). Our efforts in animal rescue have been recognized by the California state legislature. Our retailers wanted to aid in this transforming program that saves lives, so we created a BOGO where retailers or consumers who purchase from our website have a Certified Organic Paw Rescue sent to Paws For Life K9 Rescue.
Paws for Life K9 Rescue has routinely been featured prominently on our website, social posts and quarterly newsletters. We dedicate space in our trade show booth for representatives from PFL to meet with our retailers. Our company and employees have donated time, product and money, as well as adopted rescue dogs. We're big believers in making a difference and encourage others to get involved.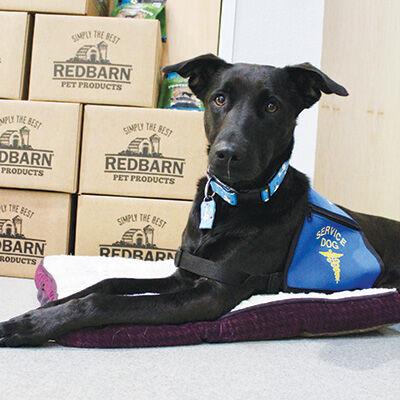 Redbarn Pet Products
Long Beach, Calif.
Jenna Murrell, brand manager
In April, we became the official treat sponsor for Dogs4Diabetics, a California-based nonprofit. This amazing 501(c)(3), a leader in developing medical-alert service dogs, trains dogs and unites them with diabetics at no cost to the owner.
Approximately 1.25 million Americans are living with type 1 diabetes, and these canine relationships are proven to be lifesaving for many insulin-dependent diabetics. Through this unique partnership, we are providing Dogs4Diabetics with an ongoing monthly supply of our low-fat, low-calorie training treats, Protein Puffs. These treats are now used to help scent-train service dogs to detect changes in blood sugar 20 to 30 minutes before the latest technology on the market and alert their owners accordingly.
"Training our service dogs is the first step to providing a life-changing companion to people living with type 1 diabetes," said Christy Gillham, executive director of Dogs4Diabetics. "We've spent years researching the most effective ways to scent-train service dogs to detect hypoglycemia in diabetics, and using the right treats is such an important factor. Redbarn's Protein Puffs have already proven to be a fantastic tool in helping us train our dogs, and we're thrilled to have an ongoing supply of the treats moving forward."
Dogs4Diabetics is committed to ethical and industry-leading standards in its training, and makes sure its service dogs are mature, socialized and skilled in basic obedience prior to finding these dogs their forever homes. For more information on the nonprofit, visit dogs4diabetics.com.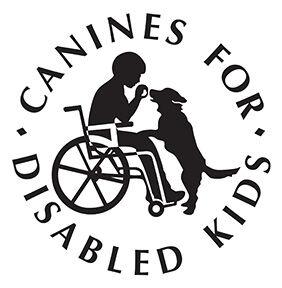 Ruff Dawg
Worcester, Mass.
Jerry Moffett, vice president of sales and marketing
Ruff Dawg is a continuing financial sponsor of Canines for Disabled Kids (CDK), an independent nonprofit founded in 1998. CDK is based in Worcester, Mass., which is Ruff Dawg's hometown and the location of our offices and manufacturing.
CDK connects families in need with service dogs and training programs and awards scholarships to offset some of the approximately $25,000 it costs to train a service dog and provide ongoing support to the child-canine team. Its team includes executive director Kristin Hartness, a staff of three and up to 10 volunteers.
"We work with schools and speak at conferences and expositions to educate families on what the options are for these families looking for the support of a dog," Hartness said. "We depend entirely on donations and sponsorships. We receive no government funding, so we are very excited to be working with Ruff Dawg as a sponsor, not only for the financial support, but also from a marketing standpoint."
Dave Pentland, president of Ruff Dawg, said, "The work CDK does with assisting families with service dogs is admirable. We felt there was a natural fit, as well as the potential for us to expose them to a new audience of dog lovers."
CDK awarded 20 scholarships last year alone to support children on their road to greater independence through the use of service dogs. We are also planning an exciting event to take place in 2020: Some of the scholarship recipients, alongside local community members, will be rappelling off a building in Worcester to raise both awareness and funds for their critically important programs.
Sustainably Yours Natural Cat Litter
Miami
Pedro Bastos, CEO of Petfive, parent company of Sustainably Yours Natural Cat Litter
Besides bringing you and your cat a natural, 100 percent sustainable litter, at Sustainably Yours, we are dedicated to doing our part of maintaining our planet. Continuing to support our mission to the environment and sustainability, we've partnered with the Rainforest Trust, an organization committed to tropical habitat conservation that uses 100 percent of its donations to protect and restore the rainforest.
With charitable donations from people and companies like us, the organization has been able to rescue more than 18 million acres of the rainforest since 1988. A portion of the proceeds from every bag of Sustainably Yours litter purchased goes directly to this organization that is doing great things for the earth.
We also find opportunities to give back to our local and national community. By partnering with shelters in the U.S. and Brazil, we have been able to help cats looking for their forever homes. In September, we participated in the Bay Area Pet Fair [in California], providing 500 bags of litter to cats on their way to their new homes. Additionally, Petfive, the parent company of Sustainably Yours, is involved with programs that help cat owners struggling with medical or financial issues and has partnered with Miami-Dade Animal Shelter and Pet Project Florida.
By working toward helping the environment, as well as pets and owners in need, we know the importance of making an impact on our community and are excited for the future of how sustainable pet products can continue to support our global mission and beyond.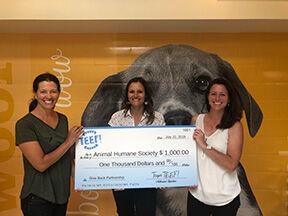 Teef!
Minneapolis
Emily Stein, Ph.D., CEO of Primal Health, maker of the Teef! Animal Oral Care brand
Since launching in spring of 2019, Teef! has had great success bringing our innovative dog dental care product to the market. Not only do we feel passionate about solving the problem of bad breath and dental disease, but we believe in the power of giving back, too. On July 22, Teef! donated and presented a $1,000 check to Animal Humane Society.
"We are honored and extremely grateful for Teef! and their generous donation to our organization to help animals in need," said Breanna Willman, corporate partnership manager. "We admire their dedication to educating pet families on the importance of proper dental care—especially for senior dogs. It's well known that caring for your pet's teeth can help prevent other medical issues as well."
Teef! is a labor of love originally developed to help my grandmother maintain better daily dental hygiene. After I saw similar life-threatening health issues in my senior rescue pup Tinzley, I knew I needed to create a version for furry companions, too. My extensive background in microbiology, immunology and rheumatology, combined with my passion to improve the health of my best friends, created the "perfect storm" for innovation that can improve millions of lives every year.
Treatibles
Petaluma, Calif.
Julianna Carella, founder and CEO
At Treatibles, we believe every dog and cat deserves love, compassion, care and a forever home. We recognize the tireless efforts of rescues and shelters that help make this a reality for a growing number of animals.
Unfortunately, some cats and dogs are deemed unadoptable due to fear, anxiety or perceived aggression. These misunderstood pets often thrive when their issues are addressed. We are constantly working to provide shelters nationwide with the resources they need to help these pets by ensuring their ability to access Treatibles products and by offering an exclusive discount. We also make donations to shelters in need and send sample packs home with new pet parents as everyone in the family adjusts to new changes.
Each month, we host a Rescue of the Month feature, in which we highlight a different rescue on our website blog and educate the public about the organization and its mission. Our hope with these features is that we can encourage adopters in their areas to visit the shelter and find their new "fur-ever" friends. Along with this feature on our website, we make a monetary donation to the shelter and encourage our customers to do so as well.
In addition to our rescue efforts, we've created Tater's Sweet Potato Tots Soft Chews for Dogs. Our newly updated chews are named after a rescued pit bull named Tater Tot, who was rehabilitated by the Villalobos Rescue Center (VRS) in 2010 and became an ambassador for pit bulls nationwide. After trying many methods to help with his various physical discomforts, Tater's owner, Mariah, discovered Treatibles, and our chew had an almost immediate effect on his physical and mental health. When Mariah shared her and Tater Tot's story with me, I knew we had to help his mission for the Villalobos Rescue Center. This is when we decided to make the Tater's Sweet Potato Tots Soft Chews and donate $1 from each container purchased to the costly vet expenses at the VRS.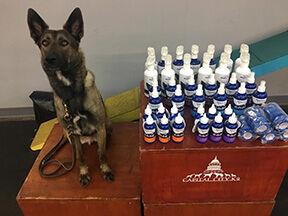 Vetericyn
Rialto, Calif.
Geoff Hamby, director of marketing
As a company that grew out of a passion for providing the best wellness products for animals, Vetericyn has engaged in a variety of charitable activities this year. Bob Burlingame, our founder, created a product to keep his pets and farm animals as safe as possible. This fundamental idea inspired Burlingame to share his safe and nontoxic technology with people who love their animals just as much as he does.
Within the 2019 calendar year, we have donated more than $18,000 worth of product to several organizations. Since inception, we have given more than $1 million worth of product to more than 5,000 organizations. Organizations donated to in 2019 include the Animal Rescue Group, the Shelter Animals Rescue Group, the Southern Reins Center for Equine Therapy and Yucaipa Valley Animal Placement. This year alone, we have donated more than 447 units of product to more than 33 organizations.
The Vetericyn Teacher and Advisor Program helps teachers foster the intellectual and social development of students. The program inspires, challenges and helps kids and young adults grow into the next generation of leaders, innovators, parents and animal owners by giving teachers resources to aid in the classroom. Each year, Vetericyn grants the Future Innovators of Agriculture Scholarship to students who are likely to positively impact agriculture practices and animal husbandry in the future. Since its launch, the scholarship has provided more than $20,000 in aid.
To work toward creating a healthier planet, sustainable practices are implemented throughout our company. This dedication to sustainability is brought to focus through the creation of eco-friendly and recyclable products as well as a recycling program at our headquarters.
We are committed to giving back to rescue centers, shelters and animal aid groups across the country in any way we can. We hope to grow our charitable presence to continue to extend our impact.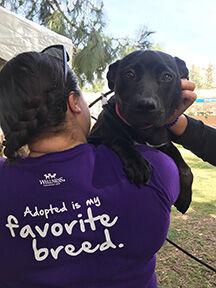 Wellness Natural Pet Food
Tewksbury, Mass.
Camelle Kent, CEO
At Wellness Natural Pet Food, we've always been dedicated to charitable acts for pets, but we're now focused on one core belief: Natural, high-quality nutrition is the foundation to a longer, healthier life, and an unparalleled tool when helping rehabilitate rescue pets. That's why, in August, we launched The Wellness Foundation, a charitable organization that provides natural nutrition to pets in need.
The Wellness Foundation operates with the mission to ensure that every pet on the planet is born, bred and raised with love, which includes ensuring that homeless pets start life in a new home with high-quality nutrition. To do so, the Wellness Foundation has partnered with Best Friends Animal Society, America's leading national welfare organization dedicated to ending the killing of dogs and cats in America's shelters, as its official pet food partner. The Wellness Foundation will provide rescue pets in Best Friends' lifesaving centers with Wellness foods and treats to ensure they receive nutrition that fuels a happier future.
The Wellness Foundation has also committed to volunteering at Best Friends' centers and events. Sept. 18 was Wellness' official Global Day of Service, during which our team of "Wellies" showed spirit and compassion for pets by volunteering at Best Friends' shelters across Massachusetts. Additionally, our employees were encouraged to take additional time off to volunteer with pet-focused organizations.
We also launched a co-branded treat with Best Friends: Wellness Core Bestie Bars. Packed with protein and superfood ingredients, these treats are inscribed with sweet sayings to spread the love. The treats encourage pet parents to join in promoting pet adoption by posting pictures of their dogs with Bestie Bars on social media with #SaveABestie and @wellnesspetfood, adopt or donate by visiting bestfriends.org, or join the movement at wellness foundation.org.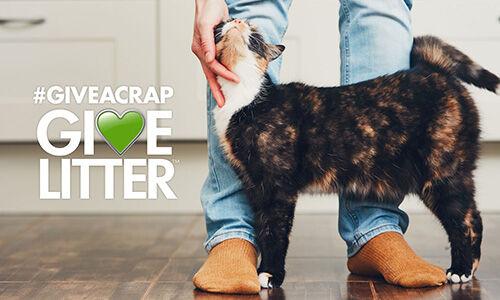 World's Best Cat Litter
Muscatine, Iowa
Jean Broders, senior brand manager for Kent Pet Group, parent company of World's Best Cat Litter
World's Best Cat Litter works hard, both inside and outside of the box, to improve the lives of cats and their owners. Whether it's free litter, adoption education or disaster relief, we've dedicated our brand to giving back to the greater cat-loving community.
Since 2010, we've donated free cat litter to hardworking shelters in need through our GiveLitter campaign. To date, we've donated more than 800,000 pounds of cat litter to 89 shelters and counting. This has resulted in nearly 111,000 cats per month that have benefited from our litter donation.
This year's campaign—One Million Reasons to #GiveACrap—challenges people to share the hashtag #giveacrap, and we will donate up to 1 million pounds of litter to shelters across the U.S. Additionally, we routinely donate litter to individual shelters and cat cafés across the country, as well as supply all of our partners with special adoption kits designed to educate and empower new cat parents to make the natural choice when it comes to cat litter.
We also work with shelter partners to showcase cats for adoption, hoping our vast following on social media will help them find their forever homes. We also deliver free litter to shelters in areas that are affected by natural disasters, having helped out following Hurricane Irma, Hurricane Harvey and the wildfires in California.
ZippyPaws
Chino, Calif.
Irene Diaz, marketing assistant
Here at ZippyPaws, we Paw It Forward with our Zippy Charity philanthropy toy line. Each toy in this line is designed to benefit a specific cause, and for every Zippy Charity toy sold, we donate $1 to a handpicked organization and help raise awareness for its cause. We do a lot of research to choose a nonprofit organization that will receive proceeds from these toy sales.
Currently, we have three toys in this philanthropy line: Camron the Camo Gator, Drake the Dragon and Hamilton the Hammerhead. Camron the Camo Gator represents our efforts to rescue, reunite, re-home and rehabilitate any retired working dog that has serviced mankind in some capacity. The nonprofit organization that was selected to represent this toy is Mission K9 Rescue of Houston. Our second addition to the Zippy Charity line, Drake the Dragon, was developed to benefit and highlight autism awareness. We selected Paws With A Cause to represent this toy because we strongly believe in its efforts to train dogs to act as facilitators to minimize triggers and improve social interactions for children with autism.
Our recent addition, Hamilton the Hammerhead, was developed to raise awareness and benefit the cause to keep our oceans clean. We selected Earth's Oceans Foundation, a nonprofit organization that is committed to reducing plastic found in the ocean and preserving the health of the world's oceans.
With the Zippy Charity toy line, we continue to help raise awareness and have donated more than $32,000 to these nonprofit organizations. We are always looking for more meaningful ways to give back to the community. As we continue to grow, ZippyPaws will continue to donate to our local charities and partner with more nonprofit organizations.