As a rule, a thriving enterprise is largely born from a fusion of attributes. Fundamental characteristics, such as tenacity, experience, insight and knowledge, often blossom when passion comes into play, leavened with a bit of luck. To this mix, Toni Shelaske, owner of Healthy Pet Products, which has two retail locations and a grooming operation in the Pittsburgh area, adds a dose of gratitude. 
"I love what I do—it's not work. I am very grateful to have found my passion in life," Shelaske says. "I feel like I'm making a difference in the lives of pets." 
The entrepreneur enriches these sentiments with a business background.     
"A lot of people get into the business because they love pets but are not necessarily business people," she says. "I have an extensive retail management background in clothing. It's the best of both worlds."
She also recognizes the role her family played in her success.
"My parents are there for me in whatever I do," she says. "I'm a lucky girl." 
From her career in the apparel industry, Shelaske transitioned to the pet sitting business, a natural for the animal lover. As the owner of Pampered Pooches Pet Sitting for eight years, she was alarmed at the number of pets suffering from ear infections, itchy skin, allergies and other ailments. 
While she researched solutions, it became clear to her that wholesome sustenance is key to pet vitality. This study inspired her to share her findings with other pet owners. 
When her favorite locally owned independent pet retail store came on the market in 2008, Shelaske sought her father's guidance before making an offer.
"My dad is a businessman, and he said, 'Go for it,' so I did," Shelaske says. "It was just a tiny little store, about 1,000 square feet."
At the time, raw foods were not in the product mix, but the store's concept evolved to reflect Shelaske's own philosophy that a wholesome diet forms the cornerstone to well-being. The impact of raw nutrition on canine and feline health, which she was introduced to shortly after adopting her dog Meg in 2002, was a focal point for her.  
"I have been a raw feeder for 20 years, even prior to owning Healthy Pet Products," Shelaske says.
For these reasons, the first order of business was to bring in a single-door freezer to house raw foods. Within months, a move to a new site doubled the square footage.
"That's when I started bringing more freezers in," she says. "I was there for five years before moving to our present 4,000-square-foot location, which we refer to as the North Hills store."
In 2011, the South Hills store opened in 2,000 square feet of space. Four years later, a move brought the square footage to 4,800.
With plenty of space, the number of freezers multiplied.
"However, once you have so many freezers, they become inefficient," Shelaske says. "So, in 2014, I made the decision to put walk-in freezers in both stores." 
Still, demand escalated, and eventually double-door freezers were brought back in to accommodate raw cat food. More followed to hold bones and other frozen products. 
Hale and hearty, Meg's presence as a four-legged store emissary validated the benefits of raw nutrition for many years. 
"Meg passed at age 15, but she was definitely our mascot," she says. "We are the raw stores now, and I'm planning to add more space to my walk-ins."
When a locally owned grooming establishment became available in 2015, Shelaske took the leap.
"Because of the internet's pressure on retail, I thought it would be smart to get into the services business," she says.  
The 2,200-square-foot location currently employs five groomers, and it features a smaller mix of the same products found in the larger stores, including frozen raw foods.
"It's 50/50 grooming and retail," Shelaske says. "We have seven bathing tubs, with a self-wash option as well."
Cleanliness and organization are central factors to the Healthy Pet Products ambience.
Countertops and floors sparkle, products are color coordinated and meticulously arranged, with can labels and bag edges lined up perfectly, and stickers are carefully placed.
"I like my stores to be clean and odor free; it makes for a calmer mindset, shoppers are likely to stay longer, and items are easier to find," Shelaske says. 
This welcoming environment is heightened as customers are greeted warmly by name and enjoy a leisurely browse.
"I believe in a soft sell. Our clients normally reach out to us when they need assistance," she adds. "We are not here just to sell things. We are here because we truly care."
In this way, it is not uncommon for associates to spend an hour or more with a customer seeking nutritional advice.
"I have one staff member dedicated to consultations. She really knows her stuff," Shelaske says. "Between the two of us, we really get down and dirty when it comes to figuring things out." 
The free-of-charge sessions normally take place on the spot but can also be scheduled ahead of time.
"I know my customers by name," Shelaske says. "If I forget a customer's name, I remember their pet's name and, almost 90 percent of the time, I can recall what food they are feeding."
Staffers are encouraged to forge relationships with customers. Many of these associates were once customers themselves, resulting in a firm grasp of store principles and product.
"Hiring customers has been unbelievably successful," she says. "Generally, I am the one to approach them to ask if they are interested in a part-time job."
Training is accomplished through hands-on experience, shadowing of more-experienced sales associates, online and in-store manufacturer trainings, and staff meetings.
"Our people learn as they go. It takes time to acquire the verbiage—for instance, what to say and do if a customer walks in saying, 'My cat is in renal failure,'" Shelaske says. 
The nutritional philosophy at Healthy Pet Products champions a diet of "real" food.
"I tell my customers that the more real food their pets eat, the better off they will be," she says. "I consider this to be home-cooked, freeze-dried, dehydrated, raw or even canned because it is moist."
Goat's milk is often recommended as an addition to a kibble-based diet. As a result, the reduction in the amount of kibble fed will boost pet health, according to Shelaske.
"I try not to push my views completely, or to judge. Not everyone wants to let go of kibble because it's a comfort factor or there might be cost prohibitions," she says. "Over time though, as pet owners learn the reasoning, they usually end up switching to better options."
A wide range of supplements is presented in the "medicine cabinet" section, an ever-expanding category. When it comes to snack time, a wholesome array of treats, from freeze-dried tidbits to biscuits, delight the palates of four-legged foodies. In addition, a full complement of leashes, collars, crates, pads, toys and other pet supplies is available. A limited selection of small animal products, as well as chicken feed and supplies, join the mix.
"I try to be a one-stop shop," Shelaske says. 
Locally and USA-sourced products are in demand and stocked as much as possible. 
"This designation is very important to me and to my customers," she says. "People in Pittsburgh are supportive of their neighbors and want to shop local."
Environmental awareness is also encouraged and transcends the stores' yearly Earth Day celebrations. Mindfulness includes providing reusable totes, with discounts to customers taking advantage of this offering or utilizing their own bags. For raw food shoppers, logoed freezer bags are supplied.
"Customers often like to take product home in boxes, so we keep those on hand, too," Shelaske says. "It's sometimes easier to carry a supply of raw food in a box, and it actually serves as a little bit of insulation. We also reuse the trays that canned foods come in."
Spreading the Word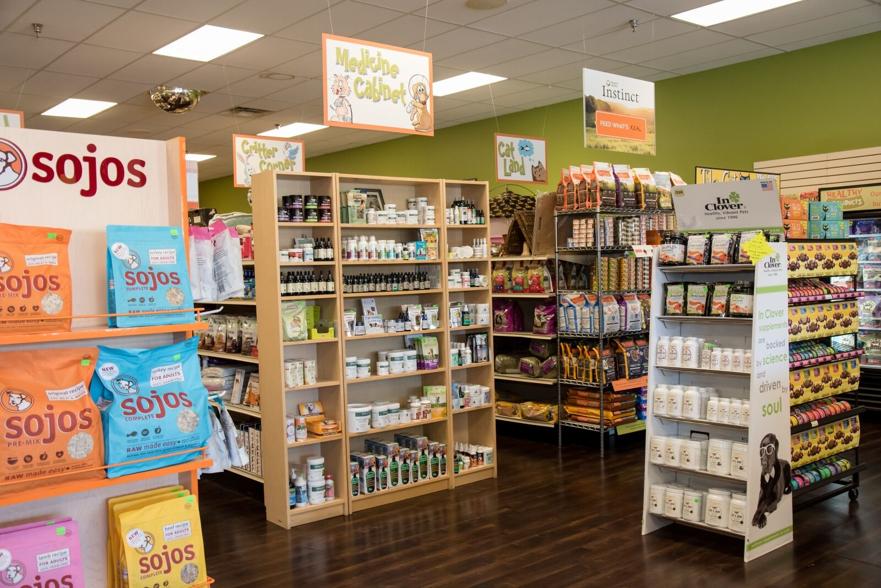 Pet care and nutritional education is often seasoned with a little fun.
Local pups and their people converge for a cooling appetizer and a bit of summertime mingling during Ice Cream Social Saturdays.
"We make our own little individual frozen freezer pops using Puppy Cake Ice Cream, which is local to western Pennsylvania," Shelaske says. 
Gratitude takes a walk on the festive side when Healthy Pet Day rolls around. The annual soirée celebrates customers, who stroll the parking lots of each location to visit with rescue agencies, check out vendor booth offerings and enjoy a good time. 
The fete is tag-lined as a "fun-filled, informative and freebie kind of day," and it offers plenty of complimentary samples, canine demonstrations and entertainment for children.
Beyond the parking lot get-together, customers also gather in-store to enjoy deep shopping discounts.
"It is a huge event, and every year it grows," Shelaske says. "It is my biggest volume day."
Free-of-charge, in-store seminars are offered on a regular basis, covering a range of topics and often featuring guest speakers. For example, a chiropractic care seminar spotlighted both human and animal practitioners. Another discussion covered natural immune boosters, presented by Healthy Pet Products associate Allison Raithel.
When the Healthy Pet Products tent pops up at community happenings, attendees are sure to come away with plenty of informative literature and free samples. 
"We don't sell anything, but our tent is logoed," Shelaske says. "We try to be present at all local events."
As title sponsor of the Pittsburgh Pet Expo for the past five years, Shelaske has seen the showcase flourish. Open to the public and held at the Pittsburgh Convention Center, last year's event welcomed 15,000 spectators and 250 vendors, and it included grooming competitions, diving dogs, and gussied-up pets strutting and sashaying in the costume contest.
"It's an awesome show," she says. 
When it comes time for a little four-legged merrymaking, Healthy Pet Products' own Pawrty in the Park does not disappoint. Besides furry revelers, there's plenty of entertainment for the two-legged set with picnic fare, music, canine wading pools, and local rescue and shelter representatives on-hand.
"It's just a fun afternoon at a local park," Shelaske says.
A Month for Meg
Adoption days are held on a regular basis at each location throughout the year. However, May is Meg Month, held in memory of Shelaske's beloved companion.
"We raise money all month for the Humane Animal Rescue, which is Pittsburgh's largest rescue organization," she says.
The fund- and awareness-raising drive includes customer donations and the sale of specially designed T-shirts, with proceeds benefiting the rescue.
"Everyone knew Meg, so it really resonates with our customers," she says. "I am forever grateful for the time she and I had together."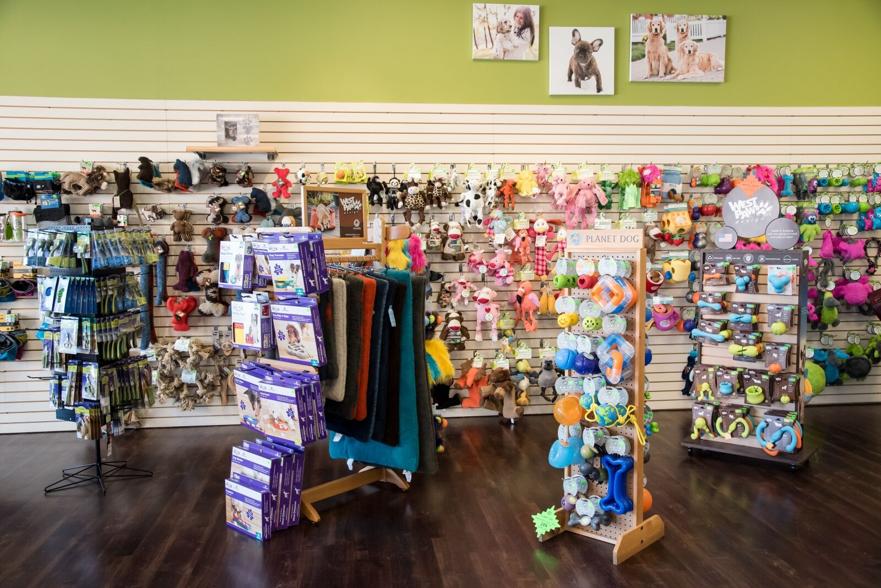 It's a Retail Life
What is Healthy Pet Products best known for?
Toni Shelaske: Our comprehensive approach to natural remedies through food and supplementation.
What is the biggest challenge for pet retailers today?
Shelaske: Competing with the online vendors. 
Biggest challenge for the pet industry overall?
Shelaske: We need to stay focused on the betterment of pets and not the thickness of our wallets.
Are you watching any interesting trends?
Shelaske: The growth of freeze-dried continues to boggle my mind. It's a hot category, it's convenient and looks like kibble, but if you calculate the cost per feeding freeze-dried, it's also the most expensive. 
For the future of Healthy Pet Products?
Shelaske:  We have a north and a south location. I would really like to have east and west locations. My customers would love that as well.
Let Food Be Thy Medicine
Few of our four-legged companions relish a trip to the veterinarian. However, Maddie's reaction was visceral. At 90 pounds, the husky/Great Pyrenees mix proved a real handful when a visit to her canine health care provider was called for. 
"Maddie was very strong and independent, knew exactly what was going to happen, and could be vicious about it," says owner Laura Grguras. 
As Maddie aged, Grguras began to explore natural and holistic options in order to extend her quality of life and avoid veterinary drama as much as possible. 
"I'd shopped at the big chains and online, but there was a store I'd driven by many times that drew my interest," she says. "I decided to stop in and see what Healthy Pet Products offered in the way of natural foods."
She discovered a staff ready to help, answer her questions and provide a range of nutritional alternatives. As a result, Maddie flourished and lived to the ripe old age of 14. 
"For a big dog, that's pretty old," Grguras says. "She definitely had more energy on her new diet."
Today, Grguras continues to shop at Healthy Pet Products for her two dogs, Big Ben, a 12-year-old shepherd mix, and Baby Ruth, a 4-year-old coonhound/pit bull mix.
"If I have an issue, I know I can stop in to discuss options," she says. "The staff members do the research and lead me in the right direction, and if a product isn't carried, they will get it in."
Further, Grguras appreciates the welcoming environment, where both she and her pets are greeted by name.
"Everyone is always so friendly," she says. "Even if they don't remember my name, they always know the names of my dogs, and that's really all I care about."
The presentation of knowledge and tutelage, seasoned with a little fun, is another facet valued by Grguras, who attends the monthly workshops whenever she can.
"Everyone has a good time at the educational seminars," she says. "Plus, there is always a little spread of wine and cheese, so we can sit and chat and be social."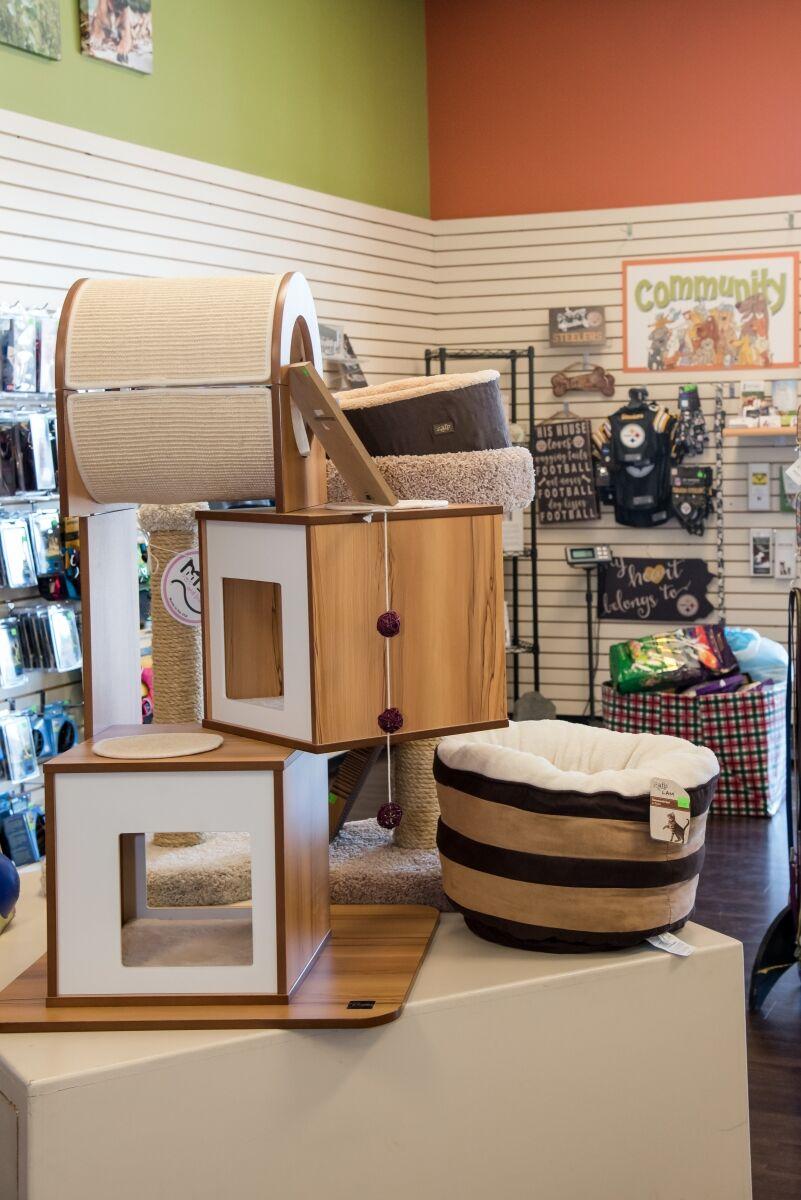 Healthy Pet Products at a Glance
Locations: Retail stores: 9805 McKnight Rd., Pittsburgh, PA; 3043 Washington Rd., McMurray, PA; Grooming store: 2640 Brandt School Rd., Wexford, PA
Owner: Toni Shelaske
Number of employees: 13 full time, 22 part time
Years in business: 10
Average square feet: 4,500
Website: healthypetproducts.net
Products and services: Raw, freeze-dried, dehydrated and canned pet foods, supplements, treats, pet supplies, small animal supplies, grooming, self-grooming, educational seminars, adoption days, nutritional consultations