Measure a generous dose of extended family, with ties embracing pets, their people, staff members, the community and beyond. Gently fold in equal parts education and knowledge. Whip in a heaping cup of fun. Season with a bit of irreverence.
It's the recipe for success at The Yuppy Puppy in Spokane, Wash., where the vibe is vibrant, the dialogue is saucy and pets come first.
"I want to foster a feeling of family and fun at The Yuppy Puppy," says Aquila Brown, co-owner of the store with husband Gavin Brown. "It's an attitude that works."
This philosophy touches all in Brown's sphere, including suppliers and manufacturer representatives.
"I act as if everyone creates product just for us," she says. "It's that family concept."
The Yuppy Puppy saga commenced in 2006, with self-serve dog wash facilities and a limited selection of quality yet affordable pet foods situated in 1,200 square feet of space. Brown's own yuppy puppy, DuraMax, who has since retired, served as the venture's namesake, four-legged ambassador, store greeter and inspiration.
"When we got Max he suffered allergies, and besides baths and steroids, he was recommended a prescription diet by his vet," she says.
At the time, Brown worked as an assistant at a local veterinary clinic; however, she began to explore a homemade diet as a solution to Max's issues.
"It just made more sense to prevent rather than mitigate the symptoms, and I began to study alternatives," she adds.
Positive results prompted Brown's decision to leave conventional veterinary medicine behind to focus on that prevention and to share her findings with local pet owners.
The Yuppy Puppy's opening coincided with economic collapse.
"I think our timing was perfect; we expected measured, steady growth, and as the economy gradually rebounded, we were able to add higher-end products along with grooming services," Brown says. "We grew our options based on what our clientele could afford."
A subsequent expansion into an adjacent space doubled the square footage to 2,400. Full-service grooming and a broadened selection of holistic and organic pet foods and pet supplies joined the mix.
"In November 2014, we moved to an even-larger facility, adding doggie day care," Brown says. "The site provides 3,000 square feet of retail space and 4,600 square feet devoted to day care."
A second location, opened in February 2018, resides in the oldest building in downtown Spokane, with the same selections, minus day care.
Constructed in 1890, the new space features exposed beams and aged brickwork, and the interior design reflects the historic character of the building. The scheme is a departure from the larger store, which Brown describes as fitting her personality to a "T."
"It's neon yellow, purple and blue," Brown says. "It's loud."
Throughout this evolution, the concept of The Yuppy Puppy's circle of family has prevailed.
Giving a Poop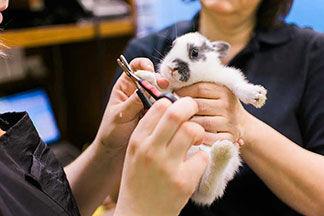 Few would dispute that a well-trained staff is key to outstanding customer service. However, Brown also believes that appreciation and support of team members are vital ingredients to promoting a connected atmosphere.
"People don't leave jobs, they leave bosses," she says. "If an employee knows you have their back, that you are their cheerleader and supporter in an environment that fosters fun, personal growth is encouraged and, ultimately, longevity."
Brown is proud of The Yuppy Puppy's well-trained emissaries and confident in their ability to educate customers. In this way, education is ongoing and diverse. Monthly trainings feature nutritional curriculum, role-play and plenty of laughter.
"We strive to provide a huge education, but more than that, we are all family and friends, and that is pretty impressive," Brown says.
Another facet to building solid relationships is the Poop Peso program. This unique strategy stresses communication. At the monthly training sessions, 10 blank Poop Peso coupons are handed to each associate. The objective is to pass a Poop Peso, with a personal message, to fellow employees during the course of the next month.
"For instance, if an employee should forget to take out the trash, another might give a Poop Peso as a reminder for the future. In turn, the recipient might hand a Poop Peso back saying, 'Thanks for taking the trash out for me, I care about you,'" she says. "We encourage a 'compliment sandwich,' where you say, 'I love you, you suck, but I still love you.'"
However, Poop Pesos also serve to recognize a job well done.
The result is a spirited camaraderie, as feelings are expressed rather than left to simmer. At the next get together, Poop Pesos received during the course of the month are redeemable for gifts.
And she always values and appreciates her people.
"The reality is, I can get 100 clients for every great employee," she says.
Preaching Nutrition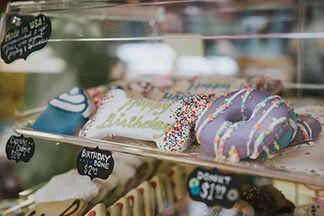 The pet foods sold at The Yuppy Puppy are free from corn, wheat, soy and byproducts, with nothing from China. Raw, kibble freeze-dried, dehydrated, kibble and canned—at all price points—are in the mix.
"I always joke that I am a food snob," she says. "I personally feed my dogs raw. I believe it is the pinnacle of nutrition; however, I am not a preacher of raw."
In this way, customers feeding kibble are not made to feel less-than.
"I think a lot of small businesses fail because they latch on to the concept that raw is king, and people leave feeling as if they are not doing the best they can or are settling," Brown says. "I always say the best you can do is the best you can do, but all our food must be from a company we can trust."
Building that confidence includes touring manufacturing facilities, which also develops a personal relationship with the company making the food.
"I want to know that a company whose foods I carry has integrity," she says. "I want to know that if there is a formula change, I will hear about it before my customers. And if someone has a problem, I want to be able to call my representative and have them take care of that issue, not deny it."
In addition to foods, supplements and pet supplies, a broad selection of treats, including bulk treats, is available.
"We have the best prices in antler chews," Brown says. "Our customers have the option of buying one treat at a time. They like that, if their dog gets a bath, they can spend 50-cents on a treat as a reward."
In the second quarter of 2018, The Yuppy Puppy will incorporate local delivery into its service roster. Duties of the Drool Bus will be accomplished via a Ram ProMaster City cargo van.
Playing by the Rules and Pampering Pets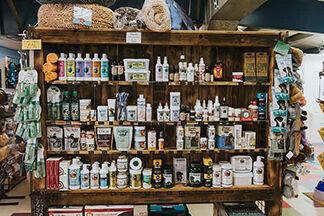 Doggie day care facilities capable of accommodating up to 70 dogs per day have been offered since 2014, with two indoor play areas and one outdoor yard. However, the number of accepted dogs might vary depending on the temperament mix.
"For instance, if we have a particularly rowdy group, we might close before we reach capacity," Brown says. "We once closed with only 26 dogs."
Canine participants are separated by activity level. Rambunctious four-legged athletes romp and wrestle in the "hockey arena," while the "ice skating rink" entertains those desiring less-vigorous play.
"The hockey arena guys are going to throw down their gloves and punch each other in the face, then jump up and go play again," she says. "Not all dogs are into that."
Dedicated employees monitor each area, caring for canine guests as their own.  
"Private" boarding is offered to frequent day care patrons. Brown notes that boarding can be a stressful situation for dogs; however, those familiar with the day care environment settle in nicely and feel at home.
"We offer 12 boarding suites, all themed," Brown says. "For example, we have a Frozen suite, a Minion's room and a Ninja Turtle space"—all inspired by popular contemporary animated films.
Pampered pooches itching for a spa day needn't worry about expensive or surprise add-ons. Grooming services are all-inclusive, providing bath, conditioning, and other skin and coat-health promoting necessities.
"There's not an upcharge for this or that type of treatment," Brown says. "Our groomers put their hands on a dog, and they know if there is a skin issue or a bump that wasn't there before."
Brown says the busy grooming salon stays that way primarily due to groomer experience.
"Our grooming manager is exceptionally talented, has been with us for eight years, and trains all of our groomers," she says. "I definitely believe we are so busy because of their reputation."
Due to this notoriety, area veterinarians often recommend clients to The Yuppy Puppy for grooming sessions.
Embracing the Homeless, Supporting Adoption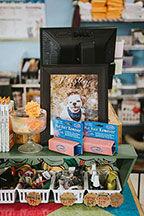 The business tends to the welfare of homeless animals and the organizations that care for them through adoption days, various fundraising efforts and adoption channels.
The annual Puppy Bowl, held in February, is an enormously popular adoption event that not only raises awareness and funds for the Spokane Humane Society, but also places young, tail-wagging athletes into forever homes. The event takes place in the day care area and has grown to the point that spectators number in the triple digits.
"This past Puppy Bowl was our 10th year," Brown says. "It's our biggest fundraising push."
Adoptable puppies arrive from the Spokane Humane Society and don colorful bandanas to identify teammates. Canine youngsters romp, play, score touchdowns and melt hearts on a dog-sized football field. A "victory dance" results when four-legged participants head home with a new family.
"Hundreds of people come to watch the Puppy Bowl," she says. "They might not all be looking for a puppy to adopt, but they want to watch the action and support the humane society."
Spokane Humane Society representatives are on hand to provide information, and pet food sponsors are present to discuss nutrition.
"Every adopted puppy goes home with a bag of puppy food, and a coupon for a free bag, provided by our sponsors," Brown says.
However, concern and support for homeless pets takes place year-round, and includes a dedicated boarding suite, where all revenue earned from overnight guests is earmarked for the humane society. Further, an average of $2,500 per month in pet foods are donated to the Spokane Humane Society.
 "It's part of our buy-back program," Brown says. "If someone returns a food for any reason, or if we have out-of-date foods, they become a donation. We work with all of our manufacturers in this program."
Smaller rescues and shelters are not forgotten. For example, during the holidays, a gifting tree supported local animal rescue Murci's Mission by collecting food, cash and necessities.
"We hold fundraisers throughout the year to support the smaller rescue organizations," Brown says.
Community involvement also includes nonanimal activities.
"We were involved in a huge fundraiser for cystic fibrosis last summer," she says. "For us, it's just a big circle of family."
It's A Retail Life
What is The Yuppy Puppy best known for?
Aquila Brown: Attitude. We are a very spirited, almost obnoxious, outgoing group of pet people.
The biggest challenge for pet retailers today?
Brown: Internet sales and the convenience of home delivery.
The biggest challenge in the pet industry overall?
Brown: Misinformation. Pet industry labeling is shady. People think they are doing the right thing because we have trained them so well, but misleading ingredient panels are our biggest challenge right now.
What trends are you watching right now?
Brown: I walked inside my FedEx driver's truck the other day, and a solid 75 percent of the contents were boxes from online pet product vendors. It was dismaying, and I found it offensive. Even some of my customers shop online, and it blows my mind. I'm like, "You walk in here at least once a week to pick your dog up at day care and you still order online?"
What do you see for the future?
Brown: More growth. People love their pets, and why shouldn't they? They don't talk back, which is solid. For the future, I honestly see America turning back to small business. I think people are getting sick of the big-box trend, and I see them returning to their independent families.
Playtime for Mini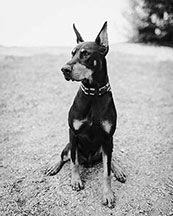 A trek to The Yuppy Puppy can be raucous and fun. However, that atmosphere is surpassed by education, expertise and a sense of family.
Bonnie Sherar discovered The Yuppy Puppy in the early self-serve-wash-only and limited-food-inventory days. At the time, Sherar enjoyed the convenience of the self-serve bathing tubs for her two Akita mixes, Sweetpea and Buttercup.
"Those two were a shedding nightmare," she says. "I'd take them to The Yuppy Puppy so all that hair would not be all over my house."
When grooming was added to the mix, Sherar took advantage of that service, as well.
Buttercup and Sweetpea have since passed, but Sherar continues to shop at The Yuppy Puppy with her new family member, Mini. The Saint Bernard/golden retriever mix loves her weekly playtime visits, where she canoodles with canine buddies and expends excess energy.
"When I leave Mini in day care, I am confident that she is happy and in a safe place," Sherar says.
The welcoming familiarity of staff is another unique characteristic that keeps Sherar coming back.
"I love that I can call and say, 'This is Bonnie,' and they'll respond right away, 'Oh, are you bringing Mini in?'"
The knowledge and education offered by store associates is also a facet of the business appreciated by Sherar. When Buttercup became ill, the well-trained envoys were quick to recommend a superior diet.
"Buttercup's spleen was cancerous," she says. "I had been feeding my dogs a big-box brand, and they recommended a more nutritious food. Aquila's staff is able to speak to the food products carried, and they understand nutritional prevention."
Further cementing that trust is co-owner Aquila Brown's close monitoring of the food manufacturers carried at The Yuppy Puppy. Sherar noted that should the standards of a company be compromised—for instance, if one is bought out by a larger corporation—Brown is immediately aware.
"Aquila will eliminate brands that aren't a fit," she says. "It's all about quality standards."
Sherar finds it refreshing that associates at The Yuppy Puppy are free to speak their minds.
"Her staff is straightforward, and they love what they do," she says. "Aquila is a colorful character and does a great job in creating a congenial climate."