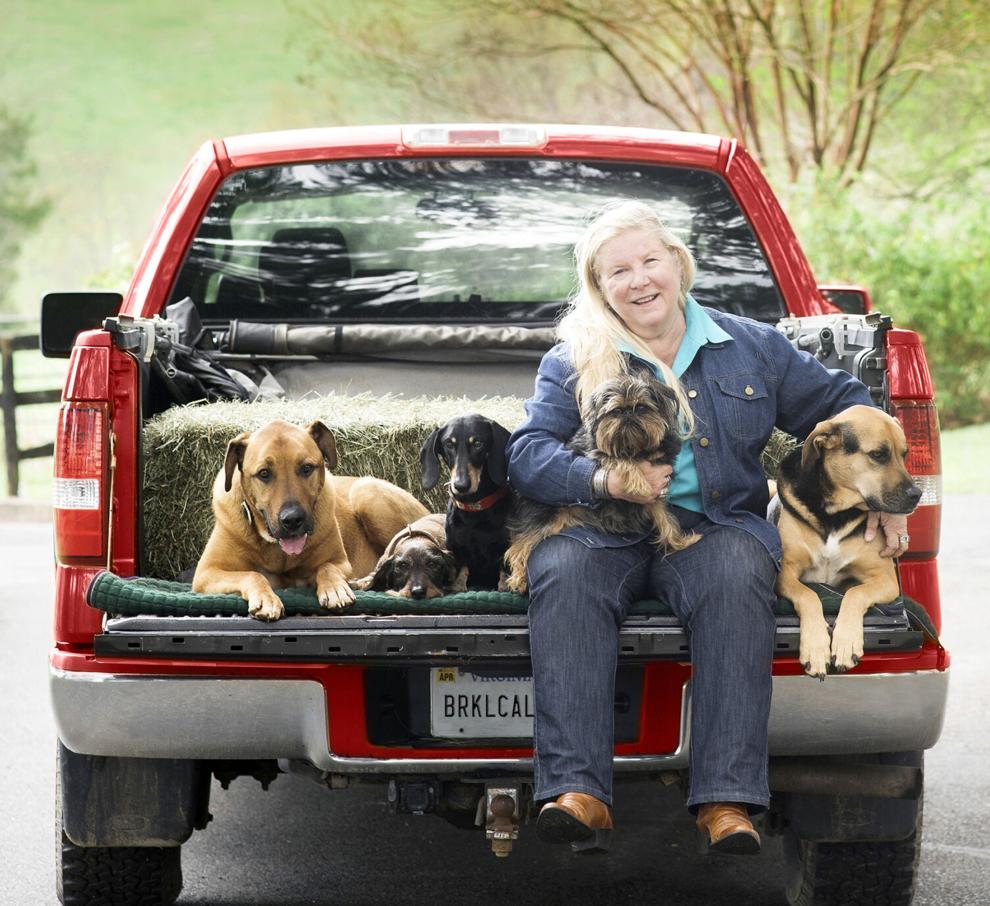 In 1928, had the Ix family gazed into a crystal ball upon opening the Frank Ix & Sons textile factory in Charlottesville, Va., they may have been astonished at the establishment's journey. While the endeavor flourished over a span of seven decades, employing many local residents, by 1999 the business had closed, and the abandoned warehouse and 17-acre grounds sunk into neglect. In 2014, a pair of visionary developers saw promise and set to work to create Ix Art Park. Today, the renovated area is alive with breweries, restaurants, coffee shops and tech offices, along with art spaces, a covered stage for live music, picnic areas and a popular weekly farmers market. It's also the home of Animal Connection.
For one-time advertising agency proprietor Pattie Zeller, owner of Animal Connection, a glimpse into her own future might have brought on similar wonder. The path to Zeller's dream, and eventually to Ix Park, was revealed through a nightmare when, in 2001, Ernie, her beloved Chesapeake Bay retriever, was diagnosed with cancer.
"The veterinarians were telling me we could try chemotherapy, which I didn't want to do," she says.
Instead, Zeller consulted a holistic veterinarian.
"He suggested Chinese herbs and a dietary change to raw food," she says. "What did I have to lose?"
The outcome was remarkable. Within several months, Ernie's skin, coat and overall health improved. In fact, the sturdy pup lived on to the ripe old age of 18.
At the time, raw food was not yet a mainstay on the pet nutrition scene, and for Zeller the first order of business was to procure a steady supply of product, which proved a challenge. Undaunted, the dedicated pet lover took matters into hand, turning her garage into a distribution center for personal use and for other pet lovers wishing to feed their dogs the same diet.
"I found a consortium of agility and dog training people within an hour's drive of me that also wanted the same food," she says. "So I got a couple of freezers, and we placed a once-a-month bulk order."
The fledgling enterprise quickly outgrew Zeller's garage, and a lease was signed on an 800-square-foot retail space. Animal Connection officially opened for business in 2001.
"We were off to the races," Zeller says. "I continued to keep freezers in my garage for people that wanted to come to the house."
With a wealth of marketing expertise, a love of pets and a thirst for nutritional knowledge, Zeller set about creating a welcoming, country-store vibe that favored antique fixtures over traditional shelving. A feng shui master provided guidance in arrangement and color selection. Premium grooming services were soon added.
Business blossomed, and when more square footage was needed, Animal Connection expanded into an adjacent storefront, and then another, eventually totaling 2,900 square feet.
"I just kept leasing more and more until there wasn't any available space," Zeller says.
By 2020, Zeller was not only in need of more room for the existing retail and grooming business, but also for the additional services she was considering. Animal Connection was ready to move on. However, relocating during a pandemic was not without risk.
"I knew for me to be strong as a retailer, and during COVID in general, I really need to be strong in services," she says.
This foresight led Zeller to Ix Park, just a mile away from the original store.
"They said, 'We want you here, and we'll make it happen,'" she says.
The entrepreneur was already familiar with the complex—Animal Connection's signature annual fundraising event, Dog Fest, had been held there for several years.
Before welcoming customers into the 4,800-square-foot location, which had previously served as a showroom for designer fountains, fireplaces, outdoor grills and patios, Zeller wanted to create a distinctively Animal Connection allure.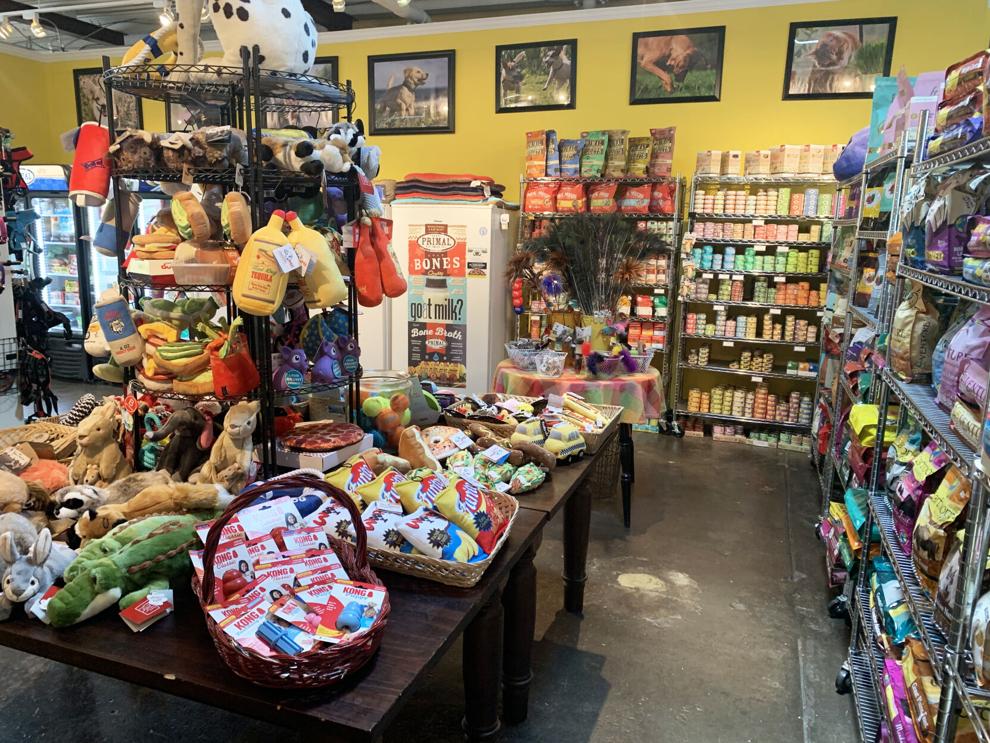 "You really had to have a lot of vision, and I had the opportunity to gut the place, strip it right down to the walls and put up new walls where I needed them," she says.
The one-time factory had retained its industrial air, with cement floors and original timbers still visible.
"We used the same farmhouse warm yellows and barn red colors that we had in the other store, but we did change our décor a bit," Zeller says. "There aren't as many antiques as we once had."
To allow more visibility throughout the store, and to brighten things up, the store employed white Ikea-like cubes, stacked at differing heights, as product displays.
"I wanted to be able to see the store all the way to the back, and not just for aesthetic reasons, but for security as well," Zeller says. "Plus, everything looks fresh—it's a good break for the eye."
In order to maximize square footage and spotlight services, Zeller's design did not include warehouse storage space.
"I get four deliveries a week so there's really no need to backstock. It's not profitable," she says. "I designed it in a way that everything for sale is on the sales floor. It was a gamble, but in order for me to do training, the bakery, to enlarge grooming, I needed the room.
"The beauty of this is that I can see what's needed when I do my weekly orders," she adds. "It makes it easy for me—it's like a mental POS system."
An outdoor patio, which had once exhibited the previous tenant's creations, provides the perfect venue for gatherings.
"The patio has a working grill, there's a refrigerator, wet bar, a water fountain, fire pit and gas lamps," she says. "The fire pit is great, you can even make s'mores on it."
Today, the area is used extensively for all manner of events, including adoption days, Yappy Hours and birthday parties for dogs.
"The cool thing is that people can invite friends and their dogs, and go right to the restaurant next door to pick up pizza, or tacos and margaritas, and have a full-on party," Zeller says.
"We are in such a dog-friendly neighborhood. People are out walking their dogs, dining at the dog friendly restaurants … even the weekly farmers market is dog friendly, and the parking is amazing," she adds.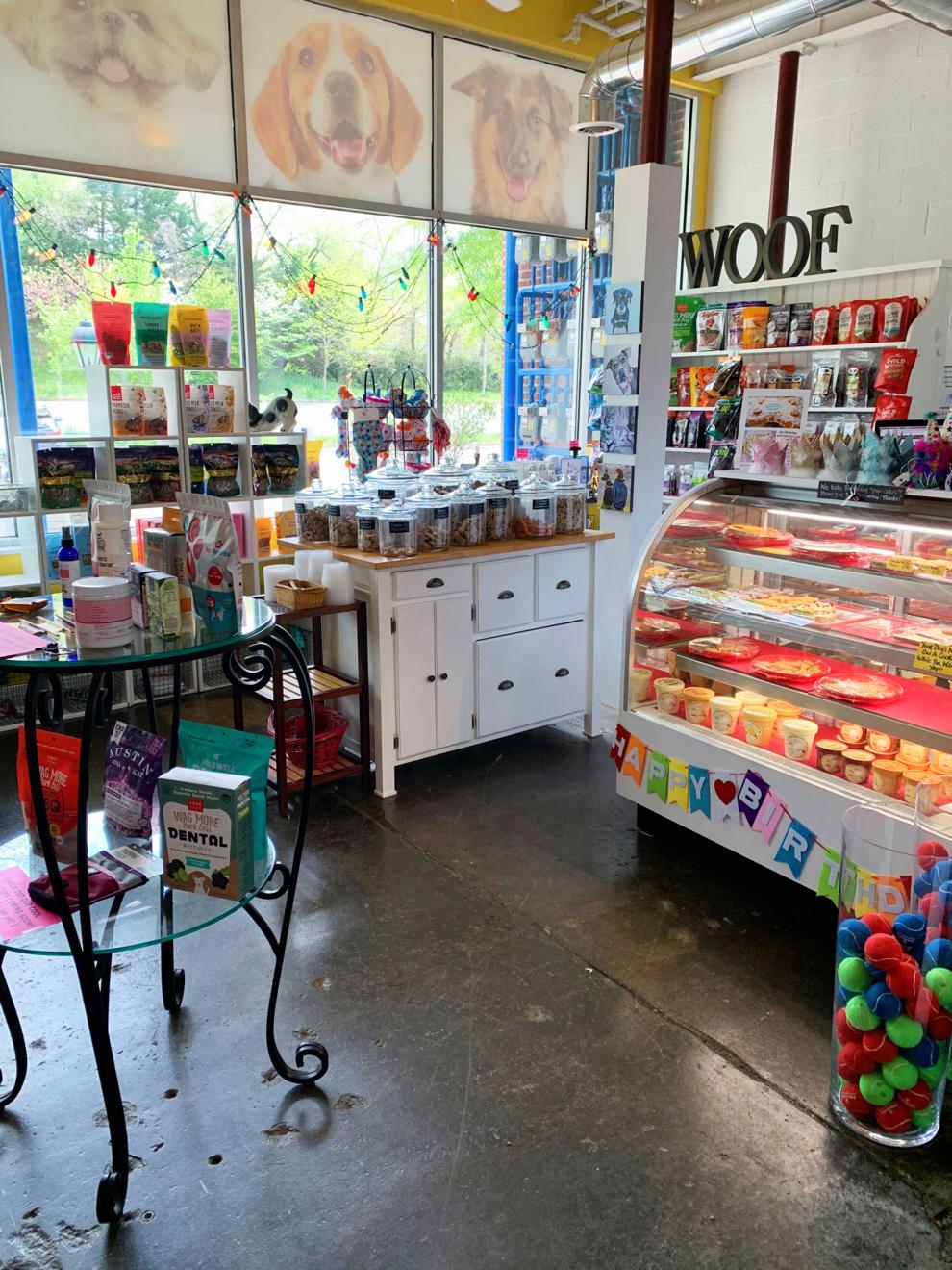 The Backbone of Animal Connection
Animal Connection staff members are considered the backbone of business success, according to Zeller. For this reason, a caring attitude and willingness to go the extra mile are sought-after attributes. All associates are trained not only in retail products, sales and nutritional concepts, but also exposed to training and grooming methods. These well-informed and compassionate emissaries are thus able to speak with confidence to all phases of store operations.
"Everybody is cross trained," she says. "They do plenty of listening and a lot of learning. They get reading assignments; there's a lot that goes on."
An extensive training manual covers every aspect of store operations, right down to instructions for turning the fountain off at night.
"You have to have complete information to be legitimate," she says.
Community involvement is strongly encouraged, and Animal Connection associates are involved in an array of pet rescue and civic concerns.
Besides stellar, competent service, customer loyalty is further engendered by familiarity.
"We know our customers' names and the names of their dogs," Zeller says. "I still have my very first raw food customer and others from my first year in business."
The store is sited in a dog-friendly downtown locale, and the demand for canine comfort in a retail environment expanded during the pandemic.
"We have a lot of 'digital nomads' in our area, people that moved here from Washington, D.C., New York City, Chicago and other metropolitan areas during the pandemic because, at the time, housing was inexpensive," she says. "Many of them own dogs."
When the pandemic shutdowns occurred, Zeller was surprised to discover that the majority of customers preferred curbside to in-home delivery.
"We moved heaven and earth to make curbside fun," she says. "Here I was all set to buy a delivery vehicle, but they were still coming. So, we threw it all out there—we sang karaoke, had a 'drive-thru dog bar' with treats like puppachinos or doggie tacos. We used the national day calendar pretty heavily for ideas and any theme or anything on trend."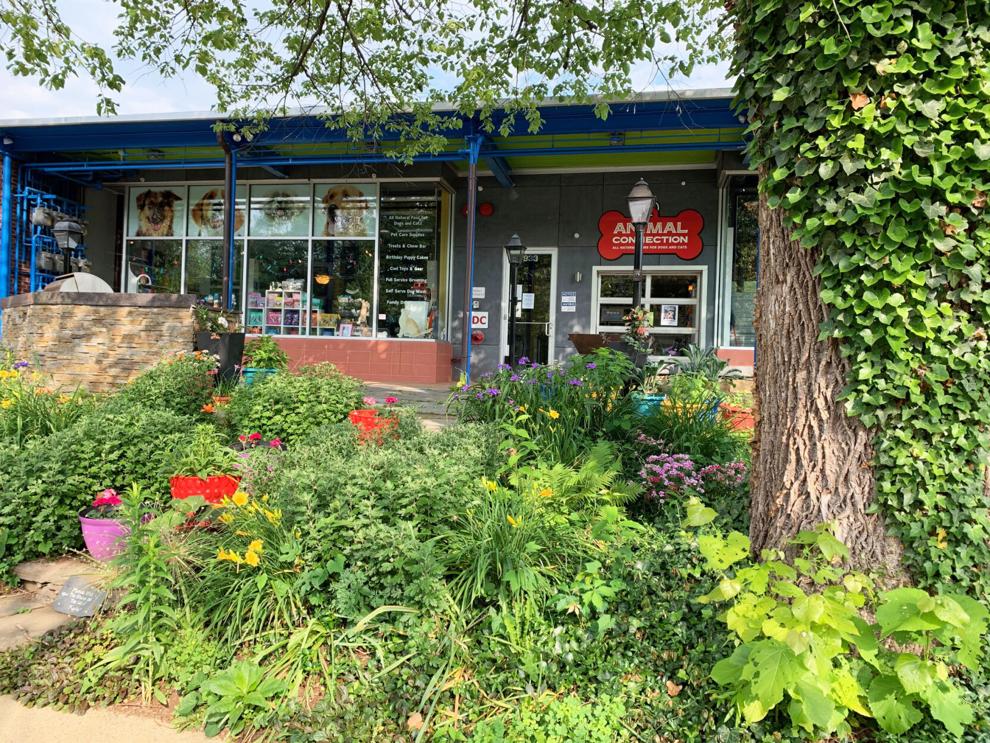 The Healthiest Store for Pets
As Animal Connection is "The Healthiest Store for Pets in Charlottesville," foods and treats comprise approximately 80 percent of the retail product mix, and the wide range of selections include frozen raw, freeze-dried, dehydrated, canned, gently cooked and raw-coated kibble. Recommendations are based on the individual.
"It's pretty much the right food for each dog, within their age, breed and at this moment in time," Zeller says. "We consider the needs of the customer. Is convenience important? What about budget?"
In addition, sales associates inquire about issues a dog might be experiencing and offer suggestions to enhance the diet of that pet.
"If the customer isn't feeding a premium frozen food, we try to steer them to a really good dry food within their budget and see if we can make it better by adding a hydrator of some sort—canned or dehydrated, or goat milk," Zeller says.
Since products are not back-stocked, special orders are common, and a file of recurring orders, kept on a calendar, brings products in as needed.
The new store also features the Puppy Cake Bakery, a small bakery where cookies, doughnuts, birthday cakes, cupcakes, ice cream and ice cream sandwich creations abound. A bakery case, sited near the entrance and visible through the large front windows, displays the toothsome goodies, making it difficult for visiting pups and their people, and passersby, to resist.
"Our doughnuts and cupcakes just fly out the door every weekend," Zeller says. "When we have rescue groups here, we always give the dogs a cup of frozen yogurt, and people walking by want the same for their dogs."
A scoop-your-own biscuit bar and chew and bone bar are also front and center, enticing the furry set to stop in for a snack.
"This is by design because people walking back and forth can look in and see really cool stuff," she says.
Promotions bring on the fun—and savings. For instance, Fifth Saturday sales occur in months with five weekends. Customers fill their Animal Connection-branded shopping bags to the brim to receive a 20 percent discount on those items.
Currently, Animal Connection is in the process of updating and rebranding its website in preparation of launching an e-commerce site. In addition, the store's logo and swag items have been updated.
Omni-Experiential
Charlottesville's furry denizens and their human family members enjoy an "omni-experiential" array of services at Animal Connection.
"We want to be the ultimate neighborhood store," Zeller says. "This means more than retail and includes training, self-service dog-washing facilities, grooming, our bakery, seminars, adoption days and other events."
As a one-stop shop for everything pet related, there is plenty of crossover demand. Grooming and training customers purchase foods, retail shoppers bring their dogs in for grooming, and self-serve dog washers might take advantage of add-on services.
The busy grooming room features one tub and two tables with one groomer on staff and a groomer/bather in training.
"Our groomer has been grooming for well over 20 years and is now training our bather," Zeller says.
Dogs visiting for a day of pampering spend very little time in crates.
"We started as a premium service and work really hard to make sure the dogs have a very good grooming experience, so it wouldn't be to our advantage to have them stay in a crate all day," Zeller says.
An expansion of the grooming facility is in the works, however, due to the popularity of this service. Booking appointments ahead of time is suggested to avoid long waits. In between these sessions, Animal Connection's two self-serve grooming tubs are at the ready.
"We encourage pet parents to use our self-serve facilities to keep their dogs clean," she says. "While they are here, they can take advantage of our walk-in, interim services for little extras like trimming, shaping and grinding the nails, face or the sanitary area trims, teeth brushing or gland checks."
Dog training is provided in collaboration with Lead the Way K9 in Charlottesville. Animal Connection's 900-square-foot indoor training facility serves as a hub, with dogs arriving daily for training. Private lessons with owner and pooch are held on Saturdays, along with group sessions on the patio or the park's grassy area. Neighborhood pack-walk participants meet on the patio before embarking on a community stroll.
"When students and pet parents head into the neighborhood for a pack-walk or onto the grassy area for group lessons, farmers market shoppers see them and want to get in on the fun," she says.
An outdoor Bark Park is on the horizon. The off-lead play area, with dog-safe fencing, will be run as a membership package and involve premium outdoor play, scheduled as small groups. Members will also receive store discounts.
"We are working out the details right now. There are a lot of moving parts, but the concept has been approved," Zeller says.
For the pet-loving bride and groom, Animal Connection will soon be hosting wedding celebrations.
"We have our first wedding booked for February 2022," she says.
For convenience, furry members of the wedding party can hang out with a dog wrangler before, during and after the nuptials, if desired, or absorb a bit of pre-wedding etiquette through Animal Connection's training services.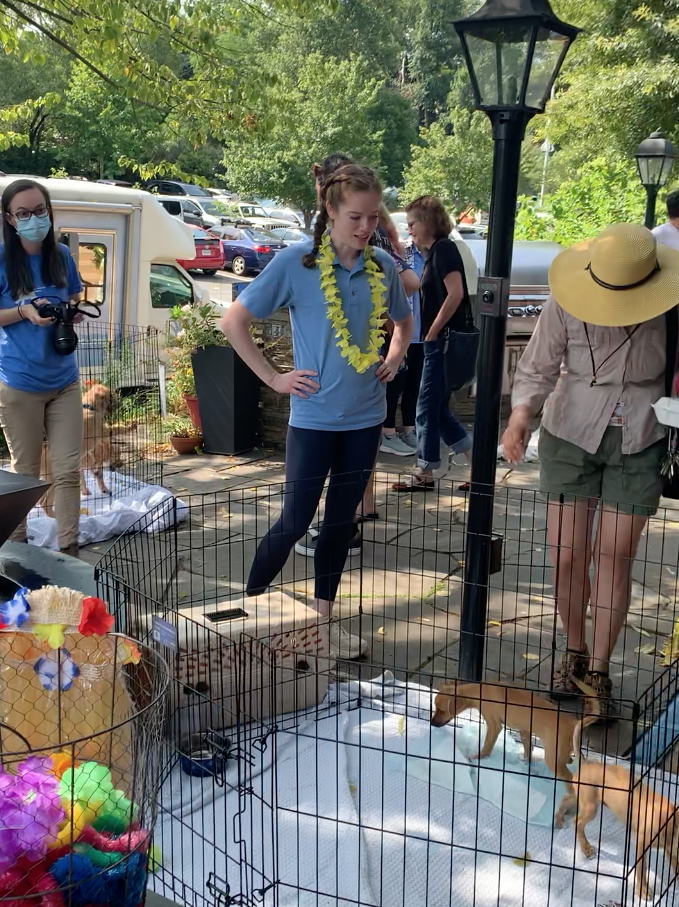 A Forever Home
Support of pets needing a paw up and a forever home takes on myriad forms. Adoption days are held regularly on the patio and take on a festive air.
"When we have our adoption day events, we try to create some sort of fun theme around it," Zeller says.
For instance, at a tiki-themed day, humans sipped tropical drinks and dogs slurped banana frozen yogurt. Refreshed, pups and people swayed in a hula contest and struck poses in the photo booth.
The holiday season arrives even earlier than usual with Animal Connection's Christmas in July event, where rescue support takes center stage.
"People purchased food or treats for rescue groups at 10 percent off the retail price," Zeller says. "For donations of $20 or more, contributors received a gift certificate for their next visit."
Rescue groups set up on the patio, and people and pups relished holiday cookies and refreshments and posed with Santa for a photo op. Because the event took place on a fifth Saturday in 2021, a portion of sales from the day were used to purchase foods for rescues.
Year-round, shelters and rescues, adoptive families and those fostering are further supported through donations, gift certificates, and adoption packages of foods, treats and samples.
A major fundraising push for local rescues and shelters, Dog Fest is traditionally held annually to celebrate Animal Connection's September 2001 grand opening.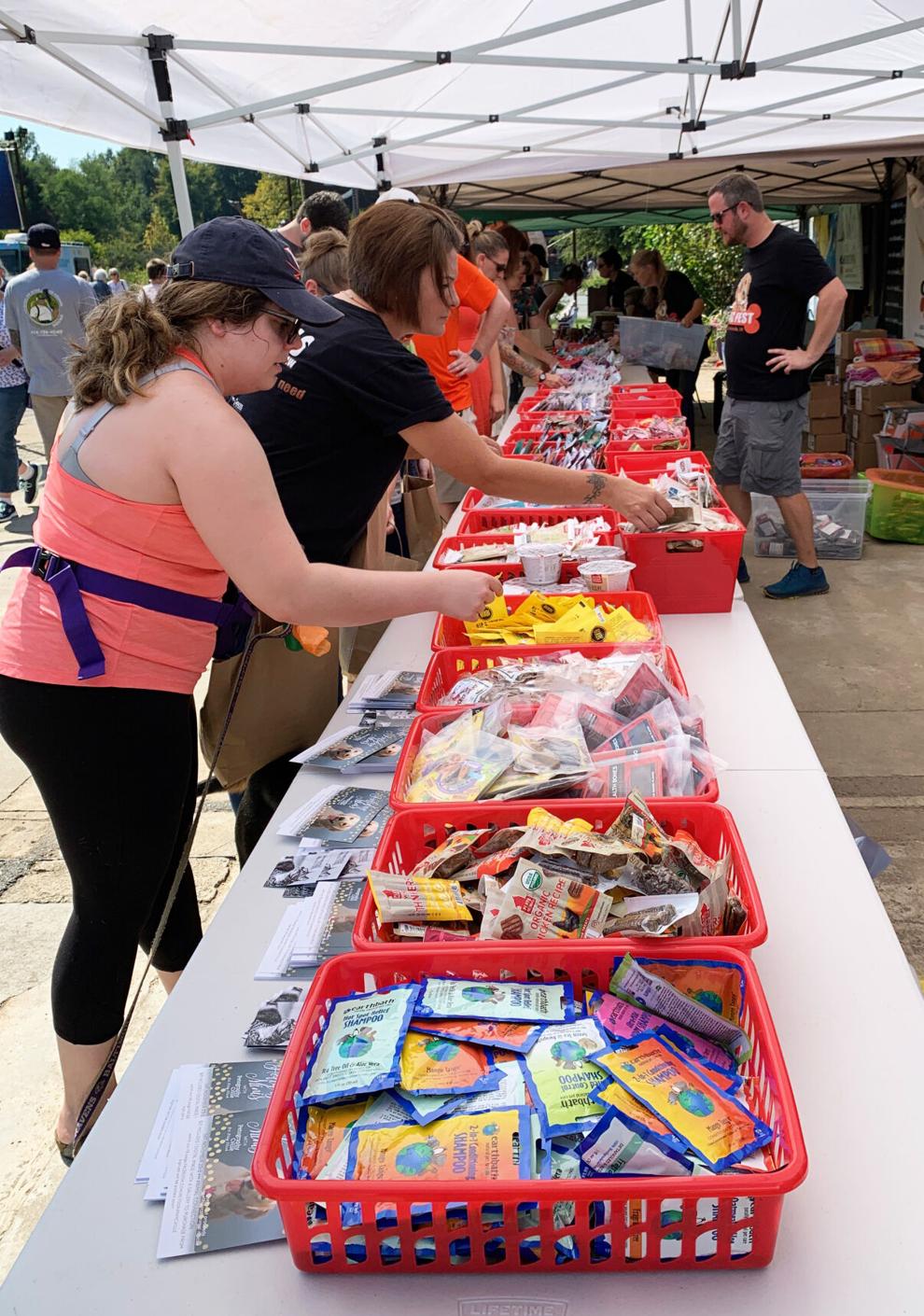 In years past, pets, people, vendors, local shelters and rescues gathered for a memorable time, spreading out all over Ix Park to celebrate. Upward of 3,500 revelers perused the 100-foot-long "world's largest treat and sample bar," dined at food trucks and sipped a frothy Big Dawg Blond Ale, the event's signature brew created by Three Notched Brewery. A portion of the proceeds from every pint benefits Charlottesville-Albemarle SPCA.
Pandemic guidelines in 2020 necessitated a shift from a people-packed day to a more distance-friendly week-long event. Selected vendors, rescues and shelters, pet-related businesses and dog-friendly restaurants were spotlighted each day.
"It wasn't as good as the whole-day festival, but it turned out to be a great option," Zeller says.
For 2021's 20th anniversary bash, the star of the show will be Animal Connection—and Zeller.
"We are doing it differently this year. We will hold the event in front of Animal Connection," she says. "This time it will be all about me and my great store."
The soiree commences on a September Saturday, with five rescue groups populating the patio for a mega-adoption affair. Indoors, the fete will be all about Animal Connection's patrons, as they stroll a red carpet to partake of the Customer Appreciation Sale, filling their newly branded Animal Connection shopping bags with all manner of merchandise—at discounted pricing. Pets ready for a scrumptious nosh will eagerly guide pet owners towards the "world's largest treat and sample bar."
Sunday's shindig will see merrymakers taking over Ix Park's outdoor space. Food trucks and restaurants will serve up sustenance, and Big Dawg Blonde Ale in cans, created especially for the festivities, will be in hand. Zeller's favorite rhythm and blues band, The Gladstones, will keep things lively from the stage.
"It's going to be a kick and dance party, a real celebration of our 20 years," she says.
Getting the Word Out
Animal Connection's robust social media plays a central role in getting the word out about goings-on, special deals, fundraising and other pet-related issues.
"If there's any positive result from the pandemic year, it's the rise in social media exposure thanks to folks at home looking for entertainment, information and inspiration," Zeller says. "We have explored everything from social selling, contests, like-and-share or post-a-picture. Anything that brings positivity and fun to our audience."
Besides the main page, Animal Connection's "Secret Deals" page keeps customers apprised of in-store specials, she adds.
An alliance with the social media platforms of foster and adoption groups allows Animal Connection the opportunity to keep members informed about events and happenings.
Zeller's partnership with Jerry Miller, founder and president of VMV Brands, an advertising and events agency in Charlottesville, Va., has furthered Animal Connection's exposure through the weekly "What's Barking Local" segment, an hour-long, weekly program co-hosted by Zeller and Miller, in conjunction with Miller's I Love CVille YouTube network.
"'What's Barking Local' features new products as well as pet and business community leaders in the pet world as guests," Zeller says. "Every other week we have the director of the Charlottesville SPCA as our co-host. The show goes live on the SPCA page, on my page, and the I Love CVille page, so the reach is well over 270,000 people."
Recently, rescue groups have joined the show as guests.
"Self-promotion aside, you should be using these avenues for the good of the community," Zeller adds.
---
Animal Connection At a Glance
Owner: Pattie Zeller
Location: 933 Second Street SE, Charlottesville, Va.
Number of employees: 5 full, 1 part time
Square footage: 4,800
Years in business: 20
Website: animalconnectionva.com
Products and services: Healthy foods for dogs and cats, pet supplies, boutique, special orders, full-service grooming, self-serve dog wash, obedience training, private training, neighborhood pack walks, curbside pickup, free same-day delivery, walk-in nail trimming, teeth brushing, glands checked, educational seminars, adoption days, Yappy Hours, birthday parties
---
It's A Retail Life
What is Animal Connection best known for?
Pattie Zeller: Our strong pet community. We support the whole pet with great food and pet care products, training and grooming.
What is the greatest challenge for the independent pet retailer?
Zeller: Wearing many hats. Somebody once asked, 'What's your title?' I replied, 'Business planning, sourcing, merchandising, retail training, marketing.' Being able to wear all these hats effectively, and being aware of all phases of your business, is a challenge.
Greatest challenge for the pet industry overall?
Zeller: At this point in time, it's supply and distribution.
Are you watching any interesting trends?
Zeller: To me, there seems to be a lot of product packaging and regurgitation—how many ways can you make a chicken and rice pet food? I guess the biggest trend that I really like is encouraging toppers and hydration, making bowls of dry food better and making it easier for consumers to provide complete meals using natural products that have less manipulation.
For the future?
Zeller: We are excited about all the opportunities out there. Dogs are part of the family, and if you look at what's on trend or what people are talking about and figure out a way to make it work for pets, it's a win.
---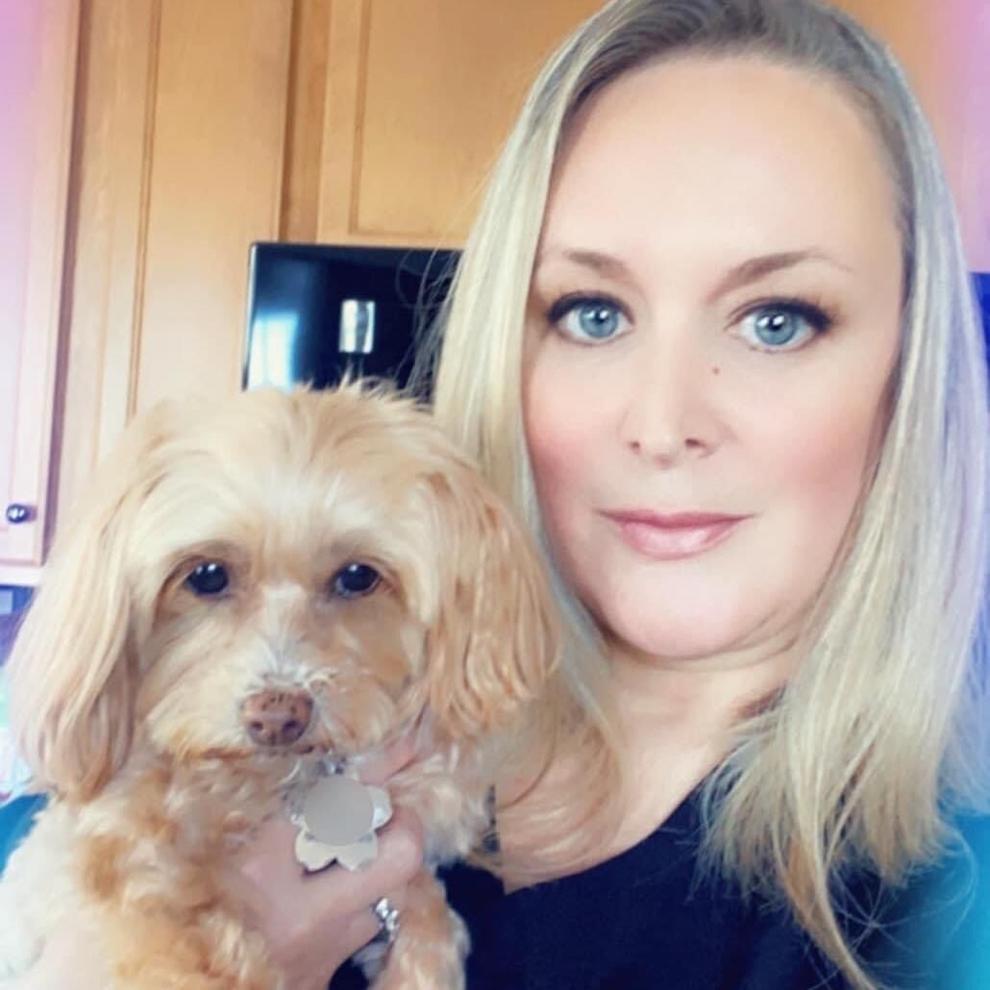 Dressed to the Nines
Coco Reese Mayorquin is the light of Yvonne Mayorquin's life. More child than dog, the beloved 9-year-old maltipoo and Mayorquin have been a family since the pup was 8 weeks old.
"She is the love of my life, the best maltipoo on earth," Mayorquin says.
For this reason, the longtime customer of Animal Connection appreciates, first and foremost, Animal Connection's welcoming embrace.
"The moment we walk in the door, we are treated like family, not just clients," she says. "The attention given to Coco is incredibly special to me."
But beyond familiarity, the healthy foods and premium products available at Animal Connection are key factors in Mayorquin's loyalty.
"Pattie cares about the health of the animals and wants the best for them," she says. "Animal Connection is truly a specialty shop, not like a big-box store that carries every brand in existence. As a very picky pet parent, I appreciate this immensely."
As possibly the best-dressed canine in Virginia, Coco often has her wardrobe augmented with selections from Animal Connection.
"This girl has an entire closet—triple what I have," Mayorquin says.
The friendly expertise and knowledge of staff members is another aspect that keeps the pair coming back.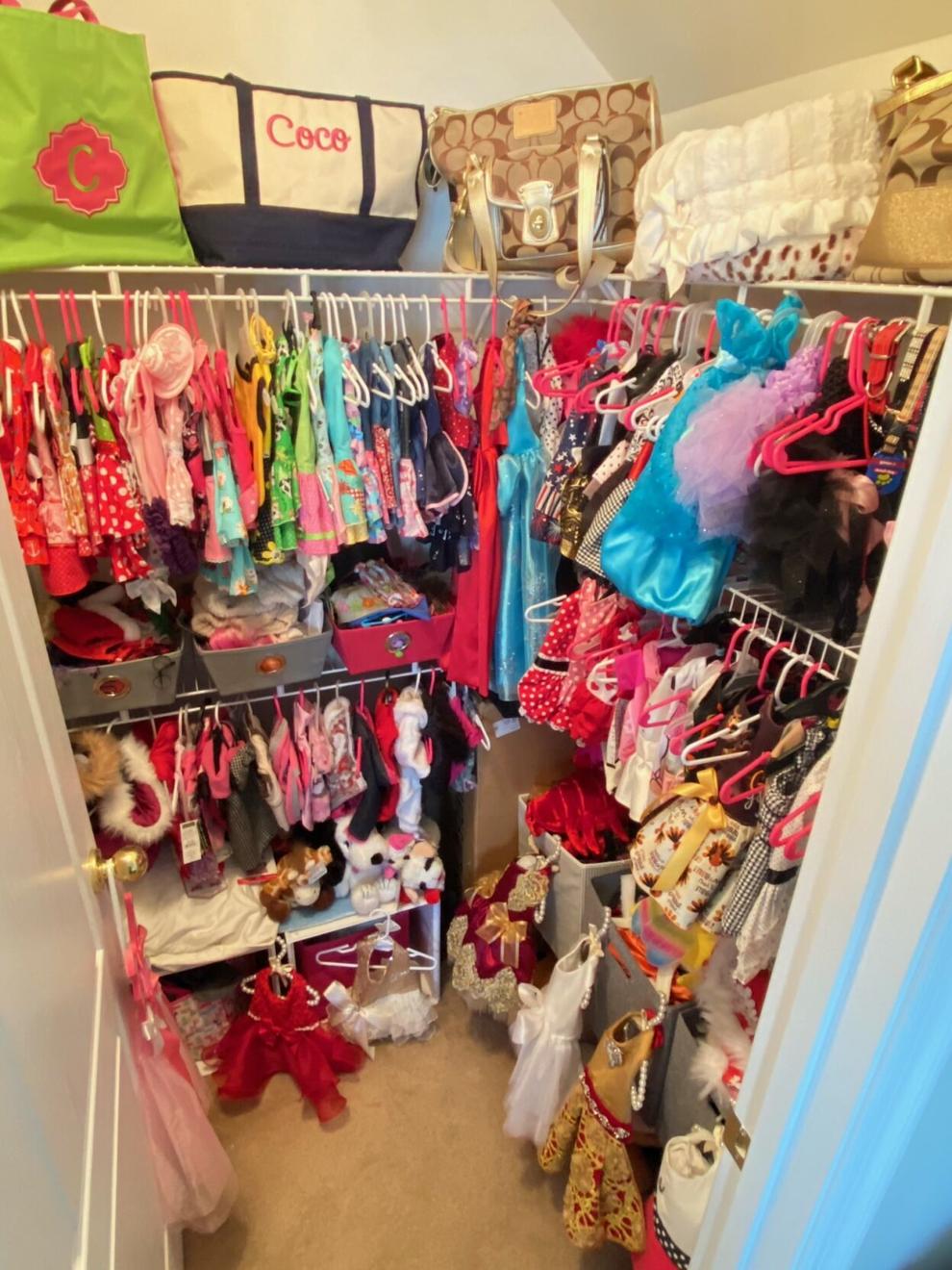 Beyond extraordinary customer service, product selection and services, Mayorquin is drawn to Animal Connection's commitment to the pet community.
"Besides being a smart businesswoman, there is another reason Pattie has been in business for 20 years; it's her overall giving," she says. "I have experienced her generosity myself, but the amount of food, money and funds raised for local rescue groups is like none other."
For example, when a local rescue took in 23 dogs at once during the pandemic, Zeller gathered and donated 850-plus pounds of dog food for the rescue.
"This is just a small example of her generosity, and there is 20 years' worth of these efforts," Mayorquin says. "On a monthly basis, she picks different rescues to receive gift certificates, funds or foods."
It's the whole package that makes Mayorquin a loyal customer, but central is the feeling of family.
"If you love my baby, I'll do anything for you. My life revolves around her," she says.