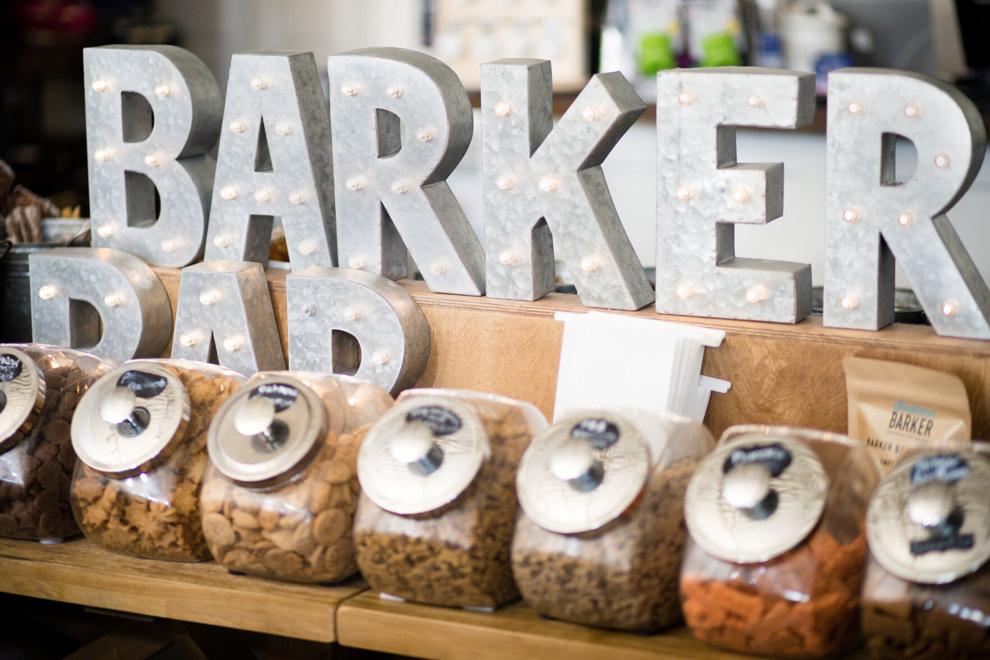 "Heaven must be a Kentucky kind of place." According to legend, Daniel Boone is said to have uttered these words upon traveling through the Cumberland Gap and gazing upon the Kentucky landscape. Today, the state is steeped in tradition and renowned for its horses, bourbon and bluegrass—both the grazing and musical variety—and southern hospitality.
Embracing that downhome allure was the foremost consideration when interior decorator and design blogger Leslie Stewart combined forces with her daughter, Sarah, a recent college graduate with a marketing degree, to open Southern Barker. However, it was the family's Portuguese water dog, Lily, who inspired the venture.
"We've always loved dogs," Sarah Stewart says. "I was finishing up college when our family got Lily."
"At the time, we also had Charlie, a little poodle," Leslie says. "Lily was our first larger dog. She's 45 pounds and also our first girl, so we were really excited about dressing her up and buying all these cute little outfits for her."
Dismayed at the lack of stylish attire at local stores for a dog of Lily's size, the pair began a quest for chic larger apparel. A plan began to form.
"Essentially, we wanted to open a store that we would want to shop at," Leslie says.
The concept languished in the planning stages for two years until Leslie came up with the perfect name.
"I just kept throwing words around," she says. "I wanted something to do with the hospitality aspect of the south, and something to do with dogs because I wanted people to know immediately what the store was by the name. I just kept sharing ideas with Sarah, and with Southern Barker, she said 'That's it!' and we ran with it."
In November 2017, Southern Barker began welcoming shoppers in Lexington, Ky. Sited in 1,000 square feet of space, the concern features hard-to-find boutique items.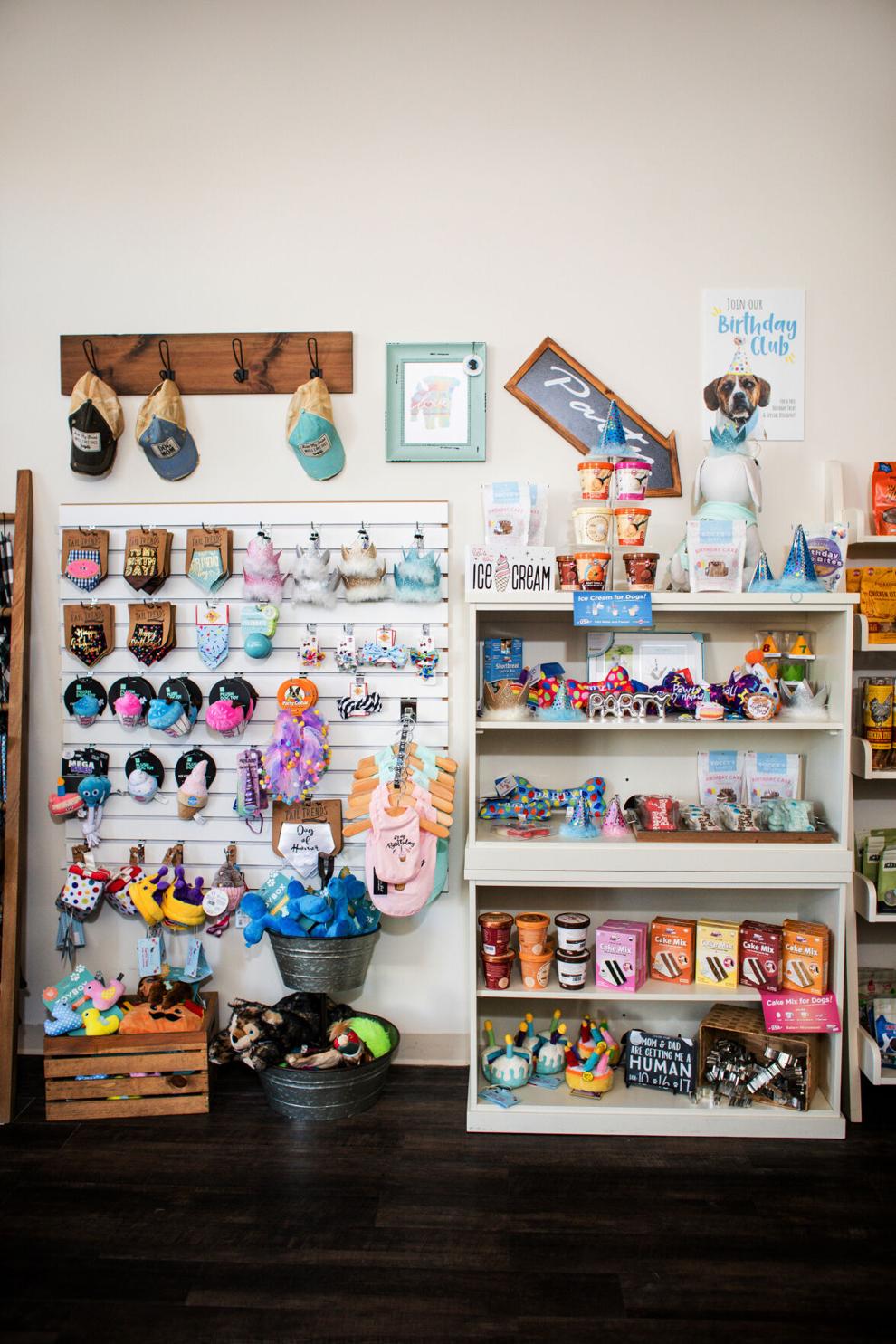 "We try to carry products that are not found in the big-box stores," Leslie says. "That's a really big focus."
The creations of local artisans are spotlighted, as well as those found on Etsy and other community marketplace sites. The product mix caters to pups of every shape and size.
"One of our goals it to try to stock clothing that will accommodate every dog," she adds.
Beyond the unique product mix, genteel "sit-a-spell" friendliness is a key ingredient to the Southern Barker experience.
"We want to offer a welcoming, homelike ambiance," Leslie says.
For this reason, pieces obtained from Pottery Barn or Wayfair make up many of the fixtures and shelving units. Treats are displayed on two kitchen tables with benches. Chandeliers illuminate the store.
"Our store is decorated almost like a home; we even have a table that came from the foyer of my home," Leslie says. "One of our signature decorative items is our tan-and-cream-colored plaid wallpaper on our back wall with our logo."
Charlie the poodle passed away in 2019, but Cooper, Wilson, Archie, Nancy, Louie, Sophie and Dexter have joined the Stewart pack. All take turns as store dogs, with the exception of Lily.
"Unfortunately, the treat bar was too much of a temptation for Lily," Sarah says. "We had to cut her off, and she no longer comes into the store."
However, Lily still takes center stage.
"Lily is our logo dog," Sarah adds.
In 2018, two existing pet stores in Louisville were acquired, along with inventory, to become Southern Barker locations. When the lease expired on one location, the Stewarts made the decision to consolidate into a single store.
Locals and visitors alike are charmed by the homey allure and eclectic array of products presented at Southern Barker.
As Southern Barker is in an equine-oriented area, dog-loving equestrians in town for horse shows or racing love to stop in.
"Horse lovers say that in all of their travels with their horses they visit dog boutiques, and we always carry things not found anywhere else," Leslie says. "That's exactly what we want to hear."
Warmth, Honesty, Expertise
While comfort and warmth are the focus in décor, these attributes are also part of the Southern Barker customer service experience.
"We relate to our customers on a very personal level," Leslie says. "We start conversations, we give out our cellphone numbers so they can text or call, and tell them we will get whatever they need. We ask about their dog and tell them about ours and welcome them as if they are guests in our home."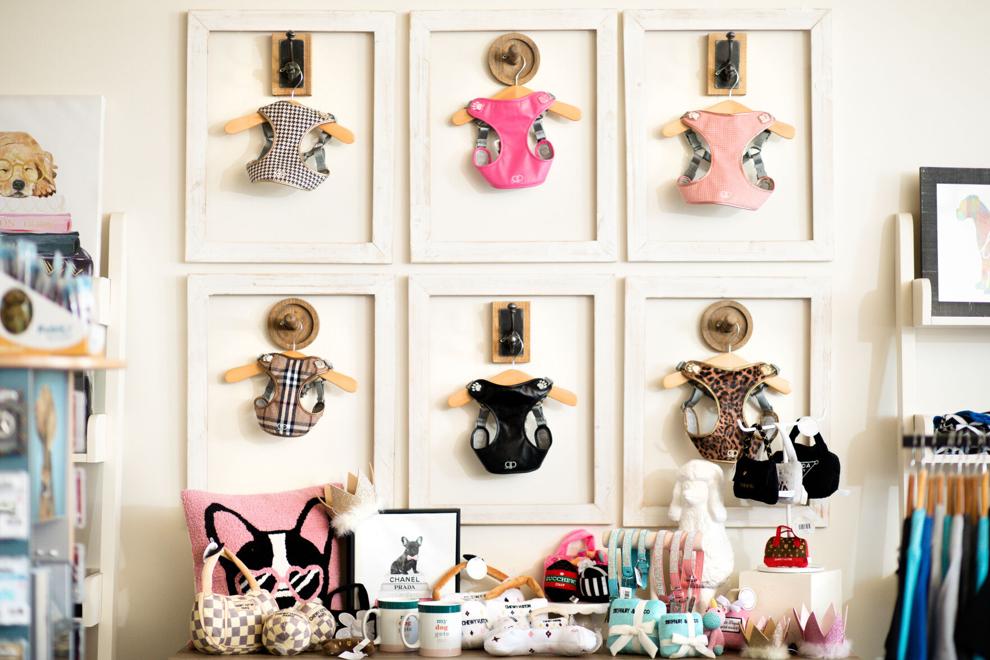 A favorite example shared by Leslie is of a woman calling to inquire about a clay paw-print kit for her dog.
"She was going to have to put her dog down that afternoon and talked with Sarah, asking to have a kit put aside for her husband to pick up," Leslie says.
Sarah spoke at length with the woman, ending the conversation with "I wish I could give you a hug."
Later that day, the woman walked into the store to pick up the package personally, saying, "I came for my hug."
"We connect with our customers," Leslie says.
Personal testimonials not only assist in customer education, but develop relationships.
"I think one of the biggest selling points is being able to say, 'This is what helped with my dog,'" Sarah says. "My dogs are tasters and toy testers."
Along with these endorsements, honesty is a value that permeates throughout the organization.
"For instance, Sarah likes our buffalo horns and I like the shin bones," Leslie says. "If a customer comes in asking for the best long-lasting chew, I'll tell them why I prefer one over the other. I feel that this is something our customers appreciate."
The ability to candidly connect with pet owners is a sought-after trait in an employee.
"It is so important that our people be able to handle a situation in an appropriate manner," Leslie says. "Along with the ability to make personal recommendations."
Knowledge is at the forefront, and staff members spend time shadowing owners and senior staffers. Nutritional study is extensive, including certification through Steve's Real Food's Raw.U online training program. Product information regarding each brand is also on hand for further study.
In addition, Sarah received nutritional certification from DNM (Dogs Naturally Magazine) University, and their full-time Louisville staff member Emily Redding took the online classes as well. Redding also provides training to new hires and ongoing education.
"We call Emily our 'food girl' because she is a whiz," Leslie says. "She lives and breathes the pet world, and it's really inspiring to see someone with that drive."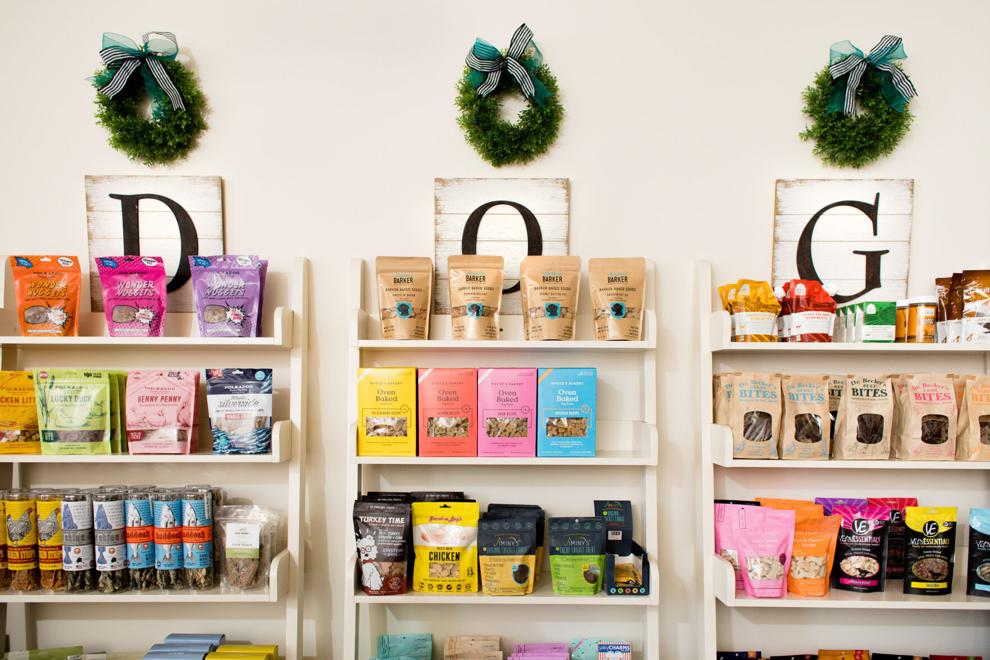 Adding to the Vision
While food offerings were not in the initial Southern Barker business plan, Lily was again the impetus to growth—or a change—in the original vision.
"Lily ended up being our 'problem dog' in that she had allergy issues," Sarah says. "So, in the process of helping her, we learned about pet nutrition."
Because another independent retailer in town offered food as its main focus, the pair initially decided not to sell food in their new venture; however, Lily and customer demand drove the shift.
"We had customers asking us to order food in for them as a convenience," Leslie says. "And with Lily's allergy issues, which we were able to trace back to food, we started selling more foods, including raw."
With limited space in the Lexington store, foods are ordered weekly, and many customer orders are set up on a regular schedule.
"We know what they need and how often," Leslie says. "When the food comes in, we just make a call, and they come in to pick it up."
At the more spacious Louisville store, the food inventory is more extensive.
"In the Lexington store, we are still mainly boutique with some food," Leslie says. "In Louisville, we offer a broader range of foods."
The entrepreneurs take pride in their nutritional offerings. For instance, the entire line of Answers Pet Food raw dog food is in the mix.
"We are the only dog store that I know of in Lexington or Louisville that carries the entire line," Leslie says.
Cat food is available at the Louisville location; however, due to lack of demand, it is not stocked at the Lexington store.
"Because the Louisville store was an existing pet store, cat food was carried so we continued on from there," Leslie says. "After that, we did bring a cat section to the Lexington store, but it just did not take off. I guess people were used to the fact that it is a dog boutique, so we took it out."
Even the most discerning pup is tantalized by the extensive Barker Bar, where a wide variety of chews and bones join an array of scoopable treats, sold by weight and housed in penny jars.
"We started with six flavors of treats and now have more than 24," Leslie says. "We stock different shapes and colors, like orange pumpkin bones and little peanut butter starbursts, carob-chip cookies, oatmeal cookies or granola bars."
In addition, Southern Barker's own line of Barker Baked Goods showcase four flavors: Chicken Pot Pie, Peanut Butter Pie, Cheese and Bacon, and Pumpkin Delight.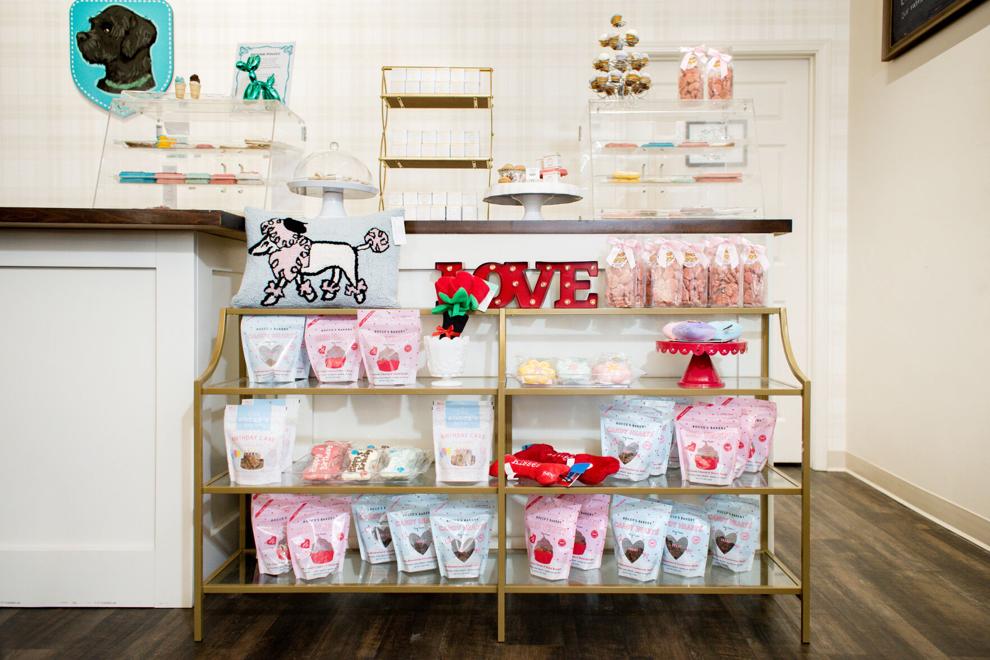 Bakery goodies are displayed in a separate section, and elegant custom cakes are available by special order. The delectable creations are baked and designed by Alex Stewart, Leslie's daughter-in-law and Sarah's sister-in-law.
"The cakes are absolutely amazing," Leslie says. "We've had some really fun ones."
For example, a gender-reveal cake uncovered the sex of a couple's soon-to-be-born child as their furry family member dove into the confection.
Pet-loving members of the Barker Club eagerly look forward to monthly product packages. The subscription boxes are chock-full of surprises, including a toy, treats and chews, a mystery item and plenty of samples. Also included is Tips and Tricks, which might be a treat recipe or training pointer. Each month's parcel is centered around a theme. For example, January's Lift Off for 2021 involved space travel with alien- and planet-shaped toys.
"Not only do members get a box, but we have a private Barker Club Facebook Group where we send weekly deals just for members, such as discounts on treats," Sarah says. "Our members are also the first to hear about new products, sales or events."
The club has proven a popular offering during the coronavirus pandemic with homebound pet owners searching for ways to keep pets entertained. However, as Southern Barker is an essential business, pet owners continue to visit the stores as well.
"We have been fortunate to remain open, and a lot of customers come in for chews and bones to keep their pets occupied," Leslie says.
Further, as a convenience during COVID, delivery services have joined the offerings.
"We offer free delivery with any order above $50, and under that amount we charge a $5 delivery fee," she says. "But, I'd say the majority of our people are still coming in to the store."
Curbside service is also available, and online ordering capabilities have been expanded through eTailPet, a platform that helps independent pet retailers facilitate online sales.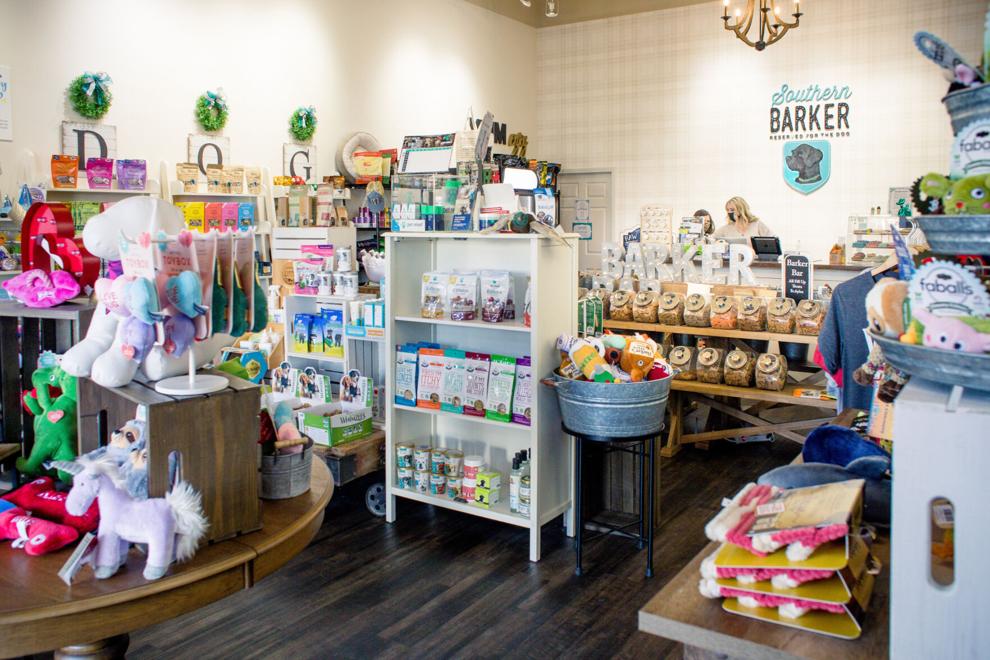 A Shift in Focus
Prior to COVID-19, workshops and educational seminars took place on a regular basis. Many of these get-togethers have shifted to Facebook.
"We started doing more on Facebook; for instance, we hold special sales, almost like an auction event, or a game night," Leslie says. "We kind of had to take the events to our customers."
During this time, Mystery Bag sales became a popular Facebook Live event, eventually morphing into the more refined Barker Club boxes.
"The boxes are better; I'll just put it that way," Leslie says.
The pair looks forward to once again holding much-loved in-store parties, such as the annual Halloween Sidewalk Parade, where costumed pups and their owners parade around the shopping center sidewalk.
"It's so much fun," Sarah says. "People drive by and honk their horns. It's really been popular."
Lexington is home to the Kentucky Derby, so what could be more fitting than a Kentucky Derby Hat competition? Participants enter to win in several categories: Best Overall Derby Hat, Most Creative Hat and Best Derby Hat Duo, where pets and owners don matching chapeaus. A percentage of the profits is designated to benefit the Lexington Humane Society.
"We go all out with refreshments, backdrops and a photo booth," Sarah says.
"We do photo booths for everything," Leslie adds.
Along those lines, the Barker of the Month finds owners submitting their dog's photo, which is then posted to a Facebook album. A random drawing determines the furry winner, who then stars in a photo shoot.
"We put little bow ties, and different clothing on them, and throughout the next month these photos are used on social media to show off different products," Leslie says. "We also display their photo up on the wall in each store."
The lucky model also receives a free bag of food from Fromm Family Pet Food.
While the stores are unable to hold adoption days during the pandemic, pets in need of a forever home are not forgotten by Southern Barker.
For instance, during the holiday season, new and gently used toys are gathered for donation to multiple shelters and rescue organizations.
"Our first year we had around 800 toys donated, too many for one shelter, so we have been able to donate to multiple shelters," Sarah says.
Toys are also collected off-site. For example, at a local car dealership and hospital.
Participation in shelter events also supports adoption efforts. For example, Southern Barker is a presence at the Lexington Humane Society's annual Doggy Paddle event, where a community swimming pool is overtaken for a day of canine paddling.
"The pool is rented at the end of the season, and people pay a donation to have their dogs come in and swim in the pool," Sarah says. "It's a really fun event."
In the near future, the entrepreneurs are looking forward to expanding the Southern Barker horizon.
"We are excited to be adding some new things to our forte with the opening of a second location in Lexington," Leslie says. "It will be nine times larger than what we have now, and we will be adding new services."
Southern Barker's Boutique, Salon and Spa Enrichment Center will offer doggie day care and a salon and spa with massage, facials and grooming. The enrichment center will also feature an indoor swimming pool and a rooftop dog park.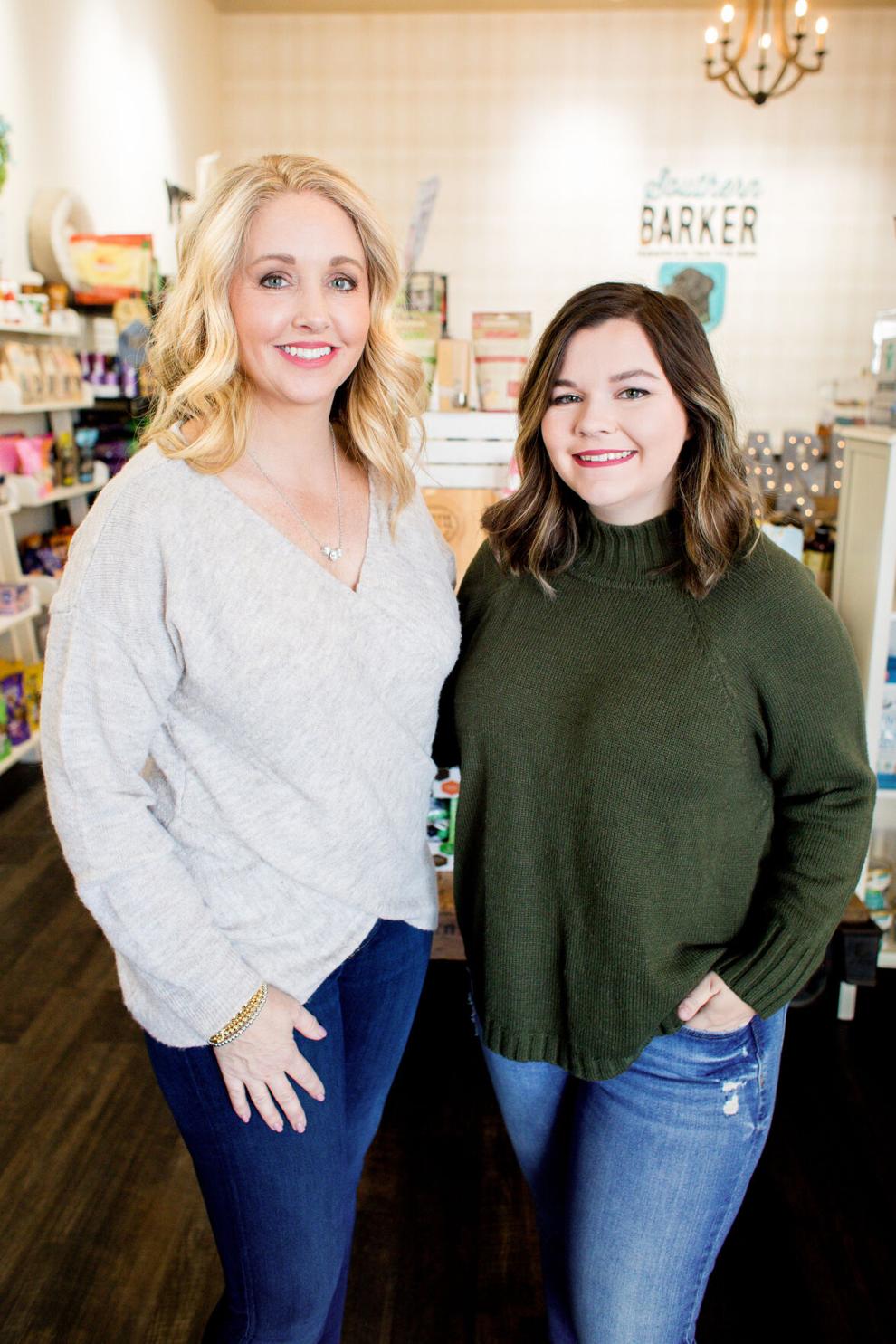 "The retail space is going to be larger too, a little over 2,000 square feet," Sarah says.
---
Southern Barker at A Glance
Co-owners: Sarah and Leslie Stewart
Locations: 11890 Star Shoot Pkwy, Suite 175, Lexington, Ky.; 2005 Frankfort Ave., Louisville, Ky.
Number of employees: 1 full time, 3 part time
Years in business: 3
Square footage: 1,450
Products and services: Boutique, dog and cat foods and supplies, Barker treat bar, bakery section, cakes, Barker Club, adoption days, delivery, educational seminars
---
It's A Retail Life
What is Southern Barker best known for?
Leslie Stewart: Our unique products and our customer service.
What is the biggest challenge for the independent retailer today?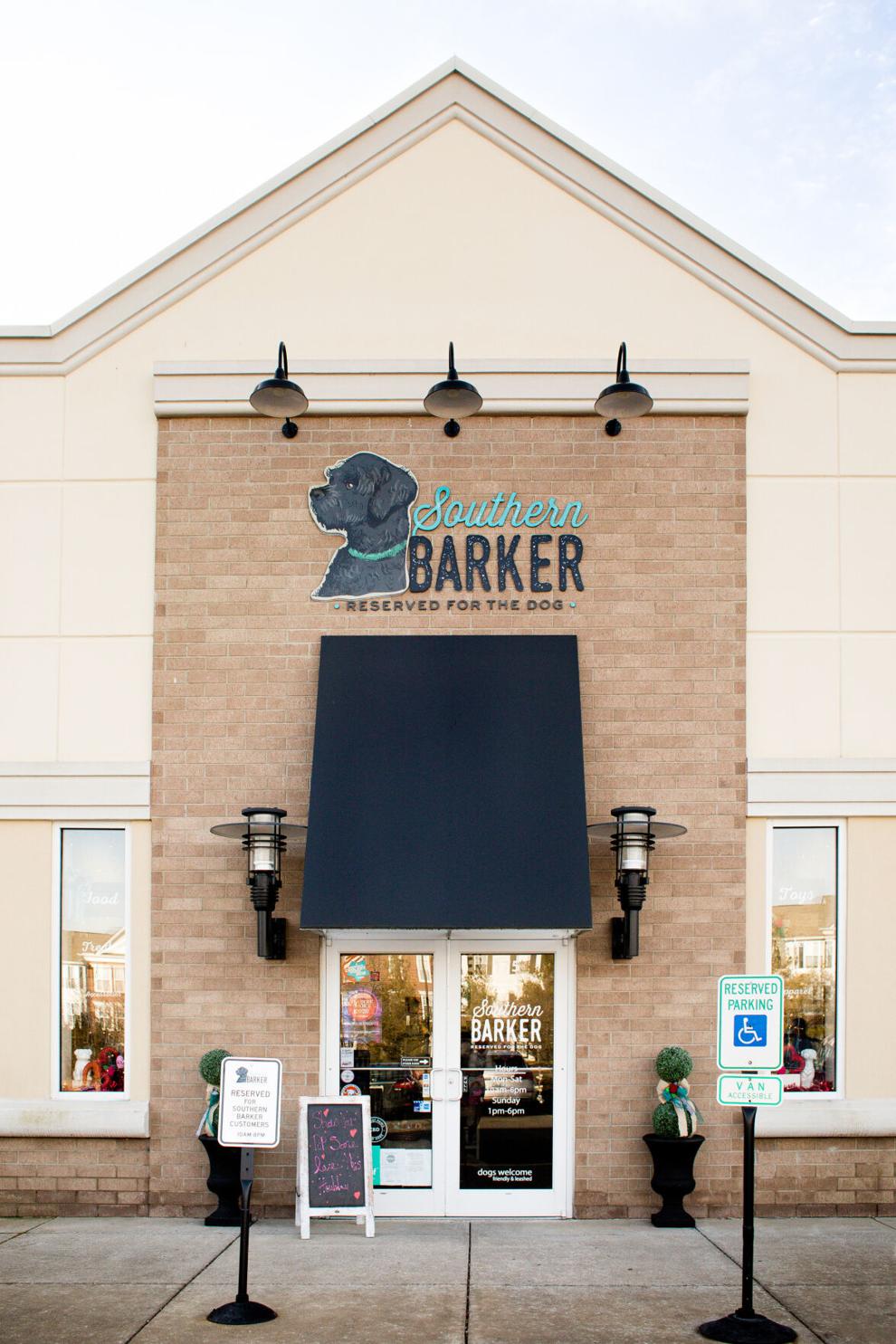 Leslie: The online retailers—they are killing us.
What about for the pet industry overall?
Leslie: The big corporations that are trying to squash all of us little guys.
Sarah Stewart: Misinformation. Certain dog food manufacturers are teaching veterinarians that raw food is bad. It's all about the bottom line, and as a dog owner, you want to believe everything your vet says.
Are you watching any interesting trends?
Leslie: Demand for raw food continues to escalate, in addition to supplemental foods, like probiotics or goat milk. Calming and relaxing products are popular, like CBD [cannabidiol], or one of our top products—the LickiMat.
What do you see for the future of Southern Barker?
Sarah: The Southern Barker Boutique, Salon and Spa Enrichment Center is happening. We are excited and nervous at the same time.
---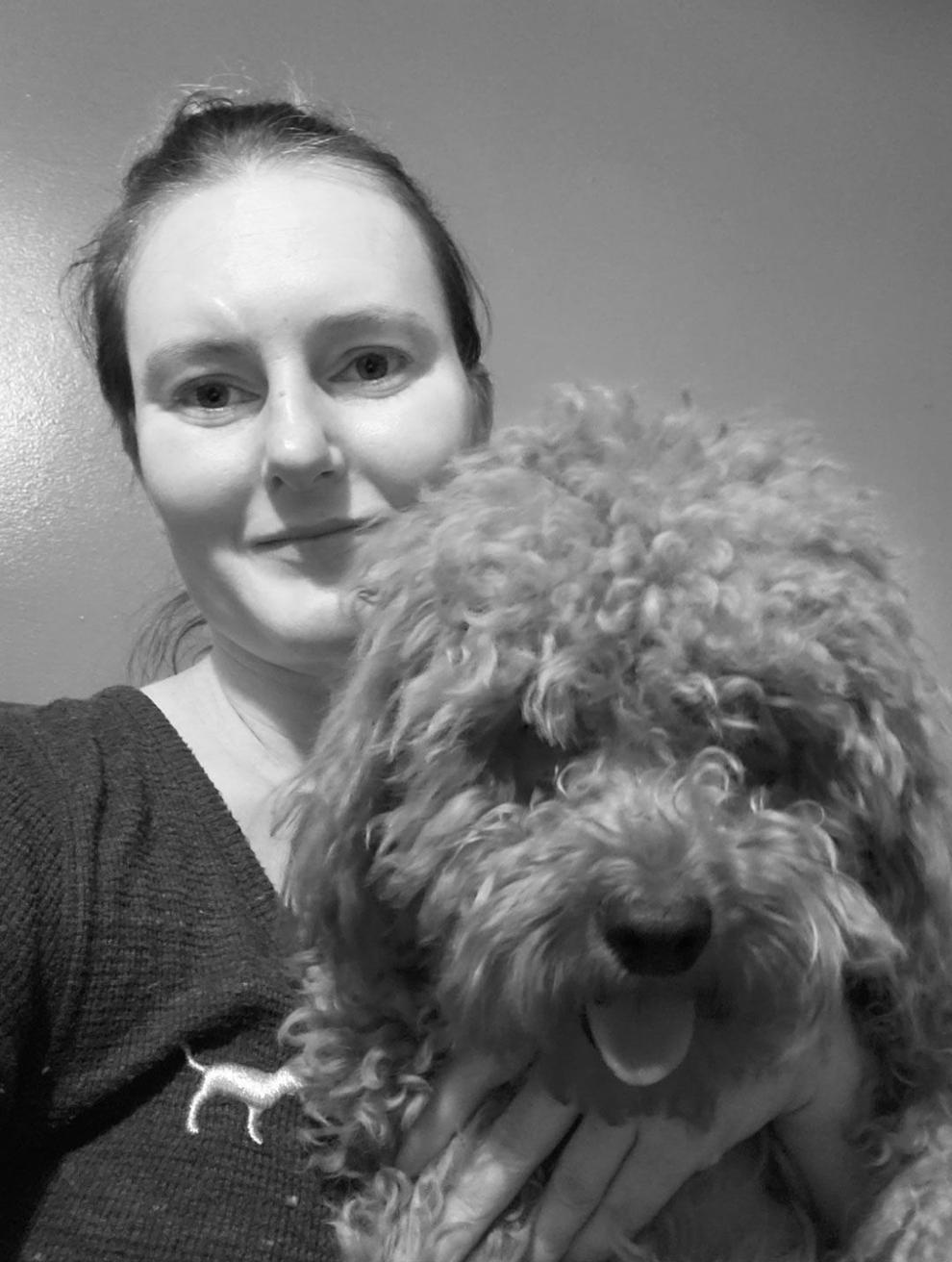 Stepping Out in Style
As Jennifer Sellers made her way through a local pet store, her mission was to pick up supplies for her iguana, Rolex. A dog lover at heart, the Frankfurt, Ky., resident had vowed never to purchase a dog from a pet store, but as she passed the puppy section, a fluffy cockapoo caught her eye.
"I saw him and wondered what he felt like—but I knew if I touched him, I would probably buy him," Sellers says.
Touch she did, and three-month-old Roeper was soon settling into his forever home.
Shortly after Roeper joined the family, Sellers discovered Southern Barker during an online search.
"They were advertising a Santa Pictures event on Facebook. So, I went for a visit," she says.
She was also intrigued by the product mix, which lived up to her expectations.
"I enjoy going into boutiques because their rollouts are usually really nice, and whether expensive or inexpensive, the quality is good," she says. "Southern Barker is not your generic pet store; it's a pet boutique. Even the food is high quality."
When Roeper visits Southern Barker, his first stop is the Barker Bar to browse the extensive array of doggie delights.
"He'll stand up and sniff, and I usually I let him pick out what he wants," she says. "He loves the duck heads."
As a member of the Barker Club, Sellers appreciates the value found in each month's Barker Box.
"I'd signed up for another subscription box not long after I got Roeper, and it was like getting a Happy Meal toy. When I began following Southern Barker on Facebook, I loved the Mystery Bags, and when the Barker Club started up, I signed on," she says.
While Sellers appreciates the high-quality toys, treats, food samples, or various new or unique products inside each box, it's the personal touch that makes this subscription service unique.
"Once there was a camouflage hair scrunchy in the box that matched Roeper's camouflage collar and leash, and I thought, "Oh, how neat, they know me—it matches his leash," she says.
But it's the homelike atmosphere and the friendliness of the staff that keeps the pair coming back.
"Every time I walk in I am greeted, and Roeper loves to go there," Sellers says. "We've even run into Leslie and Sarah outside of the store, and he is so excited and has to give them a hug."
Whether out on the town or shopping at Southern Barker, Roeper enjoys stepping out in his cozy fleece winter coat or red-and-black buffalo-check collar and harness—all Southern Barker purchases.
"I try to accessorize Roeper," she says. "I want to set him apart from everyone else."