What does a romping pack of furry doggie day care revelers have in common with a buoyant classroom full of kindergarten children? A rhetorical question, perhaps, but taking this correlation one step further: How does one educator, accustomed to guiding and teaching 5-year-old human beings, convert classroom experience into a working curriculum for the tail-wagging set?
Enter Angela Pantalone, owner of Wag Central in Stratford, Conn. After instructing kindergarten children for 10 years, Pantalone left her post to stay at home, raising her own offspring: Ellie, Annie and Gus, now 20, 18 and 17, respectively. As her family matured, Pantalone felt the urge to embark on a fresh career path. An epiphany arrived during a chilly fall stroll with her dog, Lulu.
"I thought it would be nice if there was a place to walk her inside," she says.
That inclination led Pantalone to research the concept of doggie day care and overnight boarding services. Realizing that the type of facility she envisioned was rare in Connecticut, she and her children traveled, calling on facilities across the country.
"My kids were really excited at the idea," she says. "We went to Portland, Oregon, and spent time in Texas and Colorado, where the standards of dog care are much higher."
The entrepreneur adopted those benchmarks into her vision. To further bolster awareness, Pantalone underwent an extensive, 350-hour training course at the Connecticut K-9 Education Center in Newington, Conn.
"The course covered kennel management and dog training, and we also dipped our toes into the veterinary world," she says. "Part of my business is to serve as a support system for dog owners, which requires a wealth of information and a network of people and resources."
A decade in the classroom provided expertise that would prove effective in the innovative endeavor.
"I adapted a lot of the skills that I learned while instructing children into teaching dogs," she says.
Wag Central began welcoming pups and their people into a 15,000-square-foot facility in 2017. Offerings include day care, boarding, training, grooming, retail, a bakery and even a swimming pool.
"I bought an old building and turned it into a really nice place to leave your dog," Pantalone says.
She enlisted the services of a designer in creating an inviting ambiance. The state-of-the-art space features clean white lines accented by warm woods, modern furnishings and a cozy orange color scheme. Birch-tree-like columns bring the outdoors inside.
"We wanted to make sure that the lobby is welcoming, that the entire building is clean and aesthetically pleasing to the eye, and that dogs feel comfortable," she says.
The alluring, distinctive décor engenders a uniquely branded look.
"We are well branded in case I get crazy enough to think about opening another Wag Central," she adds.
Also imperative to the overall atmosphere is the absence of offensive odors. Nonporous wall and floor treatments aid in ensuring this objective.
"We put in really good flooring, which pays off because once a dog pees on a cement floor, that smell is there forever," Pantalone says.
A UV air purifying system furthers this intention.
"The investment in the building is all about really good air handling systems," Pantalone says. "We don't want a dog coming into the facility that can make others sick, so, beyond required vaccinations, we make sure that we are cleaning our air really well. We also use UV light instead of chemicals to clean our pool."
With the world navigating a pandemic, these features have proven invaluable.
"We are very disinfectant and sanitation minded and are all about filtration," she says. "We use veterinary-grade sanitation and cleaners. A lot are hydrogen peroxide based to kill viruses and germs, but at the same time, dogs do not go home reeking of chemicals."
Pantalone acknowledges that her offerings place Wag Central in the luxury business category. Pet owners want the best for their furry family members, and a broad range of stellar service options, combined with a pristine and comfortable setting, appeals to that desire. The result has been growth and success.
"The whole thing has grown into what we have now, which we call the 'Hub of Doggie Culture,'" she says. "You can come in and buy a collar for your dog, leave him or her for the day in day care or for a swim, or go on vacation and board with us. We offer veterinary appointments, and have a kitchen and biscuit cafe. I feel like we check so many boxes that a consumer might need for their dog."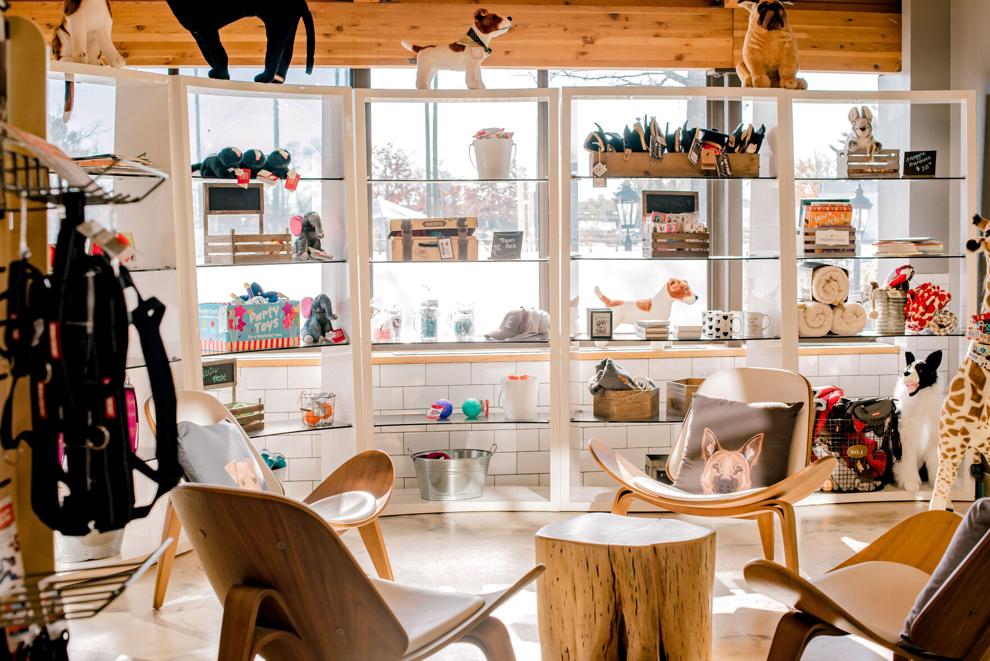 Curated and Unique
Because Wag Central is sited in a light industrial area, arriving customers are generally taking advantage of grooming, day care, boarding or training services. However, the retail boutique, which comprises approximately 20 percent of revenue, features a meticulously curated collection of predominantly independent and USA-made toys, treats, collars, leashes, and lifestyle-promoting apparel and accessories—products often not found in a big-box store.
Canine customers sniff out the wide array of toothsome treats and chews, including body parts.
Holiday gift packages are in the mix. For example, Wag Central's Valentine's Day Barkuterie promotion, a take on charcuterie repertoire, featured cookies, a granola doughnut and a toy for the furry sweetheart. Custom creations are always available.
For pet owners grieving the passing of a pet, comfort books are in the mix. Copies are also sent to clients experiencing the heartache of loss.
"It's about that personal connection," Pantalone says.
Relationships are further enhanced through day care and boarding, allowing staff members to make purchase recommendations based on familiarity.
"We can tell a client that their dog really likes to chase balls and that we stock a great selection," she says. "We have a lot of knowledge because that dog is our client."
The Wagaloo Café serves as a canine socialization area where dogs can savor a fresh-baked treat or slurp doggie ice cream from the Wagaloo Kitchen. The cafe doubles as a place for pet owners to sip coffee while waiting to pick up their charges.
"We bake our own treats in the kitchen," Pantalone says. "During the week, as one of our day care add-ons, we bake waffles, or 'woofles,' or do an ice cream social."
The kitchen is also put to use as a desensitizer for puppies in training as they become accustomed to whirring blenders, the clatter of dishes or the low growl of a dishwasher.
Custom meal preparations for overnight guests are also undertaken in the kitchen. Consideration for those needing a little extra culinary support as they settle in is another offering.
"We keep chicken and rice on hand for a dog that might be a little anxious and develop loose stools," Pantalone adds.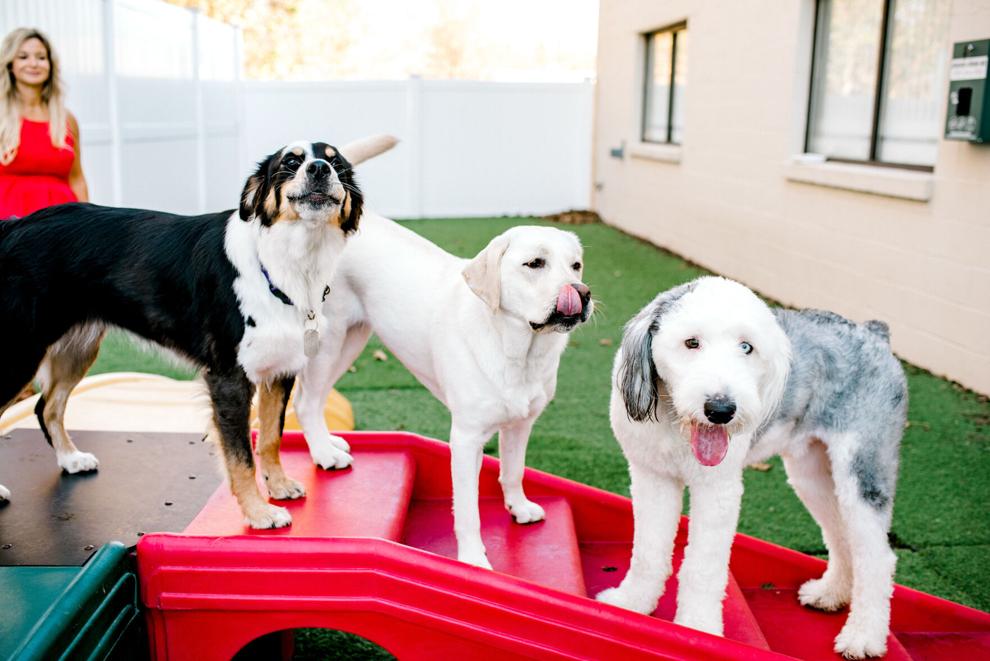 Romp N' Roll
Prior to the pandemic, day care and boarding was the greatest revenue stream at Wag Central; however, as dogs and families stayed home, the operation underwent some fine-tuning.
"Even before I started my research, I learned that the canine business is basically recession proof," Pantalone says. "But no one considered a pandemic."
To adjust, supplementary services were added to the doggie day care menu, while the base price has remained unchanged. Pantalone has found that providing extras has helped in this regard.
"I have not raised prices because I understand everyone's plight," she says. "People want to spend their money wisely, so we offer more options."
She notes that dogs will have a great experience regardless, but many day care customers select an extra something for their furry family members.
"For example, if we are planning an 'unbirthday party' for an extra $6—where a dog will wear a party hat, play in special tunnels and receive a fun photo to post on social media—most people don't want their dog to miss out," she says.
These enrichment activities include Musical Mondays, where pups romp, roll and boogie to tunes and savor a personal peanut butter-filled Kong, or Friday's Bubbles and Donuts. It's play with a purpose, according to Pantalone.
"With my background in education, we are not just doing these activities because they are cute. It's a process," she says. "Some dogs don't like to be held, and even dressing them up for photos, while the result is adorable, gets a dog acclimated to being touched or held. From there, they only get better."
Supervised playtime is overseen by specially trained Wag Watchers, and a 1-to-15 ratio is maintained. Cavorting canines are grouped by size and temperament, and the merriment takes place both indoors and outdoors.
"Our outdoor facilities feature a turf system, so it doesn't harbor fleas or ticks and is easy to clean," Pantalone says.
To keep up with house training, dogs are encouraged to relieve themselves outside.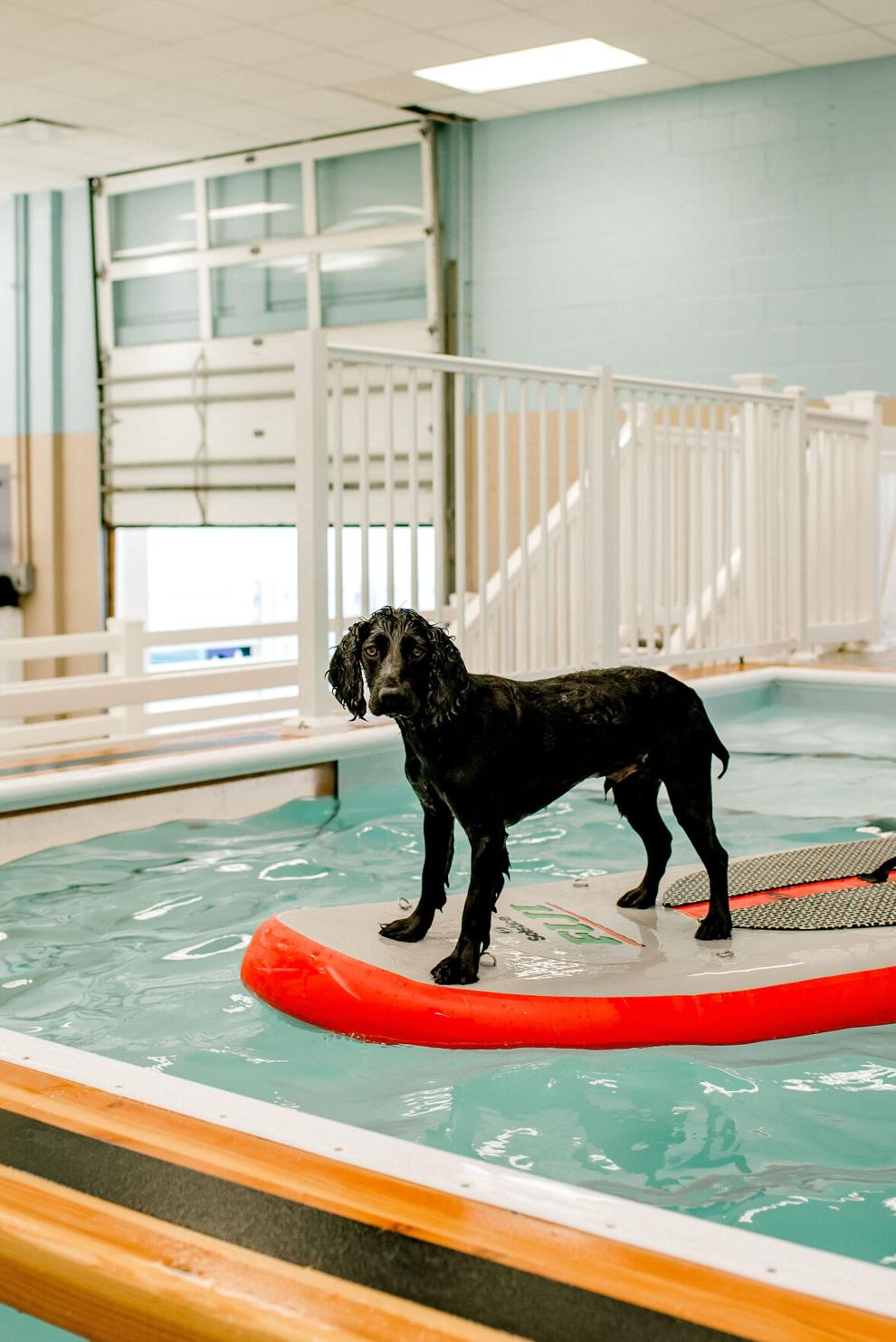 Swimming is offered daily in Wag Central's 10-by-16-foot Doggy Paddle Pool, which is heated to a pup-friendly 86 degrees Fahrenheit. A gutter system catches water shed by shaking, soggy pooches.
"Our dogs get really excited about swimming," Pantalone says.
Aside from good times, another goal is to teach a dog to swim unassisted and, in learning to enter and exit the pool, to be safe around a body of water.
"Our pool is open on our floor, but with a fence around it so the dogs can't enter without help," Pantalone says.
The pool sits aboveground, and glass sides allow staff members to observe dogs as they paddle about, which is particularly helpful for older, arthritic dogs or those that might be overweight.
"What's really nice about the glass feature of the pool is that we can actually see what's going on underwater," she says. "Because swimming is not weight-bearing, it's easy on the joints and is great for recovery from leg issues."
Exercise is limited to 20 minutes.
"Twenty minutes in the pool is the equivalent to five hours of running around, so dogs tire quickly," she says.
This makes kennel time integral to the whole day care experience. Just like with young children, these regular rest periods help on-the-go pups to recharge as they snuggle in for a little quiet privacy.
"We really have to force these dogs to rest or they will wear themselves out and go home with what we call the 'Wag hangover,'" Pantalone says. "It's also nice because it gets them used to the kennel and frees up our space inside the building—while some are tucked in and resting, other dogs can use the space."
Although demand has been curtailed due to COVID, pet owners departing on holiday and dropping dogs off for an extended stay choose from a range of options, each targeted to the temperament and needs of the individual. For example, the Chicago Crib's 20 immaculate glassed-in suites provide reassurance.
"In the Chicago Crib room, dogs are right across from another dog, so it still feels social, and some dogs find comfort in that while enjoying their own space," Pantalone says.
New York City's room features smaller, stacked kennels, engendering a cozy apartmentlike feel.
"This is where we put our little dogs, but it's good for any sized dog that prefers a small, nestlike space," Pantalone says.
More sizeable dogs stretch out in the spacious Dallas Digs, while Boca Bungalow is set up for furry guests that might have medical needs or require extra attention.
"Boca is quieter, with cushier beds and an extra level of care," Pantalone says. "Our employees know that if a dog is in Boca, they are going to be spending more time with them."
Boarding includes day care, with a range of add-ons, including bedtime snacks, pre-bed FaceTime with owners, an exit bath, swimming and spa options, medication administration and 20 minutes of one-on-one Wag Play.
The facility is staffed 24/7.
"There is always someone there because we have dogs to care for, phones ringing and emails to answer," Pantalone says.
As Wag Central partners with a local veterinarian, medical help is a mere phone call away, and the veterinarian is on site once per week for vaccinations and wellness checkups.
With one groomer and a bather on staff, grooming and bathing services are easily accessible for those in for day care or boarding. Full grooming services include shaving, clipping and bathing.
"Instead of having to make an extra trip to the groomer, we can provide those services while the dogs are here," Pantalone says.
A self-serve dog washing facility is also available for do-it-yourselfers.
A series of canine curriculum options awaits pups of all ages and levels at Wag University, from Puppy Nursery School to socialization classes and beyond. A refresher course reviews basic commands, safety, and canine behavior and is recommended for rescues or adoptees.
"We have dog trainers on staff and can introduce our owners to experts that will do training within the home," Pantalone says.
The syllabus at Wag University's Puppy Nursery School nurtures well-behaved, confident youngsters.
"I love it because it does remind me of teaching back in my kindergarten days," she says. "We let owners know what we will focus on each day and send a little report card home."
Training can also be reinforced during overnight or extended stays.
"We send our customers videos describing what we have done," she says.
Candidates for all services are initially assessed during a "personality profile" meeting.
"We are, No. 1, about safety and want to make sure that a dog is going to be kind and not hurt a staff member, or that the dog isn't going to be aggressive towards other dogs," she says. "All dogs have specific needs, and it really just comes down to how we can personalize services."
Once accepted, dogs enter the First Day Wagger program.
"We treat that dog like a king or queen for the day, and then watch to make sure they are in the right group and will get along well in day care," Pantalone says.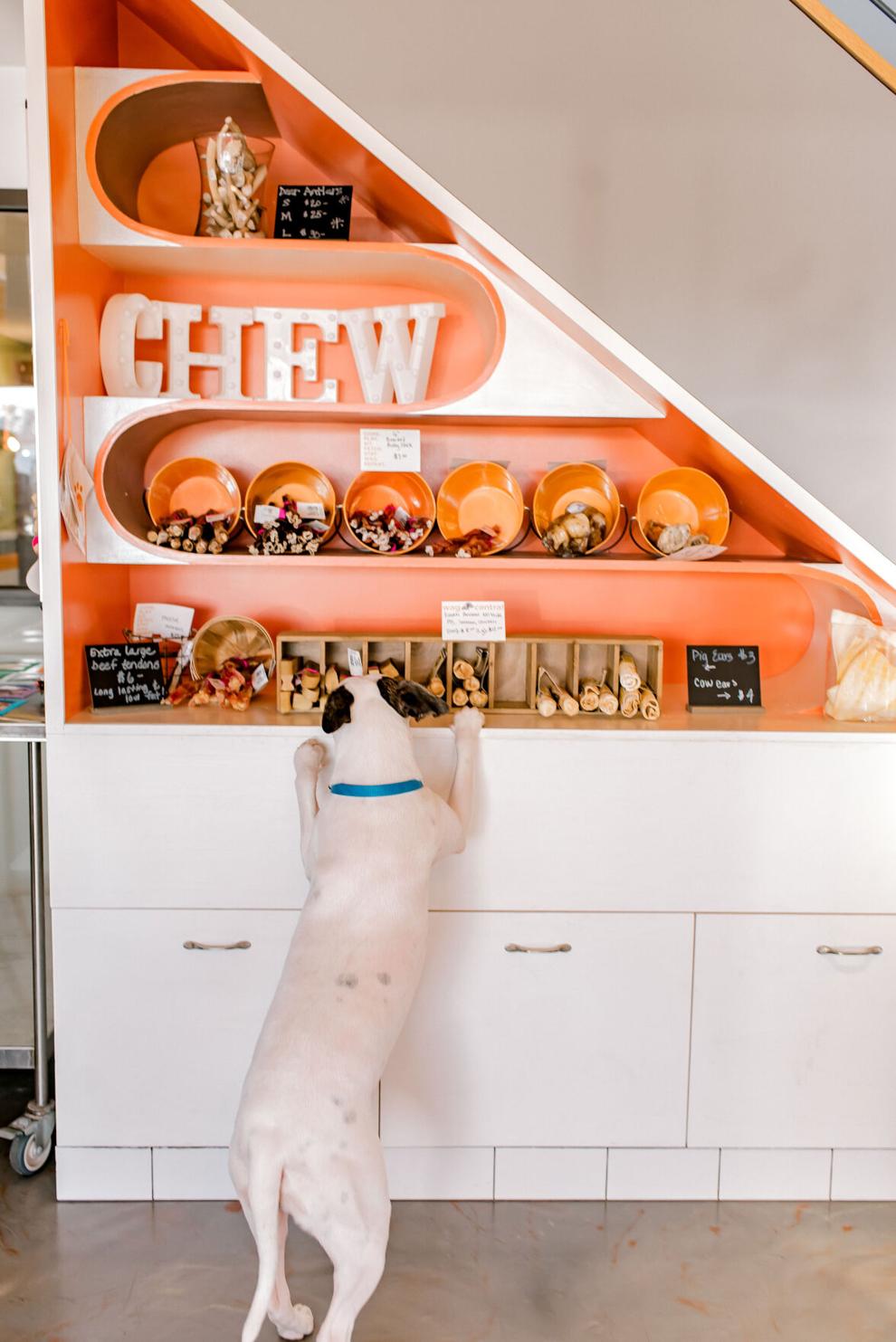 The Wag Team
Wag Central is a diverse and busy place, and when considering a new hire, Pantalone first looks for a willingness to embrace the Wag Central culture, along with flexibility and the capacity to pivot quickly.
"We want our people to buy into the entrepreneurial spirit," Pantalone says. "For instance, when we did our Love Bug photo shoot for Valentine's Day, staffers were putting wings and antennae on the dogs and trying to get them to stay still for photos."
In addition, associates spend time swimming dogs, or holding them for vaccines, nail trimming or anal gland expressions.
"They have to fly by the seat of their pants sometimes," she adds.
Further, Pantalone looks for "extroverted introverts."
"A lot of people who work with dogs are introverted, but at the end of the day, people still want to know that someone is loving and caring for their dog, and often that needs to be expressed verbally," she says.
Training consists of plenty of shadowing, as well as educational programs developed specifically for Wag Central—including checklists and computer time. However, Pantalone feels that shadowing is the foundation of a well-trained employee.
"Having an actual living and breathing animal in front of you is really the best education. It's so much more than reading about it or watching a video," she adds.
---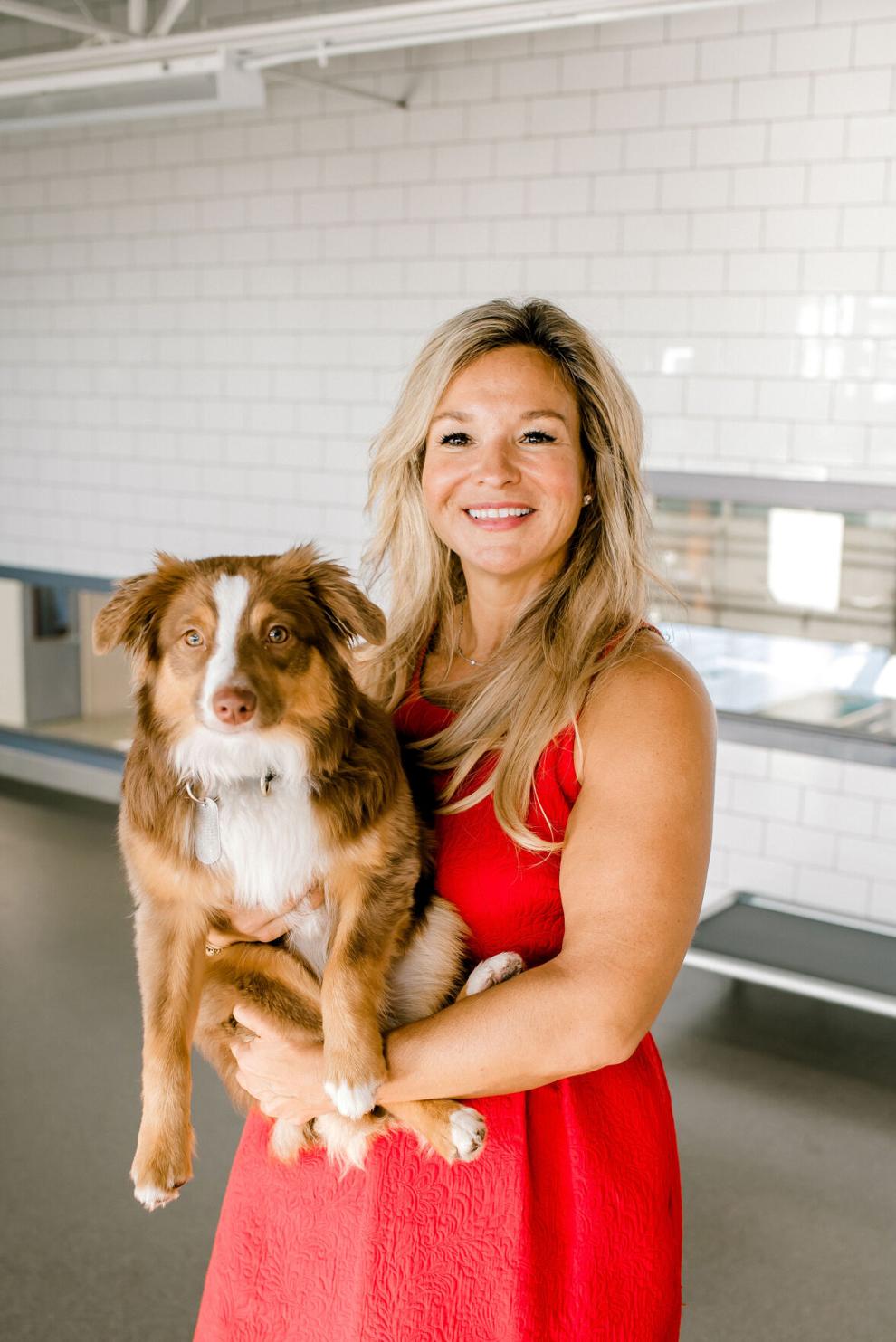 Wag Central at A Glance
Owner: Angela Pantalone
Location: 180 Hathaway Dr., Stratford, Conn.
Number of employees: 2 full time, 20 part time
Years in business: 4
Square footage: 15,000
Website: wagcentralct.com
Products and services: Boutique, Wagaloo kitchen, bakery and cafe, grooming, overnight boarding, day care, swimming, Wag University and veterinary services
---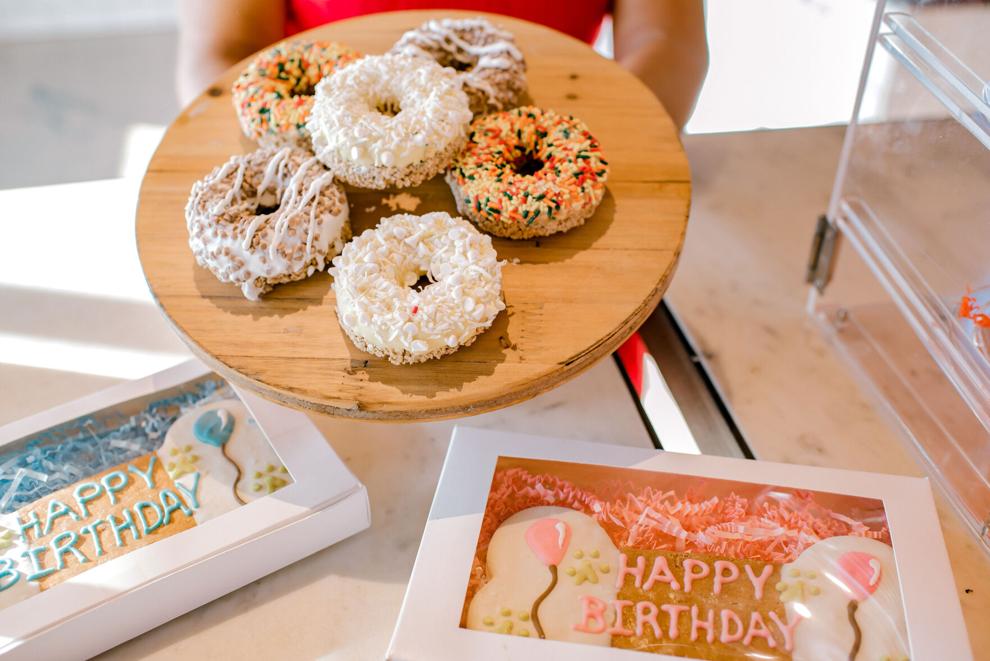 It's A Retail Life
What is Wag Central best known for?
Angela Pantalone: Our personal touch.
What is the greatest challenge for the independent retailer today?
Pantalone: As a small-business owner during the pandemic, the importance of supporting local business really came to light. We are the real people providing something that consumers can't find elsewhere.
What about for the pet industry overall?
Pantalone: One of my hashtags is "Dogs are the new kids." There is such a huge market for people who really want to give their pets and dogs the best life ever.
Are you watching any interesting trends?
Pantalone: [Cannabidiol] CBD. I don't like to mask a problem and do like figuring out the core root of the problem. This involves talking to the owner and observing the dog when socializing with other dogs. Taking the time to solve a problem is important, rather than just trying to find some way to quell or mask it.
What do you see for the future of Wag Central?
Pantalone: I have three children, and each is interested in this industry and saying, 'Hey Mom, when you are done and we are out of college, can this business be mine?' So, I do see a second location, but as a business owner, it needs to make sense financially.
---
Love at First Sight
When Jodi Harrison Bauer met Ava in 2018, it was love at first sight. Still reeling from the loss of her beloved Yorkshire terrier, Romeo, in 2015, Harrison Bauer had vowed to remain dog-less.
"I just couldn't have my heart broken again," she says.
However, when a client at her fitness center, JodiFit Boutique Fitness Studio in Branford, Conn., suggested she check out a Rottweiler mix, recently acquired by a local shelter from a rescue in Texas, she paid a visit. She was immediately taken by the young dog's sweet temperament, and Ava found her forever home with Harrison Bauer.
Ava settled right in, occasionally heading to work with her new owner or enjoying walks with a dog walker to fill in the off hours. Long-time friend Angela Pantalone often urged Harrison Bauer to bring Ava to Wag Central for a little extra-curricular playtime. However, between the dog walks, work visits and plenty of family time, Harrison Bauer felt Ava was receiving ample stimulation and loads of love.
And then the pandemic hit, and suddenly everyone was at home.
"I told my husband, 'We should take Ava to Wag.' I had plenty of time to walk her because my fitness studio was closed, but I decided to try it out," she says. "Ava loves to swim, so the pool has been amazing, as is the interaction with the other dogs. Ava has acclimated so well; it's been everything Angela described. You won't find a place like this anywhere else."
Pantalone's educational skills translate well to the canine world, Harrison Bauer says.
"I love what Angela does with her background as a kindergarten teacher," she says. "Ava takes part in all the enrichment activities, and I appreciate that she really has to use her brain to figure things out."
Another upside is an emerging trust of others.
"Before Wag, Ava would need sedation for the veterinarian to cut her nails due to an injury on her leg," she says. "But Angela and her staff figured her out, and it is no longer required. I think all the extracurricular activities were a big help in that regard."
As a fitness instructor with 30 years of experience, Harrison Bauer understands the importance of physical activity—not just for the body, but also the mind.
"That's why I have so much respect for what Angela has created at Wag Central," she says. "That mental stimulation has enhanced Ava's life, and that's what we want for our dogs—to enjoy an enriched, fulfilled and lively life. So, I'm greatly appreciative of what Wag has to offer. It's a wonderful, wonderful place."