In northeastern Ontario, Canada, the city of North Bay is considered the "Gateway to the North." Established in 1891,  the one-time main canoe route from Montreal wears many hats. It's home to Canadore College, Nipissing University and the Royal Canadian Air Force, and military personnel and their families, retirees and college students alike join the general population in calling the city home.
In 2006, Lisa Rousseau traveled south from her hometown of Iroquois Falls to North Bay in search of opportunity. She found her calling with employment at a North Bay pet food store, and fell in love with the industry. When the establishment shuttered its doors, she embraced her passion for pets and their people.
"I absolutely love the pet business and decided it was time to venture out on my own," Rousseau says.
Lisa's Doghouse opened its doors in 2011, initially occupying 1,200 square feet in a strip mall located on the city's main highway. Soon, the venture outgrew that space, and, in 2013, it swapped places with a next-door business owner looking to downsize, doubling the square footage. Within a few years, 2,400 square feet proved, again, too small.
Instead of relocating, the venture expanded into 1,200 square feet of space constructed specifically for the shop by the property owner. The work was completed in 2017.
"I have the best landlord and couldn't say no," Rousseau says. "We now occupy 3,600 square feet."
The additional square footage is devoted to both a receiving and warehouse area and retail sales floor.
While a percentage of residents in North Bay are college students and retirees attracted to the area's lower cost of living, the population demographics in North Bay are broad, according to Rousseau.
"We also have military customers because of the base," she says.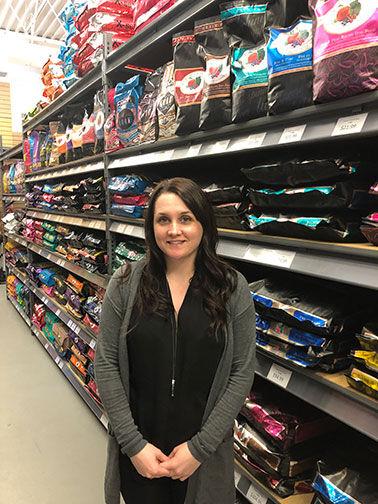 Shoppers at Lisa's Doghouse are greeted by a spotless, organized sales floor featuring well-stocked, easy-to-navigate shelves.
"I have very high expectations," Rousseau says. "I want our customers to easily see the products on display. We have quite a bit of room, so the store has a very open feel."
The welcoming ambience is another cornerstone.
"It's that personal connection," says Joe Lebeau, who serves as public relations manager for Lisa's Doghouse. "We know our customers and their pets by name. We are like 'Cheers,' but in a pet food store."
Rousseau agrees.
"We want to be helpful should a customer have a question, or we'll lend a hand to carry food out to their car," she says. "I do not consider these things to be going above and beyond—if a shopper has made a purchase here, it's the least we can do. We want everyone to leave happy."
For these reasons, a love for animals is the first and foremost consideration in a new hire.
"Everybody here absolutely adores animals and wants the best for them," Rousseau says.
Retail experience is not mandatory, and senior store personnel provide new employees coming on board with sales tutelage as well as nutritional education. Manufacturer representatives impart further food and product knowledge.
Rousseau noted that while today's consumers are well versed in nutrition, largely because of internet research, they still rely on the assistance provided by informed staff members and visiting food representatives.
Dog and cat foods at Lisa's Doghouse contain natural, ethically prepared ingredients and are minimally processed with no byproducts or chemical preservatives.
"We carry a wide range of natural products that we feel confident in and that can't be found in other stores here in town. That sets us apart," Rousseau says. "A company that hasn't had any major recalls is a bonus."
Further, a shop-local theme is promoted whenever possible, according to Lebeau.
"We sell products from the U.S., but tend to cater to a pro-Canadian market," he says. "We receive a lot of requests for Canadian-made products; for instance, our bakery cookies are made just a few hours from here."
These delights are temptingly arranged in a glass-fronted bakery case.
A broad selection of treats also awaits shoppers. However, chews and bully sticks are the store's strongest sellers, particularly during the winter months, when pet owners endeavor to keep their pets occupied.
"We go through a lot of chews in the wintertime," Rousseau says. "When it's minus 30 degrees, dogs are not out long for walks."
These items are showcased at the front sales counter and in buckets along a center island in the middle of the store.
Training treats are also popular.
"We have a lot of trainers in town, so customers come to us looking specifically for training treats," Lebeau says. "And, of course, we have cookies as far as the eye can see."
Leashes and collars, along with training equipment, are arranged in their own section, as are toys, games and puzzles.
"Our layout makes it easy for our customers to find what they are looking for," Rousseau says.
During the frigid months, the boutique area is replete with jackets, boots and scarves.
"We will have four different racks of winter items during that time," Lebeau says.
A Summer Get-Together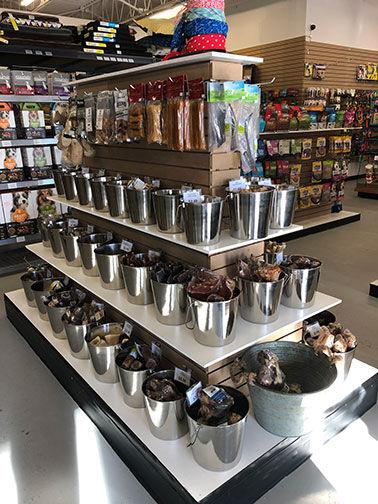 As the weather warms, life jackets and water toys replace warm woolies because of the store's proximity to Lake Nipissing.
"During the summertime, an entire setup is dedicated to floating dog toys because that's what people are looking for to make it a little more fun out at their cottages," Rousseau says.
It's also the time of year for the Lisa's Doghouse annual summer sale.
"Our June summer sale is one of two big events each year," she says.
It was originally held in the center's parking lot, where tents were erected, with rescues and local pet care providers and manufacturer representatives on hand to provide information and chat with customers. The new addition offers the opportunity to meet indoors.
"Our summer sale is very social, and many people bring their dogs and stay for an hour or two," Rousseau says. "Everyone is in a great mood, and there is so much laughter. It's a great weekend for both our customers and staff."
The 2018 event saw sales associates sashaying through the store in cowboy garb.
"Fromm was introducing a new, western-themed flavor," Lebeau says. "We had their representative on hand, and we all dressed up. Our customers loved it."
Lisa's Doghouse customers save the last weekend in November for the annual anniversary sale.
"As customers arrive, I hand out little Christmas stockings," Rousseau says.
Each doggie stocking contains treat samples, toys or an accessory.
The two-day event offers discounts on food and products, along with giveaways and raffles. Food representatives are on hand with plenty of samples.
"It's a little labor intensive, but it's worth it because our customers love it," Rousseau says. "We receive really good feedback."
In addition to the bi-annual sales, monthly promotions are ongoing.
"We can't compete with stores that send out monthly fliers—it's just not feasible for us," Rousseau says. "This is how we stay competitive and provide value to our customers."
These incentives might include a "buy one get one free," "dollars off," or a cross promotion of products.
"We always try to have something going on," she adds.
Out and About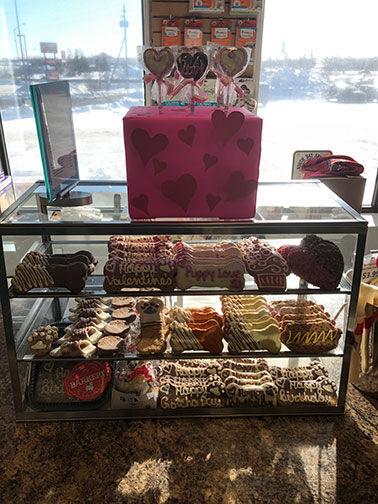 Those in need, both human and furred, are supported on an ongoing basis in several ways.
"We participate in events that benefit the local community," Lebeau says.
This involvement often includes collaboration with pet suppliers.
"Through good relationships with some of our pet suppliers, we are able to donate foods that might have been returned," he says.
Through these partnerships, Lisa's Doghouse donates 300-400 pounds of food each month to pet rescues.
"We also donate to the local food bank in town," Lebeau says. "Although these agencies are geared more towards humans, the recipients often have pets."
During the holidays, a Christmas-themed Photos with Santa day finds pet owners and furry family members posing for a cause, with donations earmarked for the local food bank.
"We work with two or three different food banks," Lebeau says. "They are always needing food, and we try to help as much as possible."
In this way, the Helping Hands, Helping Paws food drive commences every Feb. 1, ending on Canada's Family Day holiday on the 17th of that month.
"We accept both monetary and food donations, hold raffles and give away prizes," Lebeau says. "It's very community driven."
The weekend Kitten Palooza adoption event benefited a local cat and kitten rescue dear to Rousseau's heart.
"I got my cat from this rescue seven years ago," she says. "The event was a great success, and is going to be held annually or even more often."
Raising awareness of the plight of homeless animals is a key consideration, and pets available for adoption are posted on social media.
"We also post information in our store [about pets available for adoption], and trainers, rescue agencies and other businesses can place their cards and fliers as well," Lebeau says.
One to Watch
As the One To Watch Pet Product News Retailer of the Year Award winner, Lisa's Doghouse has plenty of irons in the fire, which is reflected in future plans for service offerings, including the possibility of offering online sales.
"We have the infrastructure in place, and can launch an e-commerce site pretty quickly," Lebeau says. "Right now, we are ironing out the details."
Customer delivery is another option under consideration.
"Right now, we offer limited delivery, mainly to help out the older folks in town that can't carry some of the heavier items," Rousseau says. "But this is a convenience we are considering adding on a larger scale in the near future."
With the expansion and additional square footage, grooming is another offering under study.
"We now have space, and it's another service that is sort of on the back burner," she says. "We want to find the perfect groomer to represent our business, so it's not to say that in a year from now we won't have a grooming shop set up."
The installation of a bakery facility is also being contemplated.
"We are currently doing our research in order to arrive at cost-effective decisions," Rousseau says. "We try to be a step ahead of everything, to stay involved in the community and, more importantly, to offer a level of customer service not found anywhere else."
It's A Retail Life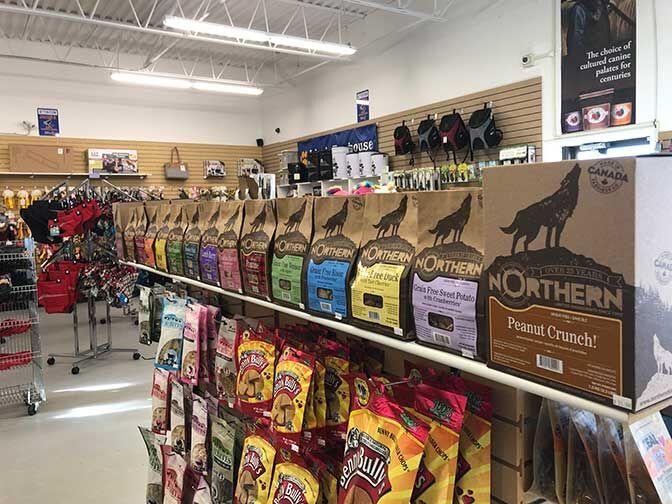 What is Lisa's Doghouse best known for?
Joe Lebeau: Our customer service. We treat our customers with respect and are always happy to help them find the best products for their pets.
What is the biggest challenge for pet retailers?
Lisa Rousseau: Finding the time to get everything done. We are a smaller-scale store, but that doesn't mean we don't want to compete with the larger stores. So, we try to offer a variety of monthly promotions and to get the word out. It can be tricky to find the time to do it all while providing an exceptional level of customer service.
For the pet industry overall?
Lebeau: Misinformation. Often, information is based on opinion more than fact. So, I'd say trying to help consumers and everyone else in the pet industry to get on the same page as far as pet nutrition is key. Obviously, every animal is different, but there is quite a disparity on a day-to-day basis.
Are you keeping an eye on any interesting trends?
Lebeau: Everyone is keeping an eye on raw food. Freeze-dried raw has been a big thing lately. We are always looking at advancements in kibble and at companies offering new and innovative ideas.
What do you see for the future of Lisa's Doghouse?
Rousseau: I don't see us necessarily expanding into multiple locations, but we can never say "never." However, the next few years might see some pretty big changes at Lisa's Doghouse, for instance, adding grooming or putting in our own bakery.
Where Everyone Knows Your Name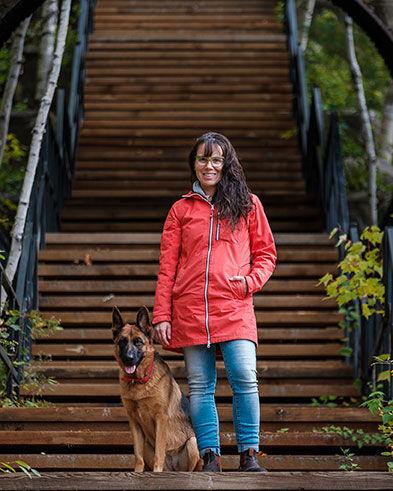 When Maxine Lebel-Gagne sought a pet supply store to shop for her beloved Doberman, Scout, she didn't have to look any further than her social media pages.
"I was already aware of Lisa's Doghouse through the postings of friends," says the lifelong North Bay resident.
However, it was Lisa's annual anniversary sale that triggered the initial visit over four years ago.
"We have been customers ever since," Lebel-Gagne says.
Scout has since passed, but today, Lebel-Gagne's German shepherd, Hazen, enjoys an excursion to Lisa's Doghouse for a little extra affection and to appraise new treats.
"Hazen loves to go into the shop," she says. "Shepherds traditionally have very sensitive stomachs, but because of the high-quality products, she has never had an upset from any of the goodies she has tested. It's just great."
Beyond the broad selection of nutritious foods and treats, Lebel-Gagne appreciates the focus on local, Canadian products.
"I have children, too, and buying products that are grown, manufactured or packaged locally within Canada is important for my human family, as well as for Hazen," she says. "You want to support jobs and industry within your own country."
However, it is the welcoming environment at Lisa's Doghouse that keeps Lebel-Gagne coming back.
"It is absolutely a 'Cheers' type of atmosphere. As animal lovers, the staff wants the best for all pets. They get to know their clientele, both pets and people, by name," she says. "When Scout passed, they were so kind and caring."
Food and product knowledge, and the willingness to "go the extra mile" are hallmarks that do not go unnoticed.
"As pet owners themselves, the associates understand and can relate to whatever issues you are going through," she says. "There is no pressure to buy a particular brand of food, and if a  recommended product or food doesn't work, I can bring it back."
Further, the store layout makes shopping easy, and the overall cleanliness of the store is inviting.
"It's always neat and tidy and well laid out," she says. "I don't have to worry about my dog grabbing something off the floor that could make her sick."
Just as she has from the beginning, Lebel-Gagne attends both of the annual sales that take place at Lisa's Doghouse.
"I spoil my dog a lot, so if I can save a little bit, I'm happy," she says. "I shop for her birthday, and, at the November anniversary sale, there is a great selection of Christmas-themed products. I think I get more excited about it than Hazen does.
"Lisa's Doghouse already has a strong foundation of customer service, they are passionate about pets, and whatever new services are introduced, I know the No. 1 consideration will be one of making my life easier and Hazen's life better," she says. "In today's society, this level of customer service is rare."