The vibe at Flying M Feed Co. in Houston is a multisensory delight where hospitality reigns. Indeed, the goal of this establishment is to astonish customers at every turn. Upon entry, visitors find a barstool respite in the common area that is tough to resist. Guests are encouraged to linger and savor a strong cup of joe, or grab a chilled pick-me-up from the refrigerator paired with a snack. Those with a literary bent browse the lending library and settle in to read while sipping and nibbling. The more visually oriented kick back to catch a flick on the big screen television. Energetic toes tap to rhythm-driven rockabilly tunes.
The décor is artistic, quirky and imaginative, with antique shelving and fixtures intermingled throughout. Fanciful hand-painted murals add to the ambiance. Customers in need of a little floral solace head to the hydroponic garden, where vibrant blossoms are free for the picking.
English Labrador Kemah and once-feral cats George and Crog snuggle up to folks jonesing for a furry love-fix.
"We want the store to feel, smell, look and sound good, and always want our customers to be treated like royalty," says owner Trace Menchaca.
The eclectic environment has traveled far since its humble beginnings in the Menchaca family garage and the adjacent 8-by-8 shed, but the establishment's roots in dedication to stellar customer and community service run deep and wide.
Menchaca began her pet food delivery operation in 2012, in the midst of a career as a middle school math and music teacher. Through daughter Lea's participation in her high school's Future Farmers of America (FFA) program, Menchaca realized that local feedstore hours often coincided with those of the normal workday, creating a dilemma for working parents with students in need of supplies for their livestock endeavors.
In support, Menchaca began delivering product to these families, enabling FFA members to carry on with their projects. However, a serious drawback soon emerged.
"Because we focused on our FFA kids, we needed to make ends meet from March, when their animals sold at auction, to August, when they got new animals," she says. "So, we started stocking and delivering dog food, and that is how the business changed."
Quickly grasping that the pet industry was more lucrative than the livestock trade, Menchaca added a small selection of pet supplies to the inventory of the fledgling enterprise.
"I'd bring samples with me, kind of like the Avon Lady," she says.
In 2014, Flying M Feed Co. began welcoming customers to a tiny brick-and-mortar location. Demand spawned continued growth, and, by 2016, shoppers were browsing the current 4,000-square-foot site, occupying two combined storefronts.
In 2019, a decision was made to downsize the retail operation into one storefront.
"We really didn't feel the need for that much selling space, and felt we'd see some nicer profits and could really take advantage of the smaller space," she says. "We moved all of our shelving and fixturing and did a complete redesign to accommodate the switch."
Painting on the Fly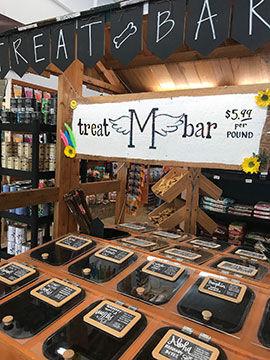 As a pet portrait painter, Menchaca began using the vacant area as a personal art studio, and a new idea began to form.
"It kind of organically turned into this art studio, and I realized that if we started holding paint and craft parties, we could pay the rent on the space," she says. "And right when I was thinking the whole move was the stupidest thing I have ever done, a special-needs girl walked in to interview with us."
Menchaca discovered that the young woman was an artist.
"I thought, oh my gosh, I think God set this situation up for this one person. So, we hired her," she says. "Caitlin has really come out of her shell working in the studio and assisting at the paint parties. She's like our art concierge."
Opened formally in May 2019, the studio hosts paint parties several times per week under Menchaca's tutelage.
On Saturdays, the ever-popular and often raucous Modern Farmgirl craft get-togethers are held in the same space.
"These events are a little more in-depth than the painting parties," she says. "We might create a pallet garden or paint 'kindness rocks' with affirmations painted on them to be placed around the community for people to find."
Yappy Hours, yoga and meditation with dogs, and customer education classes are also among the events held in the art space.
"Basic education classes are always on the calendar," she says. "For example, Raw Food 101, DCM [canine dilated cardiomyopathy] information, Treats 101 or puppy classes."
The special-needs community is near and dear to Menchaca's heart, and a new learning center for this community is also located in the studio area.
Besides art and education, five hydroponic-tower gardens nurture flowers and organic produce, providing a nutritional boost for people and pets. Excess produce is donated to a local food pantry.
"The towers take up our front windows," she says. "It's beautiful."
Another unique feature that Menchaca added to the business after transforming the space is the "dry spa." The concept is tailored to short-haired dogs and breeds that do not typically see a groomer on a regular basis. The spa affords the Flying M Feed the ability to offer services despite the fact that the landlord doesn't allow traditional bathing and grooming services in the space.
A small office space was transformed into a spa room, with a soothing color scheme and whimsical murals. Services include nail trims, cannabidiol (CBD) foam massages, waterless shampoos or diatomaceous earth dustings. No appointment is necessary.
"Any one of our employees can do a 10-minute service while a customer shops," she says. "It's a cool way to offer these services without investing a lot of money."
It's the People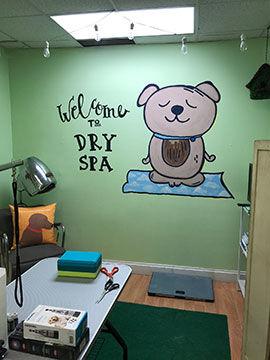 Extraordinary customer service is the core of the Flying M Feed Co. ideology, and this credo is bolstered by high-spirited merriment, thinking outside the box and an unswerving love of community.
"We are really committed to training our staff members to understand the vision of our store," Menchaca says. "We look for people who want to have a good time at work, astonish our customers, and can go with the flow and be a little irreverent."
Sales associates are encouraged to put their own ideas into action.
"We empower our people to make their own deals and always astonish the customer in front of them," she says. "It may sound like a lot to ask, but it's so ingrained in our culture that no one thinks about it, they are always able to carry out that intention."
Training is ongoing through M University, a weekly program of instruction covering nutritional knowledge, store operations and customer service skills. Taught on the semester system by Menchaca or manufacturer representatives, students receive a syllabus, a calendar and written materials. The completion of final exams is feted with a holiday party for the winter semester and a trip to the local bowling alley in the spring.
New hires enter Boot Camp to receive in-depth, foundational training before heading to the sales floor.
In partnering with the Monarch School and Institute in Houston, which serves young adults with neurological differences, Flying M Feed Co. proudly continues its involvement with the special-needs community through its hiring program. In order to support these staff members as they assist customers, products are labeled with colored dots, each hue indicating a specific function.
"I feel these people deserve the opportunity to enjoy the camaraderie of a work environment and the self-confidence that a paycheck can bring," Menchaca says.
During the spring months, Flying M teams up with Paws Abilities to hold a charity dog wash. The nonprofit organization serves individuals with intellectual disabilities as they learn to care for animals and seek employment in the animal care sector. The young adults bring their own tubs and spend the day scrubbing and fluffing the canine set as they raise funds to build their own dog-friendly café.
"It's really the best event we hold," Menchaca says. "We have a popcorn machine, caricature artists, a photo booth—it's like a big carnival."
High school volunteers are on hand to assist in the duties, and an adoption event is also held in conjunction with the festival.
Over the 2018-2019 school year, Monarch School students participated in their own "Shark Tank"-like experience, facilitated by Flying M Feed.
"The students developed and designed a product and created a business plan," she says.
The fleece rope toys are hand-braided by the students at the school and sold at Flying M Feed Co. All proceeds benefit students.
Nutritional Cooperation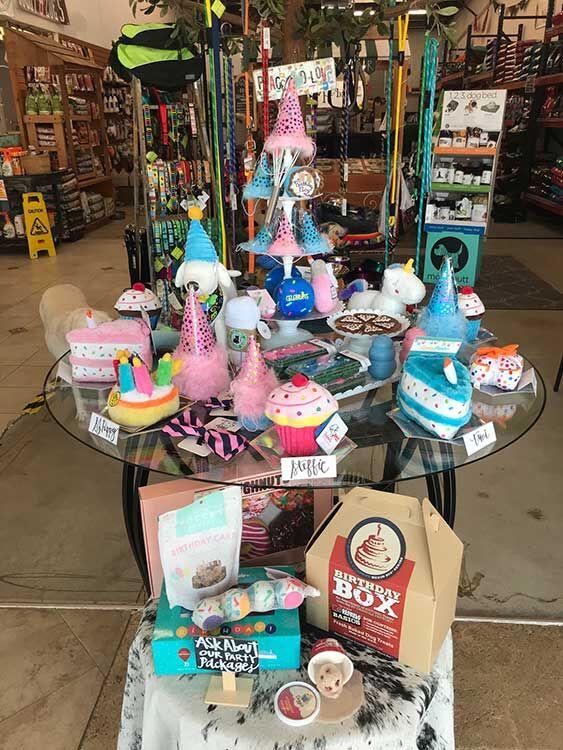 Flying M Feed Co. carries a full line of pet supplies alongside a diverse range of dog and cat foods, including raw, canned, dehydrated and kibble. However, Menchaca's approach is novel.
"We support our customers in whatever they have decided to feed their dog," she says. "Our basic philosophy is we will answer questions and encourage them to do their own research and seek their veterinarian's approval. Whatever their choice is, we will sell it to them, including the checkerboard brand."
However, for customers purchasing lower-quality foods, a "health kit" is provided free of charge and might include a bouquet of kale from the hydroponic garden, a bottle of kefir or goat's milk and a pouch of pumpkin.
"We'll say, 'Here's your bag of kibble, and here's how you can make it even healthier,'" she says. "I don't believe this kibble is the best choice either, but if this is what our customer has decided on and researched with their veterinarian, we are going to provide it for them, along with some nutritional extras."
An organic treat bar as well as a range of chews and bones are also in the mix. In the bakery case, birthday cakes and a host of artistic, drool-worthy cookies created by a local pet bakery entice.
The store's bi-monthly Bark Bag promotions offer a distinctive spin on inventory control. Containing a range of store items, the contents are revealed on a live Facebook feed. Donated samples and novel products purchased from other sources round out the cache of treasures. The popular bags are shipped all over the country.
"People love them," she says. "It really helps us manage our inventory. We don't do clearance or red tag sales."
Looking to the Future, Circling Back
While Flying M Feed currently offers a delivery service, expansion of the program is in the works.
"We have access to the same products as the online retailers through a program called Endless Aisles, which allows our distributor, Phillips, to provide their entire catalog to our customers," Menchaca says. "If we don't have a product on our shelves, we tell customers that it is in our distribution center. We can have it to them in two days."
This fall will find Flying M Feed Co. circling back to its early roots with a vintage pop-up trailer. The rolling shop will be a presence at local events.
"We'll have treats, bakery goodies, yogurt, ice cream and doggie beer alongside gifty, spur-of-the-moment type stuff," she says. "I have always wanted a second location in the city, and this is a much more affordable option."
Menchaca is also excited to offer a new consulting service.
"This new service will empower owners to access their own creativity and vision in facilitating and building a sensory store experience," Menchaca says. "In addition, my personal shopping and buying concierge service will assist new store owners and allow them networking time and an organized experience at [the] Global Pet Expo and SuperZoo [trade shows]." 
A Safe, Hands-On Environment
For the Menchaca family, the challenges faced by those with special needs were personally spotlighted when their son, Max, suffered a traumatic brain injury six years ago.
"He has totally recovered and is living a great life, but a lot of our drive early on was to create a legacy family business so if our son couldn't work somewhere else, at least he had this," says Trace Menchaca, owner of Flying M Feed Co. in Houston.
Today, Menchaca's love for this community is reflected through the Flying M Feed Co. hiring program, fundraising events and outside involvement.
These associations also include collaboration with The Hub, a Houston-based educational program serving teenagers and young adults with neurological differences. When The Hub executive director and founder Colleen Russo and student Caitlin walked into Flying M Feed Co. to discuss an employment opportunity for the young woman, the connection was instantaneous.
"I knew Trace would love this young girl, and they hit it off immediately," Russo says. "It was one of those magical moments when you just know it's going to work."
Under Menchaca's tutelage, Russo has seen Caitlin blossom.
"This is Caitlin's first job experience; she's 20 and was initially petrified of working," Russo says. "Now she has all the confidence in the world."
The additional space offered by the art studio provides further outreach into the special-needs community with the design of a free-of-charge training area.
Pupils rotate through a variety of sections offering skills training in merchandising, delivery receiving, pricing, cash register operation and change counting.
For participating students, Flying M Feed offers a safe, comforting environment, ideal for calming anxiety and engendering trust, according to Russo.
"I love what Trace is doing; her heart is bigger than her whole body," Russo says. "She has created a safe place, and when these students feel that security it builds trust and the pathways to learning are opened."
It's A Retail Life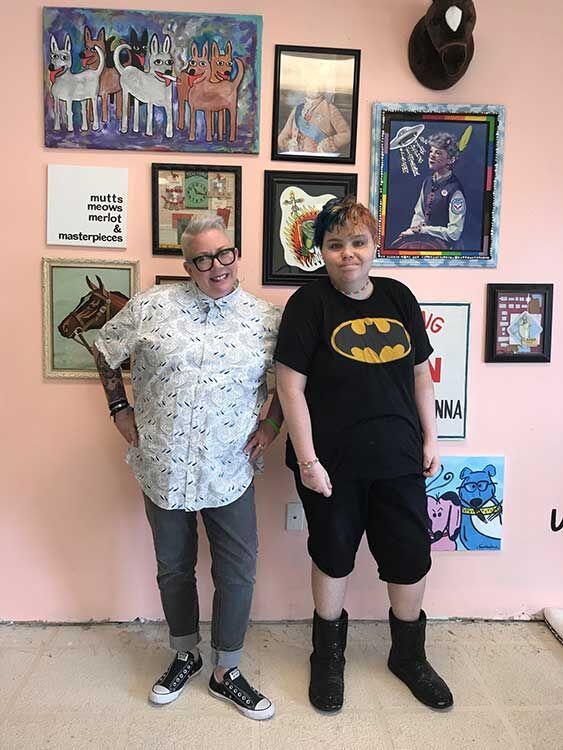 What is Flying M Feed Co. best known for?
Trace Menchaca: Our astonishing customer service.
What's the greatest challenge for the independent pet retailer today?
Menchaca: The greatest challenge is trying to stock cool stuff that will also sell.
For the pet industry overall?
Menchaca: Keeping up with trends. We can't drink coffee, we can drink coffee. We can't drink red wine, we can drink red wine. It's the same thing with dog food; grain free, no grain free.
What trends are you watching?
Menchaca: The use of cannabidiol (CBD) and natural supplements. I'm always looking for affordable ways to help pets be healthier.
For the future of Flying M Feed Co.?
Menchaca: We are planning further expansion of our involvement with the special-needs community.