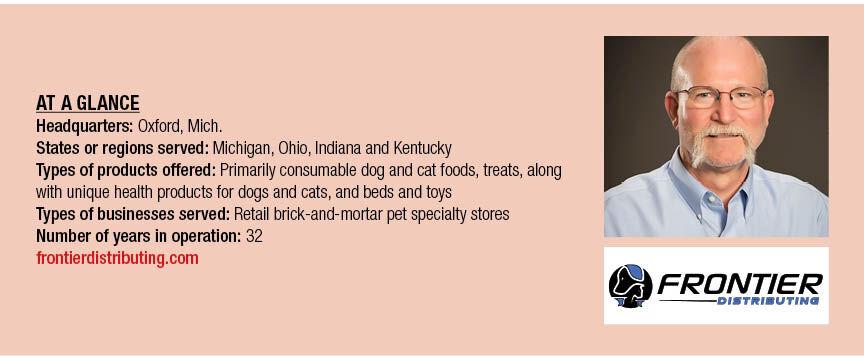 What's the secret of your success?
Integrity and service. 
We are always honest with our customers and try to be transparent. We own our mistakes and do all that we can to correct them. We also give old-fashioned service and try our best to make it easy to do business with Frontier and accommodate our customers' needs. A good example is that we answer the phone personally. We do not use an automated attendant during normal business hours. If a call is not answered by the second ring, it will go back to my desk. I will and do answer calls. I will answer calls if I am in the office outside of normal business hours and on weekends. Customers are surprised when the calls are picked up. My staff knows what level of customer service I will provide, and they do the same. I am also a CDL licensed truck driver. I will and do take out routes if needed. Drivers know the type of service I provide when I am delivering, and they provide that same level of service. That philosophy of service to our customers permeates every aspect of this business, and I believe it is critical to success. We don't exist without our customers.
Frontier has remained a family-run, independent distributor over the years. Why has the company held firm to this commitment to being family owned and independent, and how do the company's retail partners benefit from it? 
It has been a tumultuous few years filled with change and uncertainty. Several years ago, some of our biggest manufacturer partners suggested that I sell and move on. They felt distributors like Frontier were going to be a thing of the past. Those comments were certainly unsettling and led to anxious times. When I started this business, it was never my goal or desire to someday sell and move on. I feel it is something to be passed on and transitioned to future generations. It is more important for me personally to pass on to the next generation my philosophy of how business should be done and how important it is to treat customers and employees correctly and with respect. I believe this benefits not only our customers, but also our vendors. There is greater continuity and predictability with less change and upheaval. To be sure, it is not only the next generation of my family that is involved. I have longtime employees in sales, office, warehouse and transportation who have a child also employed at Frontier.
As a distributor, what role does Frontier play in helping to support the growth of pet specialty retailers?
We must bring new and innovative items to our customers that will keep them competitive and differentiate them from the other choices that consumers have. When we evaluate products to add to our offering, we do our best to determine if the products not only will sell well, [but also] if there is a need and how will it benefit our customers from a profitability and fair market perspective. Our goal is to help set our customers apart as a trusted advisor and resource for the consumer. The majority of our customers cannot attend the major trade shows in our industry, and it is our responsibility to be their eyes and ears for new products and trends that can support their success.
How does your company foster relationships between manufacturers and retailers?
Our annual buying show/open house can be a tool that brings together customers and vendors, who otherwise may never see the other personally, and allows for new items and trends to be discussed as well as education on a vendor's items on top of the work that Frontier's sales staff performs in the marketplace.