Pet Product News: Groomers Helper has evolved so much over the years; but first, take us back to the company's origins. How did Groomers Helper come to be?
Chuck Simons: I invented it for my wife as she was just starting to groom and had difficulties cutting nails and finishing faces with uncooperative and aggressive dogs. After we saw just how effective it was, we began offering them to other groomers, and the rest is really quite a remarkable story. There are over 100,000 Groomers Helpers out in the market today.
PPN: The original flagship product—the Groomers Helper—continues to be a must-have item for groomers. Why is this product so important and useful to groomers?
Simons: The Groomers Helper allows the groomer to work hands free, calms the dogs, establishes their footprint, and significantly reduces stress on both the groomer and the pet. It allows the groomer to groom more pets every single day, since they are not constantly repositioning the pet or chasing them around the table, thereby making more money. There really never has been anything that matches up to the effectiveness or the quality of our safety and positioning system.
PPN: Fast-forwarding to today, tell us about the company's full product portfolio.
Simons: We only manufacture and sell the highest-quality products that we believe in, that must offer the groomer more efficiency, safety and solid returns on their investments. Our Groomers Helper clamps are the most overbuilt in the industry and were salon tested by us in our grooming salon long before they were produced and offered for sale. Our grooming arms are made of stainless steel and are guaranteed for life not to bend. Our Professional Set is the most complete safety and positioning system available anywhere in the world.
Then there is ActiVet. No one can question the quality or effectiveness of our ActiVet brushes. They are the finest grooming tool in the industry and are actually the original flexible head stainless steel brushes that built the reputation for the design. They were private labeled for years under another name, but these are the same brushes from the same machines and same craftsmen that originally created them. ActiVet brushes will cut brushing time in half, and give groomers and shop owners hundreds of man hours back that can be used to create other income. They also significantly reduce strain on groomers' arms and wrists, and do a better job on the coats of the pets.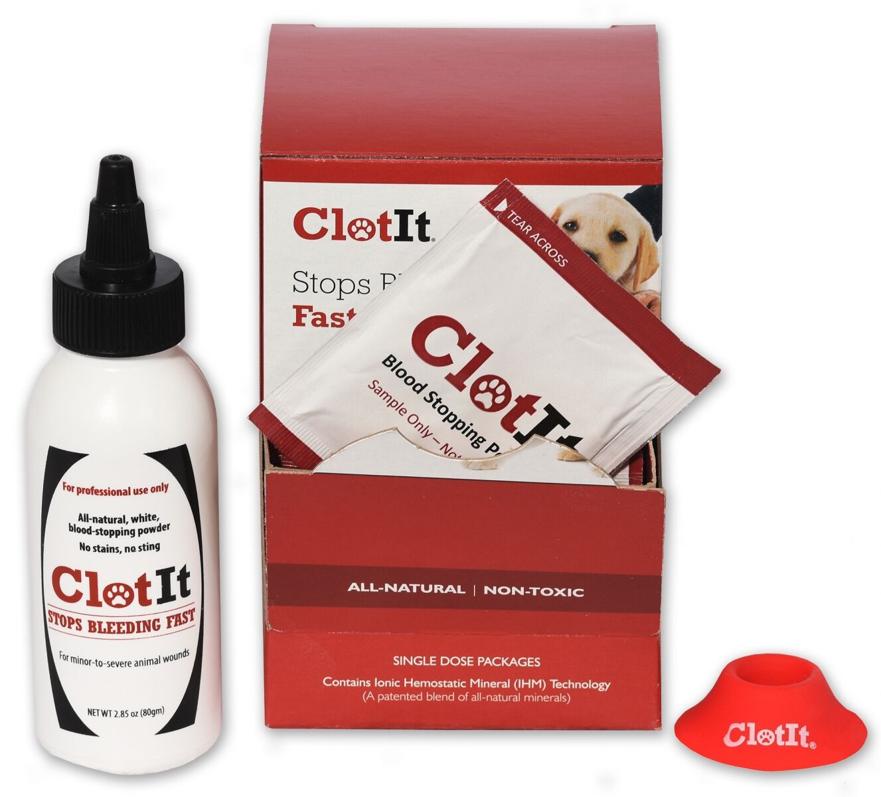 Our latest addition to the family is the award-winning, all-natural Clotit blood-clotting powder. Unlike a chemical styptic, it does not sting the pet at all. It does not stain fingers, expensive tables or fur, has an unlimited shelf life, will not clump over time, and works with the animal's own natural blood-clotting system both quickly and effectively. From nail quicks to major wounds, Clotit is a product the industry has been waiting for for years. It is available in professional-size applicators, single-use packets to send home with customers, and it is one of the smartest pet first aid kits ever offered. Clotit works on dogs, cats, birds, farm animals, reptiles—truly a remarkable product.
PPN: What inspired Groomers Helper to expand into other product categories by distributing these brands? And why did the company choose these particular brands?
Simons: We look for brands that enhance the grooming process—products that are safer, more efficient, and bring more time and money to the groomer.
PPN: The grooming industry as a whole is constantly evolving. What are some of the key changes you've noticed over the years, and how have these changes affected the way you do business?
Simons: With the advent of quality grooming shows like the ones produced by Barkleigh Productions and the WPA [World Pet Association], groomer education has increased tremendously. Groomers are becoming much better at their craft, which is spurring the industry. When they want to groom smarter, safer and more efficiently, they look to us.
PPN: In what ways has the company changed to constantly meet the needs of the professional groomers it serves? And what kind of support do you provide for your customers?
Simons: You have to remember that we have been running our own grooming operation, run by a National Certified Master Groomer—my wife, Beth—for almost 30 years. So we experience the same challenges ourselves that the rest of the hands-on grooming world deals with every day. That is why we have been so effective in finding quality solutions. 
To take all the risk out of trying our products, all of our products are guaranteed for a full refund—100 percent money back. Our Groomers Helper comes with a lifetime warranty, and we are available for consultation through our website, through email and on the telephone whenever a groomer has a question or a problem with any of our products, or anybody else's for that matter. We also continue to exhibit our products at all major grooming shows in the U.S. and Canada.
PPN: What does the future hold for the pet grooming industry as a whole? Where do you see the industry heading, and what trends are you noticing?
Simons: As the population ages and people experience an empty nest, they are acquiring companion animals to fill the void of giving and receiving unconditional love. We expect the grooming business to continue to grow exponentially and for smart companies to share in that growth. More pet parents, with more multiple pets, spending more on them. Combine that with the continued education of groomers and you can see just how bright the future is.
PPN: What does the future hold for Groomers Helper? How will the company continue to evolve?
Simons: We are coming out with several new products that will enhance the grooming experience and make it both safer and more efficient. We will continue to be on the lookout for new product lines that match up with our quality, safety and efficiency goals and design systems to further enrich the lives of groomers.