"Please don't be surprised if we learn your pet's name first."
For patrons of Kriser's Natural Pet, it's an endearing admonition.
"People in the pet world are not offended if you don't remember their name, as long as you know the name of their pet," says Brad Kriser, founder and partner.
Indeed, while four-legged guests revel in a superstar reception, the possible lack of two-legged name recognition is noted on signage throughout the 53 locations in five states.
"Kriser's is all about pets; we were born out of that," he says. "For pet lovers, walking into an establishment that shares their enthusiasm makes for a happy visit."
Hospitality has been at the core of the company's success since 2006, when the first location opened in Chicago. Kriser had already established a successful pet care services enterprise in the same city, offering boarding, day care, grooming and training, and a limited retail selection of all-natural pet supplies and foods. The entrepreneur recognized a market need for a trusted source of healthful products in an attractive, friendly and knowledgeable setting. The formula worked, and more stores followed.
Soon, Kriser enlisted cousin Ken Grouf for his marketing and structuring expertise. Grouf's career background included positions in both for-profit and nonprofit ventures.
"Ken doesn't do anything unless he knows it will have a positive impact on the world," Kriser says.
Grouf's contributions meshed nicely with Kriser's pet-industry acumen.
"In creating Kriser's, we wanted to present an aesthetically pleasing experience in a pet store," Kriser says. "Our stores are open and easy to shop, without the look of a big box."
Consistency in design creates companywide familiarity and a homelike character.
"We often receive comments from customers saying they have visited a Kriser's in a different city and felt immediately at home," Kriser says.
Joining the Pack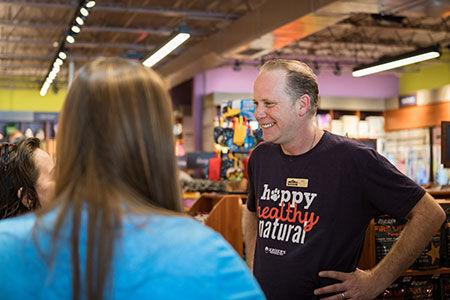 Connecting with customers through education and outstanding service is fundamental to the Kriser's culture. In this way, capable, well-educated "pack members" stand at the ready to assist pet owners in providing a happy, healthy life for their furry charges.
"We believe that the large part of an exceptional experience is education," he says. "In a new hire, we look first and foremost for a love and passion for pets and a desire to do what's best for them."
The company's dedication to training is central, and Kriser's University offers extensive tutelage and ongoing education covering pet nutrition, products and customer service.
Training opportunities presented by vendors enhance this guidance.
"We hold vendor trainings throughout the year, in-store, on the phone, in meetings, presentations—whatever it takes," he says.
The course of study is ever evolving.
"We have recently introduced the newest incarnation of Kriser's University: our Learning Management System," Kriser says.
The online curriculum provides robust, engaging instruction, encompassing topics, products and categories specific to Kriser's and the pet industry overall.
"It's based on the learning style of our workforce, which is made up primarily of millennials," he says. "We want to make sure our team is educated in the best possible way, so we have really altered the way we train to make the process more effective and fun."
Kriser's annual pack leader retreats find store managers, or "pack leaders," gathering for several days of focused instruction encompassing everything from company operations and procedures to customer service and sales techniques. In addition, vendors are on hand to impart product information.
"It's a pretty big undertaking because we are in so many different states," Kriser says. "The destination changes. For instance, this year, we are meeting in San Francisco."
Pack leaders return to their stores with an abundance of new insights to share with their own pack members.
Staying abreast of new developments, a full-time training director and a supportive training department continually update a syllabus that covers nutrition, product training and general health knowledge.
"Our people are trained to understand certain health conditions. A lot of these problems are not immediately evident, so it's all about asking questions and listening to our customers," Kriser says. "However, we are not veterinarians and never go against the advice of a vet."
Promotion from within is another major component to the Kriser's ideology.
"The possibility of upward mobility is motivating; why stay in a job if you don't see any kind of a future for yourself?" he says. "Our pack members already know the product, they understand our operations and what we do. So while bringing people in from the outside is necessary, promoting people from the inside just makes sense in every way."
Kriser's Approved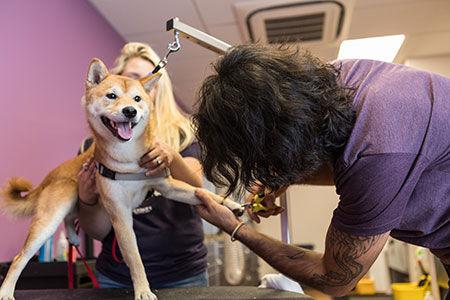 Consumer confidence is pivotal to the reputation of the Kriser's brand, and the all-natural food inventory is corn, wheat, soy and byproduct free. Before something can join the product mix, stringent nutrition and quality standards must be met. The path to being elected a Kriser's Approved product is noted on signage throughout the store. Factory visits serve to verify manufacturer claims. Treats, supplements and supplies are also subject to the same inquiry.
"This way, our customers can come in and safely shop without wondering where a product is sourced," Kriser says. "We want our customers to trust the Kriser's brand."
In addition to an extensive line of foods and supplies, Kriser's offers grooming with a personalized, gentle touch using all-natural products. Grooming rooms present a safe environment that is visible to consumers.
"The grooming isn't hidden—it's all visual so the owners can see what's going on," Kriser says.
Services include straight-through appointments for dogs with special needs, blueberry facials, teeth brushing, special breed cuts and cat grooming at some locations.
Groomers are hired for their experience; however, should a bather wish to step up to grooming, mentors are available to assist in achieving that goal.
"We have also sent our people to grooming schools," Kriser says. "Generally, this would be a pack member wishing to go into grooming."
Kriser's Kares
Community involvement at the store level is encouraged, and myriad gatherings take place on a regular basis, falling under the banner of the Kriser's Kares initiative.
"Our managers are motivated towards local collaboration," Kriser says. "We want to be part of our neighborhoods."
Managers champion public spiritedness, and enjoy a feeling of autonomy and ownership of the store they direct.
"Our marketing department provides tools, but we want our managers to make the decisions and keep it local," Kriser says. "Otherwise, we are dictating what should be done, and we don't want to do that."
In support of local rescue and shelter efforts, frequently held adoption days at the store level offer a paw-up to homeless pets in search of a forever family.
Fundraising activities, holiday parties, nutritional workshops, photo days, breed-specific meet and greets, puppy playgroups, birthday parties and massage clinics are among the many happenings taking place at individual stores.
"These events are specific to each location," Kriser says. "We hold a lot of events, sponsorships and donations in each of our markets. We like to be hyper-local. The impact is greater that way."
On a national level, Kriser's efforts include support of service dog organizations offering life-saving trained canines to veterans suffering from post-traumatic stress disorder.    
In 2016, Kriser's joined forces with The Honest Kitchen and Wings of Rescue to airlift at-risk shelter pets to loving homes.
Customers stay apprised of the many goings on through social media and individual store calendars. Kriser's website blogs often highlight a subject of timely interest. For example, calming products are spotlighted prior to the Fourth of July holiday, providing education regarding pet anxiety.
Kriser's content managers are responsible for research and information gathering, presented in an educational format to the Kriser's customer base.
"Ultimately, our goal is to provide an overall experience, beginning with a warm smile and a friendly hello, where pack members get down on their knees to greet visiting pets," Kriser says. "If you have happy people and a happy environment, it makes it all a little bit easier."
A Pet-Friendly Policy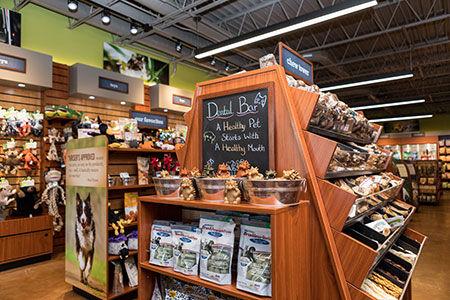 It's a morning routine familiar to pet owners everywhere—bidding a reluctant goodbye to long-faced, sad-eyed, four-legged family members. However, the atmosphere in Jen Lozano's household is buoyant as the Kriser's product training specialist heads out the door with her 16-year-old rescue beagle, Ayla, and her 10-year-old Shih Tzu, Osita, in tow.
"I love being able to bring my pets to work with me," Lozano says. "At headquarters, we have at least 10 dogs in the office on a given day."
It's a companywide scenario as an array of tail-wagging pack member critters greet customers on the sales floor.
"As long as they are friendly and well behaved, they can be in the stores," she says.
Lozano's journey with Kriser's began eight years ago, when the one-time graphic designer took a third-key position in the Studio City, Calif., store. A promotion to assistant manager soon followed, and she subsequently stepped up the ladder to the role of manager.
At that point, Lozano began to consider Kriser's as a career choice.
"Once I moved up to manager level and saw how dedicated the company is to internal growth, I figured there had to be something long-term for me," she says.
Today, Lozano oversees pack member training encompassing both product and nutrition. These responsibilities include creation of educational materials covering the entire product mix, and involvement in the launch of Kriser's new Learning Management System, which allows education to take place online for pack members' ease of access.
"We really focus on offering an outstanding customer experience and tailoring products to the individual pet and pet parent," she says. "These goals involve pack member understanding of the differences between all of our products, and the various options in the natural world that address a variety of conditions and ailments."
During Lozano's own initial interview eight years ago, the Kriser's training process was described as comprehensive, with a willingness to study a job requirement.
"I came onboard knowing that there would be time dedicated to learning," she says. "A new sale associate probably doesn't really understand how extensive our training is until they are in it. It's a lot to learn and take in."
Still, Lozano says the best-loved aspect of her career at Kriser's takes place daily, when she and her canine companions form a cheerful trio as they head out to the office.
"If you are passionate about pets, enjoy working with pet people and want to make a difference in the lives of pets, this is the place to be," Lozano says.
It's A Retail Life
What is Kriser's best known for?
Brad Kriser: We are proud of our education and reputation as a trusted brand.
What is the greatest challenge facing pet retailers today?
Kriser: Online sales. It's more of the wild, wild West as things evolve and change quickly and the tax-exempt status for these entities may be lost. If you look at the way the online retailers do business, it's the discounts they give, but on top of that, they don't have to pay sales tax?
In the pet industry overall?
Kriser: Full transparency, and that applies to all products but primarily consumables—food, treats or chews.
Any interesting trends right now?
Kriser: The downsizing of pets. If you look at the way people are living today, it is, frankly, easier to have a small pet. The apartments have size limitations, and the 35-pound number is very common. That leaves out a big dog. Plus, the aging population still wants to enjoy pets, but a large dog that's going to pull or need a lot of exercise is difficult for these folks, so they are going down in size as well.
For the future of Kriser's?
Kriser: Continued growth and excellence.