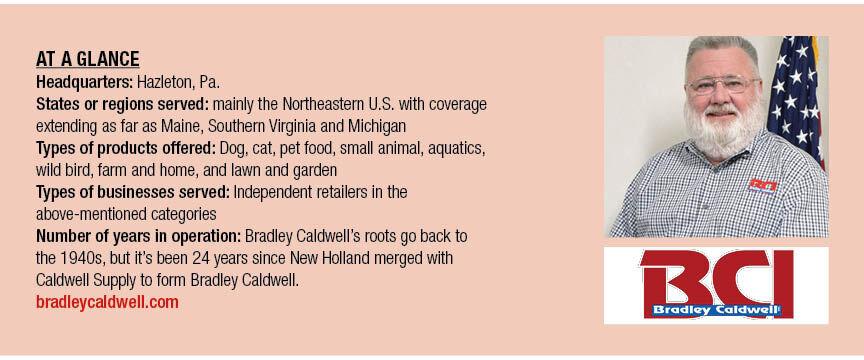 What's the secret of your success?
I have always believed in surrounding myself with the best people, setting goals and getting out of the way. When you build a team you trust and allow them to execute strategic objectives, the rest falls into place. Without every single member feeling like an essential and trusted part of the team, our operation fails. 
Bradley Caldwell is family owned and operated. How does this affect your business and inform your company philosophy?
We run the business like a family. Our employees, staff, customers and manufacturers are all part of our extended Bradley Caldwell Inc. (BCI) family. This allows us to customize our service to our customers' needs more than most of our competitors. Here at BCI, we follow the golden rule and treat those that we work with as we would like to be treated. 
What role does Bradley Caldwell play in helping to support the growth of its pet specialty retailer customers? How does your company help these businesses compete against online retailers and big-box, mass and grocery retail?
We try to meet the needs of our customers and change as they change. This circles back to being family owned. We are able to cater to our customers and not a board of directors. Because we carry a full line of products, we are able to offer our customers the opportunity to purchase products that other pet distributors can't. For example, if a pet store would like to offer a small section of wild-bird food and feeders, they can add them to one of their regular pet orders without having to meet a minimum. Every member of our sales force is educated in all of the categories that we sell so they can really be a resource to our customers who are looking to expand. 
We also have two trade shows every year that bring together more than 400 vendor lines in all of the categories we sell. This allows our customers to have face-to-face time with our manufacturer reps. They can see products before purchasing and bring in new products at a great price to try them out in their store. 
What are your criteria for selecting products to offer to your retailer partners? And what are your retailers looking for?
This varies depending on industry, but it is our goal to offer a variety of products in all of our categories without overwhelming our customers. Each category has its own buyer who is responsible for educating themselves in that specific industry and keeping up with the trends while also offering category staples. 
The buyers work hand-in-hand with the sales force to keep up with the demand from our customers in all the industries we serve. Our customers are looking to keep up with trends while also stocking the tried-and-true items in their industry.  
What are your company goals or objectives for 2020?
BCI hopes to continue to be the premier distributor in the Northeast. We will uphold the service our customers are used to while growing and planning for the future. This includes preparing the next generation of leadership to assure our employees and the industry that BCI will continue to be a force in distribution for years to come.