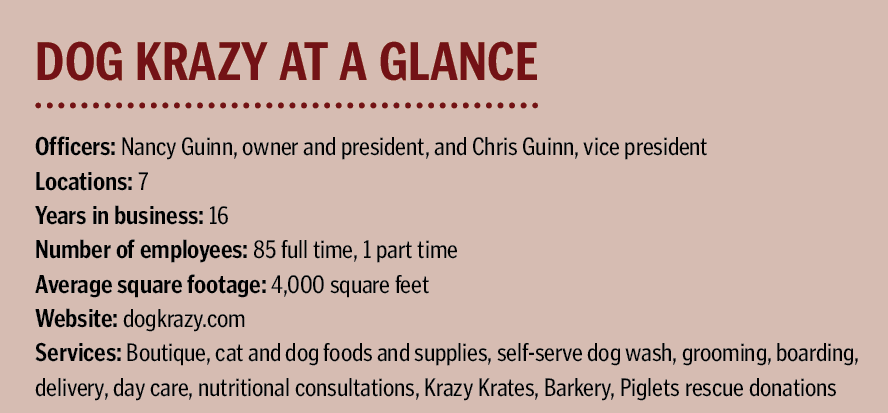 Consider the word "crazy," and aside from the classic characterization, more complimentary definitions exist, such as enthusiastic, excited, eager and eccentric. Now consider the phrase "crazy in love," which sums up the relationship of a well-loved bulldog named Piglet and her person, a onetime dental office manager pursuing a new profession as a dog trainer. Throw in the foresight to grab opportunity and quickly veer onto an unexpected path, and you've arrived at the summarized history of Dog Krazy.
"I'd managed several dental offices over the years, and at the last one I would bring my bulldog puppy, Piglet, to work with me," says Nancy Guinn, owner and president of Dog Krazy, which has seven locations in Virginia. "When my boss told me I could no longer bring her, I gave my notice."
The year was 2006, and with a nice nest egg socked away, Guinn felt poised to conquer the world of canine scholarship. Serendipity had other ideas.
"I was on my way to class one night and stopped by my local dog store to buy some training treats," she says. "I pulled up just as the owner put a 'going out of business' sign in the window."
Expressing her dismay, the proprietor suggested Guinn take over operations, offering help and support, the only caveat being no sales of puppies or kittens. Guinn was already a strong advocate of pet adoption, so she gave her assurance readily.
"At the time, I had five of my own rescue dogs at home," she says.
The pair met with the building's landlord, and Guinn was approved to take over the lease. Several thousand dollars lighter, Guinn had the keys to the building in hand.
"That first location was big, 4,000 square feet," she says. "I was learning the business, just starting out, and the rent was way more than I could afford."
After a struggling year, an adjacent site became available. At 1,000 square feet, the space was much more financially manageable for the fledgling enterprise. The landlord offered Guinn a fresh start by letting her out of the old lease and into a less pricey contract.
"We would not be where we are if he hadn't done that," she says. "There aren't many people like that in the world."
While the inventory initially consisted of boutique, toy and gift items, Piglet's own allergy issues had placed food sensitivities and the benefits of sound pet nutrition firmly on Guinn's radar. She quickly added food to the product mix. After three years, the little store was bursting at the seams, necessitating a move to a larger space.
"Because of Piglet's issues, I knew about good food, but I wasn't an expert," she says. "I decided to go to school to study pet nutrition and really started policing everything that I carried. If I wouldn't feed it to Piglet, I wouldn't put it in my store. I have held true to that ideal throughout the years."
The second store opened in 2015, and at that point, Guinn's husband, Chris, left his own accounting career to join the business on a full-time basis.
"I lost Piglet in 2016, and we'd opened the second store right before she passed away," Guinn says.
More locations followed. Then a pandemic loomed.
"I'll have to be honest: We didn't take it seriously—we even went to Global [Pet Expo]. Two weeks after that, I remember sitting in my bedroom crying and deciding which store we were going to close," Guinn says. "We had to lay off several employees, or ask some to stay on in different jobs."
Several weeks into the crisis, 20 percent of staff had been laid off. At that point, things began to turn around.
"We experienced a huge uptick because we were able to offer delivery," she says.
Subsequently, business blossomed and furloughed staffers returned to work.
She obtained a 5,000-square-foot warehouse to stock product, service online orders and deliver products.
"We consider it a retail location as well because we do allow customers to come in and shop," she says. "We have a full staff; it's just not an open-to-the-public, 9-7 type of store."
Seven days a week, two dedicated delivery vans as well as Guinn's personal vehicle ply the roads of Virginia. The popular local delivery service is free with a $25 purchase and overseen by a warehouse manager.
"I have a phenomenal warehouse manager," she says.
Christmas 2021 was also a year of gifting, with the manager of the Leesburg location the happy recipient of her own Dog Krazy store.
"She'd been with us for five years and always wanted to own her own pet store," Guinn says. "Leesburg is a two-hour drive from our home and two to three hours from the other locations. We just couldn't get there as often as we wanted."
Further, the policy of offering free delivery within 30 miles of each store posed a logistical challenge.
"One of our delivery drivers put 80,000 [miles] on one of our vehicles in about six months," she says. "Our manager had moved to Leesburg, and someone in the pet industry gave me the idea of gifting the store to our manager, and she absolutely wanted it."
Capping off 2021, the doors to a 10,000-square-foot facility featuring retail, day care and boarding began welcoming customers, bringing the total to seven locations.
"After opening pretty much one store per year, we are taking a break for now," Guinn says.
An Instinctive Approach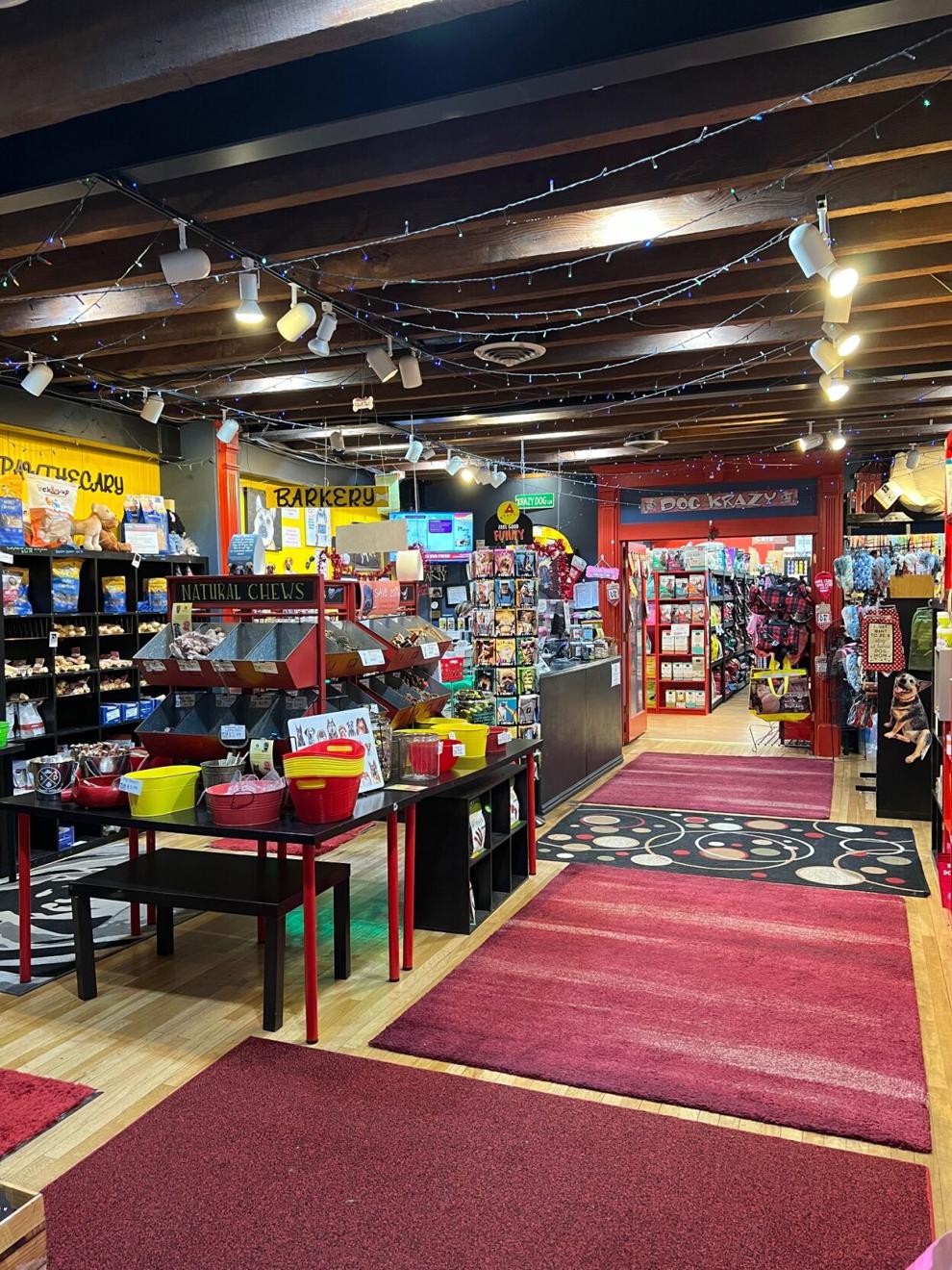 The atmosphere at Dog Krazy is homey and fun, according to Guinn. Bright yellow walls with red and blue accents, favored Guinn-family hues, are spotlighted by a festooning of twinkly Christmas-like lights. It's a nod to Guinn's favorite season.
"The best part of Christmas is looking at the lights. How can you not smile? I even have Christmas lights on our logo and on hoodies for our employees," she says.
The layout of each store considers visiting dogs that may be unfriendly to other furry patrons.
"Piglet was dog aggressive, but she came to work with me every day, and we had a lot of customers," she says. "So we set up our stores with places to hide to try to make these dogs 100 percent comfortable. We don't allow fights to happen—our employees are all taught to body block. I would say a good 10 percent of our customers own dog-aggressive dogs."
Instinct plays a strong role in the growth and success of Dog Krazy, according to Guinn.
"I will never go against my gut feeling, or my beliefs," she says. "I want to go to bed every night knowing that I did everything to help the lives of dogs."
The Guinns work side by side with their employees and encourage staff members to consider them co-workers.
"We work together," she says.
True to Dog Krazy's goal of providing pets and their people a unique and outstanding service experience, a love of dogs is a first and foremost attribute sought after in a new hire.
"Before an interview, I observe applicants as they fill out their application. I want to see how they interact with the dogs coming in," Guinn says. "If they don't stop to love on the dogs, they are not going to be the right person."
An in-house training manager as well as a human resource director oversee a range of educational facets.
"We set up training programs that our employees complete every month," she says. "The beauty is when they finish one of these courses, you see that light and they are so
excited to share what they have learned."
Individual learning styles are taken into consideration.
"Everyone learns differently, and we figure out how each person here functions and teach them that way," she says.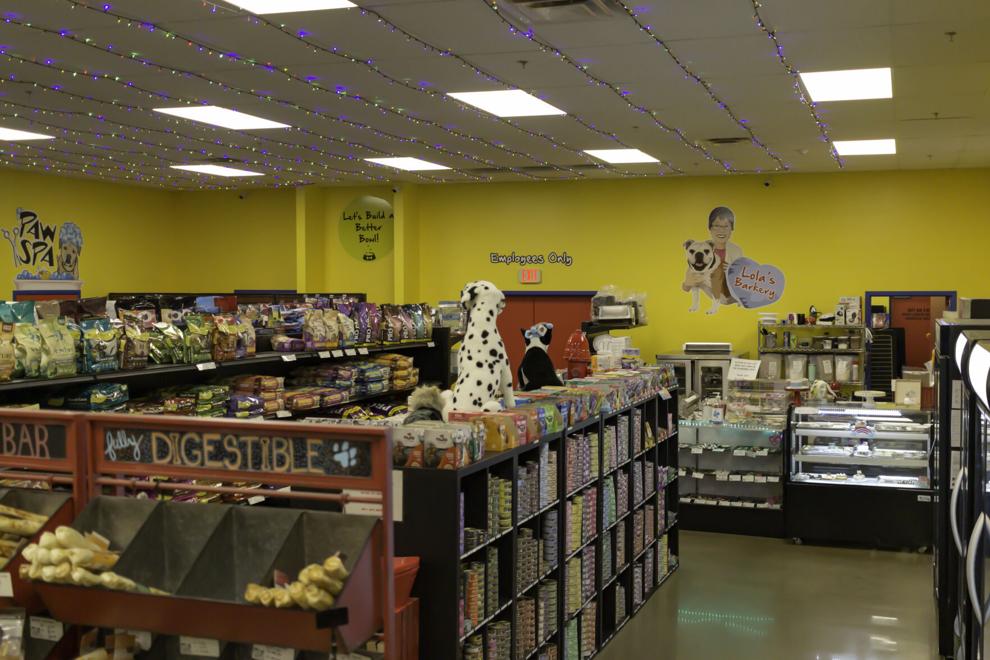 The Proper Nutritional Fit
Food selections run the gamut of kibble, freeze-dried, gently cooked, canned and raw, each personally selected by Guinn.
"It has to be something that I would feed my own dogs," Guinn says. "My reasons are all written out; our employees can just go to my communication board, type in the brand and give the exact reason why I don't carry it. I'm very detailed and open with my customers."
Finding the proper nutritional fit for each customer begins with conversation.
"Always," she says. "And if we don't know the answer, we will find someone who does."
Further, a 100 percent guarantee policy is in place for every product in the mix.
"All the time. If a customer is not happy with a product, they can bring it back," she says. "It literally costs so much less to keep a customer than to gain a customer. So for me to take back a $20 harness because the dog ate it, how much is that customer going to spend over a lifetime? Does $20 matter? It really doesn't."
While Dog Krazy associates do not wear uniforms per se, every staff member sports a red multipocketed apron.
"When a dog comes in, we greet the owner and ask if we can give the dog a treat," she says. "The second question is: Does the dog have any allergies? We have a treat for every type of dog in those aprons."
Customer feedback is always important, and suggested products are researched; however, Guinn's instincts ultimately determine product selection.
"If I am not comfortable carrying a product, I will show the customer something that I think is better," she says. "I am not going to change my mind to make a customer happy when it comes to the products I carry."
Sampling plays a strong role in customer input.
"When we opened our warehouse, we got tons of samples from vendors," Guinn says. "My warehouse manager suggested that we put them in packages for our customers, and that's what we have been doing."
Dog Krazy's Krazy Krates arrive at the homes of customers in a specially designed box labeled with the following slogan, "From our door to yours, here's a box of samples for you to try, give us your feedback, let us know what you'd like us to carry." Two types of Krates are available. Sample Krates, chock-full of vendor-supplied samples, are given away free at the end of each month to customers placing an online order of $50 or more.
"People go crazy for free stuff, and the box has 12 free samples in it," she says. "We usually prepare and ship about 200 Krazy Krates over that weekend."
A quarterly Krazy Krate, which is similar to a subscription box, contains more than $100 worth of items for $50.

Sweet Services
With the opening of the store in Leesburg in 2018, an in-store bakery, Lola's Barkery, began serving up toothsome goodies for the furry set. Lola means grandmother in Tagalog, and the name honors Guinn's Filipino heritage and her own mother, Maria, who set to work creating all manner of freshly baked canine delicacies.
"I wanted to put a bakery in for my mom, who lives in Leesburg, and decided to do a dog bakery," she says. "I surprised her on her birthday."
Three stores feature a Barkery, and the treats are available in every location.
Canines ready for a little pampering relax into a stress-free spa day at Dog Krazy's grooming facilities, offered at every store. The services were added in 2015.
"Our groomers are phenomenal. I admire them," Guinn says. "We have anywhere from one to five groomers in each store."
Baths and spa days are also available for cats at select locations.
For do-it-yourself pet owners, furry bathers emerge squeaky clean from the automated K9000 tubs. All necessary supplies are provided, and the self-serve facilities are available at all but one store.
The 10,000-square-foot boarding and day care facility is currently hosting an average of 35 dogs per day. As pups romp in the indoor/outdoor play yards, well-trained staffers monitor the festivities. Safety is the main consideration, with a maximum ratio of 10 dogs to one handler.
"That's the max—you have to be very well trained to have 10 dogs in your care," Guinn says.
Playful packs are carefully organized with size and temperament in mind.
For less social attendees, Piglet's Package provides one-on-one care and exercise in a separate day care area.
"We assign one person to that day care dog per day, and they get the same activities, except it's with a person instead of the other dogs," she says.
With owner consent, these dogs strike out on well-distanced pack walks with one or two more submissive dogs.
The popular service is booked out months in advance.
Pet owners take comfort in leaving their loved ones at Dog Krazy's boarding facilities. Designed to handle approximately 20 dogs per night, the spacious, top-of-the-line kennels offer the perfect repose after a rollicking day.
"Our kennels are amazing—I could sleep in one comfortably with a full-sized mattress," Guinn says.
The day care and boarding facilities are kept immaculate under the supervision of the day care manager, a dog trainer who also trained Piglet. Day care and boarding staffers spend their first two weeks shadowing and working side by side under the watchful eyes of this expert.
"I could not have done this without our day care manager. She's phenomenal," Guinn says.
The building also houses an on-site bakery, allowing the boarding facility to be staffed 24 hours each day.
"We have four bakers working overnight from 8 p.m. to 6 a.m.," she says. "So, there is always at least two people in the building at all times."
Bakers easily monitor slumbering dogs through well-placed cameras, and they embark on walkthrough checks during the course of each night.
"However, we try to let the dogs sleep at least six hours undisturbed so they are fresh and ready to play the next day," Guinn adds.
For pet owner convenience, a 4,000-square-foot retail store is also on-site; however, retail employees do not work in day care and boarding.
"Those people have to be specially trained and have the right energy to work with the dogs," Guinn says.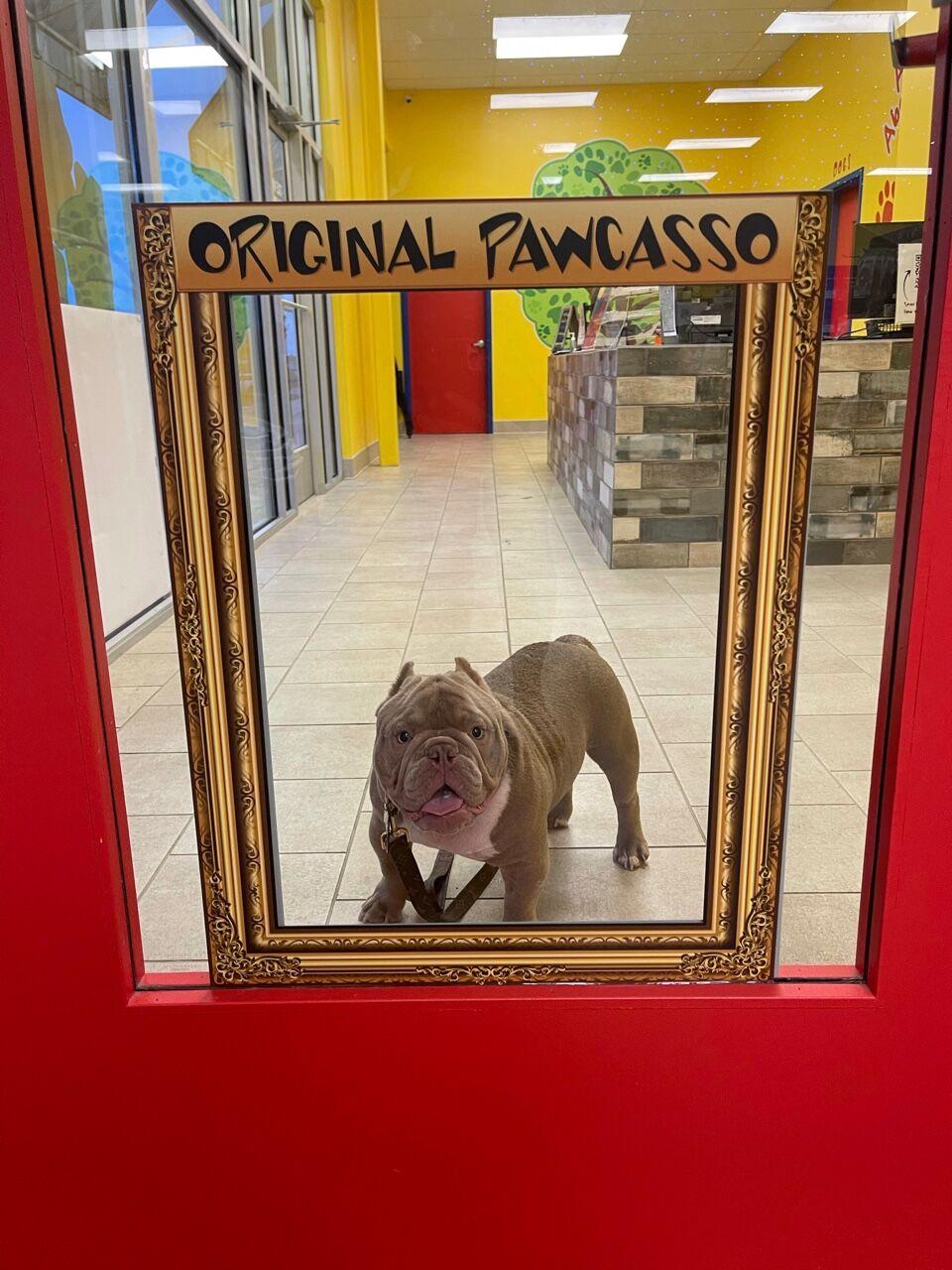 Reaching Out
Dog Krazy's puppy love also embraces the less fortunate, and supporting rescues is a high priority.
"My absolute favorite is the Old Dominion Humane Society," Guinn says. "I love them so much."
The business provides food and supplies to the shelter, as well as funding. It also awards gift certificates to newly adoptive pet owners, with 10 percent of the resulting purchases donated back to the rescue.
"We get back anywhere from 12-25 certificates per week," she says.
Cans of food are strategically placed at the check-out counter, and customers are asked if they'd like to donate a can.
"The donations go to any rescue in need, including cat rescues," Guinn says. "Our employees select the rescues to receive donations."
Further, Dog Krazy lends a helping hand to local residents in need of assistance in feeding their pets.
"At least once a week, somebody reaches out to me, and I always tell them to go by my warehouse and we'll take care of them," she says. "I never want a dog to go hungry."
To celebrate Dog Krazy's 15-year anniversary, and in honor of Piglet, a Piggy Bank was inaugurated to give back to the community.
"We sell pig-shaped cookies with all proceeds going to charities selected by my employees," Guinn says. "Our customers come in and ask for the cookies immediately."
When Guinn's favorite season rolls around, an Angel Tree, replete with ornaments depicting the needs of rescue pets, lights up the ambiance of every store. Customers purchase the requested items, which are then donated.
"Any rescue can make ornaments to put on the tree," she says.
Further, customers are encouraged to donate pet items throughout the year.
"We advertise that we will take any donations," Guinn says. "People drop off bedding and other necessities, and the rescues come in to pick up the items."
---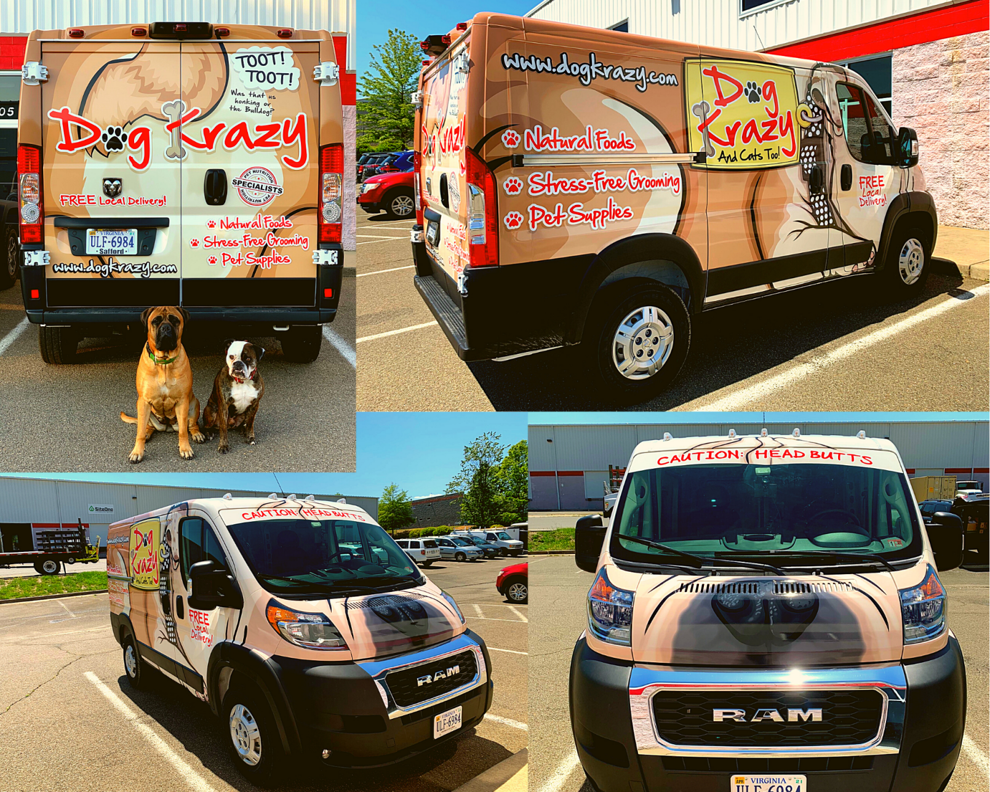 It's A Retail Life
What is Dog Krazy best known for?
Nancy Guinn: We are known for putting the dog first.
What is the greatest challenge for the independent pet retailer today?
Guinn: Hiring and maintaining staff. It is really tough right now.
Greatest challenge for the pet industry overall?
Guinn: Supply chain issues.
Are you watching any interesting trends?
Guinn: People are feeding their dogs better foods these days, and raw sales have gone through the roof. We've added freezers everywhere.
What do you see for the future?
Guinn: We are adding more gift items. When I opened my first store, we had a lot of gifty merchandise, but I took a lot of that out. But we have a lot of people coming in looking for these things. We are going to dabble in that a little bit and see where it goes. I'm also opening a side business, Piglets Pastry, where I will be baking and offering decorated cookies wholesale to other stores. I love baking and will get to create delicious treats for dogs.
---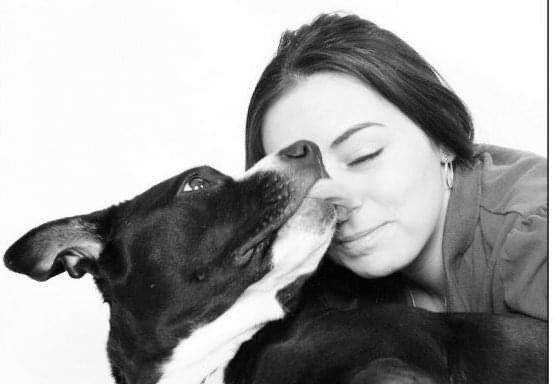 Saving Lives, Promoting Health
When two dog crazy people join in a concerted effort to save lives and promote the health and well-being of pups in need, it's a marvelous collaboration.
Such is the union of Chrissy Blake, founder of Old Dominion Humane Society in Fredericksburg, Va., and Nancy Guinn, president and owner of Dog Krazy.
"Nancy and I have known each other for years," Blake says. "We have seen our efforts grow, and it's been a nice side by side."
The pair joined in their journey to save dogs when Blake, working as a dog walker and pet sitter, stopped into Dog Krazy to drop off business cards. The outcome of that meeting led Guinn to consult with Blake
regarding the nutrition of her charges. With the inception of Old Dominion Humane Society, in 2013, the Dog Krazy owner was onboard to aid Blake in her new endeavor.
"She has been donating food and offering nutritional education from the beginning," Blake says. "A lot of the dogs we rescue have problems rooted in poor nutrition."
An advocate of treating the core of the problem rather than medicating the resulting issue, Guinn has proved a tremendous help to the dogs in Blake's charge. Taking things a step further, her involvement includes
ensuring that these dogs are provided outstanding foods and supplements that will help them flourish.
"I haven't had to buy food for three years—it's made a world of
difference," Blake says. "On top of that, I get to make my morning 'slop,' as I call it."
That "slop" includes a wide range of supplements donated by Dog Krazy and Guinn.
"For instance, I have probiotics, elderberry, [cannabidiol] CBD oils, wet food, chicken broth; it all really helps dogs who may have upset stomachs, kennel cough, or old dogs with arthritis from sitting in a shelter somewhere for so long. I have endless pumpkin lattes, which solve diarrhea issues," Blake says.
Monetary fundraising is another benefit. And should a special need arise, Guinn is at the ready.
"If we have a dog that needs surgery and I'm trying to gather funds, she'll either post it on her Facebook page or will write a check," Blake says.
With Piglet forever in Guinn's heart, bulldogs arriving at the rescue take a special place.
"We have two bulldogs right now that Nancy is taking care of. They both need eye surgery and have arthritis," Blake says. "She has them on a top-notch food and goat's milk, [and] sends nose and eye wipes and special cream to make them comfortable before their upcoming surgery."
Blake is enthusiastic about Dog Krazy's award for independent spirit.
"Nancy has changed Fredericksburg—she works with people and their pets, and they're not taking their dogs to the vet as often for medication," Blake says. "People love their dogs, and she's educated them to step it up a bit. She definitely jumped off the ledge and went for it."