With its lush bluegrass, white rail fencing and high-dollar equines, Lexington, Ky., is renowned as The Horse Capital of the World. Folks wishing to graze on bluegrass of the musical variety find plenty of opportunities to toe-tap to the rhythm of Appalachia's mountain hollow refrains. Aficionados of all things aeronautical often land at the Aviation Museum of Kentucky to browse the 12,000-square-foot institution's exhibition of flight. For the history buff, historical and architectural sites abound.
What Lexington lacks, however, is a petting zoo—a place for children and adults to experience the joy derived from up-close-and-personal contact with animals. However, the city does boast Most Valuable Pets, an establishment where animal lovers are encouraged to caress and cuddle a wide variety of critters, including puppies, kittens, birds, small mammals and reptiles—or to gaze upon a vibrant medley of fish, both freshwater and saltwater.
Most Valuable Pets owner Melissa Whitton, a passionate lover of all creatures, appreciates the value of the human-animal bond. The Lexington native's ardor for pets is lifelong; at the age of 12 she began volunteering at a local veterinary clinic. She stepped into the role of veterinary assistant by age 15, and subsequent part-time work in a local pet retail establishment augmented her expertise, leading to a management position by age 17.
A move to Atlanta for employment as a sales representative for a pet product distributor led to management of a chain of pet stores in the same city. During this time, Whitton also earned a degree in zoology, with a marine biology minor from Auburn University, where the seed was planted for her to open her own pet business.
"I'd planned to pursue veterinary medicine, but when I got to my senior year, a professor encouraged a look at the pet business," she says. "He said that not everybody can become a successful business owner, as most fail within the first five years, so he promoted opening a pet store. 'You can always fall back on veterinary medicine,' he said."
It was during her tenure with the Atlanta pet store chain that she met Vince Whitton, an aquatics enthusiast, also on staff. When the decision was made to open a pet retail endeavor in her hometown of Lexington, she encouraged Vince to join her to take charge of the aquatics aspect of the enterprise.
By 1993, Most Valuable Pets began welcoming customers to a 2,700-square-foot space, sited in a popular Lexington shopping center.
It was a match made in heaven from more than a business perspective for the Whittons, and, in 1996, the duo became husband and wife.
Wishing to promote the delights of pet ownership, particularly to children, a nod to her own roots, Whitton envisioned a concern where members of the community could interact with all manner of creatures.
"When we opened, we adopted the slogan, 'We Are Lexington's Petting Zoo,' she says.
Providing the expertise to ensure a good family fit for pet and human alike has always been paramount.
For this reason, Whitton constantly seeks cutting-edge knowledge by attending trade shows, seminars and veterinary conferences. Whitton is the first woman in the nation to be certified as a companion animal specialist through the Pet Industry Joint Advisory Council (PIJAC), and both Whitton and her husband completed all six designations: freshwater fish, canine, feline, avian, small animal and reptile.
"I am a very big proponent of continuing education and really try to stay on top of things," Whitton says.
This way of thinking proved a recipe for success, and when expansion of the first store was not possible, Most Valuable Pets hung its shingle on a second, 4,800-square-foot location in 2000. For a time, Whitton operated both ventures. However, the entrepreneur was also pregnant with her first child.
"Two stores proved to be too much, so we scaled down to the larger store, which was on the outskirts of town," she says. "We were there for 13 years before deciding to move back into Lexington proper. We have been in our present location since 2012, probably our best ever."
Today, Most Valuable Pets has a modern appeal, with its 28-foot ceilings, LED and neon lights that brighten the interior, and eye-catching shapes and soffits. Attention-drawing columns allow for engaging merchandising. Pet lovers enjoy get-acquainted sessions with animals in the Love Room, where the ambiance is that of an old-fashioned village, with brick façade, benches and parklike murals.
The Love Room lives up to its name and has been the setting for more than one prom date invitation.
"We were actually voted Best Place to Take a Date for four years in a row because people love coming in to play with the animals," Whitton says.
At the front of the store, kittens frolic in their own special abode. Surrounded on two sides by walkway-facing windows, the kitties scrutinize outdoor wildlife, including the human passersby who stop to delight in their furry antics.
The open, rain-forested aviary is enchanting, as birds of a feather flock amid thunderstorms, lightning and rain showers, which arrive at 30-minute intervals.
Offering pets for sale is not without controversy. However, Whitton's take is unique.
"Whether through selling or adoption, we want to provide as many options as possible," she says. "If a family decides to adopt an animal, that's wonderful, but for others, adoption may not be a fit. I love matching people to the perfect pet and seeing the rewards of that relationship."
All Creatures Great and Small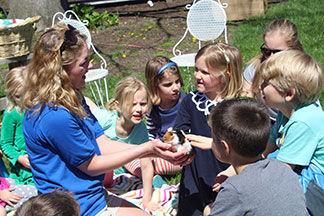 Animals at Most Valuable Pets are acquired locally, within a few hours' radius, enabling Whitton to visit and meet with breeders. New owners are also encouraged to develop relationships with these breeders, if desired. The health of each animal is fundamental.
"We do regular preventative health work; they are up-to-date on vaccinations and deworming," Whitton says. "We feed the highest-quality food, and offer free spay and neutering for all of our puppies and kittens."
Adoptive pet owners can join Most Valuable Pet's Responsible Pet Club, which offers a $25 gift certificate to those presenting proof of spaying or neutering for their new charge.
A large percentage of domestic kittens offered are obtained from local rescues.
"A lot of people don't realize there is a season for kittens, so from November through April they are difficult to find, which is why they represent a smaller percentage of sales than our puppies," Whitton says.
When assisting customers in puppy selection, as well as with other animals, Whitton notes that developing a familiarity with prospective owners—whether there are children in residence, the special needs of the elderly, work schedules, exercise routines—serves to enhance pet recommendations.
"We are kind of the go-to place for hypoallergenic puppies, or puppies of a specific size that will fit in certain living environments," she says. "We have had puppies from rescues, but some rescues are opposed to dealing with a pet store selling live animals."
Along with a full line of supplies for dogs and cats, foods available include high-quality kibble, canned food and toppers.
Small-animal sales represent a sizable portion of the business, and while some animals are acquired from local breeders, Most Valuable Pets also cooperates with rescue organizations.
"It's not something that the humane societies have the resources to take in," Whitton says. "Our small animals are always so sweet because we handle them, we allow people to come in and hold them, always feed the highest-quality foods and provide enrichment toys. Our goal is to offer the healthiest animals possible."
Representing approximately 25 percent of the business, the reptile category is enjoying a resurgence in popularity.
"Reptiles are growing faster than dog and cat," Whitton says.
The store focuses on herbivores, insectivores and omnivores, and lizards, turtles and frogs are popular.
"We want animals that we can get out and hold," she says.
While terrarium design services are available, Whitton has noted an increase in enthusiasts wishing to create their own environments. For this reason, terrarium decorations and habitats have increased in sales, she adds.
"We have several terrariums set up in different styles—for instance, desert or tropical—so people can get ideas," she says.
Boarding is offered for reptiles, small animals and birds.
"We don't do dogs and cats, but we board the animals that no one else does," Whitton says.
A variety of birds, including parrots, parakeets and finches, harmonize in an orchestra of avian sounds. Obtained through a network of breeders, young birds arrive at the store at about two to three weeks old and are hand-raised. Youngsters reaching maturity join the flock in the rainforest aviary for a bit of daytime revelry. All retire to cages at night.
"The birds are out for about 12 hours a day, but if we left them out all night it would be like 2-year-olds in a schoolyard," Whitton says.
The aviary is open to the store, and the branches of the rainforest's trees are resplendent with perches, hanging toys and, of course, birds.
"People always ask why all of our birds get along and what keeps them inside the aviary, since there is no glass front. I say they're like children; they have their friends, plenty of toys and people coming up to interact with them. They are happy," Whitton says. "Some birds like to sit in the trees, some like to run around the floor, but they stay in the aviary."
The area is divided into two sections, with larger and smaller birds separated. All dine on the highest-quality, premium bird feed.
"We try to do things the way we would want our pets to be raised," she adds.
For the Fishkeeper
The busy aquatics division is overseen by Vince Whitton and his crew.
"Aquarium and pond maintenance and design is a full-time job," Whitton says. "Vince takes care of large and small ponds, and commercial and residential aquariums."
With store space limited, photos of installations are available, but the actual creations often serve as off-site showrooms.
"Our design and maintenance clients are very proud and excited to show off their tanks and ponds," she says. "We do everything from a 10-gallon to 400-gallon tanks—nothing is too small or too large. We maintain commercial fountains in downtown Lexington, at some of the local banks and at a lot of the horse farms with their huge, four-story fountains.
"We have seen a surge in aquatics in the past two years," she adds. "People are getting back into the industry, which is nice."
However, proper maintenance is central to a positive experience.
"With aquatics, a lot has to do with maintenance," Whitton says. "Even though people read online about caretaking, when it comes to finding time in their busy lives, they realize they don't have as much time as they need, so the maintenance side of the business has really grown, and that includes teaching people proper care."
In addition to a selection of freshwater and saltwater fish, Most Valuable Pets offers a full line of aquatic supplies and decorations.
The Well-Styled Pooch
For the furry pet set, a full-service grooming salon is available. The service was added in 2010, and today, four groomers are on staff. The facility, with hydraulic tubs, drying tables, cage dryers and a cutting room, is located behind the aquatics department.
"The grooming facilities are not visible from the sales floor since a lot of dogs are not comfortable with people watching," Whitton says. "We have cameras in both rooms, and we can send a link to the pet parent so they can watch their dog being groomed. Dogs like to be groomed in a quiet space."
Patrons often take advantage of free pick-up and delivery services.
For do-it-yourselfers, the Pet Spa's automatic wash and dry system offers a quick and simple solution. The unit features 16 hydrotherapy jets for a massagelike bath and a recumbent drying system.
The MVP Family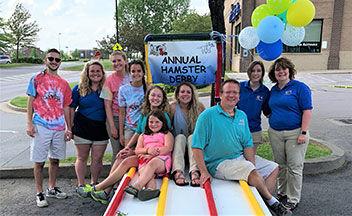 People make the difference, and Whitton notes that Most Valuable Pets staff members love animals and care about their welfare, first and foremost.
"We can train staff on product and care knowledge," she says. "We hire a lot of high school and college students, and for many, this is their first job. We teach people communication skills, educate them on animal care, and teach basic business proficiency in retail, advertising, merchandising and    how to be a good employee."
New hires study PetStorePro, the free online training tool for pet retailers created by the Pet Industry Distributor's Association (PIDA), and are mentored by senior staff.
Many associates have grown up in the store as childhood friends of the Whittons' daughter Lanier, 21, currently a marine biology major. Nine-year-old Sterrett's friends will represent the next generation of enthusiasts. Both have spent many days working in the family concern.
"They grew up in the store," Whitton says. "I may only have two children of my own, but their friends have given me a whole generation of employees, so I've known many for 20 years. I am able to start teaching proper animal care early on, when some come in to volunteer on the weekends, cleaning cages and learning care. These same volunteers often end up working for me later."
This family of colleagues and friends not only spends time together in the store, but also outside of working hours.
"We go bowling or to amusement parks; we've even gone on vacations together," she says.
That family feeling extends to the Most Valuable Pets customer base, and embracing children and their love of animals is a central focus.
"We do a lot of pet talks at local schools, and custom-tailor each presentation to the course being studied and the age of the students in the audience," Whitton says.
In-store, events abound, but a favorite is the Hamster Derby, which takes place the weekend after Lexington's celebrated Kentucky Derby. For the past 18 years, the event has benefited St. Jude Children's Research Hospital.
"This is by far out biggest promotion—it's huge," Whitton says.
As many as 50 hamsters arrive to vie for the championship, but the carnival atmosphere is not limited to diminutive furry competitors. Pony rides, a petting zoo with exotic animals, inflatable slides and bounce houses entertain. Guests boogie to tunes spun by a local DJ while munching on the free popcorn or slurping a snow cone.
"It's a party atmosphere and a lot of fun," she says.
When Halloween rolls around, a Trunk or Treat party ensues, as customers fill the parking lot with decorated car trunks, dispensing treats to children and pets alike.
"There are prizes for the best decorated trunk and costume contests; it's very popular," Whitton says. "We try to do as many parking lot events as we can, but these two are our biggest."
Each happening cements Whitton's commitment to pets, their people and her beloved pet industry.
"I love the pet industry," she says.   
It's A Retail Life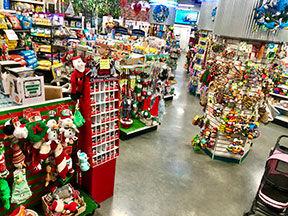 What is Most Valuable Pets best known for?
Melissa Whitton: A place where people can come to play with the animals.
What is the greatest challenge for the pet retailer today?
Whitton: Internet sales. Hands down.
What about for the pet industry overall?
Whitton: Internet competition on the supply side, and government ordinances on the pet side. I remember going to trade shows years ago and hearing people say that the internet was just a small percentage of sales. But it has grown quickly. On the animal side, there are the pet ordinances. We need to watch and be aware, because if people buy on the internet and can't get animals, it's going to hurt the whole industry, regardless of whether you sell animals or not.
Any interesting trends?
Whitton: People are coming back to aquatics. As far as new generations being more interested in animals, I see a lot of kids coming in with their friends and asking questions. We are witnessing eco-friendly trends, both in the manufacturers with their products, packaging and ingredients, as well as the whole country being very cognizant of their carbon footprint. We do a lot of repurposing and recycling. The lights in our store are LED; we have motion sensors for the rooms. This not only saves money, but will also help save the planet.
For the future?
Whitton: We always look to stay ahead of trends, to learn new things. We strive to stay up-to-date with veterinary developments, such as nutritional advancements.
A Most Valuable Faculty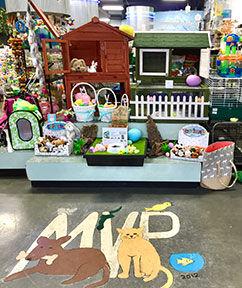 When Winburn Middle School principal Virgil Covington Jr. took to the school's PA system to share the announcements of the day, both student body and faculty enjoyed the backup vocals of "The Warrior Bird," Covington's conure, named in a nod to the school's slogan, "Once a warrior, always a warrior."
"I wanted to create a culture of inclusiveness and play around with the kids, so we had The Warrior Bird," Covington says. "He'd squawk all day though, but the custodian liked him, so he would go all over the school with our custodian."
In the meantime, Denny, Covington's red-bellied parrot, also attended Winburn, spending his days perched on the shoulder of the school's art teacher.
In the front office, an aviary of chirpy finches welcomed visitors.
"My associate principal suggested the finches, and the kids would come in to see them," he says. "I probably broke some board rules in doing that."
In Covington's office, an aquarium, a gift from his mother, included a pair of orange parrot fish, following the nickname of the school, The Orange Crush.
"Vince suggested the 55-gallon tank, which he installed and maintained," Covington says. "He was there once a month, and when we had all those birds, he would also deliver the food."
Besides Covington and life at the Lexington middle school, these creatures all shared another commonality: beginnings at Most Valuable Pets.
"With everything that I was trying to do or create, Melissa and Vince were Johnny-on-the-spot with suggestions," he says.
Covington retired in 2002 but continues to mold the lives of children through substitute teaching, interim administrative work, and a recent step into acting, including becoming a character for the Kentucky Chautauqua, representing novelist and playwright William Wells Brown.
Two years ago, when he decided to acquire a puppy, he turned, once again, to Most Valuable Pets.
"I'd had golden retrievers, but they shed; I'd heard golden doodles don't shed," he says. "Melissa called to tell me she had a black golden doodle for me, which I named Mickey. I have the papers on my dog, and the contact information of the breeder. It's all very reputable."
Naturally, when it comes time for grooming, Mickey visits Most Valuable Pets.
After a lifelong career in education, Covington appreciates the Whittons' knowledge and expertise, and that of their well-trained associates.
"I'll go in and ask questions: What should I do for this? What food should I feed?" he says. "It really came home one day when I was picking up Denny from boarding and, while waiting, listened to Melissa training her staff, discussing problems that might be encountered, solutions and the best products to use. I felt that everyone in that meeting was becoming an expert."