As river water courses down Mount Hakkai in the Niigata prefecture of Japan, it roils over the dark bluish-green Hakkai stone, or Mushi Gui. Time-produced erosion not only smooths the edges of the rock, but creates irregular holes manifesting a bug-eaten appearance, earning the rock the nickname "Bug-Eaten Rock." This stone is highly prized by aquascaping enthusiasts as they fashion their mystical, glass-encased underwater dioramas, replete with artistically placed layers of stone, wood and aquatic plants. Japanese aquascape legend Takashi Amano introduced the prized Hakkai stone, which was originally developed in the Netherlands in the 1930s, to the hobby. Japanese gardening techniques focus on a more Zen-like minimalism than Dutch inspired creations, and while already popular in Europe and Asia, the art is gaining ground in the United States.
Enter Roger Ma, owner of Pet Zone Tropical Fish, which has two retail locations in the San Diego area. Ma's latest venture, the newly inaugurated Hakkai Aquascape Gallery, is situated in San Diego's Arts District Liberty Station. Formerly the Naval Training Center, established in 1923 and officially closed in 1997, the site was repurposed by the City of San Diego in 2000 to become a thriving center of commerce, history and arts, offering a multitude of indoor and outdoor venues. Although Ma's installation is an ideal fit for this creative crowd, aquascaping exhibits are unusual in the United States.
"There are a lot of galleries all over Japan, and there are a handful of galleries in the U.K. and Germany, since the hobby is well established in those countries," Ma says. "Here in the states, I can't really think of any city that has a gallery; there might be a couple of shops that have small displays in their store, but we are the first aquascape gallery in Southern California."
The gallery opened in summer 2020, but Ma's path to gallery proprietor is the culmination of a lifelong love of pets, and particularly the world of aquatics. In 2007, the one-time importer/exporter of consumer and home goods in Europe and Hong Kong resolved to focus on his passion with the opening of Pet Zone Tropical Fish in the Mid-City area of San Diego. While the initial offering also included hamsters, birds and rabbits, the decision to spotlight freshwater fish exclusively was made early on.
Opening a fledging endeavor in the midst of a recession did not prove a deterrent for the entrepreneur.
"The industry has always been pretty resilient, pets are a priority, so consumers cutting expenses, like entertainment, tend to stick close to home and focus on their fish or animals," Ma says.
This fact was born out once more out during the pandemic shutdown, where the venture experienced an increase in revenue.
"A lot of our customers came in before the official shutdown, rushing to stock up so they would have everything they needed," he adds.
With the pet industry considered essential and remaining open, two weeks into the spring shutdown, Pet Zone shuttered its doors for the health and safety of staffers, shifting to curbside pickup and some deliveries for the duration of the shutdown.
"Our online sales surged, so we focused on those sales, like packing and shipping," Ma says. "Our local customers would call, and then come by to pick up their orders, and we'd meet them at the door."
Each of the two retail locations presents an individual niche and ambiance, with a focus on distinctive aspects of the hobby. For instance, upon entering San Diego's Convoy District location, opened in 2017 in one of the largest Pan-Asian business districts in the United States, shoppers are inspired by the array of uniquely decorated 20- to 50-gallon tanks. The site's floor-to-ceiling windows entice passersby inside for a closer look.
The original location is sited in the culturally diverse Mid-City area of San Diego, with plenty of urban foot traffic.
"Our first shop, on University Avenue, has some planted tanks, but it's more fish based," Ma says. "We specialize in our monster fish at [the University Avenue] location, so it's a slightly different focus."
Both locations feature a full line of supplies including aquariums and tanks, plants and accessories, foods and supplements, even Pet Zone apparel and, of course, a wide range of tropical fish.
"Other stores try to do everything, but we focus on what we are really good at, and that makes us a place where people come to pick our brains," Ma says. "We bring in a lot of oddballs that you don't really see in other stores. The most popular fish is probably the rummy-nose tetra."
This specialization has also helped them to carve out a unique position within the industry.
"Our customers know what they are getting from us, versus online, and they know they will get hands-on knowledge from us," he says.
Ma noted changes in the industry over his 13 years in business, including a rise in online sales.
"We still do have quite a bit of local customers walking in, but I'd say overall online has taken a shift, especially these last couple of years," he says.
With aquascaping's growing popularity, particularly over the past four years, Pet Zone's clientele has shifted to embrace the craft. Ma describes aquascaping as landscaping in an aquarium. While some of the creations don't include fish, and the layout of the plants, rocks and wood bask in the limelight, fish add to the look of a design.
"The fish are a complement to the overall aesthetics," he says.
With influencers on YouTube and Instagram shining a spotlight on the art, decorating contests are also on the rise. While these events are more common in Japan and Europe, U.S. gardeners are getting in on the contests and doing well.
"The International Aquatic Plants Layout Contest, launched in 2001 by Takashi Amano, held in Japan, is seeing more U.S. contestants ranking pretty high," Ma says. "With 2,000 to 3,000 entrants, the criteria is pretty crazy, but in the last few years there was about a dozen or so Americans ranking in the top 100."
With the opening of Hakkai Gallery, enthusiasts are able to envision their own artistic endeavors as they browse displays in an imaginative atmosphere.
"We've kept this location more minimalistic; there is not a lot of inventory and everything is uniform," Ma says. "We use black stands on one side, and the other is glassed. The lights are uniform, for instance in color and model. It's like an actual art gallery and is definitely a work of art."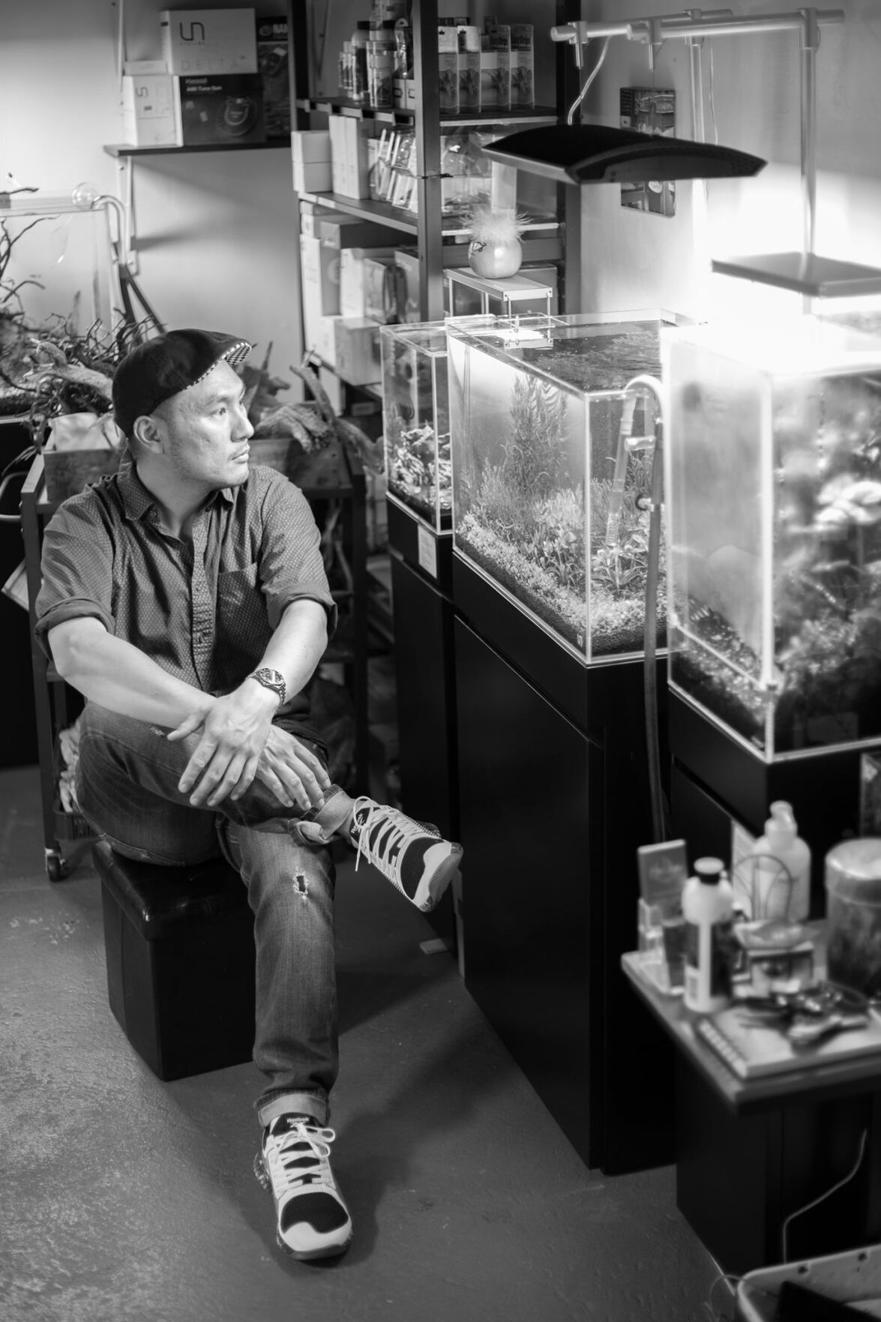 A Networking Zone
Networking with other experts within the industry is a key aspect to the success of Pet Zone.
"We have a set group of people that we have worked with over the past decade," Ma says. "They help us import everything we need."
While some livestock is shipped directly to the shop, imported fish are often handpicked at an importer and quarantined once they arrive.
"We drive up to Los Angeles once a week to make sure we see the fish in person before taking them back to the shop," he says.
Additionally, Pet Zone ships fish from online orders.
Pricing is another consideration, and, unlike at many other establishments, charges are fixed at Pet Zone.
"There are a lot of hagglers in this hobby, and we want to ensure we are able to provide the best value so we can't really wiggle on our prices," Ma says. "Most shops do allow it, especially during tough times where they just want to make some sales, but it brings down the market value of the fish."
Assistance is provided to both aficionados and newcomers in setting up their tanks, as well as those enchanted by the craft of aquascaping.
"Our Hakkai Gallery is mostly consulting based, so we have customers come in and take a look, and we have helped quite a few people with pointers. We provide everything needed to re-create what is seen on the shelf," he says. "It's just like any other art gallery where you soak in the vibe and appreciate everything that is in there."
The district's First Friday art event, a monthly self-guided art tour, traditionally finds visitors strolling and visiting various galleries.
"During COVID, everything has shifted, so we are now doing many of our streams online," Ma says.
However, access to the common-area courtyard of the arts building allows in-person aquascaping workshops, held at a safe, social distance. For these events, participants build their own scene while following along with an instructor. Tanks and all materials, such as stones, rocks, driftwood and plants, are supplied.
"We'll feature a couple of different plants, or a plant a week, and provide information on how that plant grows," Ma says. "We are planning to hold a lot of workshops providing overall education."
The exhibition is sited in the art district's two-story Barracks 19 building, which features galleries and studios on both floors in standalone suites with a range of artistic offerings.
At the two retail locations, regularly held workshops also assist customers in designing and setting up their tanks.
"Prior to COVID, we tried to hold in-store workshops every two weeks," Ma says. "We call ourselves an educational place. You have to gain a customer's trust, and they will spend a lot more in the long run."
With knowledge central to the success of this enterprise, and in the fish industry overall, the expertise of staff members at Pet Zone is a valued element. For this reason, passion and a thirst for knowledge are attributes sought in a new hire.
"We want to make sure they have been in the hobby for quite a while, that they know what they are doing about water changes and the whole cycling process," he says. "We want to make sure they are aware of which fish are compatible and that they are willing to learn. There is a whole array of different criteria that we look at."
Most staff members have been involved in the hobby for at least 10 years, and many have been on the Pet Zone team for three to four years. Education is ongoing.
"If we see a fish that we've never carried before, everyone starts looking them up and researching," Ma says. "The learning process also includes attendance at trade shows, like SuperZoo, Aquatic Experience or Aquaculture."
"We go to a show at least every two months, and we have done a lot in terms of aquascaping and our flowerhorns, and have helped some organizations with judging," he says.
This proficiency translates to outstanding customer service and the ability to assist customers in setting up and placing compatible fish into their own tanks. And while the majority of the customer base constitutes long-time enthusiasts with their own expertise, newcomers to the hobby constitute 15 to 20 percent of Pet Zone patrons.
"We'll help them every step of the way, how to get the filters and everything installed, right down to the whole cycle process," Ma says. "We like to make sure our customers know exactly what they are getting into. Sometimes the customer is really adamant about mixing certain fish that shouldn't be put together, but I'd say, for the most part, they listen to our advice."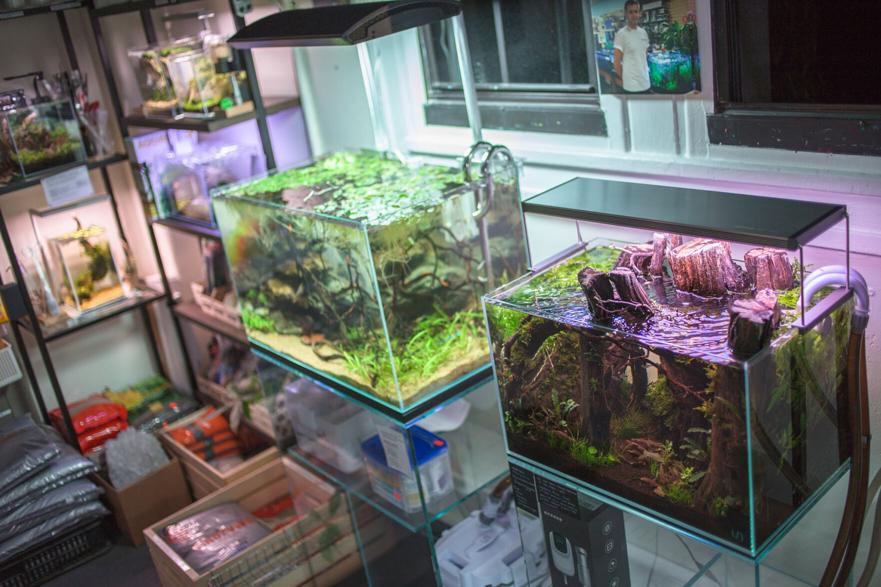 ---
Pet Zone Tropical Fish at a Glance
Owner and founder: Roger Ma
Locations: 64266 University Ave., San Diego; 4160 Convoy St., San Diego; Hakkai Aquascape Design Gallery, 2690 Historic Decatur Rd., Suite 104, Liberty Station–Barracks 19 Art Center Building, San Diego
Number of employees: 4 full time, 4 part time
Years in business: 13
Square footage: 2,000
Website: petzonesd.com, hakkai.com
Products and services: Tropical fish, aquariums and supplies, educational workshops, Hakkai Aquascape Gallery, curbside service
---
It's A Retail Life
What is Pet Zone Tropical Fish best known for?
Roger Ma: We are known for our aquascapes and our monster fish.
What is the biggest challenge for the aquatics industry?
Ma: Regulations. There are certain species that can't be imported to the United States, and certain species that can't be exported out of their respective countries.
Are you watching any interesting trends?
Ma: Back in the '80s, especially if you were a kid, you wanted the biggest aquarium and a lot of artificial plastic plants and things. Nowadays, people are shifting back to smaller tanks—I would say nano-sized tanks, like one to 10 gallons—and are using all-natural elements.
What do you see for the future of Pet Zone Tropical Fish?
Ma: We are going to be expanding more into the online space, but we want to keep focusing on what we do best.
---
Dual Insights
When Orlando Melchor brought a betta fish home for his 2-year-old daughter Olivia to enjoy, he did not foresee how the acquisition would portend his own awakening into the world of aquatics.
"I ended up taking care of that fish, which led me to a bigger tank with decorations, which led to hardscaping, and then to aquascaping, and that's how I got involved in the hobby," he says.
Initially, Melchor stuck his toe into the enthusiast pond by shopping at another local fish store, but he soon discovered Pet Zone.
"I'd been in the hobby for several years before I found Pet Zone," he says.
With aquascaping a Pet Zone specialty, Melchor was hooked.
"I got further into the aqauscaping scene because of Pet Zone. The hobby is one of their strong suits; it's one of the more aquascaping-focused stores in San Diego," he says. "Local fish stores offer mostly tropical or saltwater fish and don't really deal in aquascape supplies, like hardscapes, lights or CO2 systems."
As a customer, Melchor was drawn to Pet Zone's open, friendly environment.
"Customers are greeted right away and asked if they need help, what they are interested in, what they have in mind for their tank," he says. "Generally, the first response is 'I'm just looking around right now.'"
Staff members leave customers to wander, then circle back to ensure they are finding everything needed. From there, a conversation begins.
"They ask questions like what kind of tank the customer has at home, what fish they are looking for," he says.
With this background, in 2020, Melchor shifted from customer to colleague, coming onboard as a Pet Zone team member. He hasn't looked back.
"Besides being fun as a hobbyist, it's very rewarding to offer my personal opinions, and then to see the look on a customer's face as they agree," he says.
Melchor notes that helping customers make the right selections is most gratifying.
"The big chain stores might provide misleading information; all they want to do is make a sale," he says. "Here at Pet Zone, we are not focused on just making a sale. We want to make sure it's a safe fish to keep with other fish. I talk with our clients about the behavior of certain fish. Customers actually thank us for being so honest and straightforward so they don't waste their time and money on a fish or a product that is not going to work out in their home aquariums."
It's this personal attention that keeps enthusiasts coming back.
"We always try to be as helpful and insightful possible while respecting the customer's opinion and offering our personal take and experience regarding fish, tanks and plants," he says.
Providing this service includes plenty of research and expertise.
"We have clients looking for a specific type of fish, for instance, monster fish, and we have experts who can talk monster fish with a customer for an hour or two," he says. "That's what people want, someone who understands what they are selling and won't rush them out the door to help the next customer. Honest conversations are very important between hobbyists, and that's what we offer here at Pet Zone."
Besides those new to the hobby, long-established fish keepers are a major component to Pet Zone patronage. These enthusiasts appreciate the knowledge and fervor of staff members who "walk the talk."
"Our management is always researching and providing information, and it's something I do on my own—I'm constantly looking at YouTube, websites and hobbyist forums, or reading about new products," Melchor says. "It's always a good experience to come in to the store and hear about the new products coming in. We are all fish nerds, everyone has at least a couple of tanks at home, and we talk about our experiences and are always pushing ourselves to find new information or products."
This quest for wisdom is heartened by owner Roger Ma, who takes time to inform staffers of new products and supports home use of them.
"He encourages us to take a new product home, try it out, talk about our thoughts, which we then share with our customers," Melchor says.
Pet Zone's focus on freshwater fish is key when it comes to assisting customers in their selections.
"It gives us one primary focus and makes our job a lot easier when it comes to educating our customers," he says.
When not helping shoppers at the Convoy location, Melchor is a presence at the Hakkai aquascape gallery and presents jumbo aquascape workshops every Sunday.
"Our numbers at this workshop vary but seem to be growing as we are becoming known," he says. "It's fun and very addicting. It's a personal creation; a small, thriving, living world."
Melchor adds that visitors to the gallery are often amazed at the display of living plants.
"People don't actually think that you can keep live plants in an aquarium, especially those that are new to the hobby or are seeing these types of aquariums for the first time," he says. "They are all surprised, and that's what gets them hooked."
Melchor notes the health benefits of the hobby during uncertain times.
"I would encourage anyone stuck at home to get a small nano tank. It's the perfect time to focus on something that will create happiness, release stress and change your life," he says. "I guarantee you'll end up with a 40-gallon tank by the end of the year."