In 1965, as Lenna Jean Preuss ushered the denizens of Troutville, Pa., into The Fish Bowl, her vision for the fledgling establishment transcended mere sales of fish. The entrepreneur's commitment embraced relationship building, while providing patrons with the educational tools required to ensure fish-keeping success. At the time, it's likely the businesswoman did not foresee how this knowledge and engagement would form a legacy for future generations of the Preuss family.
But perhaps she did.
The Fish Bowl closed its doors several years later, and by the early '70s, Lenna Jean's foresight had taken another turn with the opening of Noah's Ark in Cambridge Springs, Pa. A precursor of things to come, this new enterprise starred a menagerie of critters. An ark replica was placed front and center inside the store. Onboard were birds, reptiles and a wall of fish tanks.
"Cambridge Springs is one of those old village towns, and we lived above the store," says Rick Preuss, Lenna Jean's son and co-owner, with wife Debbie, of Preuss Pets in Lansing, Mich. "Living there was really cool, especially with the howling monkeys, toucans, mina birds and all kinds of animals down below making interesting and fun noises. It was an awesome environment for a young kid."
Life changes saw Noah's Ark shuttered, and the family relocated to Haslett, Mich., in 1981, where Lenna Jean managed another pet store for a year. But her drive to manifest a vision led to the opening of Preuss Animal House in 1982. At that point, Rick Preuss, in his last year of college, made the decision to join the family business.
"I jumped out of school to help get things up and operational," he says. "We were definitely underfunded back then—we had a couple of wrought iron stands with a plywood board on them and a box for our cash register. Each day we would sell what we could, run out to a local wholesaler with the cash we had, buy what we could afford, put it on the shelf and go at it again."
The original store in Haslett was sited in 2,000 square feet, eventually expanding to 4,000 feet before necessitating another relocation in 1995 to a larger space in the same city. In 2006, the business moved to the present store in Old Town Lansing, Mich.
Today, 14,000 square feet of retail space presents saltwater and freshwater fish, pond products and plants, birds, reptiles, small animals and a full line of supplies to support these creatures. An extensive selection of dog and cat foods and supplies rounds out the mix. Additionally, 10,000 square feet are dedicated to storage, breeding rooms and quarantine areas.
Throughout the journey, Rick's brother Rob Preuss undertook the innovative and artistic construction tasks.
"It took a creative mind," Rick says. "We didn't have a lot of financial wherewithal—we couldn't go out and hire a production crew from Hollywood—but we wanted a Hollywood-type performance."
True to that touchstone, a visit to Preuss Pets is akin to stepping into a Caribbean village. At the entrance, an alluring outdoor waterfall appears to cascade into a tropical paradise. Inside, a sparkling, foliage-lined waterway meanders throughout the store as koi fish glide jewel-like to the lilting sounds of the 80-foot stream. Hoover, a catfish of ample size from the Amazon River, charms guests by soliciting treats and caresses.
"Hoover loves to be petted," Rick says.
Visitors are captivated by the storytelling décor. In a nod to an earlier ark, a bright green school bus, epitomizing the Preuss Pet ideology of education, resides mid-store. The well-lit vehicle serves as a homey residence for a plethora of small animals lounging in environmentally appropriate habitats.
A cherry red Triumph Spitfire, suspended from the ceiling, ushers shoppers into the reptile department, where a plane's fuselage soars overhead, appearing to have crashed into the ceiling.
The front counter is fabricated using the materials from an old boat.
"A local fellow here builds things from refurbished materials, and this was his idea," Rick says.
Further renovations are in the works, including repositioning the Bug Bar closer to the register and to the side of the reptile room as a convenience to customers and employees. Crickets, cockroaches, worms, or chopped-up vegetables and other delicacies are included in the offerings.
"We have embellished it a bit more with some merchandising [and] easy-to-pick-up items," Rick says. "This also makes it easier for staff to help our customers and maintain cages at the same time."
Tortoises Fred and Ginger, fixtures since 1982, preside over store activities.
Throughout the journey, Preuss Pets follows the aspirations that were set forth by Lenna Jean.
"Early on, she taught us the importance of looking past pets to the people, even though the animals are the most important thing to our customer relationships," Rick says. "Initially, she tended to be more of a guidance counselor because people often seek pets to fulfill needs. Some need help, some need friends and some just want fish, but whatever their desires, we are able to be there in a more holistic way, and can have more meaningful relationships. It's more than just a strict business of selling pets."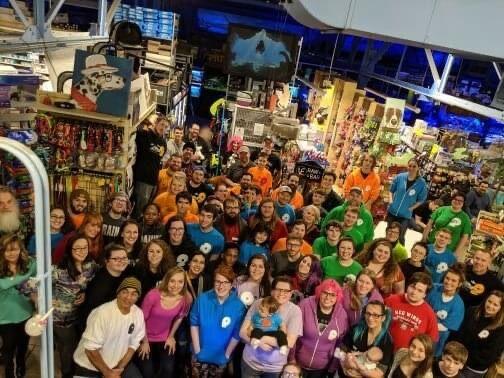 Sharing Expertise
Since people and animals come first, the ability to share expertise and knowledge is a key factor at Preuss Pets. This goal is accomplished in many ways, but always circles back to Lenna Jean's philosophy of enrichment, which has filtered down through each generation of Preuss.
For example, Rick Preuss teaches a single-day introductory class at Michigan State University. Covering the science of fish-keeping along with the trials and tribulations of running a pet store, he queries students at the end of the course as to their impressions of his favorite animal.
"They guess fish, but I tell them my favorite animal is really the human; having a love of people makes it all worthwhile," he says. "That doesn't mean I don't love animals—I do, I have dedicated my life to them, and fish are a hobby that I really enjoy—but if I was only judging success by how many fish I could sell, I don't think it would be nearly as meaningful."
Outstanding customer service is central to this principle, and staff members are integral to the strength of the store's reputation. Rick notes that beyond a love of animals, he looks for "people people" when considering a new hire.
"There is something sacred about life, and we are entrusted with so much of it here. Once people realize our intentions and accept us as a local expert here to help, they share with their neighbors and friends and relatives," he says. "We keep firing on the idea that people really matter and their pets matter to them and to us."
Training is straightforward and includes plenty of shadowing of senior staffers. Further, Preuss Pets' B.I.T.E.S. protocol, "bond, investigate, teach, ensure satisfaction," helps with understanding and accomplishing these goals.
"This is ultimately a sales technique that specifically focuses on really connecting with the public, acknowledging them, knowing they are important, and using knowledge to connect and really understand each other," Rick says.
Many store associates are Michigan State University students.
"At MSU, there's a strong biology department including marine biology, fisheries and wildlife and a number of disciplines, so it's a natural fit," he says.
Following family tradition, Rick, and Debbie Preuss, who specializes in the bird department of the store, are joined by daughter Kirbay, who handles store management duties, the scope of which includes all forms of social media contact, staff training and even hitting the sales floor during peak traffic flows.
"I grew up in the store; at nine, I was standing on an egg crate so I could reach the register," Kirbay Preuss says. "In my mind, I'm still 10, dressed in a chicken costume and standing on the street corner holding a pink poster board trying to get people to come into the Haslett store."
The chicken days are long gone, and today Kirbay spends plenty of time strategizing with her parents in business decisions.
"We have hit a major growth spurt and are just trying to catch up," she says.
This growth encompasses small animals, reptiles, dogs and cats, and aquatics.
The spacious aquatics showroom features a broad array of freshwater and saltwater fish showcased in beautiful, imaginative tanks under soothing lighting. As fish keeping is a knowledge-intensive hobby, Preuss Pets is committed to assisting enthusiasts in their enjoyment of a healthy aquarium with thriving fish. A proficient staff is committed to solving customer problems and providing one-on-one solutions.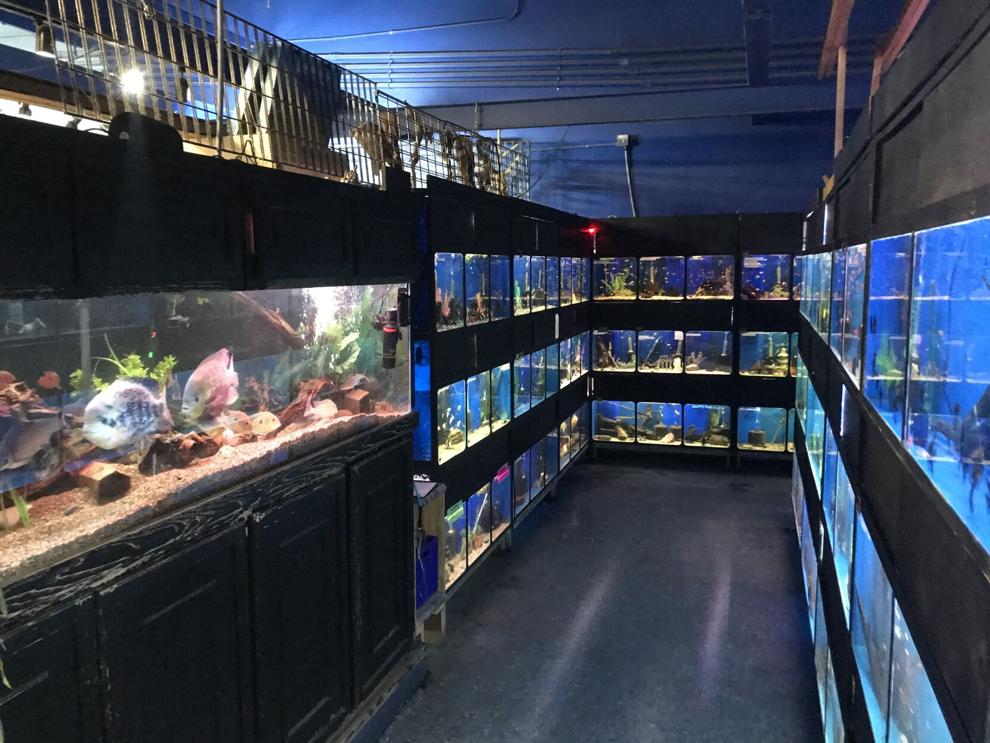 Preuss Pets' Four Pillars are central to meeting this objective and cover necessities such as proper tank husbandry, correct feeding, the nitrogen cycle of an aquarium and the significance of fish health.
"Our Four Pillars are structured so our people can focus on what is important and they can branch out from there," Rick says.
To further promote a beautiful aquarium, enthusiasts stop by a tiki hut, where water testing is available free of charge. Associates provide additional input regarding the necessary elements to maintaining a vigorous aquatic environment.
Many fish offered for sale are bred on the premises, particularly species that are known to ship poorly or arrive with potential issues such as viral infections.
"We can confidently sell our fish knowing they will do well and won't have a disease," Rick says.
An onsite veterinarian with a passion for fish and fish breeding has been with the company since 1988. Besides overseeing the breeding program, this professional also provides on-site medical treatment.
Hobbyists and businesses desiring tank maintenance take advantage of Preuss Pets' mobile aquarium services.
"We have a top-notch, professional crew out in the field and more than 100 tanks that we visit on a monthly basis," he says.
For home or business, custom designs and installations are in the offerings, as are plans for ponds and water gardens.
"Michigan State University has asked us to design environments for octopus or electric fish, for instance," Rick says.
The jungle-themed reptile room, with beautifully displayed, well-suited habitats, features an extensive selection of reptiles, snakes, amphibians and invertebrates.
Knowledgeable staff members walk customers through a detailed step-by-step process of care, which includes proper environment, suitable temperatures, lighting and habitat aesthetics.
"Everything that we do is very out of the box and focuses heavily on animal husbandry," Kirbay says.
Inside the glowing-green school bus, small animals dwell in homey environments. Hamsters, guinea pigs, gerbils, rats, hedgehogs and ferrets, many bred in-house, are among the residents. However, true to its credo of service and enlightenment, Preuss Pets provides cutting-edge expertise.
"Our heavy categories are the small animals, and we have been implementing bioactive environments in our department for a very long time," she says. "This is something you are starting to hear more talk about in the industry."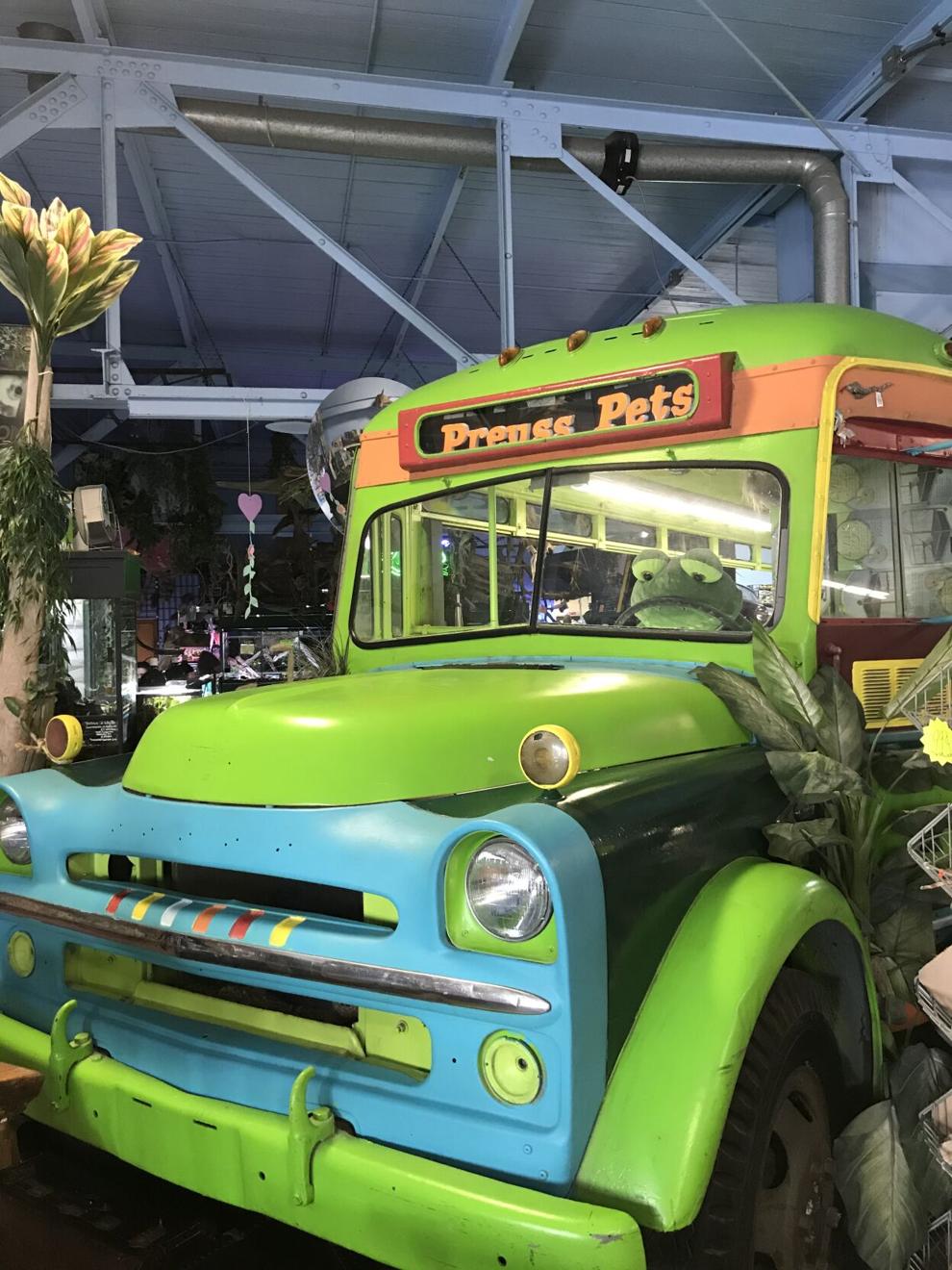 To further enrich the lives of these creatures, staffers from Preuss Pets visited manufacturer Oxbow Animal Health's educational center in Nebraska for a deep dive into feeding practices, enriched play, appropriate bedding and enhanced environments for these creatures.
"It's more than a hamster with a water bottle, paper bedding, a wheel and pellets," Kirbay says. "It's about thriving."
Along those lines, customers wishing to purchase a small pet take part in consultations covering proper care and feeding practices and to determine the best animal fit.
"Once we explore these considerations, the customer might pause and reconsider their initial selection and think of other possibilities," she says. "That's the beauty of having options to offer."
All Things Canine and Feline
Preuss Pets does not sell puppies and kittens, but it offers a wide range of dog and cat foods, supplies and treats. To appeal to all budgets and demands, nutritional offerings are diverse. Although raw foods are becoming more of a focus, the varied needs of the pet community are front and center.
"I follow Dr. Karen Becker's philosophy and encourage my staff to do so as well," Kirbay says. "That means a more balanced approach to nutrition. We do not shame anyone for their food choice, because that may be economically where they are, but we always try to offer suggestions and advice that could lend itself to a healthier animal."
Since the demographic at Preuss Pet is very rescue oriented, many adoptive owners may come in feeding a lower-grade dog food. The goal is to provide education with the hope of stepping up to a higher-quality food.
"I still want to offer the other brands so I can reach the consumer who might want to buy a $34 bag of dog food and not be hassled," she adds.
Pre-COVID, by partnering with a local nonprofit rescue, Preuss Pets had cats and kittens available for adoption year-round.
"We have always had an adoption center here, but with COVID we stopped and referred everyone back to that rescue," she says. "We are picking up again with our adoption program."
As Preuss Pets is a destination store, COVID presented an array of challenges.
"The biggest has been supporting our staff from a mental health perspective," Kirbay says. "The reality is that when you are taking a staff of close to 70 through a global pandemic, where service expectations are high, you have to be sympathetic to the fact that these people are giving their all in a really scary, unsafe time."
With safety the No. 1 goal, Saturday staff meetings allowed staff members to air concerns. As a result of these gatherings, Preuss Pets closed its doors during the first month of the lockdown.
"It was literally a lot of running back and forth for curbside service, video chats with customers, and a lot of over-the-phone, social media and email contact," she says.
True to Rick Preuss' avowal of humans as his most favored animal, Preuss Pets' means of bonding with the community are as creative as the store décor.
For example, as the pandemic wore on, the Preuss family recognized the spirit of their establishment as a destination, and a place of entertainment and solace during troubling times. Because of the social distancing factor, visitors making required appointments were screened to determine their shopping purpose. In order to keep in-store numbers low and maintain social distancing, customers often lined up for 30 minutes or longer before entering.
At the same time, the arts community was suffering. In these travails, Kirbay saw possibility.
"As I was watching these lines form, I saw a captive audience and the opportunity to set up a stage," she says.
Preuss Pets partnered with a local arts group, The Artist's Umbrella, and performers were hired to entertain outside of the store on weekends.
"It helped the artists, and it helped our customers while they waited outside," Kirbay says.
In further alliance with The Artist's Umbrella, conservation efforts were spotlighted. When a Preuss Pets staffer became involved with Project Golden Frog, a group invested in saving the Panamanian golden frog from extinction, performers and customers came together for an event to benefit the organization.
"The beauty is that all the proceeds went to the effort," Kirbay says. "It was bringing arts, conservation and our business together to do something good."
Hoover the catfish and his cadre of koi are also immersed in fundraising endeavors.
"For a dollar, kids and adults can feed the fish. It's a huge draw," she says. "Every month, we work with a different organization, many pet rescue oriented, but others are beneficiaries, like a local woman's shelter."
Children are a strong focus, and Preuss Pets' Exploration Classroom is put to good use in myriad ways. For example, Kirbay assists local Girl Scouts in achieving animal-related merit badges. The one-time troop leader also teaches an animal yoga class to local children. And when schools are in session, Preuss Pets is a popular destination for field trips.
Sunday Storytime, an ever popular children's story hour held in the classroom pre-COVID, is presently a Facebook Live event that takes place weekly.
"A pet store isn't complete unless it's part of a social community; it goes back to my mother's beliefs," Rick says.
---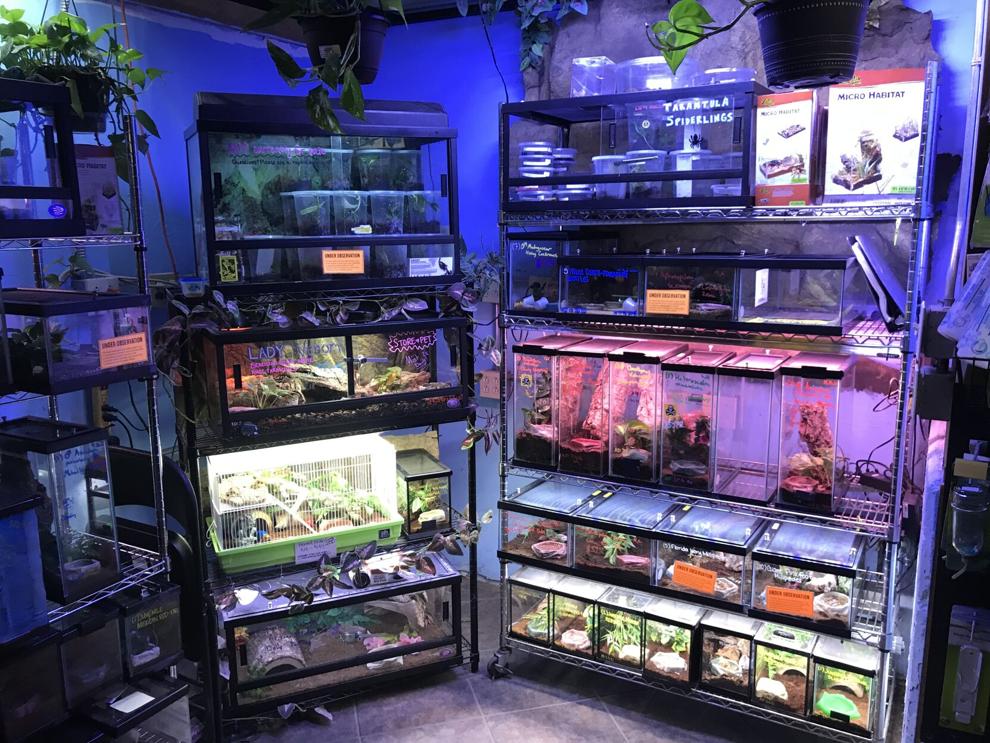 Preuss Pets At a Glance
Officers: Rick Preuss, co-owner; Debbie Preuss, co-owner; and Kirbay Preuss, store manager
Location: 1127 N. Cedar St., Lansing, Mich.
Number of employees: 25 full time, 40 part time
Square footage: 14,000 retail, 10,000 warehouse with fish breeding, quarantine, coral propagation, small animal, reptile rooms
Years in business: 39
Website: preusspets.com
Products and services: Saltwater and freshwater fish, pond supplies and plants, birds, reptiles, small animals and supplies; dog and cat foods and supplies, cat and kitten adoption in-store, mobile aquarium maintenance; exploration classroom, birthday parties, story hour, educational seminars, Feed the Fish, educational outreach programs, radio program
---
It's A Retail Life
What is Preuss Pets best known for?
Rick Preuss: Our overall quality, engaged service, and for just being a cool destination location.
What is the biggest challenge for the independent pet retailer today?
Preuss: Right now, it's reformulating retailing and staying relevant. It's a shifting landscape. Online business is ever present, and yet there is need for a brick-and-mortar facility with the ability to offer real service.
What about for the pet industry overall?
Preuss: Again, maintaining relevancy. This might mean becoming more online involved, strengthening the benefits of being a brick-and-mortar store or a combination of both.
Are you watching any interesting trends?
Preuss: With COVID, we've seen families become more involved in pets and pet keeping. People are looking inside of themselves, questioning what's missing in their lives, and finding that animals can fulfill those needs.
What do you see for the future of Preuss Pets?
Preuss: We will continue to focus on bringing magic to the industry, to make smiles happen, for hobbyists to be successful and to share with friends.
---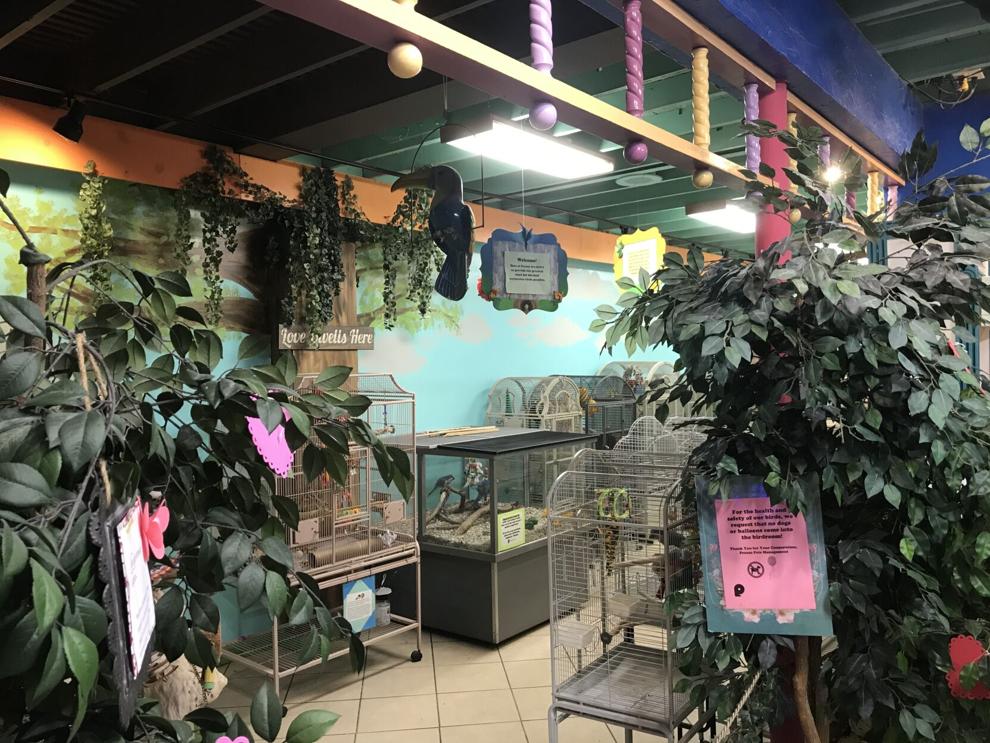 Birding From Both Sides
Nate Durbin is familiar with Preuss Pets from both sides of the aisle. The long-time bird enthusiast's journey from customer to Preuss Pet associate commenced at the Haslett location, where he purchased his first cockatiel.
After relocating to Washington, D.C., for employment, a subsequent move back to the Lansing area in 2015 found Durbin shopping once more at Preuss Pets.
"I'd fallen in love with birds and wanted more, so I came in and talked to the folks here and ended up purchasing a macaw," he says. "The thing that really drew me is their vision of success. The more successful your animal is, the happier they are with you."
In 2017, Durbin's life shifted once more when he came onboard as a staff member. From this perspective, Durbin gained further appreciation for Preuss Pets' facilities and breeding practices.
"We breed everything from finches to cockatiels," he says.
Birds not bred on the premises are purchased from reputable breeders.
"Debbie Preuss has 40-plus years of working with different breeders so has relationships with a very good core group," he says. "She is very careful in ensuring that birds are responsibly bred and have great genetics so they will be really good companions."
Babies are acquired at four to six weeks of age and hand-fed as they grow.
"There is a lot that goes into our guys, so our customers can be confident that they have had the very best upbringing," Durbin says. "We love our babies; it's very hard to see them go, but it's all about building a really good, solid companion in a nurturing environment."
Determining the right fit between bird and customer is central to these objectives.
"It's literally all about the conversation. Before we even go into the bird room, we chat for 15-20 minutes, just to create a good rapport," he says.
The bird rooms at Preuss Pets are fun and inviting, with colorful pictures on the wall and play areas for feathered enrichment. The area is divided into two spaces, one for soft billed or smaller birds, such as parakeets, canaries, or finches, and a place for larger breeds, such as macaws, featuring java trees for hanging out.
"It's not your typical environment where everybody is in a glass cage; we really try to make it fun and enriching," Durbin adds.
All birds are named, and customers sometimes visit for months, asking for a specific bird before making a purchase decision.
"It's all about the relationship and making a connection," Durbin says. "We are not a 'Come in and buy an animal and go home' store. We are a 'Let's educate you and talk about it' store. We are very careful when we send a bird home."