Whether it's hosting a nutritional seminar, providing medical assistance for a nearby feral cat loved by the locals or serving up the best doughnuts and tasty lobster rolls, Purrrfect Bark has made an impact in the community of Columbus, N.C., which has just 1,000 residents.
"We are very small-town USA," says owner Eric Mack. "I'd say most of our customers come from within a 10-mile radius, which in the country is not a huge drive."
Embracing both pets and people is Purrrfect Bark's goal.
"I try to always have something going on," he says. "It also keeps our name out there."
Mack grew up in the industry, commencing his career in a farm and feed supply store owned by his family. Preferring pets over livestock, Mack eventually left his managerial position at Little Mountain Farm Supply in 2011 to hang the Purrrfect Bark shingle. The fledgling venture occupied 500 square feet of space next door to the town's barbershop.
When it came to a moniker, Mack spent plenty of time in deliberation.
"Name recognition is important, and I wanted to bring cats and dogs together," he says. "Dogs bark and cats purr, so Purrrfect Bark is ideal."
The concept proved a hit. However, parking came to be a challenge, and, in 2012, Mack took a leap of faith, relocating to a space offering 1,800 square feet and plenty of parking.
"The larger store was a little bare early on, but it was definitely the right move," he says.
Today, the establishment strives to transcend the "just another pet store" label.
"We make an effort to greet everyone who enters," he says. "I've wandered around big-box pet stores for 45 minutes before being approached. We do not let that happen here."
Store cats Luna and Simba, a 20-year-old rescue, join Sophie, a diminutive Shih Tzu-mix, as the welcoming committee. On occasion, other canine members of the Mack household, Bella, Bailey and Daisy, take on greeting duties. 
It's a hospitable, warm vibe, welcoming to pet owners and furry visitors alike.
"We want to promote an experience that people talk about and their pets remember," he says. "Some of our customers' dogs actually whine if the car passes Purrrfect Bark without stopping."
Treats and music play a role in creating this homey atmosphere.
"All dogs love our treats," Mack says. "And, we are very particular about the music we play; it's the '60s, '70s and '80s tunes that our customer base loves."
The canine palate is further tantalized by a bakery case brimming with mouthwatering delicacies, including celebratory cakes for the birthday pup. A broad array of treats, such as training tidbits, freeze-dried goodies and body parts, are also in the mix. Bulk items are displayed in metal canisters, which are shelved on a flat wall so they take up less space.
Shoppers at Purrrfect Bark peruse a wide range of food offerings. Selections endeavor to meet every demand, from grocery store conversions to superpremium brands and include raw, freeze-dried, dehydrated, canned and kibble.
"My philosophy is that kibble is not going anywhere," Mack says. "We carry the best kibble possible, with the lowest carbohydrates, and no preservatives or chemicals. These are the standards for our selections.
"We want to satisfy everyone walking through our door, to get them off the grocery store foods, even if that's just to our more basic brands," he adds.
Practicality is underscored in the boutique area.
"We draw the line at functionality in our boutique section," Mack says. "We do carry some bow ties and hair bows, but these are specifically selected accessories."
To further ensure customer satisfaction, the store has a generous return and exchange policy in place. More important, listening is a keystone to the success of Purrrfect Bark.
"We often hear, 'The customer is always right,' but I prefer the quote, 'The customer is not always right, they just want to be heard,'" Mack says. "I have modeled our store on that saying.
"Basically, we want to make sure that every customer walks out the door with a smile," he adds.
Sharing Nutritional Knowledge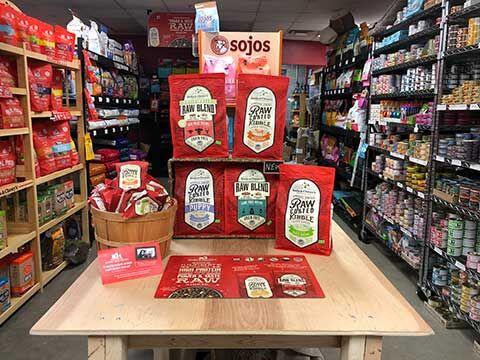 As Purrrfect Bark is a small store with one other full-time staff member, employee education consists of shadowing Mack as he discusses nutrition with customers, vendor training, and personal study of ingredients and labels.
"We also discuss the various brands together," he says.
This nutritional expertise is shared one-on-one with customers, or imparted in seminars presented by vendors, Mack or his full-time staff member. Subjects covered might include analysis of various types of kibble or the benefits of raw feeding. Cannabidiol (CBD) is another hot topic.
"We carry CBD selections for both humans and dogs," Mack says.
Additionally, the area veterinary clinic, with three veterinarians on staff, refers clients to Purrrfect Bark for the dietary needs of their patients. In fact, the practice no longer carries food.
"I'm very proud of that," Mack says. "We keep them in the loop regarding any food news, and they send everyone to us."
Shoppers seeking food or product for their pets can utilize an informational checklist addressing specific needs for every life stage.
"For instance, someone with a new puppy can use our list to find necessary items," he says, adding that he got the idea from Heidi Neal, co-owner of the Loyal Biscuit, a chain of stores in Maine.
Customers short on time—for example, parents with small children—often take advantage of curbside delivery service.
"They order online or over the telephone, pull up out front, and we carry their order out to the car," Mack says.
Home delivery is another option.
"It's more of a convenience," he adds. "It's there, and I'm happy to provide this service."
Pets and People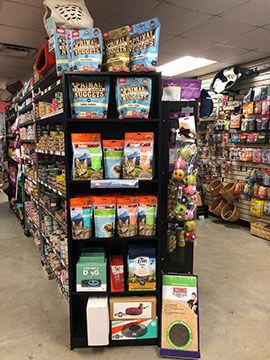 Purrrfect Bark is committed to supporting both pets and people. In this way, in-store promotions are ongoing.
On a regular basis, dogs and cats ready for a pedicure arrive for $7 nail trimmings on a first-come, first-served basis.
"I try to hold something once a month," Mack says. "One of my favorites has been partnering with Answers Pet Food to offer customers a free pint of goat's milk with each purchase.
"We have people stocking up and ordering," he adds.
Dress Like a Dog or Dress Like a Cat Days find customers donning species-appropriate costumes to receive a free bag of food.
However, Mack also looks after two-legged taste buds.
"We are best known for our Donut Days," Mack says. "I am on a mission to find the tastiest doughnut, and, in my opinion, some of the best doughnuts on the East Coast are made at HenDough Chicken and Donuts in Hendersonville, which is close to us."
Monthly, Mack treks to the neighboring burg, returning to Purrrfect Bark with dozens of the lip-smacking indulgences. For every in-store purchase, shoppers savor a doughnut.
"HenDough is a great company, so we try to support them as best we can," he says. "Besides, everybody loves doughnuts."
Besides delectable dunkers, Mack relishes the perfect lobster roll. Upon discovering the Cousin's Maine Lobster truck based in Charlotte, he embarked on a quest to bring the succulent sandwiches to Columbus.
"You don't find lobster trucks in our little town," he says.
While the minimum dollar amount can be quite high for food trucks traveling a distance, through a series of events, Mack proudly piggybacked a lobster soiree at Purrrfect Bark with another nearby event. And in May, the lobster truck will roll into Columbus for a noonday feast.
"I am always thinking of ideas to make people think of Purrrfect Bark," he says.
Looking out for and embracing the community is at the core of the Purrrfect Bark ideology. Since opening, neighboring communities have experienced the loss of several police officers, who were each killed in the line of duty. In several instances, Purrrfect Bark stepped up, gathering donations for the pets of the officers' families. Mack reached out to the community and manufacturers, for contributions.
"We took in donations of foods, treats and supplies and filled in with whatever else was needed," Mack says. "We have done that for three officers, but, hopefully, we won't need to do that again."
Food drives are organized on a regular basis in support of the local Foothills Humane Society.
"We provide all of their food at cost, but we also fundraise and donate damaged dog food bags, or those close to the expiration date," Mack says. "In addition, we reach out to the local food pantry, sending some of these damaged bags to that organization."
Canine couture, food and drink, and a good time converged as the furry fashion set strutted the runway at a fundraising fashion show held at a local train depot. Human attendees boogied to live music, sipped wine, dined on barbeque served by a local food truck and satisfied their sweet tooth with cupcakes from another wheeled vendor.
"We raised over $1,000 for a local rescue," he says. "We have another fashion show planned for fall 2019, which will be held at Purrrfect Bark."
Cheese and wine tastings convene at a local winery to benefit area rescues.
"You'd be surprised at how many people will pay $40 to sample wine and cheese when it's for a good cause," Mack says. 
It's A Retail Life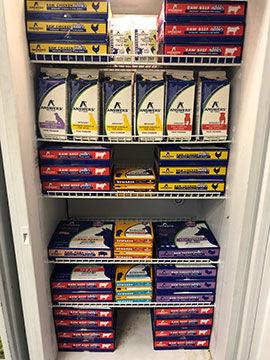 What is Purrrfect Bark best known for?
Eric Mack: Our customer service, quality foods and community involvement.
What do you feel is the biggest challenge for retailers today?
Mack: I'd say the boutique dog food and dilated cardiomyopathy (DCM) concern is an important issue for us. Basically, the U.S. Food & Drug Administration (FDA) is investigating the connection between canine heart disease, targeting boutique grain-free foods as the cause.
What about for the pet industry overall?
Mack:  Maintaining the pet segment's ability to survive recession. Our industry has stayed strong, so sustaining that capability in a slower economy is key.
Are you watching any interesting trends right now?
Mack: Again, the major trend today would be the anti-raw and anti-boutique food issue. The FDA is doing their thing against raw food companies, and I don't see that changing.
What do you see for the future of Purrrfect Bark?
Mack: We will continue to provide our excellent customer service and product quality, and to capture new customers. I'd also like to get a little deeper into services—for instance, offering massage therapy.
Feeling the Love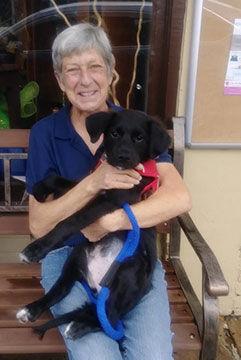 When little Toonces and his littermates arrived at Foothills Humane Society in Columbus, N.C., the tiny siblings faced a serious drawback to finding a forever home—each kitten was born blind. Dana Mayer, a volunteer at the shelter, took part in the rescue of the felines, assisting in placing them with loving families.
"The kittens were from a feral colony, and, with help, we eventually found them homes all over the United States," says Mayer, who went on to co-found and direct Paws, Prayers and Promises, a rescue in Tryon, N.C.
Toonces' adoptive family resides in Colorado, so delivery from North Carolina involved logistical planning. However, Eric Mack and Purrrfect Bark stepped up to facilitate Toonces' arrival.
"On his own dime, Eric flew with that little blind kitten to Colorado," Mayer says. "This tells you how big his heart is."
Mayer has been a patron of Purrrfect Bark since the store opened, regularly purchasing supplies for her four dogs, Rosie, Baylon, Shelly and Bennie the Good Dog, as well as 15 resident cats. She appreciates the research that Mack undertakes before adding a product to the Purrrfect Bark inventory.
"We are pretty much on the same page when it comes to pet nutrition," she says. "I trust Eric and the products at Purrrfect Bark."
Further, Paws, Prayers and Promises has been on the receiving end of Mack's dedication to supporting pets and their people.
"Eric held a fashion show in 2018 to benefit Paws, Prayers and Promises and raised about $1,000," she says. "Everyone had a great time, and we got to see the latest jacket styles for dogs."
Little three-legged Baylon, one of Mayer's first rescues, joined other pups in sashaying the catwalk.
"She was discovered shot and abandoned in the woods and lost a leg as a result," Mayer says. "She's a certified therapy dog now."
A more "boots on the ground" effort occurred when Mack and Mayer combined forces to bring some much-needed medical attention to Norman the Courthouse Cat, Polk County Courthouse's beloved feral kitty.
"I brought Eric a trap and, once captured, we had him neutered and provided necessary dental work," she says. "Eric had been feeding him, and then the courthouse staff began putting out food, eventually bringing him into their office. I was there at one time and noticed five bowls of food placed outside for Norman. It was funny as could be."
Norman passed in 2017, but his life was considerably improved, as have been the lives of Toonces, Baylor and countless others, through the kindness of strangers, including Mayer, Mack and Purrrfect Bark.