Native Americans refer to Santa Fe, N.M., cradled in the foothills of the Sangre de Cristo mountain range, as "The Dancing Ground of the Sun." The city was founded as a Spanish colony in 1610, and settlers christened the city "La Villa Real de la Santa Fe de San Francisco de Asis" or "The Royal City of the Holy Faith of Saint Francis of Assisi." Frontiersmen simply designated Santa Fe "The City Different." It's the oldest state capital in the United States, and Spanish and Pueblo influences dominate the architectural setting. 
As the third-largest art market in the country, Santa Fe embraces a freethinking, creative ethos, one embodied by local denizens in many ways. In 2005, when Santa Fe resident Laurie Wilson decided to point her career path in a new direction, she allowed a lifelong love of dogs to guide the way. That passion led to a favorite local pet retail store. The establishment was for sale, and the entrepreneur took a leap of faith. 
The original owner named the store, founded in 1995, in honor of a stray dog discovered on the side of a road. The diminutive mixed-breed pup, Teca Tu, cheerfully adopted her role as namesake and beloved shop dog. 
With the purchase of her new endeavor, Wilson elected to follow that providence.
"I didn't want to change the name, because it seemed like good karma," she says.
Destiny aside, Wilson credits the spirit of the people, both staff members and the pet community, with the longevity of Teca Tu–A Pawsworthy Pet Emporium & Deli.
"We have one store," Wilson says. "It's been successful because of our great employees and fabulous customers. Santa Fe is a really cool place to be, and everybody really loves their animals."
A 2017 move from the original site, housed in a warehouse district, to the current 3,200-square-foot space situated in a more modern mall gained not only square footage, but also less-restrictive quarters.
"The original store had all these nooks and crannies," she says. "Our new location is like a big square. We are in a mall. I have an outdoor entrance from the parking lot as well as opening onto the mall, which is nice."
The ambience of Teca Tu remains that of an old-time emporium, with plenty of warm wood and unique display presentations. Colorful and imaginative arrangements of pet supplies are interspersed with human boutique items.
The broad and eclectic inventory emphasizes locally crafted items.
"We have a 'Made in New Mexico' display table right up front," Wilson says. "We don't want big endcaps or plastic displays; instead we create a warm atmosphere for people to come in and browse."
The result is an openhearted atmosphere in a scrupulously clean and tidy space.
"The setup has an effect, and when things are neat, clean and precisely placed, customers notice it unconsciously," she says.
Wilson names Teca Tu staff members as the foundation to this establishment's hospitable tone. Mira Lopez and Joanne Buchannan have been with the store since 1995, and share a wealth of expertise and knowledge in their long-time roles as store managers.
"I'm really fortunate that they are here with me," Wilson says. "It's so much fun to greet people coming in. We know the names of both owners and pets and want to provide great service. It's what we do, but we mostly have fun talking to people and helping them out."
Product familiarity plays a strong role in providing outstanding customer care.
"Because we have been at it for so long, we know how to size things—for instance, what harness will work for a certain dog," she says.
As the area is a tourism mecca, visitors comprise a considerable portion of the customer base, and even with the new location in a mall, pet lovers on holiday are still finding their way to Teca Tu. Wilson credits display windows, housed at two large downtown Santa Fe hotels, with helping to guide vacationers to the store.
The unique windows, each set up like a tiny storefront, present an array of Teca Tu boutique items.
"Tourists walk past, see our products and tell us that they are here because of those displays," she says.
Additionally, a nearby pet-friendly hotel provides Teca Tu gift bags, filled with treats, a ball and waste bags, to every guest checking in with a pet.
Spotlight on local artisans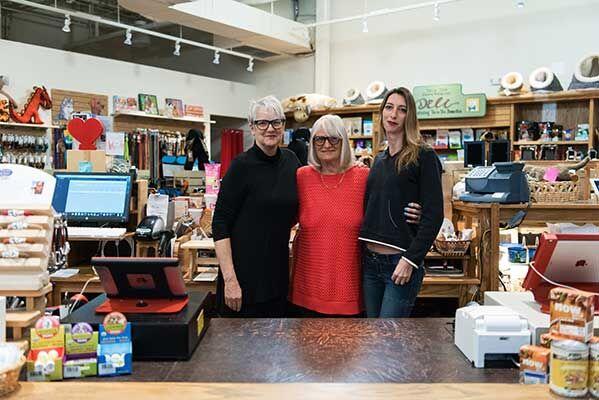 The art scene in Santa Fe is rich, diverse and thriving, and Teca Tu promotes this legacy by spotlighting wares created by local New Mexico artisans.
At the store's inception in 1995, the previous owner began creating custom vests and coats for dogs crafted from Pendleton trade blankets, sewing them in her home. Today, Wilson continues the tradition.
"I have a fabulous seamstress. I cut the fabric and she sews," Wilson says.
The custom Vestidos are extremely popular, with a wide range of sizes. Special orders are welcomed.
"The Vestidos are one of our best items," Wilson says. "They are so unique, so 'Santa Fe,' and they continue to be sewn here in town."
In addition to Vestidos, this same seamstress fashions chili pepper and mice toys sporting southwestern bandanas as well as beds constructed from Pendleton blankets.
Support of New Mexico talent contributes to Teca Tu's eclectic vibe and includes other items such as hand-painted pottery bowls and treat jars.
"We work with a local company, Sunrise Ceramics, and they create a bowl with chili peppers, a petroglyph style bowl and matching treat jars," Wilson says.
"These are exclusive designs."
The broad range of pet supplies includes plenty of designer selections that represent the area's southwestern theme, including multicolored, turquoise adorned Kachina motif, or beaded collars. 
"We tend towards southwestern designs but also offer the functional products that everyone else carries," Wilson says. 
Gift items for owners are also in the mix.
"We have quite a few pet-related gift items for humans," she adds.
Mugs, hats and shirts are joined by more esoteric selections such as canine tarot cards, or wisdom cards for dogs and cats, both fashioned by local artists. For animal lovers wishing to memorialize a furry family member, devotional "retablos" are designed and hand-painted by artist David Ross. Each feature St. Francis, the patron saint of animals, blessing the depiction of a pet.
Web sales represent 10 percent of the store's revenue; however, during the time of theCOVID-19 pandemic, those numbers increased, along with delivery and curbside pick-up services. While the mall remained closed, Teca Tu's parking lot entrance allowed pet lovers to shop online and come and obtain necessities, such as food.
Foods were not initially included in the product mix. Wilson says she made the decision to carry these products six years ago.
"At that time, we decided to carry the high-quality, nutritional foods that are not available at the big-box pet stores," she says.
Choices run the gamut from raw, canned, kibble and dehydrated foods. The store also offers gently cooked selections and bones, prepared by a local company. Special orders are available.
"Instead of carrying a whole line of food, we'll order the food a customer wants and have it for them every week," she says. "We sell a lot of food, and the category just keeps growing. I would say that today, 40 percent of our sales is in food."
Staff member Lindsay Balmer, a one-time veterinary technician, serves as nutritional expert, with both staff and customers able to partake of her dietary proficiency.
"Lindsay knows just about everything about food," Wilson says. "We also talk to our food representatives and read a lot of articles."
In addition to nutritional expertise, this staff expert also recommends health supplements for the store's inventory. Included in the mix are cannabidiol (CBD) products, which are primarily sourced from a local company.
Fresh treats include Teca Tu's exclusive line, Boneitos. A local company bakes the bone-shaped goodies, which are available in three flavors. More diminutive dogs smack their lips over bite-sized, gourmet Chums, another creation by the same bakery. In addition, a range of cookies, petit fours and other delicacies are displayed on the large deli table.
Bringing Pets and People Together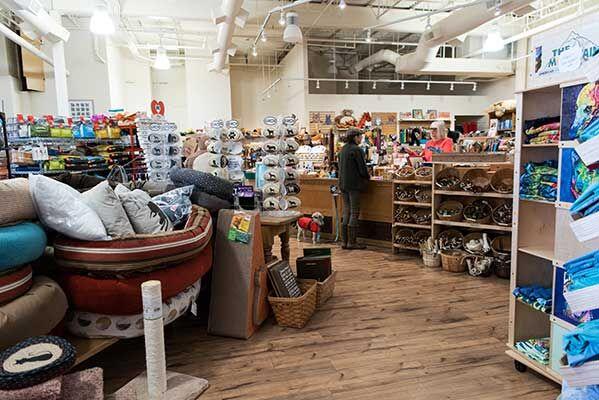 Besides supporting the arts, community involvement is a strong contributor to the success of Teca Tu, and in-store events bring together the animal-loving populace for education, product promotion and, most of all, a good time. For instance, regularly held "trunk shows" allow vendors to showcase products and meet with customers. They are often held in conjunction with Saturday evening Pawsworthy Pub Hours. The social gatherings take place during the warmer months and find pet owners sipping margaritas and nibbling snacks while their pets chow down on species-appropriate treats. 
"We work with the next-door restaurant, and they provide the bartender, who sets up in our store," Wilson says.
Educational workshops are often presented during these get-togethers but also take place year-round. For instance, February is National Pet Dental Health Month, and a popular presentation features free dental exams, advice and a Q&A presented by a local board-certified veterinary dentist.
In addition, nail trimming clinics are held on a recurrent basis, with Balmer and her mother doing the honors. All proceeds are donated to a local rescue, Lab Dog Rescue. 
"Lindsay and her mom work with this rescue a lot," Wilson says. "We also hold adoption days with them, which are very well attended."
Pet adoption and outreach is fundamental to the philosophy of Teca Tu. To that aim, adoption days are held weekly and feature local rescues and shelters on a rotating basis.
"We have a great outside patio with a pergola and a big awning, so during the warmer months, adoption days take place there," she says.
In addition, the store sponsors a rescue pet in need every month, paying for adoption fees, food and advertising. Cats are not forgotten, and in addition to adoption days, Teca Tu's satellite adoption center, located in-store in cooperation with Felines and Friends, a local cat rescue, furthers that cause.
"They built an actual habitat in our store," Wilson says. "It's a beautiful structure. We usually have a cat or two up for adoption there."
Over the holidays, pets awaiting a forever home receive a little cheer as Teca Tu's "giving tree" allows customers to select a dog from an ornament photo and provide gifts, treats, foods or packages to benefit the rescue organization. 
Donations to local animal charities are ongoing, and the store's loyalty system plays a role in the spirit of giving.
"For every $100 our customers spend, they receive $5 back," Wilson says. "We place a big jar at the counter, choose a different charity every month, and when our customers reach their $100, we give them the option of donating their points. It's a really easy way to give back." 
It's A Retail Life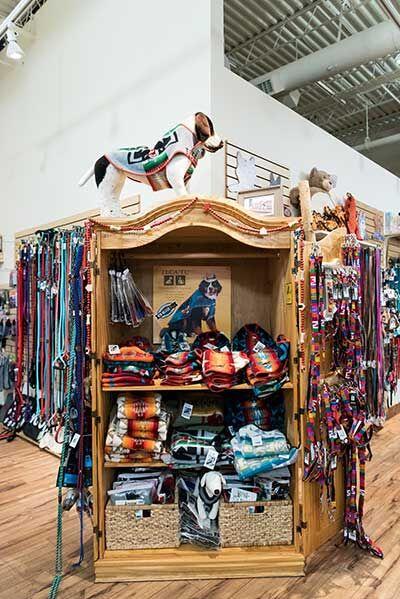 What is Teca Tu best known for?
Laurie Wilson: Our customer service, familiarity and welcoming atmosphere, plus our fabulous, loyal customers.
What is the biggest challenge for the independent retailer today?
Wilson: Internet sales.
What about for the pet industry overall?
Wilson: Same answer—internet sales.
Are you watching any interesting trends?
Wilson: Of course, [cannabidiol] CBD is huge. Also, raw foods. Those are the big ones right now. We have a lot of knowledgeable customers in these areas, and we learn a lot from them.
What do you see for the future of Teca Tu?
Wilson: We want to keep growing and serving our community.
A place for artistic endeavors
In 1973, when David Ross, his wife, Carol, and their two-year-old son, Dawson, headed to Santa Fe, N.M., Canyon Road was a narrow dirt street. However, the area, a haven to artists and independent thinkers, was already considered home to a host of creative icons, and because of this inspired energy, galleries and studios flourished along the route. 
Arriving at the invitation of family, the Rosses initially found lodging on a large ranch nearby before taking up residence in a tidy adobe-styled home on the arty thoroughfare. Residing in the midst of this quixotic hub, the family felt they had found a home in Santa Fe. Son Julien was born four years later.
"Santa Fe is everything an artist would want," Ross says. "Starting with the landscapes, the mountains—and then there are the art stores and galleries."
At the outset, Ross, an ArtCenter College of Design graduate, found employment as a cook in a small restaurant. He also began designing and painting the small devotional retablos he had learned of and studied during his years as an artist in Florence, Italy, in the 1960s. 
"I started by painting retablos of San Pasqual, the patron saint of cooks and kitchens. I hung them on the wall of this restaurant and sold a few," he says. "Some of the other local restaurants ordered some to sell, and that's what prompted me to turn our home on Canyon Road into a gallery."
Ross also began carving animal-themed wooden step stools that came to be featured in a major high-end retail chain. As word spread, galleries across the country showcased his work.
"That led me to open a proper shop, and that's pretty much how it all began," he says. "We did that for about 30 years, and at one point I had 10 employees."
During this time, Teca Tu owner Laurie Wilson approached Ross to inquire about creating a pet-themed, wooden retablo depicting a customer's Great Dane receiving a saint's blessing. 
"For Teca Tu, it had to be St. Francis, Patron Saint of Animals, and they really caught on. People starting ordering them both from me and from Teca Tu. One thing led to another, and I started doing a full line of St. Francis with cats, dogs, horses or any animal," Ross says. 
"In Florence, I learned an Italian antiquing process, and I followed that method of antiquing the wood," he says. 
Ross creates and sells two to three hand-painted retablos each month through Teca Tu. He recalls a favorite.
"One of Laurie's staff members is a cat lover, and she asked me to paint a St. Francis retablo with her five cats. Later, when one of her cats died, she asked me to paint a halo over that cat on the retablo," he says. 
Ross's creations also find their way to more unique animal-loving venues.
"Right now, I am just finishing an order of 36 St. Francis retablos for a bride and groom as wedding party gifts," he says. "They will feature the couple's two dachshunds."