Vermont's past is storied, but today, the state might be best known as the land of maple syrup, blazing fall foliage, delectable cheese and iconic ice cream. However, its citizens take pride in the state's reputation as a land of independent thinkers and doers. In Montpelier, the smallest state capital in the U.S., eclectic nonconformity in the pet world reigns at The Quirky Pet, or The Emporium of Way Cool Pet Stuff.
Owner Cindra Conison's endeavor is rooted in her love of dogs, colorful artistry and a desire to operate an eccentric pet business in the city's historic downtown. However, the original concept was born of birds.
One summer, after Conison and self-described "store husband" Richard Sheir ferried their son Gabriel to summer camp, the couple stopped to enjoy a browse through a New Hampshire wild birding store. 
At the time, Conison was a substance abuse counselor ready for a career change. 
"It's a job that offers a lot of really lovely things, but it saps the soul," Conison says.
On the way home, Conison declared her intention of opening her own wild birding store. The collage artist and avid knitter is passionate about color and texture, and envisioned the venture as the ultimate artistic palette. The store would be christened Birds, Bees, Butterflies and Dogs.
"It took me two years to put together a spreadsheet of what I wanted to sell, and then the birding aspect kind of fell by the wayside," she says. "I'm just a dog nerd, what can I say?"
In 2011, Conison took the leap, hanging The Quirky Pet's shingle in downtown Montpelier.
Today, the store's distinctive red wooden dog beckons downtown visitors and locals alike. A peek into the old-fashioned storefront window reveals an imaginative mix of product and décor. 
Inside the homey, 700-square-foot space, a unique welcoming committee awaits. Conison's Bergamasco sheepdogs lounge, moplike, on the floor, ready for a pat on the head and a treat. In the spacious aviary behind the register, 13 parakeets twitter and croon to diverse background music that might range from Joe Cocker one day to Charlie Parker the next, depending on Conison's musical mood.
"It's whatever I feel like listening to," Conison says. "I believe music is important. And then there are these bizarre-looking dogs lying on the floor." 
Indeed, these four-legged emissaries are the heart of The Quirky Pet, and Anuzzo, Aria and Cuba, with their dread-lock-like coiffures, have held court since the beginning. 
Anuzzo's recent loss to cancer found the community rallying to mourn their canine celebrity.
"People brought in flowers, and the Facebook tributes blew me away," Conison says. "The dogs are just super important to the store."
As lead ambassador, Anuzzo delighted the Montpelier community. Whether sharing ladybugs and kisses with children, geeking out with Jedi forces at a nearby Comic-Con convention, or simply hanging at the local ice cream parlor, Anuzzo adored his calling and often shared these adventures on his very own Facebook page, Anuzzo's Vermont.
Today, Aria and Cuba carry on in his stead, but Anuzzo's departure left a hole in the fabric of The Quirky Pet.
"People loved Anuzzo," Sheir says. "In the store, he would just lie on his side, cock his head up and look at you with his crooked smile."
"Our dogs are the Quirky brand," Conison adds. "People come in to see them and bring others in; the store is truly all about the dogs."
The Quirky Pet offers a quaint, welcoming, "come on in and sit a spell" atmosphere, where customers are greeted with friendly, good-humored conversation, and children and pets are hailed by name. 
"People like to hang out and talk about their pets or show me pictures," Conison says. "It really is like an old general store. For me, it just feels like home."
The Quirky Pet's 19th century barn-wood and brick walls serve as backdrop to Conison's own creative, ever-changing expression of collage artistry. 
"Most of what I buy is high-color anyway, so color, texture and shape is important," she says. "It's a moving sculpture. It always amazes me that when I move things around, people will buy more."
At the aviary, a bowl of millet sits at the ready where visiting children, better known as "Quirkettes," delight in enticing the Quirky Birds to peck a snack.
"The children also love to feed the dogs," Conison says.
Besides offering hearty greetings and a warm ambience, Conison has become a go-to expert for all things animal, even if that expertise happens on the spot with a perusal of the internet. 
"I have a lot of people asking me questions, and plenty of times I have to look information up," she says. "I once had a woman call to ask me about an owl in her backyard. I get cool things like that."
Coming to Vermont
Tourists flock to Montpelier, the capital of the Green Mountain State, with weekenders from cities such as Boston or New York calling the area a second home. 
"I have this cult of people that stop in to check out the weird, made in the USA products that can't be found anywhere else," Conison says.
Autumn's splendor finds "leaf peepers" fluttering into town to partake of the brilliant colors of fall.
Travelers searching for the quintessential take-home remembrance wander through a barnlike door at the rear of the store to discover a hodge-podge collage of local souvenir offerings.
"We carry made-in-Vermont jams, jellies, hot sauces, cookie cutters, crackers and other items," Conison says.
Tourism aside, The Quirky Pet is truly all about the furry set, and a broad array of treats, body parts and bully sticks stimulate canine salivation. Rough-hewn fronted shelves reveal glass canisters chock-full of delectable goodies. 
"I have really weird stuff that people can't find online," she says. 
Apple baskets brimming with mouthwatering parts take shelter under an actual tree, strategically sprouting mid-store.
Medleys of these delicacies draw pet owners seeking the ultimate lip-smacking indulgence.
"I put together what I call 'samplers,' and they just fly out the door," Conison says. 
Sampler selections mix it up and might contain duck heads, cow hooves, bison tendons, feet, chicken necks, ears or snouts. The feline set excites over offerings such as valerian root, twist toys or catnip buds.
"People get hooked on them and might buy three or four samplers at a time," Conison says.
For those seeking more-specific delights, the Tears for Ears offerings reveal cow, pig and lamb's ears, while Just Feet selections feature a cornucopia of barnyard extremities. All sell for $10 and under.
"If a dog or cat likes what's in the bag, the customer comes back for another, or will purchase specific items individually," Conison says.
More traditional, drool-worthy cookies entice from the bakery case, and cannabidiol (CBD) products are also on the menu.
"I carry oil that is made here in Vermont, and CBD treats are sold individually from a cookie jar," she says.
In late spring, when gardeners plant and pests emerge, residents turn to nature's bug control as ever-popular praying mantis eggs arrive at The Quirky Pet. When the weather warms into summer, ladybugs are stocked.
"It's a big deal," Conison says. "I put a big sign out in front of the store that says, 'They're back!' People come in every year, especially the preschool teachers. I have been doing this since we opened."
Conison sticks to a locally and USA-made product mix; however, she does not walk the mainstream line when it comes to inventory.
"You expect a pet store to sell pet food, but I don't," she says. "Pet lovers buy their food elsewhere and then turn to me for treats." 
Community Strong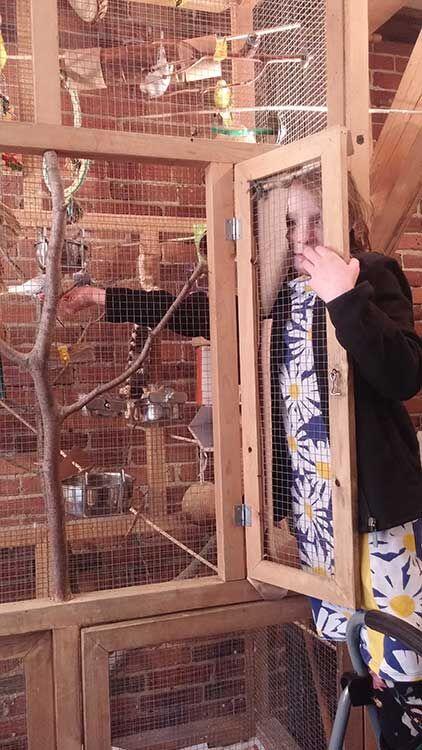 The Quirky Pet's love of community is deep, and business owners and residents alike are supported.
"We are trying to build a community of 'doggers' and 'catters,'" Sheir says. "We like to do our outreach in an educational way."
Embracing this ethos, the Young Entrepreneurs program is a weekly favorite. The pop-up bake sales take place every Saturday, weather permitting, on the sidewalk in front of the store.
"It's our version of an old-time lemonade stand and creates such a nostalgic vibe," Sheir says. "Kids need a place to learn entrepreneurial skills. They generate walk-in traffic and draw families to our entire commercial neighborhood."
Conison assists budding bakers in determining pricing and necessary inventory for their business ventures and teaches the art of counting change and till management. Profits from the sweets are donated to a charity selected by the children, and customers are kept apprised of the goings-on through The Quirky Pet's Facebook page.
"Last year, we invited kids to grow vegetables in their garden, and they sold their produce in front of the store," Sheir says. "It's America in the best sense."
Encouraging and reaching out to children takes on many forms.
"Towards the end of the summer season, we had excess ladybugs, and Anuzzo and I represented The Quirky Pet and took the beetles to story time at the library to share with the kids," Sheir says. "Cindra is creating a very unique little niche here."
The traditional Black Friday sales day is another form of community building.
"The Quirky Pet offers a 15 percent discount on Black Friday, along with neighboring businesses. It gins up foot traffic downtown," Sheir says. "However, doggers and catters love shared values, so we also donate 15 percent of each purchase to a pet rescue of the customer's choice."
Donation jars benefiting local rescues are also on hand at The Quirky Pet register year-round.
To further engender stellar customer service, Conison reads and answers every review appearing on Yelp, Google Business and TripAdvisor.
"Cindra takes these comments seriously," Sheir says. "It's a way to determine if what she feels are values and strengths match what the customer notices and compliments. If they do, she doubles down and amplifies those attributes."
Meet The Quirkies
A love of dogs and music were blended together for the store's creative and ambitious "Meet the Quirkies" video campaign. The professionally done documentary, a takeoff on the Beatles' stardom, found Aria, Anuzzo and Cuba cast in the role of longhaired "Quirkymania" rock stars. 
"On the video, Cindra and I were the voices, along with friends and acquaintances," Sheir says. "A graphics expert helped me lay it out, and our local community access media group assisted with the editing."
Album covers and stickers of the canine trio followed in a wistful nod to a magical musical era.
"It was an act of love to put it all together," Sheir says. "All of what is seen in 'Meet the Quirkies' is displayed in the storefront window. It is scene-based and entices people into the store." 
In true quirky style, Conison favors grassroots connections with locals, tourists, and current and potential customers.
"My favorite promotion is to stand outside the store with my dogs. Passersby stop to visit, and then come in to shop," Conison says. "This is how I connect."
For the future and as always, Conison will continue to embrace the quirksome spirit of The Quirky Pet.
"I do what I want to do. I put on music that I like and sell the products that I want to sell," Conison says. "We enjoy our reputation as kind of an offbeat little store here in Montpelier." 
A Place Like Home
Three years ago, as the Padgett family prepared to leave the bustle of New York behind for the charm of Montpelier, Vt., six-year-old Michiko was promised a dog.
However, even before that four-legged friend became reality, the youngster discovered The Quirky Pet, and the little shop became a home away from home to the young animal lover.
"In New York City, we had a coffee shop down the road, and we spent a lot of time there and got to know the baristas," says Siobhan Padgett, Michiko's mother. "We didn't find that in Montpelier, but we got to know Cindra, and she created that same familiarity for us."
Soon, Lady, a collie-golden retriever mix, joined the family, and visits to The Quirky Pet mixed shopping with pleasure.
"We buy different treats," Padgett says. "We also like the variety of nighttime protective gear, so when we walk after dark, Lady can be seen."
As a longtime "Quirkette," Michiko, now nine, loves to pay a visit to The Quirky Pet, where she feeds the birds, pets the dogs and "talks shop" with Conison.
As one of the first participants in the Young Entrepreneurs program, Michiko, along with a friend, baked brownies, banana bread and pound cake, raising funds to benefit Leader of the Pack Rescue, where Lady was adopted.
"Cindra taught the children how to count change, and they had their own table outside the door of The Quirky Pet," Padgett says. "It was a great experience."
It is the proprietor of the establishment that keeps Michiko and Lady coming back.
"It's Cindra's personality: She's quirky herself and independent in every way—some might even find her eccentric," Padgett says. "It's such an open place, and everyone is welcome. People feel at home; it's a family atmosphere. She always has what people need, and it's all made in America.
"Stopping in has become a part of our social life," Padgett says. "We feel like we have gained a family because of Cindra and The Quirky Pet."