For employees at Loyal Biscuit Co., seven principles are woven into the daily work-life of the entire team. The core values—which include "gratitude, respect, integrity, connection, provide, think big and play"—shape the central philosophy and vision of the enterprise, says Heidi Neal, co-owner with husband Joel Neal. 
These affirmations are displayed in a well-selected location at each one of the company's seven locations in Maine.
"Don't laugh, but I have laminated copies posted in our bathrooms," Neal says. "Everybody uses the bathroom." 
Each term is underlined with a defining maxim. For example, gratitude is expanded as follows: "Take time in every interaction with every customer to be thankful. Because of them, you can be here, in a position you love. Because of them, we, as a team, have the ability to make an impact in the lives of rescue animals in our regions. Because of them, we have the ability to learn more about our products and our services, which allows us to help even more people."
Team members receive a personal copy as well, and the declarations are accessible on the Loyal Biscuit Co. intranet system, bolstering the organization's vision statement and desire to "Revolutionize the pet supply industry by providing our customers with a unique shopping and educational experience in Maine and the surrounding region. Through a professional demeanor, educated staff and welcoming store appearance, we will provide our local communities with the healthiest pet foods, treats and quality products, with a priority on using locally sourced products when available."
It's a belief system that adds up to stellar customer service. But Neal notes that the expression does not adequately convey the Loyal Biscuit experience. 
"The term 'great customer service' is so overused. I prefer to define it as 'caring,'" she says. "My staff is an incredible group of caring individuals. They take the time to get to know our customers and to understand the needs of each pet."
For this reason, Neal looks first for intrinsic personality traits in a potential hire.
"It's personality, hands down. I can teach everything else, but I can't teach kindness and caring," she says.
Love is the ingredient that binds team members and customers into a family-like atmosphere.
"First of all, I love my staff, and I don't keep that a secret," Neal says. "They are my family. We are 100 percent a team, and these are the people that our customers love."
When the Neals purchased Loyal Biscuit Co. in 2010, Heidi and her black Labrador mix, Fenway, had already been customers of the Rockland, Maine, business. 
"It was my favorite store, and I spoiled Fenway rotten there," Neal says.
The one-time vice president of operations for a financial institution longed for a career that would allow Fenway to join her at work, and to enjoy time spent with like-minded pet lovers. The pet retail industry fit the bill, and Joel encouraged Heidi to look into a possible purchase of the venture.
"I emailed the owner and suggested that if the store was ever for sale, I'd love to have a conversation," Neal says. "She wrote back immediately to say it was currently for sale. We met that night, in mid-December. We put an offer together, which they accepted, and on Jan. 19, we bought Loyal Biscuit Co. and I quit my job."
Armed with a degree in accounting and a finance and marketing background, Neal still felt unprepared upon stepping into the retail world. 
"I knew nothing about retail sales, inventory management, ordering or point-of-sale systems," Neal says. "I had no clue." 
Learning took place on the job, and for the first 10 months, Neal was the sole employee. However, business blossomed, and by 2014, the number of locations had grown to three additional sites beyond Rockland—in the communities of Belfast, Camden and Waterville. A store in Hallowell began welcoming customers in August 2019, and the newest location in Bath opened in April 2020. 
Each store is branded in the signature Loyal Biscuit lime-green color, with Fenway's image serving as the logo. Consistent signage, shelving and fixtures are distinguishing characteristics throughout; however, notable architectural features are left in place. For example, the Rockland store is sited in a historic building, and the brick walls and beautiful wood floors add to the ambience.
"There is no doubt when you walk in that it is a Loyal Biscuit," Neal says. "The layouts are different—some stores are long and skinny, some are short and wide, we go from 1,000 square feet to 4,000 square feet, depending on the location—but you know us by the color scheme, the products we carry and our overall personality."
Neal attributes the growth of the business, in large part, to customer loyalty, coupled with a devoted sales and managerial team. 
"We are very passionate about food and nutritional education and sharing our knowledge with people," Neal says. "Maine is geographically spread out, and we are spread out, too, in order to cover a large percentage of the population here."
The knowledgeable atmosphere, infused with kindness, caring and love, places team members on the frontline. In turn, they are vital to the success of Loyal Biscuit Co. 
Once on board, new associates initially spend time with Neal or a store manager, depending on location. Tutelage encompasses operations, paperwork and the fundamentals of nutrition, as well as a video made by Neal that imparts the Loyal Biscuit Co. philosophy of caring, knowledge and a spirit of giving back.
"We go over very basic nutrition and cover all of our policies and operational procedures," she says. "From there, I want to make sure new team members are able to run a point-of-sale system and have nice conversations with customers before we delve deep into nutrition training."
This study is well rounded and includes online instructional modules provided by vendors and Loyal Biscuit training manuals, which are also placed at the register area and available through the company's intranet system. 
"My general manager wrote the manual," Neal says. "It covers every need."
Guidance is ongoing, including a yearly review of the training modules, with supplemental and new product information provided by vendors. Product information discussing features and benefits is also conveyed via ancillary materials.
"We quiz our team to confirm their understanding," she says.
In order to keep information accessible and uniform, the Loyal Biscuit Co. intranet system is a source for all essential materials.
"For easy access, the homepage has the three logs that we rely on the most—special-order, returned product and delivery issues—along with procedure guides and forms, our employee handbook, core values, the videos we have everybody watch and other educational resources," Neal says. "With COVID-19, we posted a cleaning protocol, as well."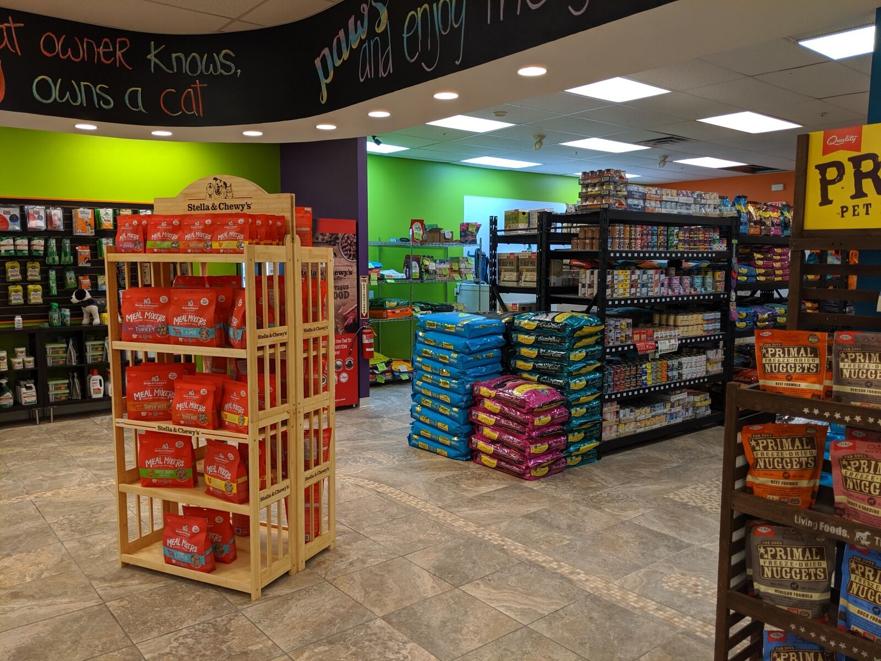 Nutritional Support 
In order to provide local area pets and their families with superior-quality and biologically appropriate foods and treats, locally sourced when possible, a wide range of dietary selections is in the mix, with budget constraints a priority.
"Of course, we cover the basics: no corn, wheat, soy and byproduct free, no consumables from China," Neal says. "We carry foods that serve a purpose. For instance, a good base food that works really well to get people off grocery store brands and everything in between; limited-ingredient diets, grain inclusive and grain free. We try to have a food for every situation without duplicating our offerings. For a new food to come in, it has to be significantly different from anything we already carry.
"We want to provide the healthiest options at a variety of price ranges," she adds.
To assist pet owners in food selection, consultations are offered, and nutritional information is also available at the Loyal Biscuit Co. website as well as in blogs written by Neal and other staff members.
A full line of quality pet supplies rounds out the product mix, including Loyal Biscuit's exclusive colorful, braided-rope Tug Me toys. The fabrics are cut by Neal's father, David Vanorse, at the Rockland store and braided by inmates at a nearby correctional facility.
"He cuts all the fleece, we take it to the prison, and the prisoners braid them. When they come back, my Dad trims them and tags them for resale," Neal says.
Concerns about meeting the supply and safety needs of customers and team members during the COVID-19 pandemic led Loyal Biscuit to partner with eTailPet, a company that facilitates online sales for independent pet stores.
"Because we'd closed off our stores to foot traffic, we set up a table just inside every store for customers to pick up their purchases," Neal says. "Initially, all ordering took place over the telephone. Adding an online ordering system was the best decision we have made in a long time. We don't ship; customers order online and pick up in the store. We have had great feedback."
Self-serve dog washing facilities are normally available at each store, with the exception of the Hallowell location. 
Seizing Social Opportunities
Nutrition and study aside, there's always time for fun. For instance, once the busy holiday season concludes, staffers catch their breath by partaking in well-deserved merriment at Loyal Biscuit Co.'s annual party, which is held in January.
"We are open seven days a week, so we close down on a Sunday," Neal says. "For 2020, we gathered in Rockland at a local brewery. We had the place to ourselves, played games and dined. Everyone received a gift. It's just a great time."
When the pandemic lockdown kept associates separated and at home, a Loyal Biscuit Co. cocktail party took place on Zoom, allowing team members to dial in for an evening of bonding repartee. 
"We didn't discuss work at all," Neal says.
With in-store events postponed during this time, customer interaction took a more creative turn as homebound community and team members enjoyed family-friendly movie screenings via Netflix Party, hosted by Loyal Biscuit Co.
"We published the link to our party on social media, and we all watched together. There's a little chat bar on the side of the screen where we could type comments and discuss the movie while watching," Neal says.
Staying connected is the goal of Loyal Biscuit Co.'s private employee Facebook page, where staffers share their lives by posting stories, photos of their pets and funny memes.
"For instance, I got a pug puppy last December, Kevin, and when we visited stores together, I posted videos of me singing to him," she says. "Soon, other staff members began recording and posting their own videos of themselves singing to their pets. It's been really fun."
In May, when a video of Kevin appeared on America's Funniest Home Videos, winning second place, the Loyal Biscuit community gathered in their respective living rooms to cheer the little pup on.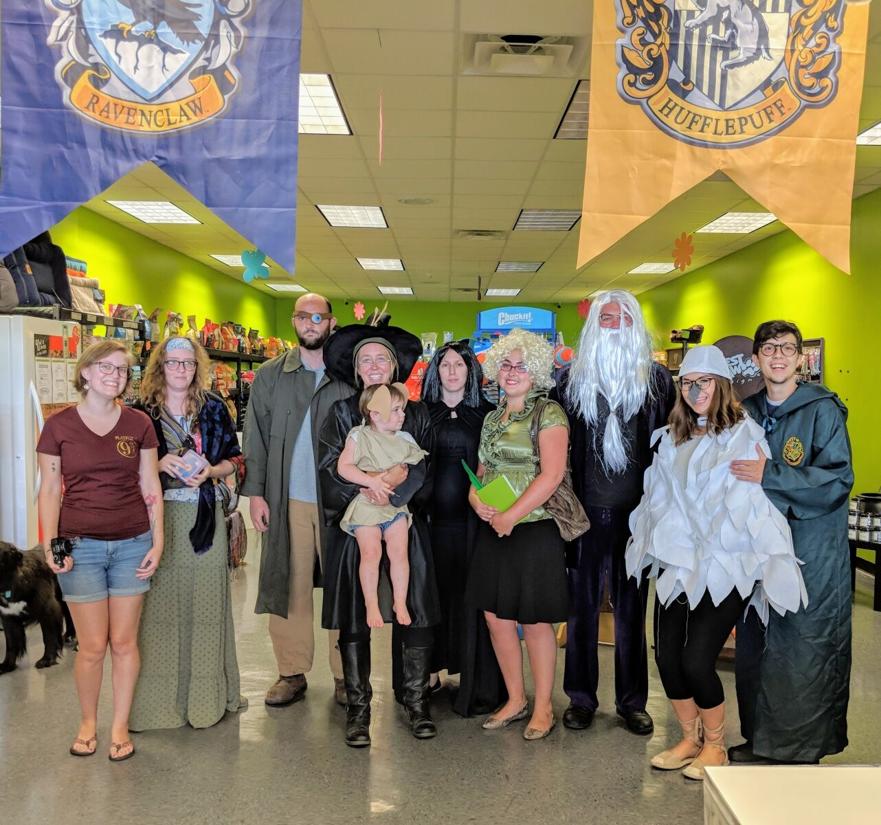 In more social times, the world of wizardry wooed Harry Potter fans when Loyal Biscuit's Hairy Pawter event transformed the Rockland and Brewer stores into Dogwart's School of Witchcraft and Wizardry. The after-hours soiree enticed "students" to pass through a re-creation of Diagon Alley with their own cauldron and wands from Pawlivander's Maker of Fine Wands. Stations were set up, and vessels soon overflowed with treats and goodies. Classes included Potions with make-your-own biscuit kits, Herbology with a cat grass/catnip kit and Care of Magical Creatures, which featured grooming tools. Furry wizards-in-training noshed on goodies such as Butterbeer (The Honest Kitchen's Golden Milk) or Bertie Bott's Every Flavored Biscuits (Bocce's dog biscuits). Staff members dressed as Mad-Eye Moody, Professor Snape or Dobby the house elf, among other characters.
"Events coordinator Chelsea Herrin and store manager Ashleigh Higgins organized the whole event. They are big Harry Potter fans. I wore a Professor McGonagall costume," Neal says. "People loved it. We had a photo booth, a train station and a Quidditch field. They turned the stores into Harry Potterville."
It's this culture of family, good times and autonomy that has led to employment longevity in both sales and managerial staff and extends to embrace the customer base.
Thinking Big
The spirit of giving is fundamental to the Loyal Biscuit Co. ideology and encircles pets in need and the organizations that support them.
"Whenever possible, we will support any nonprofit organization working to better the lives of animals," Neal says.
Fundraising can sometimes take a prowl on the unusual side. For instance, the Waterville store hosted the Loyal Biscuit Amateur Cat Show, with feline fanciers showing off their fluffy family members, many of which were rescues. A popular local veterinarian, shelter representatives and Loyal Biscuit Co. team members took on judging duties. Points towards the win were based on overall health, appearance and unique personality, with "best in show" taking home a goodie basket only a cat would love.
Adoptable cats from the Humane Society Waterville Area were also on hand. Admission was free, with a small donation recommended.
"It was well attended, and we raised money for the local shelter," she says. "We broadcast the event live on Facebook."
The requirements of shelter and rescue pets are not forgotten over the busy holiday season. For 2019, a round-up-at-the-register campaign allowed Loyal Biscuit Co. to purchase 10,000 pounds of food, to be split between the five area shelters.
"We partnered with Fromm and Earthborn between Thanksgiving and Christmas," Neal says.
When Loyal Biscuit Co.'s 10-year anniversary rolled around, the Fenway Fund was instituted to provide further assistance to shelters and rescues.
"We place a percentage of our sales every month into the fund and biannually accept grant applications from 501c3, Maine-based animal related organizations," Neal says.
"We require that the cause be project based. For instance, in our first round, we funded a tool shed for a dog park and outfitted a feline recovery room for the Camden shelter to keep these cats separate from the rest of the facility. We gave money to the SPCA in Hancock county to install garage doors for easier in-and-out access in their dog section, and helped Underhound Railroad to update their website in order to facilitate adoption applications."
Fenway Fund funding evaluations are employee based, with one representative from every store taking part in the decision-making process. 
"We donated $24,000 last year from the fund," she says.  "I love that we are offering this support."
A Treasure Trove of Caring
"Wait a minute, that's Maggie!" 
Stepping into Loyal Biscuit, Brandy Perkins was excited to show off her newly adopted Chihuahua mix and, in turn, surprised to find that staff members were quite familiar with the pup and wondering how the pair happened to arrive together.
Already an owner of four other Chihuahuas, Charlie, Bear, Jasper and Max—all rescues that would have gone to shelters—Perkins brought the total to five with the addition of Maggie.
"The team members all know me and my dogs by name, but I soon learned that they even know which dog belongs to which customer," Perkins says. "They recognized Maggie because her past owner walked in every Saturday with her."
Having reluctantly given Maggie up for adoption, the previous owner even donated Maggie's Loyal Biscuit food points to Perkins.
A patron of the Rockland store for that past eight years, Perkins appreciates the nutritional knowledge of team members. When her second oldest dog was experiencing allergy issues, a recommended brand not only alleviated the issue, but proved the right fit for the entire pack.
"When that food manufacturer increased their pricing substantially, the staff reached out to me to suggest a comparable food at a similar price, even allowing me to transfer my food points," she says. "They were very proactive in offering a solution."
Perkins appreciates the Loyal Biscuit Co. selection and the willingness to satisfy customer requests and needs.
"Loyal Biscuit Co. is just a treasure trove of goodies," she says. "The CBD [cannabidiol] line that they carry now is one I asked about because I would rather buy from them than online."
First and foremost, when shopping at Loyal Biscuit Co., Perkins appreciates the caring, family feel of the organization.
"The staff is always friendly; they greet me and my pets by name and always offer their help," she says. "It's definitely that feeling of 'Your team is my team, and your pets are my pets.'"
It's a Retail Life 
What is Loyal Biscuit Co best known for?
Heidi Neal: Our caring team members.
What is the biggest challenge for the independent retailer today?
Neal: COVID-19, hands-down. Trying to balance the needs of employees and customers, keeping them safe, but making sure you are still in business and covering costs is a challenge.
What about for the pet industry overall?
Neal: I think it is going to go back to DCM (canine dilated cardiomyopathy). There's a lot of misinformation out there, and people rely on headlines instead of reading the actual reports and studying the facts.
Are you watching any interesting trends?
Neal: Definitely the acquisitions. From both a retailer and a distributor perspective, with their restructuring to meet the needs of those acquisitions.
What do you see for the future?
Neal: I see Loyal Biscuit Co. adapting to whatever the "new normal" becomes and continuing to serve our customers with kindness and compassion.