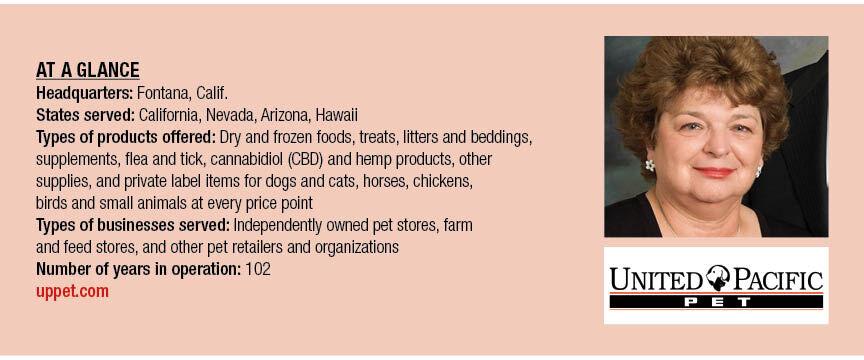 What's the secret of your success?
I think we are successful because we are experienced and flexible. We understand the independent pet retailer's business, and we do everything we can to help them be successful.
Your business has been operating for more than 100 years. Tell us a little about the company's evolution over time.
Universal Feed was founded in Colton, Calif., in 1918, and Gardena Seed and Feed was founded in 1928 in Gardena, Calif. The two feed producers merged in the 1960s and were renamed United Pacific Mills.
The company produced animal feeds of all types and, by the 1980s, also distributed dog and cat foods and other pet products to pet stores primarily in Southern California, but it also had some customers in Nevada and Arizona. In the late '80s, Jim Butler, my partner, left the Iams Co. to become president of United Pacific Mills and worked with the owner to sell the company to Kaytee Products.
After the sale, he moved the pet products to a separate location and it became a division of Kaytee Products named United Pacific Pet (UPP). The company then entered into a mutually exclusive distribution contract with the Iams Co. In 1995, Jim was asked to move to Wisconsin to become president of Kaytee. He hired me to come in as president of UPP. In 1997, Kaytee was sold to Central Garden & Pet Co., and Jim and I bought the Iams distribution part of the business from the Engler family in 1998. In 1999, Iams was sold to Procter & Gamble (P&G) and went into grocery and, by 2006, we were allowed to grow by adding other brands. In 2010, we purchased Consolidated Feed and Pet Supply to expand our product lines. That put us back in the birdseed manufacturing business. In 2017, we expanded our service area to Northern California, all of Nevada, Arizona and Hawaii. Today, we have more than 120 brands from about 95 manufacturers and 112 employees.
What role does United Pacific Pet play in helping to support the growth of its pet specialty retailer customers? How does your company help these businesses compete against online retailers and big-box, mass and grocery retail?
We actively encourage and assist our manufacturers to develop pricing policies that protect the profits of the independent pet specialty stores through minimum resale price (MRP) and minimum advertised pricing (MAP) policies as well by limiting channels of distribution. 
We support EtailPet.com, a turnkey program that allows any pet retailer to have an online presence as well as the ability to offer "order online, pick up in store" and/or "delivered by store" capabilities equal to those of the big-box retailers. It is easy, affordable and effective.
What are your criteria for selecting products to offer to your retailer partners? And what are your retailers looking for?
We look for unique products of high quality that will delight the consumer and their pet. We confirm that the retailer has good margins at suggested retail price (SRP) compared to our lowest published price and a good marketing plan to drive consumers into the stores. We ask other distributors who carry the line how it is selling. We also want manufacturers to have a rep in the field. That usually yields the best results for us and the retailers.
What are your company goals or objectives for 2020?
To continue sales growth and improve systems and procedures to make everything easier and more productive for our customers, our vendors and our employees.