Manhattan's East Village is the epicenter of hip. Home to a long line of avant-garde virtuosity in the arts, literature and music—ranging from the prose of the Beat Generation to Andy Warhol's post-modern art of the '80s to CBGB, the birthplace of punk—the neighborhood just rocks. When Randy and Phil Klein decided to open a holistic pet care center in the heart of the Village in 1988, the forward-looking concept fit right in with the counter-culture vibe of the community.
Whiskers Holistic Petcare began welcoming customers into a mere 600 square feet of sales floor.
"We had one aisle—that was our whole store," Randy Klein says.
In those days, the holistic movement was in its infancy, and as advocates of alternative care for the furry set, the Kleins were received with skepticism.
"Nobody was doing it the way we were then, and still are," she says. "People thought we were kooks for selling snake oil. We were the 'hippy-dippys' down in the East Village."
No strangers to taking the road less traveled, the entrepreneurs operated a high-volume transcription typing and word-processing company prior to opening the new venture.
"Computers were rare in those days; they were thought of as magical," she says. "We have always been a little ahead of our time."
The path to shop keeping commenced when the Kleins' beloved Tiffany-Anne, a malamute/collie mix, developed bladder issues.
"We'd gone back and forth to a vet for antibiotics and tests, but Tiffany-Anne's problems weren't going away," she says.
The couple found a veterinarian embracing a more progressive stance.
"After searching long and hard, we found an alternative or holistic veterinarian, Dr. Marty Goldstein. He introduced us to homeopathy, natural foods, and opened a whole new world," she says. "To this day, he is not only our vet, but a good friend."
Goldstein's guidance and support, combined with plenty of study, not only prolonged Tiffany-Anne's life but also that of Tedi-Anne, the Klein's next dog, who lived to the ripe old age of 19.
"We have learned an awful lot from Marty," Klein says.
Eight years after hanging the Whiskers Holistic shingle, the adjacent Chinese restaurant became available. The Kleins took over the space and broke through the wall, doubling their sales floor to 1,200 square feet.
"The rest is history," she says.
Despite the metropolitan location, Klein noted that wooden features and shelving lend an overall ambience often described as that of a small country store.
"The building is 100 years old, and while our décor has evolved over our 30 years in business, we try to maintain the same atmosphere as much as possible," Klein says.
Street-side, a whimsical mural created by famed Lower East Side street artist Antonio "Chico" Garcia depicts the Klein menagerie, past and present. A second, updated rendition took place after the 1996 expansion.
In 2009, Whiskers Holistic Petcare began welcoming shoppers to a second location in Astoria, a nearby neighborhood in the borough of Queens.
"It's close and convenient to our Manhattan store, but it's quiet and much more countrylike," Klein says. "In the city, everything is so rushed. That's one of the reasons we opened in Astoria; it's more off the beaten path. We tend to go in that direction."
The physical layout of each store is distinctive. However, the inventory mix is uniform, as is the overall vibe.
"The feel and nature are the same in each store," Klein says. "I want to keep the same texture."
Because of the close proximity, product transfers between the two stores take place with ease.
Because Manhattan and parking are not synonymous, delivery services have been offered since day one.
"Early on, Phil and I delivered in our own car after work," she says. "We'd start at 8 p.m. and be out until midnight."
Today, three dedicated vehicles and their drivers are on the road constantly, providing in-home delivery throughout Brooklyn, Queens, Manhattan and the Bronx.
In addition, products are shipped worldwide, constituting approximately 30 percent of Whiskers Holistic business. An 800-square-foot shipping and receiving area is housed in the basement of the East Village building.
"We were on the internet before it was the internet with a website on America's Choice Mall for many years," she says. "We're hip; we're just hip."
Whiskers Holistic continues to stay in step with the neighborhood as it evolves.
"The area has changed dramatically," she says. "When we started, the East Village location was not a good place to be. It's near Tompkins Square Park, which was once a drug dealer haven."
However, gentrification has heralded a striking transformation.
"The neighborhood has grown up, rents have increased, businesses have gone out and, unfortunately, a lot of pet stores have not been able to weather the rental storms," Klein adds.
Over three-plus decades in the industry, the Kleins' establishment has undergone its own dramatic shift in outside perception.
"In the beginning, other store owners and manufacturers and suppliers looked at us from afar," she says.
However, as holistic awareness continues to garner mainstream attention, Whiskers Holistic has emerged as a leader, causing other retailers and distributors to take a closer look.
"On one hand, it's very complimentary—on the other, it's like, 'Wow, we worked really hard over 30 years to do this,'" she says.
Let Food be Thy Medicine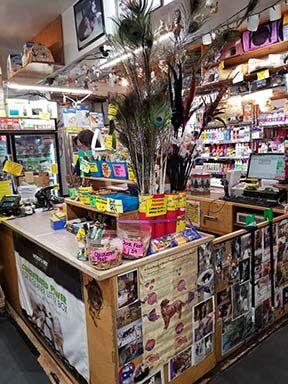 A wide variety of wholesome, hypoallergenic foods, including kibble, canned and dehydrated selections, are in the product mix. However, it is fresh/frozen meats and meals that are highlighted. Four freezers occupy the sales floor, alongside a refrigerated unit holding deli-fresh products and other items. Six holding freezers are located in an adjacent facility.
"We probably carry the largest selection of frozen diets in Manhattan," Klein says. "Frozen is our best recommendation."
In addition, fish, bird and small animal accessories join an inventory that also includes toys, shampoos, flea products, poop bags, wee-wee pads, leashes, clothing and nontoxic cat litters.
"We are a full-line store," she says.
A wide array of treats, bones and body parts occupy an entire wall. However, discretion is a cornerstone to the Whiskers Holistic credo.
"Frankly, we are best known for what we don't carry," she says.
When considering products to stock, Klein focuses on three major attributes, the first being how a food or product will benefit the pet.
"We also look at the consciousnesses of the company, what they are willing to do to make their product and what have they done to get where they are," she says. "Third is the ingredient panel. We want to know where the food comes from, what's in it or not in it."
Klein acknowledges the importance of locally or USA-sourced ingredients, but foods sourced or manufactured in other countries are not taken out of the running.
"There are some really excellent companies out there that are not made in the USA, but have a high level of support of their brand and are on top of it," she says. "I'm not going to knock out a food just because it is made in Taiwan or Taipei, for instance, or even China, for that matter."
When it comes to homeopathic and herbal remedies, the selection encompasses a vast array of nutritional supplements, vitamins, minerals and glandulars.
"This is what we do, so our supplement area is huge—it's not just one shelf," Klein says. "We have everything from flower essence products for anxiety and calming to heavy-duty supplements."
While supplements are sold over-the-counter, certain lines require consultation prior to purchase. Holistic consultants are always available to assist and guide pet owners in these decisions, and local veterinarians often refer clients to Whiskers for assistance in choosing holistic remedies and food.
For these reasons, consumer education is a key factor in the Whiskers Holistic ideology.
"Phil always says we are not a retail store, but rather an information center that just happens to sell products," she says.
In this way, Phil Klein is the lead holistic consultant and is also certified in TTouch Therapy.
"All of our staff can help customers from A-F, but not everyone can help from A-Z," Klein says. "Our other consultant, Joseph Rahey, was mentored by Phil and me, and helps the customers when Phil is not available."
Consultations take place on a first-come, first-served basis or over the telephone.
"We encourage people to come into the store," she says.
Klein says that she travels often between the two stores and is available to meet with clients in Astoria.
"Phil and I have been doing this for over 30 years, and Joseph has been with us for 19 years," she says. "We are the holistic consultants."
Additionally, the Kleins are proud of their Whiskers Own line of products, featuring herbal, liquid or powdered supplements formulated to exacting specifications. A wholesale line is in the works.
"This year, we made a decision to make our products available to other retailers," Klein says. "We are in the process of working out the price structure and, more importantly, instructional information."
Workshops further the educational objective. A favorite in-store demonstration is at-home food preparation for pets. Further, manufacturer representatives are often on hand to introduce and discuss food offerings and provide samples.
Word-of-mouth and referrals drive business, as do online reviews.
"We get a lot of referral business based on our philosophy; people come to us when their pets are near the end of the road," she says. "However, we preach prevention, not just at the end when a pet is not doing well."
Lending a Helping Paw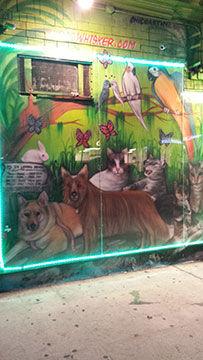 Placing homeless cats into loving, forever families is the purpose of Whisker's Rescue Ranch, sited at both stores. Cats and kittens available for adoption are fostered in-store and featured on the Whiskers Holistic Facebook page. This service has been offered since the store opened, and Klein estimates the number of cats placed into forever homes to be in the thousands.
"When we first started, we had the cats loose in the store," she says.
With the expansion and doubled square footage, a dedicated enclosure was constructed.
"Rather than cages, the cat area has multiple
levels, bridges, carpet, sisal, all kinds of things that will help them acclimate to a home," she says.
"It's really neat."
The Rescue Ranch is primarily occupied by cats one to two years of age and up, and the Kleins prefer to support smaller, local rescues that might not receive the same exposure as larger organizations. Additionally, these groups often set up on the storefront sidewalk to raise awareness and funding.
"We always want to help these rescues out as much as we can," Klein says.
It's A Retail Life
What is Whiskers Holistic Petcare best known for?
Randy Klein: Our recommendations for the health of animals.
What is the biggest challenge for pet retailers?
Klein: The internet and online sales. I dropped one line of product recently that is selling on the internet, which has nothing to do with helping us, and I'm not going to support that business. Also, other retailers might not like me saying this, but they are a challenge as well.
For the pet industry overall?
Klein: The cutting-edge answer is distributors. At one time there were hundreds of distributors. Now, we have a handful of the big guys, and a lesser handful of smaller guys who want to be one of the big guys. Then, you have the big guys fighting it out with each other and the fact that you can only get a certain line from a certain distributor, and if he's out of stock, your pets are not eating and customers aren't buying. That's our biggest challenge right now.
Are you keeping an eye on any interesting trends?
Klein: Cannabidiol (CBD) is a big trend. I haven't seen anything so interesting in a long time.
What do you see for the future of Whiskers Holistic?
Klein: We always try to stay ahead of the curve, to keep up with everybody and everything. We do not plan on going anywhere.
Rude Boy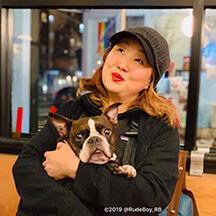 Does Whiskers
Linda Lee discovered Whiskers Holistic Petcare through a towel drive.
"I walked by the store one day to look at the cats in the window and noticed a sign requesting towel donations to benefit a local animal shelter," she says. "I wanted to help out."
Towels in hand, Lee was immediately drawn to the overall vibe of the store and the friendliness of the staff members. However, the digital services consultant did not own a dog of her own at the time. Instead, she was focused on a demanding career, where 80-hour work weeks were the norm.
"It was unsustainable," she says. "So, I quit my job, got a puppy and named him Rude Boy."
Lee purchased Rude Boy from a pet store, and the diminutive Boston terrier was dealing with myriad issues.
"He had a constant runny nose and many other problems that came from being a puppy mill puppy," she says. "Every month, it seemed like a brand-new ailment, and the vets only promoted the brands that they sold."
Instead, she turned to the holistic consultants at Whiskers.
"I stopped going to the vet that spent 20 minutes telling me that raw food isn't good for my dog," she says. "Whiskers stocked all of these holistic products, and they helped me along. It made me feel better than taking Rude Boy to the vet for injections."
Four years later, the user experience specialist and now owner of Space NYC combines pet parenting with a busy career and depends on the Whiskers team to support her in Rude Boy's shopping needs.
"They are great at showing me new products, and if I am interested in a certain item, they will try to find what I'm looking for," she says. "You don't get that level of service at a big-box store."
Lee also values the mentorship she has received.
"I feel like the Whiskers people have helped me with my education, and if I have more questions, I look the information up," says Lee. "What I really appreciate is the friendliness of the entire staff. They are so welcoming."
While Lee does take advantage of the store's local delivery service, she and Rude Boy pop in for a visit on a daily basis.
"It's on our walking route," she says. "It's a destination."
"What is interesting to me is that with all the health and wellness advancements, the Kleins don't seem so 'hippy-dippy' anymore," she says. "They really were ahead of their time."