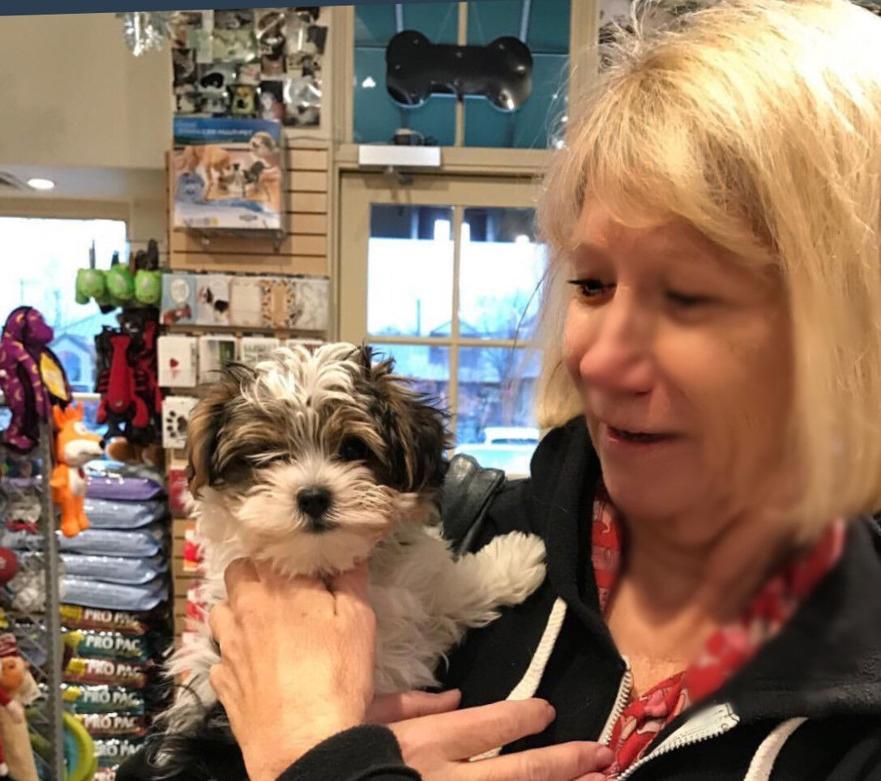 Lori Johnson, owner of Healthy Tails, which has two stores in Reno, Nev., discusses the top-selling frozen raw products at her stores as well as how the COVID-19 pandemic has presented challenges for her business.   
Pet Product News: Tell us about the special services you offer. 
Lori Johnson: Customers can go on our website and order from our own store online—to either be picked up in-store or curbside, or we deliver free of charge within 10 miles of either store, but we do no shipping.
Our employees are all pet nutrition specialists and help pet parents find the right foods for their dog or cat that agree with their digestion issues and skin/coat. The object is not to sell one food over another, but to help pet parents choose the right food/treat/supplement for their pet based on their pet's allergies, digestion issues, etc. We also carry many supplements for good health and pain management with many choices and strengths of cannabidiol (CBD). 
PPN: What are the top-selling products in your store right now?
Johnson: Top sellers in frozen raw food are Smallbatch, Stella & Chewy's, Northwest Naturals and Primal Pet Foods. Top sellers in dry food are Acana, The Honest Kitchen, Taste of the Wild, Zignature, FirstMate, Pulsar, Solid Gold and Victor. Top sellers in chews are Best Bully Sticks, Krijon beef cheeks and Vital Essentials. For teeth, Indigenous dog chews. Top sellers in treats are Stella & Chewy's and Wild Meadow Farms. Top sellers in toys are Petlou, Hyper Pet and VIP Products. Top sellers in supplements are Pet Releaf, Green Gorilla, Austin and Kat, and Iceland Pure CBD. Top sellers in leashes, harnesses and collars are Lupine—[which offers a] lifetime guarantee—and EzyDog, as the harnesses are so easy to put on.
PPN: What are your favorite products right now? 
Johnson: Stella & Chewy's and Smallbatch raw food, Zignature dry food (it has so many varieties of proteins), Vital Essential chews, Pet Releaf CBD oil, and VIP and Hyper Pet toys.
PPN: What industry trends have you been keeping your eye on most closely? 
Johnson: Raw frozen food. I have added five freezers to the stores in the last two years, and more and more pet parents want to feed their dogs and cats better-quality food and are moving to raw foods. When you solve a pet's digestive issues, they are healthier and happier, and you have less vet bills.
Also, CBD products. They work wonders for aging pets to remain as agile as possible for as long as possible.
PPN: What business challenge are you currently in the process of tackling?
Johnson: The "stay-at-home" and "social distancing" mandates by the state [in response to COVID-19] have changed our business drastically. Keeping my employees happy and healthy is my first priority. I need them. No longer do we have customers walking around the store, reading ingredients and choosing different products for their dog or cat to try. The employees used to spend 15 to 30 minutes with a customer discussing their dog or cat's needs. Now, they spend less than five minutes as we cannot have more than one to two customers in the stores at the same time. We still want to take the 15 to 30 minutes, but customers are apprehensive to stay longer. 
Some customers are following the state's rules, and some aren't. I want the stores to stay open as long as possible, and I need to follow these rules to keep my employees at ease with their connections with our shoppers. Employees take temperatures twice a day, wear masks and gloves—changing them often—and we clean on an hourly basis: keypads, credit card readers, counter tops, etc. 
PPN: What business goal are you hoping to achieve in 2020?
Johnson: If you had asked me this question in January, I would say I want Healthy Tails to grow and maybe open a third location. We added a kiosk at the mall at the end of January; now we have closed it permanently. Healthy Tails is my happy place. I love talking to customers about their dogs and cats—sharing stories and giving their dogs a treat. 
As it is now May 2020, I just want to stay in business and keep the employees I have so that I can continue to help pet parents find the right foods for their dogs and cats. I haven't felt that Healthy Tails is just a store that sells dog and cat foods and accessories. It has always been a destination for pet parents to share their pets and/or their pet stories with us. 
I feel social distancing is here to stay for a long time—until a vaccine [for COVID-19 is created]—so the changes for dog and cat parents mean taking walks with their dogs and stopping in the shop are more limited. Everyone is scared, mad or apprehensive about going out and accidentally being close to someone. I'm hoping our stores can still be a place for customers to stop by with their pets—to get a treat for them and tell me a happy story about them, even if we are all wearing masks and gloves. I want every dog and cat to be a Healthy Tails dog and cat, and I yearn to give them all a hug again.
PPN: What is your best tip for connecting with customers?
Johnson: Just talking to customers about their dog or cat. There are many dog and cat food stores out there and so many online shopping choices. Connecting with a pet parent about their dog and cat is personal, and I want to have that conversation. If we do not carry the food they are looking for, I'll help them find it somewhere else. Our dogs and cats' lives are much shorter than ours, and they bring us so much love. 
I want customers to share the connection they have with their dog or cat with me. I guess I need that connection. I want all pet parents to enjoy their pet to the fullest, with the longest, most active life, and whatever I can do to help with that makes me happy. It is not a sales tool. It is how I feel about all dogs and cats. They are pure love.
Get an inside look at Healthy Tails in our gallery below.