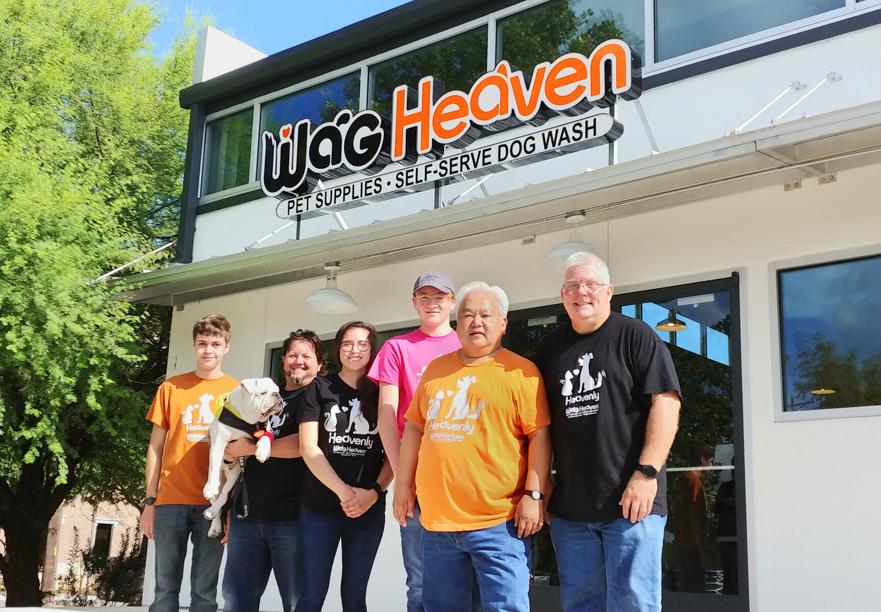 A sit-down chat with Jeffrey Manley and Jusak Yang Bernhard, co-owners of Wag Heaven in Georgetown, Texas, reveals not only an intense devotion to family, but a fervent dedication to community. Expressions such as faith, love and gratitude season the conversation. However, these life partners and business owners walk the talk by enfolding their values into an ever-widening circle of care and passion.
For Manley and Yang Bernhard, the journey to Wag Heaven commenced in Southern California, where both men enjoyed productive careers in the entertainment industry. The adoption of their beloved Kai, who suffered from food sensitivities and allergies, led to a discovery of the benefits of a hypoallergenic diet. The Labrador-Dalmatian's symptoms were alleviated on this nutritional regime, and the breakthrough pointed the pair on a path that would ultimately lead to the world of pet retail.
A subsequent move to the East Coast city of Savannah, Ga., to be near family highlighted the unavailability there of the specialty food on which Kai was thriving. The scarcity steered the pair to hang their own shingle in order to raise nutritional awareness for the furry residents of their newly adopted hometown.
TailsSpin Pet Supply opened in 2007, offering hypoallergenic foods free from corn, soy and wheat, along with a full complement of pet supplies. Multiple locations followed. Riley and Cosmo became members of a pack with Kai, and later, Koda joined the family.
"Koda was a stray who came to us on the same day we had to put down Kai, our first dog and inspiration to opening a pet store," Yang Bernhard says. "Koda and Kai look quite the same."
The sale of TailsSpin enabled a subsequent move to Georgetown, Texas. The pair had an eye on eventually starting a new pet retail business, but family came first.
"We moved to Georgetown in 2017 to help our family and dedicated two years of our lives to mom and dad as full-time caregivers," Yang Bernhard says. "We lost dad, but mom and our brother Kevin, who is autistic, still need us."
By 2019, the pair was ready to get back to their passion, and Wag Heaven began welcoming customers.
"We love this business," Yang Bernhard says. "In some ways, this time was easier because we already had connections within the pet industry."
The businessmen are quick to credit those contacts with the successful opening of their venture.
"The industry has always been so welcoming and embracing, so willing to help us," Yang Bernhard says. "It truly takes a village to open a store, and in starting Wag Heaven, we really relied on our manufacturers and distributors to help us with our discounts and our [initial stock orders] ISOs."
Wag Heaven was open for just a few months when the COVID-19 pandemic hit, and Yang Bernhard and Manley acknowledge their conviction in a higher power.
"It's been tough, but we are a faith-based couple and organization," Yang Bernhard says. "We opened TailsSpin in 2007 during the whole melamine recall when everything went crazy in the pet business, and now here we are, we'd just opened Wag Heaven when the pandemic hit, and thank God we are an essential business."
In addition to support from the pet industry, both men cite the city of Georgetown and its residents as instrumental in welcoming Wag Heaven.
By September 2020, a second location opened its doors in downtown Georgetown.
"The support we have received from the city of Georgetown has been amazing," Yang Bernhard says. "We are so excited to have opened our second store, but doing so during a pandemic has also been scary. It's a different market."
Along the way, collaboration with other local pet retailers has been a central component to the Wag Heaven philosophy.
"We learned from our TailsSpin days to embrace our competition, and we recommend people to other pet retailers all the time," Yang Bernhard says. "We all need to survive. The population of Georgetown is about 90,000 people, and we each just need a few thousand residents to be our regular customers."
A monthly Small Business Circle held in conjunction with the Georgetown Chamber of Commerce, and conducted by Manley and Yang Bernhard, furthers this aim as small-business owners, including local pet retailers, gather to network, share tips and experiences or participate in workshops.
"One of our philosophies is to be open to anything, because it will turn into something down the road," Manley says. "The whole idea is that we are doing what we do to help others."
Like its owners, the atmosphere at Wag Heaven is open and friendly.
"At the end of the day, we always say that pet people are the best people in the world, they have the most patience, they are the friendliest," Yang Bernhard adds. "We embrace that feeling."
For these reasons, Wag Heaven associates must be pet lovers, first and foremost, as well as committed to community and devoted to supporting both people and pets.
"You can't call yourself a community store if you don't have that love," Yang Bernhard says. "We want to create a feeling of home."
Hand-created signage furthers the homey, mom-and-pop corner-store ambiance.
"In our case, we are a 'pop-and-pop' store," he adds.
Associate training is extensive and stresses customer relations. New hires study PetStorePro, the free online training tool for pet retailers created by the Pet Industry Distributors Association (PIDA), spend time shadowing the owners, and participate in workshops presented by a wide range of pet experts. The result is a staff of well-qualified Wag Heaven emissaries.
"We are all about education and awareness; our people are very knowledgeable," Manley says.
The city of Georgetown is notable as the home of the first Sun City retirement community in Texas. Sun City Texas opened in 1995, and the sprawling, age-restricted community is home to an estimated 13,000 active residents.
Recognizing the needs of an older population, Wag Heaven customer service travels the extra mile. For example, purchases are carried to the car.
"It's a whole different way of doing things," Yang Bernhard says. "With the elderly, we want to be available to them. Some may not have anyone else to talk to, and they love to be able to have a conversation."
Aware of the importance of hydration, particularly for the more mature shopper, water and soft drinks are at the ready, as are chairs for taking a shopping break.
Manley stressed the value of assisting customers in their purchasing decisions.
"If a customer comes in looking for a harness or a leash, we will measure, fit and adjust it to the individual dog, because you want to make sure of a proper fit," he says. "We also provide informational tidbits. It's not just, 'Here's a harness, goodbye.'"
"We don't hard-sell anything, we provide knowledge and information, like Jeff said, tidbits," agrees Yang Bernhard.
A Broad Range
This culture of sharing expertise and providing education includes food selection and proper nutrition.
"We provide plenty of information about different foods and their manufacturers," Yang Bernhard says.
Foods at Wag Heaven focus primarily on corn-, wheat- or soy-free diets at a broad range of price points. However, in a nod to the needs of the local populace, a food that is often endorsed by veterinarians is also in the mix.
"The idea is to carry one brand that the vets are recommending because if we don't, those potential customers are going to turn around and leave and will not be coming back for our self-serve dog wash or a collar, for instance," Manley says. "We want to at least have a conversation and be seen for other things besides just food."
"We have also brought in a lot of the ancient grains, and are seeing a call for grain free start to pick up," Manley adds.
Additionally, demand for raw food is gaining ground.
"We also find that with an elderly community on a more fixed income, highlighting economically priced foods is important," Yang Bernhard says.
Having been open for a little over a year, Wag Heaven has adjusted to pandemic conditions.
"We have been offering free, same-day delivery during this time and are going to continue to do so," Manley says. "We had to rush into online sales, delivery and curbside sales."
Yang Bernhard adds: "Since we are also pushing large-sized bags of food in order to help our fixed-income customers to save money, we will deliver those bags to their home."
Texas-made products and foods are spotlighted.
"We have discovered local people that create pet products, and so we are bringing them in too," Manley says.
"We always love local products," agrees Yang Bernhard.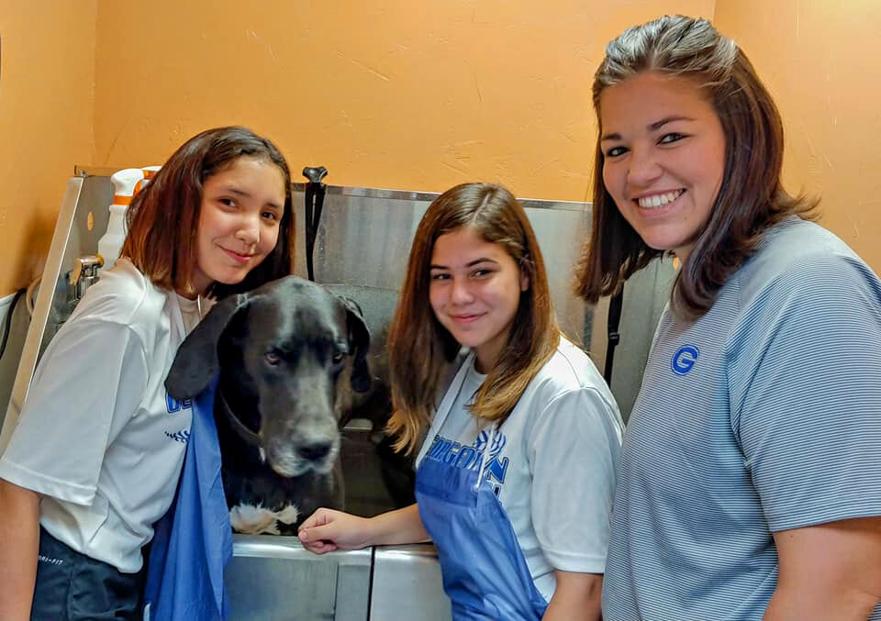 It Takes a Village
Both locations feature two self-serve dog wash stations. This service also figures prominently in Wag Heaven's fundraising efforts. For instance, when the 2019-2020 wildfires ravaged Australia, Wag Heaven jumped on board in answer to Royal Society for the Prevention of Cruelty to Animals (RSPCA) Australia's appeal for donations. Special dog wash certificates were offered, with proceeds earmarked for animals and people affected by the conflagrations.
"That is one of the benefits of our self-serve dog washing facilities. In this case, we put a toy and two dog wash certificates together, and the proceeds from those purchases were donated to those in need," Manley says.
Yang Bernhard adds: "I think the bottom line is how much does it cost to do that? It's just water and a little shampoo, so why not donate the whole thing?"
Offering fundraising dog washes in Texas has proved to be a learning experience.
"One of the things that we didn't realize until we worked with The Playful Child Foundation, an organization that encourages healthier children by promoting play, is that local high schools have community service requirements," Manley says. "We didn't have those connections, but The Playful Child did, and the day of the fundraiser all these teenagers started showing up."
Connections are key to the Wag Heaven credo, and the community of Sun City offers myriad social opportunities and activities for its residents, including the Sun City Pet Club.
"When we adopted Koda, we were looking for a training class and found the Pet Club," Manley says. "We met people there who now come into our stores."
Wag Heaven, in cooperation with the Pet Club, has held educational workshops in partnership with pet industry manufacturers and has also joined forces with the club in its altruistic efforts.
"The Pet Club helps a lot of pet organizations and shelters, so if a shelter comes to them with a specific need, for example, crates, the club turns to us to purchase crates at cost," Manley says.
"The pet club has been so embracing to us," Yang Bernhard says. "We are honorary members because mom and Kevin live at Sun City."
The plight of homeless pets has always been a focus of concern for Manley and Yang Bernhard, so forming a relationship with the Georgetown Animal Shelter was a priority from day one.
"We began working with the Georgetown Animal Shelter to set up adoption days on a regular monthly basis, and got a few in before the shutdown," Manley says. "Once things go back to normal, we definitely plan to get the adoption days going again."
In the meantime, food and supplies are provided to animal shelters and local food banks in cooperation with manufacturers and distributors.
Sustenance is also offered to pets fostered by families during these stressful times.
"If they need help, especially during the pandemic, and can't afford to buy food, they can come into Wag Heaven," Yang Bernhard says.
Involvement in local events not only raises awareness, but also provides networking opportunities.
"One of the local shopping centers has an artist's market which we have participated in," Manley says. "We met a local woman there who makes homemade dog treats, and we now carry her products at Wag Heaven and got her involved with the Georgetown Chamber of Commerce small-business leadership group."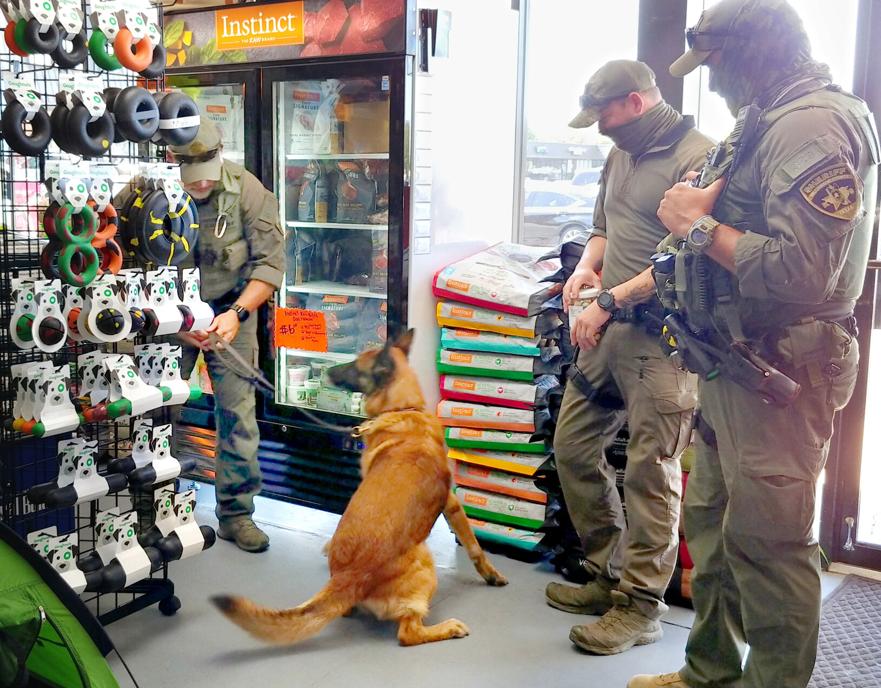 As the city of Georgetown endeavors to bring an artistic flair to the downtown area, with mural-adorned walls and even electrical boxes serving as creative palettes, the men approached the city for permission to design a fresco for an outside wall of their new store.
"When we started talking to the Georgetown Arts and Culture board, they wanted to do something bigger, and we came up with the idea of a service dog theme," Manley says.
"Lackland Air Force Base in San Antonio has a memorial that honors war-hero Nemo, the German shepherd who protected his handler during the Vietnam War," adds Yang Bernhard. "Georgetown is also the first Purple Heart City in Texas."
Recognizing the significance of these distinctions, Wag Heaven is raising funds, in conjunction with the National Endowment of the Arts and the city of Georgetown, to collaborate with veteran and military first-responder artists to create an inspired testament to K9 service heroes.
"We are going to hold painting parties, and the community is going to be involved with the mural," Yang Bernhard says.
The championing of service dogs is near and dear to the hearts of both men, and that includes K9 officer teams. At the new downtown Georgetown site, proximity to law enforcement proved serendipitous.
"In Savannah, we were involved with the K9 unit, we raised money and provided food, and as we were first looking at our downtown space, and this is where fate comes into play, guess who was in front of it?" Yang Bernhard says. "The Williamson County Sheriff's Office."
Recently, Wag Heaven was selected to be featured in a campaign presented by Mastercard. The work will profile independent businesses, and the award was accepted in the characteristic style of Wag Heaven and its owners.
"They chose our company as one of five out of over one thousand candidates nationwide," Yang Bernhard says. "We are excited, grateful and quite humbled." 
---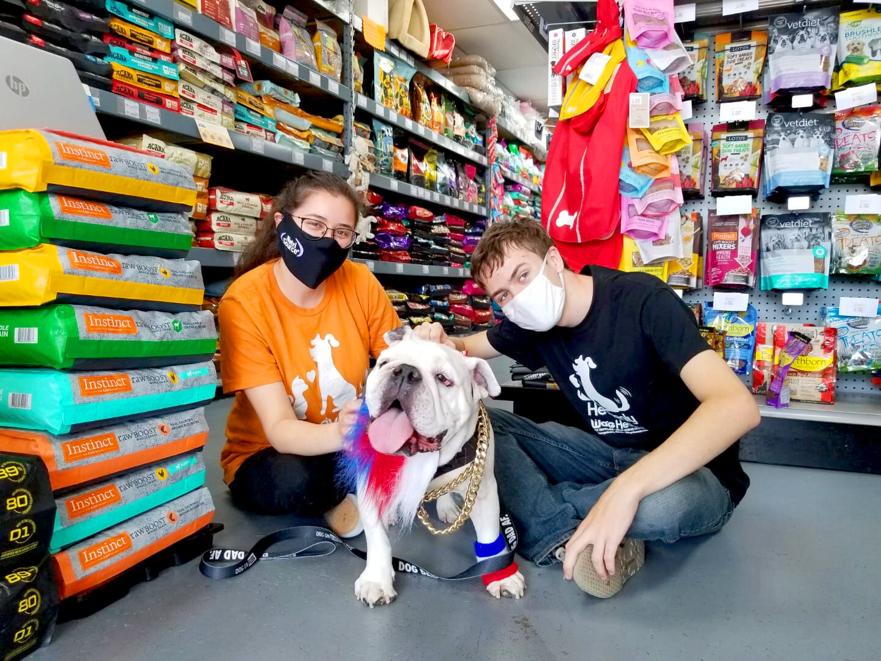 Wag Heaven at a Glance
Co-owners: Jeffrey Manley and Jusak Yang Bernhard
Locations: 3010 Williams Dr, Georgetown, Texas; 205 West 6th Street, #115, Georgetown, Texas
Number of employees: 8-5 full time, 3 part time
Years in business: 1
Square footage: 1,800
Website: wagheaven.com
Products and services: Hypoallergenic pet foods free from corn, soy and wheat, pet supplies and supplements,
self-serve dog wash, delivery, curbside and carry-out service
---
It's A Retail Life
What is Wag Heaven best known for?
Jusak Yang Bernhard: Our customer service.
Jeffrey Manley: And community outreach.
What is the greatest challenge for the independent pet retailer today?
Manley: The perception of online competition versus the local stores. The independents really do offer a lot more than the online competition.
For the pet industry overall?
Yang Bernhard: The whole [dilated cardiomyopathy] DCM issue has been tough.
Manley: With all the information that was put out over all these years about grain free, people aren't sure what to believe anymore. So, it's basically about building trust that we really are providing a good diet for pets.
Are you watching any interesting trends right now?
Yang Bernhard: Everybody is going into the ancient grains.
What do you see for the future of Wag Heaven?
Yang Bernhard: If we have the energy, we would like to open three more stores. It's not about money, but about creating more power in order to help the community. With TailsSpin, we were able to build enough clout to require the manufacturers to give money to our community. I think our community needs that, and we are not [ashamed] to ask for donations for food banks or shelters. That's why faith is so important to us.
---
To Protect and to Serve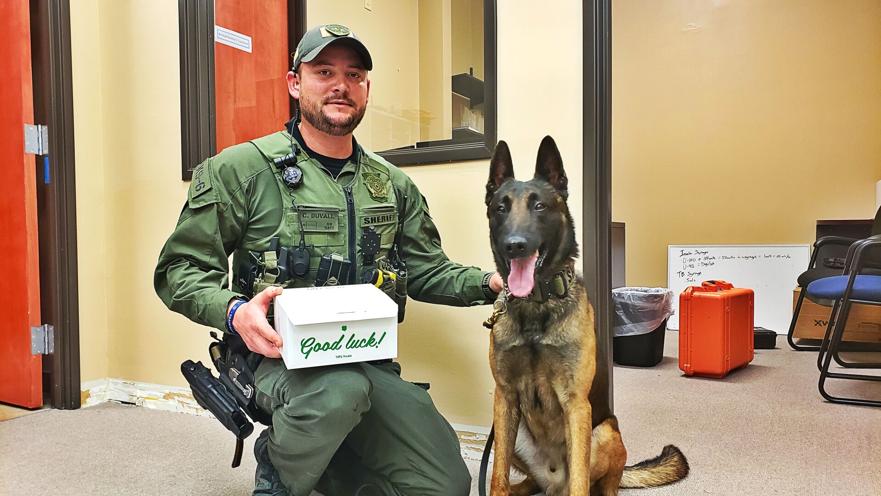 After the Williamson County Sherriff's Office team of deputy Charles Duvall and K9 Kato conclude a demanding shift, the Belgian malinois is sometimes in need of a cleanup. Williamson County covers approximately 1,200 square miles, enough to keep the eight-dog-strong canine unit on its paws. After a hard day's work, officers know their partners will emerge sparkling and fresh following some much-deserved Wag Heaven spa therapy.
"Especially if we've been on track it can be muddy and nasty, and it's nice that we can always run by there as soon as we get done and wash and blow dry our dogs," Duvall says.
However, officer involvement at Wag Heaven doesn't stop with the outside of their furry colleagues; food for these persevering K9s is also acquired at Wag Heaven.
"I've had and trained hunting dogs my entire life, and we fed a mix of raw and kibble. Wag Heaven opened that avenue up for us," Duvall says. "The raw diet we are now feeding is Instinct, with all the nutrients mixed in, so basically we just cut it up and feed it; we don't have to add in vegetables and fruits."
Duvall notes the benefits gained on this nutritional program.
"Their coats are shinier, teeth have less tartar, and their overall attitude is a little more 'go with the flow,'" he says.
In addition to feeding and grooming the dogs, Wag Heaven also serves as a "sniff" training site.
"In order for our dogs to be fully prepared in the field, we like to expose them to a variety of environments," he says. "When we train in settings where there are treats and foods present, they learn to alert to the narcotic or explosive odors we've placed and want them to target."
From a public relations standpoint, Duvall said the presence of the furry officers and their handlers at Wag Heaven has been beneficial for both the store and the Williamson County sheriff's officers.
"When we go there to train, people are curious at seeing so many cop cars outside and stop in to watch the training," he says.
Wag Heaven's participation in local community events includes promotion of the sheriff's office by handing out K9 trading cards, photos and calendars.
Recently, Kato and deputy Duvall were selected from units around the country to be featured on the 2021 calendar published by Vested Interest in K9s, a nonprofit whose mission is to provide bullet and stab-protective vests to U.S. law enforcement dogs and related agencies. A calendar signing will take place at Wag Heaven, with Kato and Deputy Duvall at the ready to autograph and glad-hand—or paw.
The law enforcement pair is familiar with celebrity, having been featured on several television shows including: "America's Top Dog," "Live PD" and "Live PD: Police Patrol—special canine edition."
In spite of this renown, deputy Duvall remains humble.
"Kato is the star; I'm just his driver," he says.