What do you manufacture and what distinguishes these products from similar ones on the market?
From the beginning, Pet Releaf has been on a mission to change what "healthy" means for pets. With that in mind, we've made a commitment to always be in complete control of our entire manufacturing process from seed to sale, from plant to pet. We see our hemp get planted as seeds right here in the United States at our certified USDA organic joint-venture farm in eastern Colorado. We watch them grow to maturity and are there when it is harvested. We're in control of our extraction process that uses no toxic solvents or chemicals and only pressurized air. 
Our product line provides the highest-quality CBD hemp oil products for both dogs and cats. We have a range of product options to ensure that whether your pet is in perfect health or suffering from illness or injury, there is an appropriate and effective Pet Releaf option. We currently have two different potency CBD-infused dog treats in a variety of flavors. Our Edibites are handmade and baked in our own Colorado kitchen by the Pet Releaf team in small batches. We also offer our certified organic hemp oil in dropper bottles and capsules, formulated to offer dogs and cats higher-potency options. We also offer our Canna Care, a CBD-infused topical, as a way to help with all types of skin issues. The excitement surrounding the recent release of our 10-pack capsule tin and our latest additions to our CBD hemp oils has led to sales far beyond our expectations. Our CBD lip balm, intended for human companions, is also flying off the shelves. 
What are the most exciting developments happening at Pet Releaf?
With the addition of a highly respected multistore independent pet retailer in California, Pet Releaf is now found in more than 2,500 independent retailers around the United States and in several countries overseas. We are so excited that all of our hard work and dedication to making the absolute best CBD products for pets has been recognized by independent retailers and customers alike. 
With the success of the 2017 harvest, we are also eagerly anticipating the planting of several thousand acres of our PR-33 hemp strain at our joint-venture farm in eastern Colorado in late March. One of the highlights of every year is the farm tour we give to our independent retailer partners every spring and summer. 
Tell us about your hemp R&D facility in Colorado.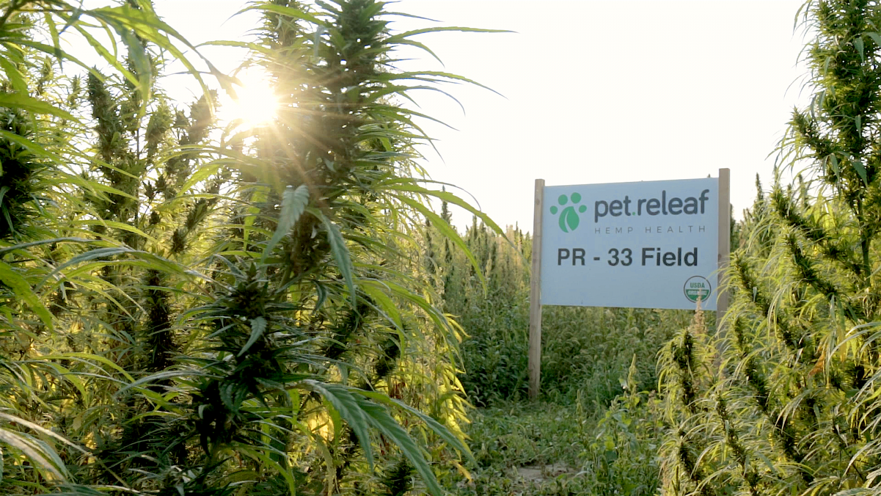 Our joint-venture hemp farm in eastern Colorado is by the far largest hemp farm in the United States. In the summer of 2018, our farming partners are hoping to plant close to 10,000 total acres of hemp, a portion of which will be our proprietary hemp strain, PR-33. Pet Releaf is able to achieve these economies of scale because we grow hemp as nature intended—as a rogue crop that only receives sunlight and water—and also because we have partnered with multigenerational family farmers and not ex-marijuana growers. Our farmers' decade of experience has allowed them to literally invent a new combine that can harvest hemp in the most efficient way possible. Our extraction partner has constructed a state-of-the-art, large-scale, super critical CO2 extraction facility that will also allow us to keep up with the exponential demand for our products. 
What do pet specialty retailers need to know about hemp farming and CBD oil production? And how can they vet the differences between the brands and products on the market?
Retailers need to know that not all CBD products are created equal. The industry is not regulated, and transparency is almost non-existent when it comes to CBD products. Many CBD products are sourced from internet middlemen or large private-label suppliers, and despite many companies claiming to use organic Colorado hemp, the fact is these bulk oil suppliers are sourcing large percentages of their supply from China or other countries with dubious farming practices. We strongly recommend that retailers ask for organic certifications if organic is claimed on the label and proof of where the hemp was truly grown. Beyond that, many companies are also using marijuana hemp hybrids to make their CBD products. These strains contain much higher levels of THC compared to Pet Releaf. This puts animals at risk of getting "high," which can be very dangerous for a sick or elderly animal.
At Pet Releaf, we only use super critical CO2 extraction to remove the beneficial oils out of the hemp plant. The overwhelming majority of companies are actually using butane, acetone and other toxic solvents to leach the oils out of the plant, [a process that] always leaves some of those toxic solvents in the final products. Although this method is much cheaper than CO2 extraction, the Pet Releaf promise is to never use toxic solvents in our extractions. Unfortunately, CBD isolate is also becoming extremely commonplace in the market. CBD isolate is an even more heavily processed version of CBD oil and requires even more toxic solvent processing. 
Whenever bringing a CBD brand into their stores, retailers should be adamant that the product is a full spectrum and organic CBD hemp oil with paperwork and testing to prove it.  
There are five questions any retailer should ask of a CBD brand:
Where is your hemp grown and can you prove it?
What extraction method do you use and can you prove it?
If the product label claims organic, can the company provide organic certification?
Is the product full spectrum and how much active CBD is in the product? Can you prove it?
Do you include CBD isolate in any of your products?
Tell us about key people at your company who your pet specialty retail partners should know about.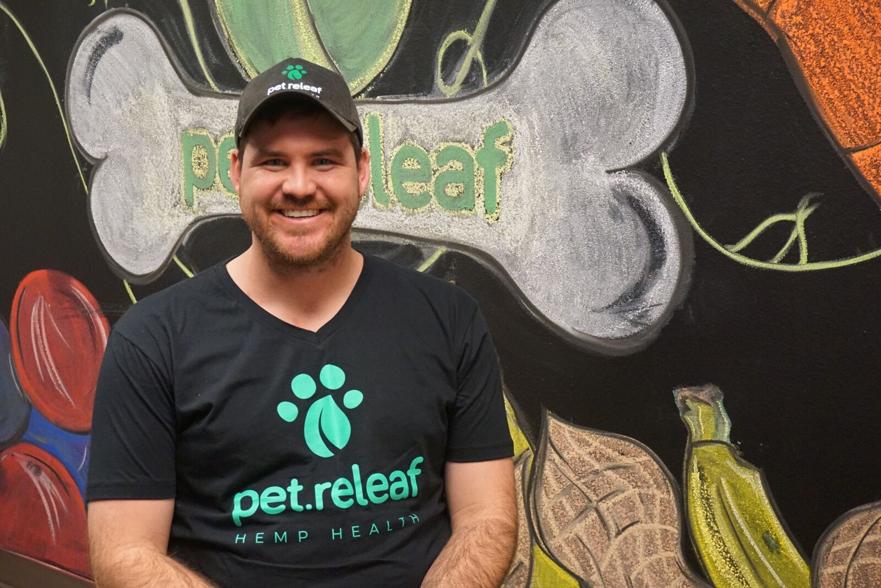 Reid Baker joined the Pet Releaf team in January 2017. As the eastern regional sales rep, he communicates directly with all of our retailer partners large and small. During his time here, Reid has spent hours learning not only the benefits of Pet Releaf products, but also understanding the science behind CBD in general. We're constantly complimented on Reid's ability to build personal relationships. Reid joined the Pet Releaf family first as a customer; the results he saw with his own dog led him to leave Georgia and move to Colorado to join the Pet Releaf mission full time. Reid and his girlfriend, Maddie, and their two dogs, Sadie and Nola, enjoy skiing and hiking in the beautiful Colorado Rockies.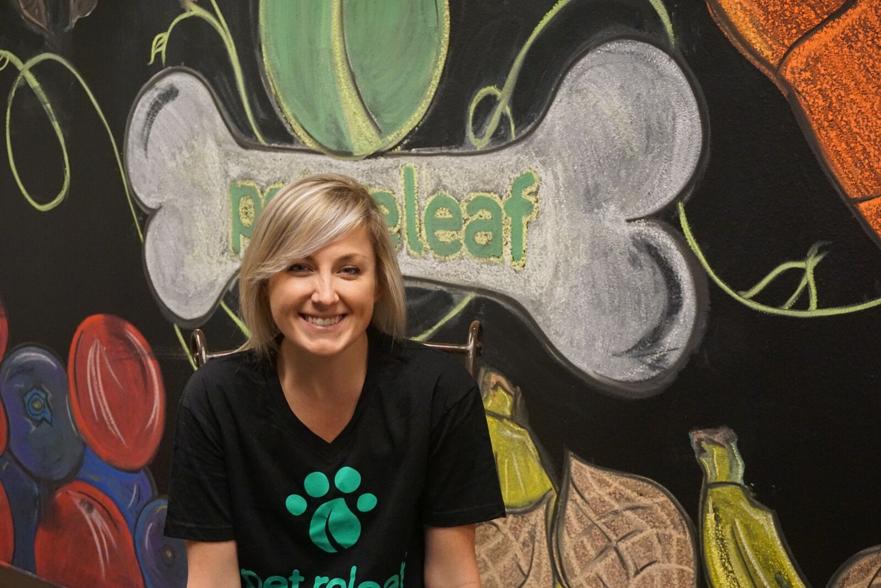 Shelby Flinn joined the Pet Releaf team in the summer of 2017 as the western regional sales rep. Shelby brings an amazing positive energy to the Pet Releaf office every single day that has become infectious amongst the entire team. Shelby is a go-getter, where close enough is never good enough. We can always guarantee that Shelby will get the job done. Shelby moved to Colorado from North Carolina four years ago and recently adopted her adorable puppy, Opal.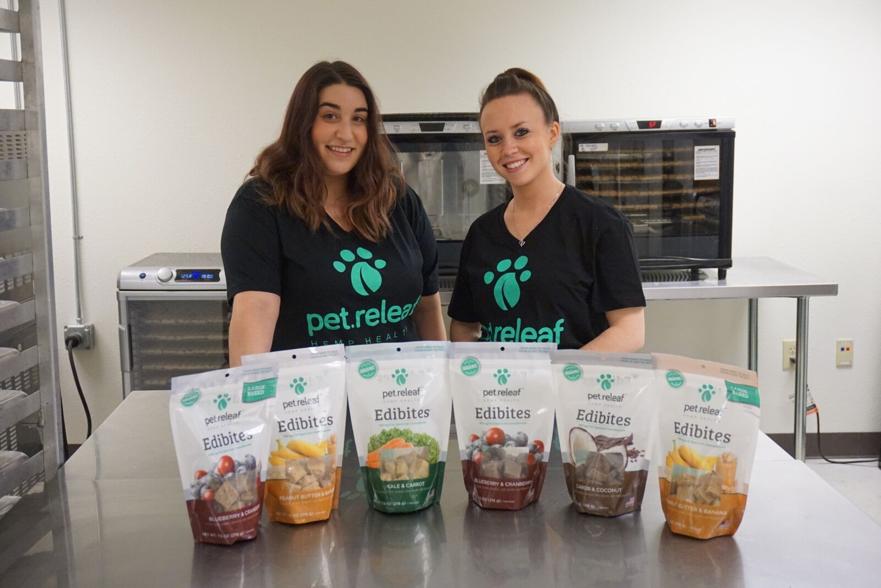 Meet the best baking team in the pet industry. They spend their entire day hand making the Pet Releaf Edibites in small batches right here in our Pet Releaf kitchen. They are laser focused on product quality and pride themselves on making the absolute best CBD dog treats on the market. 
What does the future hold for Pet Releaf?
We could not be more excited about the future as we strive to reach 5,000 independent pet retailers before the end of 2018 and continue to expand our international foot print. We will achieve this by continuing to be the most trusted and most innovative company in the pet industry.