Give us some background on how Kradle came to be.
Lee Mayberry: We share a love for dogs and hate to see them stressed. Many of us are pet parents, so we know how stress can get in the way of our enjoyment and bond with our dogs. We believe dogs can lead happy and stress-free lives with safe, effective, natural CBD [cannabidiol] solutions.
We all personally use CBD products for ourselves [and] our family members, including our dogs, and have realized the benefits firsthand. And, we experienced the confusion—of dosing, product claims and ingredient lists. Together, we hold a passionate understanding of the health and wellness benefits of CBD and wanted to bring this forward to consumers in products that educate and elevate in the CBD space with high standards not found in other CBD products for dogs.
Give us an overview of your product portfolio, and explain the differences in the product formats and how the different products work.
Mayberry: The Kradle product portfolio, which includes Chews, Toppers and Melts, has been designed to address the variety of stressful situations dogs may encounter:
• Kradle Chews are formulated for everyday use, easy to use and come in delicious chicken and beef liver flavors even the pickiest dogs love.
• Kradle Toppers are formulated for everyday use and are a snap to use as they come in a single-use package with a gravylike product that dogs love to lap up.
• Kradle Melts are single-dose strips that dissolve immediately in a dog's mouth. With an extra serving of CBD, Melts are formulated to work quickly and are the perfect solution for sudden stressful situations.
The pet CBD market has been exploding, with new companies entering the market all the time. What distinguishes Kradle and its products from others on the market?
Mayberry: Innovation and ease are at the heart of Kradle. Kradle is the only CBD brand designed specifically to solve stress and anxiousness in dogs. While other CBD brands have a single delivery method, we offer three one-of-a-kind options to meet varying dog needs with a BotaniTek formula not found it any other CBD pet product today. Our patent-pending BotaniTek formulation combines broad-spectrum CBD from the highest-quality American-grown hemp with additional premium ingredients that set us apart to naturally calm dogs from the inside out. To top it off, Kradle completely takes out the guesswork from pet parents' lives. Each delivery option is offered with exacting potencies by dog weight: small, medium and large. With a targeted dose of our BotaniTek formulation in each serving, pet parents can be confident Kradle will reduce the stress in their dogs.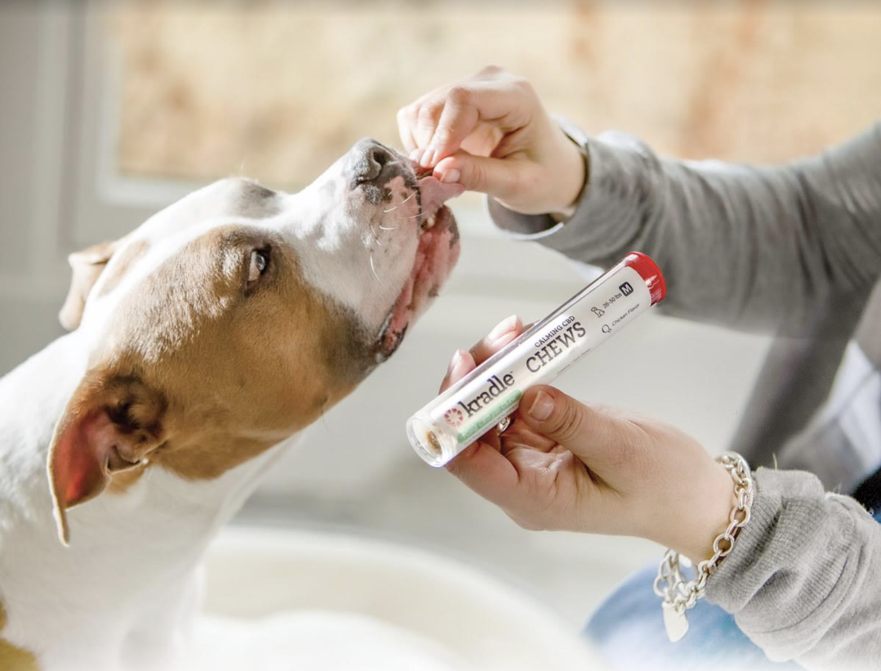 The CBD product category is still an evolving one, particularly as it relates to regulatory issues. How does Kradle navigate this evolving landscape, and what can you tell us about what to expect in the future regarding legislation?
Mayberry: It can certainly be a tricky landscape to navigate. The Kradle team has decades of experience in the food/beverage/dietary supplement/pet sectors and has been fortunate to develop a broad and deep network of resources, one of which is a longstanding relationship with one of the top FDA law firms in the country. We also rely on the valuable insights that our involvement with the top industry trade associations (NASC, AHPA, CRN, NPA and UNPA) provide. We've been tracking the cannabis regulatory landscape for several years. This combination of contacts and firsthand experience puts Kradle in a unique position to monitor the state-level developments and continually update a state-by-state regulatory/risk matrix.
We also pay close attention to the messages being communicated by the FDA and the FTC, and monitor the impact of various consumer protection regulations and litigation.
What obstacles still exist to selling pet CBD products in today's marketplace? Are considerations such as price and safety still barriers to entry into the category?
Mayberry: There's a lot of confusion in the marketplace. Consumers and retailers have questions and concerns about product quality and the regulatory status of various products. That's why we're obsessed with quality at Kradle. We carefully formulate our product dosing based on weight and use broad-spectrum distillate to avoid concerns around THC. We also made the choice to avoid using CBD isolate, which the FDA has approved for use as a human drug.
As a manufacturer in this category, how are you helping to break down those barriers for pet owners?
Mayberry: At Kradle, we pride ourselves on creating consumer trust through transparency. Look for a brand that:
• Utilizes broad-spectrum CBD in their products.
• Is transparent and answers your questions with insightful content.
• Shares ingredient lists that are certified with certification paperwork available to consumers online, so you can see the ingredient details and the third-party verification.
~ Our certifications are verified by two parties that sign off on the authenticity of the ingredients. Kradle does Certificate of Analysis paperwork down to the batch level.
• Has products with dosing based on weight.
• Has convenient and tasty dosing options—not just one product. If it isn't easy and convenient to give to your dog, you may just be adding to the stress.
• Has real-world proof—talk to others and learn what is working for other pet parents.
What role can pet specialty retailers play in raising awareness among pet owners about CBD products, and how best can they do that?
Mayberry: Retailers can best help consumers by helping to clear up the confusion. They should offer purpose-built products. They should seek to educate on CBD and how it interacts with the dog's endocannabinoid system. Finally, and most importantly, they should offer something the dog will enjoy taking.
What do pet specialty retailers need to know or understand in order to be successful at selling CBD products? How do you recommend that they educate themselves on these products?
Mayberry: Kradle provides a retail associate training program, which includes an educational video and quizzes, and complimentary Kradle products for those who complete it.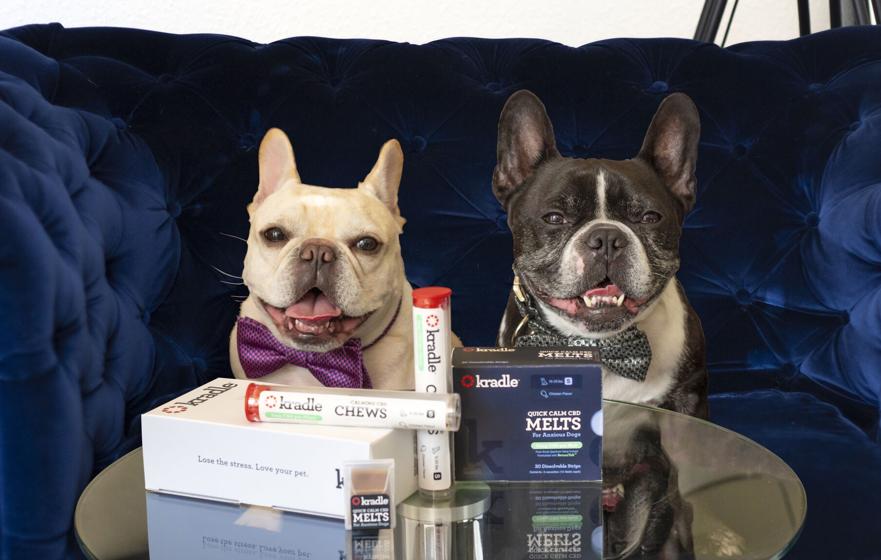 What does the future hold for Kradle?
Mayberry: Stay tuned! Kradle has some new product innovations coming early 2021. We are driven to rekindle the natural relationship between pets and pet parents, and we will continue to seek opportunities to do just that.