When Mounds Pet Food Warehouse founder Ken Mack opened the doors to Mounds Agri Service in 1969, a livestock company originally serving farming customers, he likely did not foresee how his legacy would envelop the lives of so many, including those within the Mounds organization as well as the pets and people residing in the communities served by his endeavor.
"We basically started as a livestock feed store—that's where the focus was—but Ken Mack soon recognized opportunity in the pet food industry," says Gilda Mulvaney, human resources director for Mounds Pet Food Warehouse.
As the enterprise evolved, pet foods and supplies took center stage.
"The business was growing so rapidly, he began to focus on pet food and pet-related items, eventually seeing the need to develop an in-house brand," Mulvaney says. "It seemed the natural way to go."
The Mounds Pet Food Warehouse brand offered Dog Power, Purrfect Cat, Horse Power and various wild bird seeds. These product offerings allowed the company to compete with national chains while remaining profitable. It was a solid plan, and by 1984, Mounds Pet Food Warehouse was devoted entirely to pet foods and supplies.
By the '90s, the bustling business had outgrown its original location in Middleton, Wis., prompting a move to a more spacious facility. Soon, a second location began welcoming customers in Madison, Wis., and two more sites, in Fitchburg, Wis., and Janesville, Wis., followed in quick succession. In 2006, the doors to the Sun Prairie store opened.
To further his commitment to Mounds Pet Food Warehouse's status as a privately held and locally owned venture, Mack sold a portion of the business to management staff members Mary Jansma and Tim Walton in 1999. Mack passed away in 2000, and when Jansma died in 2014, Walton sold 100 percent of the company to its employees. By January 2015, the venture was completely employee owned and operated.
Its people are vital to the success of Mounds, and employee support is a central concern.
"We offer an employee stock option plan that our associates buy into with sweat equity—by coming to work," Mulvaney says.
In addition to this retirement plan, a traditional 401(k) is another component to the benefit package.
"Our employees are our greatest asset, so of course we look after them," Mulvaney adds.
Devotion to community, both pets and people, formed the core of Mack's vision. The conviction continues today, and the mindset is infectious.
"We are a feel-good company to work for," says Katie Van Altena, president.
New hires take part in an in-house training program covering everything from ringing up a sale to foods and product, and even animal behavior.
"Customer service has always been our thing, right from the beginning," Mulvaney says.
But the concept of giving back to animals in need and the community is always underlined.
"The more our employees learn about what we do and stand for as a company, the more interested they become," Mulvaney says. "We like coming to work knowing we are doing the things we do; it's a wonderful feeling. Our people often catch the fever from day one."
Live animals have never been sold at Mounds. Instead, Mack embraced and supported adoption efforts. By the mid-'90s, satellite adoption centers were in place in each store to showcase available animals.
"This obviously plays into his philosophy of helping shelters and giving back to the community," Van Altena says.
Today, four out of the five locations feature an adoption center for cats, with the larger Fitchburg facility also set up to accommodate small animals, like rabbits and guinea pigs, in a separate room. Cat trees and toys sustain feline stimulation during the animals' stay. Humane society and rescue volunteers supervise operations.
"Three of the four are staffed through the Dane County Humane Society," Van Altena says. "The fourth location is operated by Friends of Noah, a rescue group."
Dogs in need are not overlooked.
"The humane society will rotate between stores with either a group of puppies or several adult dogs during adoption or 'demo days,' as we call them," Van Altena says. "We work with these groups in their promotional efforts."
Local rescues are often on hand to provide information about their organization or to showcase available animals, bolstering awareness and keeping customers and staffers alike informed and conscious of these efforts. Fundraising events are also promoted.
As a result of these undertakings, countless animals now dwell in loving forever homes.
"I would say tens of thousands of animals have found homes over 25 years," Mulvaney says.
Make It an Event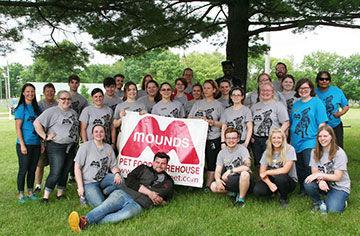 Year-round, in-store events aim to serve the needs of pets and the people who care for them.
As the holidays usher in, the needs of shelter pets are spotlighted. The Humane Holidays campaign gathers wish lists from Dane County Humane Society (DCHS) and the Humane Society of Southern Wisconsin. The lists are available in every store, allowing customers the opportunity to donate much-needed foods, treats, toys and supplies.
"We collect the donations and deliver them to the shelters," Van Altena says.
At two stores, Humane Holidays collected donations for the C.A.F.E. (Companion Animal Food Effort) program through Friends of Noah, Mulvaney says.
In cooperation with multiple food pantries in the area, the C.A.F.E. program assists low-income or elderly pet owners who may be forced to surrender beloved pets when unable to financially care for them.
Since 1996, the company has dedicated the month of February to its People for Pets promotion. With a goal of furthering DCHS's charge of caring for and offering refuge to pets, farm animals and injured or orphaned wild birds, Mounds donates 10 percent of the month's pet food sales to DCHS. In 2019, $75,000 was raised to further the cause.
In June, a month of rounding up to the nearest dollar at the register collects funds to benefit a selected organization. Past beneficiaries have included Heartland Farm Sanctuary in Madison, Wis., a nonprofit dedicated to helping homeless farm animals and building connections between animals and children facing life challenges, and the Henry Vilas Zoo in Madison.
"Everything is done in one month. We do this once per year," says Michelle Mitchell, purchasing manager. "Our customers are very generous."
Pets and their people looking for a tail-waggin' good time mark their calendars when a Mounds Tail Waggin' Tailgate party is in the works. The event features raffle prizes, goody bags, and wine and beer tasting, all seasoned with plenty of food and snacks in an effort to raise funds for rescue organizations and the pets they assist.
As fall weather chills, ghosts, goblins and jack-o'-lanterns come out for spooky Halloween merriment when Mounds' annual Howl-O-Ween event celebrates the trick-or-treating season.
"For 2019, we went really big," Van Altena says. "Typically, each store has offered its own event; this year, we held one big party."
The Fitchburg location was the place to be, and the soirée included canine trick-or-treating stations, costume contests with prizes and coloring contests for children.
While Black Friday might be a big day for the retail industry overall, Mounds Pet Food Warehouse does not stand by convention.
"Three years ago, we started holding a Shop Local event, in addition to the traditional Black Friday sale," Van Altena says. "In 2018, we got rid of Black Friday altogether and instituted our Shop Local Saturday."
The event is held the day after the traditional Black Friday shopping spree, and local rescue groups arrive for additional exposure, while advertising promotes stellar one-day sales. The event encourages shoppers to support local business.
"A lot of our vendors, especially those in Wisconsin, participate alongside our national brands," Van Altena adds.
It's All About Community
While in-store events often benefit local rescues, the company seeks other ways to help members of its communities. For example, K-9 officers and their handlers are close to the hearts of Mounds employees, and support is always ongoing.
To ensure that every K-9 officer is well equipped, July is Vest A Dog month, in cooperation with the Wisconsin Vest-A-Dog organization. The program's goal is to provide bullet- and stab-proof vests to K-9 officers, as well as canine first aid kits for police vehicles and local ambulances, which often provide emergency transport for injured dogs. This program aids more than 200 Wisconsin police dogs. Additionally, heat sensors, designed to warn handlers via cellular alert should the inside of a police vehicle overheat and cause canine distress, are also provided. Last year's fundraiser generated $19,000 in donations.
"If an officer needs a vest, we will get them vested," Mitchell says.
Besides vests, the handlers of K-9 officers are responsible for the care of their dogs and are often unfunded by the city or state they serve. Assisting these officers with out-of-pocket expenses is a priority at Mounds, and more than a dozen southern Wisconsin police officers are provided with food for their animals.
"They do really well on our house brand," Mulvaney says.
Mounds also reaches out to people and their pets through involvement with Southern Wisconsin's Community Action Coalition. The organization assists individuals, families and pets in the communities of Dade, Jefferson, and Waukesha Counties through local food pantries.
"It's not just pet food; it can also be kitty litter," Mitchell says. "The human-animal bond has come to be recognized as one of the strongest on earth, and people will go to great lengths to keep their pets. So it's a win-win. These animals are not ending up in the shelters, and people are being helped."
These donation opportunities are held throughout the year with monetary or pet food donations accepted.
"This is the economy we live in, these are the times we live in, and these are the issues that we face in our community," Mitchell says. "We have to respond."
Feeding the Best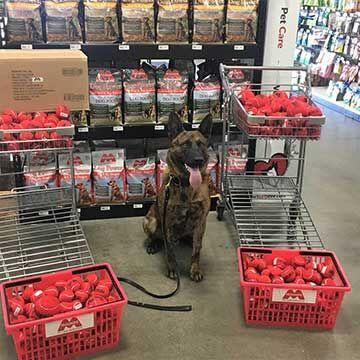 When it comes to the pet food mix at Mounds Pet Food Warehouse, inventory is selected based on the belief that pet owners, in general, will purchase the optimum food within their means.
"As much as we promote natural foods and encourage what is best for their dog or cat, we still have requests for other foods," Van Altena says. "So, we offer a little bit of everything, including a limited amount of the grocery store brands, but we also carry super-premium brands, raw foods and everything in between."
Mounds private-label foods are top sellers.
"We monitor the price points of other pet food options to keep our pricing both fair and affordable," Mitchell says.
Small-animal feed is also available, as are selections for potbellied pigs and chickens.
A variety of treats include branded selections and locally made goodies. For instance, when a local Wisconsin brewery contacted Mounds with a proposal to utilize spent grains from its brewing process to create a treat, the company assisted in the development and packaging.
"They are mainly sold in our stores," Mitchell says. "We love to support local business."
In addition, bakery cases in every store offer mouth-watering delicacies.
Mounds also boasts one of the largest toy selections in the state.
"We have over 1,000 active toy SKUs," Mitchell says.
To further community involvement, a new marketing specialist has recently come onboard to assist in growing relationships with various organizations.
"My focus is on the Mounds brand and how we are perceived in the community," says Lauren Miller, marketing specialist.
Has she been infected with "giving back fever"?
"I caught it on day one," she says. •
A Four-Legged Festival
Since 1996, the Mounds Pet Food Warehouse Dog Fest event has been bringing people and pets together for a 'pawsome' good time in support of an array of causes. For 2019, the happening hosted 5,000 to 8,000 attendees who gathered to enjoy a plethora of pet-focused activities. It's a full day of dog-centered fun with agility demonstrations, K-9 law enforcement presentations, adoptable-pet parades, and a range of activities including microchipping, agility training workshops, photo opportunities, a tennis-ball-bob for thrill-seeking pups and more.
"People bring their dogs," says Katie Van Altena, president. "It's a free community event meant to showcase rescue groups and humane societies, this is our primary focus."
These agencies set up in free booths, dispensing information and showcasing animals available for adoption.
"At Dog Fest, you might see 50 different rescue and shelter organizations from around our area," says Michelle Mitchell, purchasing manager. "It's a great hands-on way for rescues and shelters to connect with the public and each other."
Dane and Rock County K-9 officers and their handlers enjoy the opportunity to meet and greet the public in a relaxed setting.
Vendors are also on hand, as well as local and family-owned businesses.
The get-together has grown over the years, necessitating several moves to larger facilities in order to accommodate ever-increasing attendance. In 2019, Dog Fest took place at spacious Angell Park Speedway in Sun Prairie, Wis.
It's A Retail Life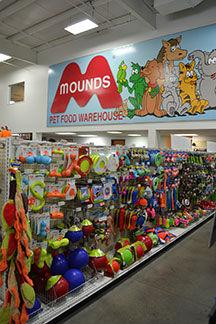 What is Mounds Pet Food Warehouse best known for?
Katie Van Altena: Our community outreach, support and giving back.
What is the biggest challenge for pet retailers today?
Michelle Mitchell: Online retailers and employee retention.
Van Altena: The unemployment rate is at a record low, and there is an amazing employee shortage in our area.
What is the biggest challenge in the pet industry overall?
Gilda Mulvaney: There is a tendency to rest on laurels. We are constantly striving to improve our business.
Are you watching any interesting trends?
Mulvaney: The explosion of online retailers and resulting sales loss.
Van Altena: Pet products are available everywhere. The office supply, the gas station, hotels. Pets are an integral part of life now—they are welcome in more establishments.
What do you see for the future of Mounds Pet Food Warehouse?
Mulvaney: We became an ESOP (employee stock ownership plan) in 2015. Mounds Pet Food Warehouse has been in business a long time, but we now feel that we can literally start fresh and are looking at where we want to go, where the opportunity is. It's our company now, our turn to shine and to take Mounds Pet Food Warehouse into the future.