In 2017, Hurricane Harvey roared into Texas, breaking rainfall records and wreaking havoc. The storm lingered along the southeastern coast, and the Houston metropolitan area did not escape the mayhem. After enduring a grueling night of howling wind and hammering rain, along with visions of tornadoes, errant roofing and drenched product, Trace Menchaca, owner of Flying M Feed Co. in Houston, expected to find her business destroyed. Instead, she was greeted the following morning by an undamaged building and intact inventory.
So, she gave it all away.
"The city was in shambles, and flooded-out residents were taking their pets to local shelters," she says. "The needs were immediate."
Despite harsh conditions, staff members arrived to assist in packing up and distributing foods and supplies. Community members heading to local shelters to lend a hand were encouraged to stop by to gather pet care necessities.
Many wondered how Flying M Feed Co. would survive.
"Nobody could get to my store anyway and everything could have been lost," she says. "So, I thought, 'Let's just donate it all and see what happens.'"
What transpired is a community coming together. To aid in refilling now-empty shelves, a friend in the T-shirt business donated Harvey-themed apparel for Menchaca to sell. As the news spread, donations earmarked for restocking product poured in. Inventory was quickly replenished.
"We feel our mission is to serve the community," she says. "In this instance, the community pulled back around us."
A Purposeful Vocation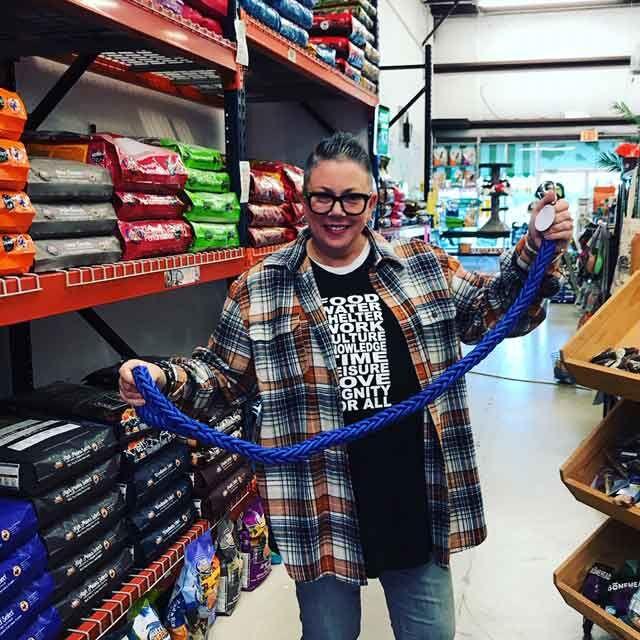 A dedication to service forms the cornerstone to Flying M Feed Co.'s values. Menchaca's journey to proprietor began in 2012 when her daughter Lea's membership in Future Farmers of America highlighted the difficulties working parents face in finding a feed store open after working hours. At the time, Menchaca was enjoying a career as a math and music teacher at a local middle school.
"I realized the difficulties families in hardship situations faced in obtaining supplies for their animals," she says. "So, we began delivering feed to these kids so they wouldn't have to stress about it."
The concept was a hit; however, animals raised and shown by participants in the high school agricultural program are eventually sold at auction.
"So, literally, one at a time, all of our customers sold their animals, and I had no customers left," she says. "That's when I started delivering dog food."
Menchaca operated in this way for more than a year, initially offering just one brand of food with inventory stored in an 8-by-8 shed and the family garage at her home.
"Everyone commented on how sweet it was that I was delivering dog food to these families," she says. "Nobody understood my vision—I always knew I would have a store."
That ambition became reality a year and a half later, when Flying M Feed Co. started welcoming customers to an 800-square-foot storefront. The space was quickly outgrown, prompting a 2016 move to the present 3,500-square-foot site.
The ambience at Flying M Feed Co. is eccentric and joyful, while the store offers an eclectic mix of product, services and events.
"In a crazy, stressed-out world, we really want to make coming into our store a wonderful experience," Menchaca says.
A 2017 remodel served to enhance and expand the unconventional character of the store.
Today, whimsical murals, including a multicolored chakra tree, adorn the walls in an atmosphere that encourages lingering. Rockabilly music regales as visitors belly up to the common area's coffee bar. Bookworms peruse selections from the lending library while savoring a snack, sipping coffee or quaffing a cold beverage from the well-stocked refrigerator. For the more visual, a big screen television presents documentary screenings. Customers craving a furry snuggle gravitate to the store pets: Kemah, a dog, and cats George and Crog.
The canine set salivates at the treat bar and drools over the bakery case, where delectable goodies are on display.
"Our store is truly unlike any other; it appeals to all five senses," Menchaca says.
Human shoppers browse the boutique area, where a host of distinctive items not normally found in a feed store includes apparel, jewelry, totes, and beautiful Texas-made hand and travel bags.
However, true to its roots, Flying M Feed Co. carries a selection of equine tack, feed and supplies, as well as products useful to Future Farmers of America students and their livestock.
Backyard birders flock to the wild bird center, embellished in rustic cedar wood, to peruse unique birdhouses, foods, educational materials and other supplies.
"We do a pretty good business and even went to a bird school to study what our local birds eat and the types of houses they require," she says.
Year-round, an indoor farm featuring five self-sufficient hydroponic towers cultivates organic produce for pets and people.
"We grow different types of lettuces and kale intended for those feeding raw to their pets," she says. "We harvest all year long and don't have to worry about bugs or weather."
On the sales floor, a hydroponic "flower tower" offers vibrant blossoms and cat grass for customers to clip.
"It's just a quirky thing we do, and it's always free," Menchaca adds.
An irresistible spin of the "affirmation wheel," located at the newly installed cash-wrap counter, sends shoppers back out into the world with smiles and a positive vibe.
Food selections at Flying M Feed Co. run the gamut of dehydrated, raw, canned and kibble at a wide range of price points.
"We have some really controversial choices, but we can defend them," she says. "We noticed that some customers were coming into our store and spending $100 on a bag of high-end dog food, and then going two doors down to the discount store and buying grocery-brand treats."
To remedy this situation and promote a one-stop-shop designation, affordable foods and treats with high name recognition are in the mix. The aim of Flying M Feed Co. is to serve the community, and that objective includes catering to lower-income residents.
"We believe in the highest-quality foods, but not everyone wants a lecture about raw feeding," she added. "If some in our community want to purchase the checkerboard brand that they know and love, then we provide it for them, but our goal is to educate customers about basic nutrition. That's our approach."
An organic treat bar and a variety of chews and bones are also available to meet an array of pet needs.
"Our staff is well trained, and we really try to educate our customers and to understand their goal in treating their dog—reward, timeout, teeth cleaning, etc.," she says. "We put a lot of thought into how we sell our chews."
In order to assist staff members with special needs in helping customers in both food and treat selections, color coordinated dots designate specific product functions.
Delivery is offered as a courtesy to customers in need.
"We do it mainly to help people that might have health issues or are unable to get out for whatever reason," Menchaca says.
Three Generations Strong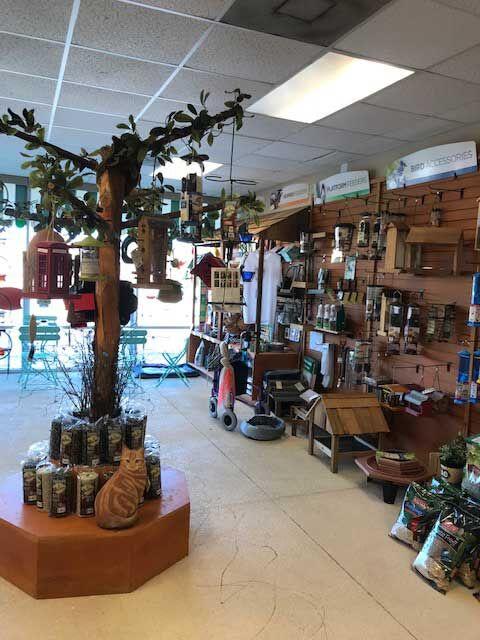 Menchaca takes pride in the fact that three generations of women are involved in Flying M Feed Co. operations.
"My mom, Melba, runs the office and my daughter, Lea, is in charge of HR and scheduling," she says.
The entrepreneur considers her staff members to be integral to providing an extraordinary shopping experience.
"Our motto goes way beyond the old school way of thinking that the customer is always right; it's more like the customer is always astonished," she says.
Education is a central component to this astounding service.
For this reason, training is ongoing at M University, a weekly program of instruction. Following the semester system, students receive a syllabus, with a calendar, schedule and written materials. Nutritional knowledge, store operations and customer service skills are taught by Menchaca or manufacturer representatives.
Once students complete final exams, a holiday party fetes the end of the winter semester, and in the spring, students take to the bowling lanes to celebrate.
New associates enter Boot Camp, where in-depth, foundational training takes place before they head out to the sales floor.
"Turnover is rare, but we look for upbeat, fun people who want to work and amaze our customers," she says.
Menchaca is particularly proud of a recent program offering employment to young adults with special needs through a partnership with The Monarch School and Institute in Houston, which serves students and young adults with neurological differences.
"These young people are ready to work, and they make the best employees," she says. "We have tailored our training and procedures to support these staff members."
Saturdays are festive and fun at Flying M Feed Co.
"We might have an educational event covering dog food, or wild bird products, or things of that nature," Menchaca says.
Community outreach is an essential component. For instance, monthly dog washes benefit Paws Abilities, a nonprofit organization serving individuals with intellectual disabilities as they learn to care for animals and seek employment in the animal care sector.
"Students of the program bring their own tubs and set up in the parking lot to raise money to open their own little café," she says. "It's a festival atmosphere, and we also hold an adoption day in conjunction."
Ten percent of sales on that day are donated to the participating rescue. In addition, foods and product are contributed.
"We have always donated slow-moving products, so we'll put a package together of dog food, treats and other items," she says.
Giving back also includes contributions to local Future Farmers of America clubs, high school bands, drama clubs, the arts in Houston, brain injury and cancer research, and various social issues.
Another Saturday is earmarked for Modern Farmgirl craft parties. Mimosas are served, and the mood is exuberant. The get-together often stretches far beyond the allocated two hours.
"I lead the craft workshop, so they're always edgy and campy," Menchaca says. "Once we made terrariums using Barbie Doll parts."
Participants receive a Girl Scout-type badge symbolizing the completed project.
The annual Cat-A-Palooza event is Menchaca's personal favorite. Specially designed T-shirts are available, and a playlist of cat-themed songs resonates throughout the store. Staff members don cat ears and painted face whiskers. Discounted and free items abound, and cat product purchases are cheered.
"It's my favorite event, but it's also the saddest because in our area, cats are sometimes not well cared for," she says. "It's my goal in life to grow the cat business and host a successful Cat-A-Palooza."
In a unique twist to the everyday clearance sale, Bark Bags are sold live on Flying M Feed Co.'s Facebook page. The bags, which sell for $25, are shipped all over the country.
"People follow us on Facebook, and when we announce that Bark Bags are coming, they flock to the live presentation," she says. "They prepay, and we reserve a numbered bag for them."
On the day of the sale, the contents of each bag are revealed on the live feed.
"That's how we manage our inventory—we never have a 'sale' section in the store," she added. "It's our goal to astonish our customers and make them happy."
It's A Retail Life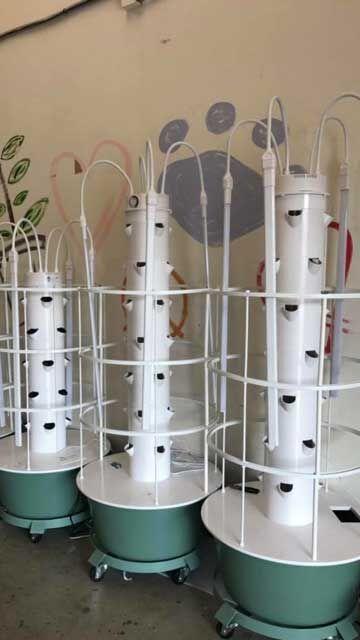 What is Flying M Feed Co. best known for?
Trace Menchaca: We strive to astonish our customers with outstanding service.
What is the greatest challenge for the independent pet retailer?
Menchaca: While I might say online retailers, I feel the real challenge is more about building a brand and establishing trust. In this world of recalls and unknowns, we are all about creating confidence.
For the pet industry overall?
Menchaca: The biggest challenge is misinformation. There's one study that comes out, and then another—feed this, feed that. This is an issue.
Are you watching any interesting trends right now?
Menchaca: Foods with grain is trending. Plus, everyone is trying to find the next, great, groundbreaking boutique item.
What do you see for the future?
Menchaca: I would love to open a second location, plus growing our disability program is a major goal.
Tammy and Craig Dennis have been customers of Flying M Feed Co. since the doors opened.
In addition to their careers, the couple breeds and shows several canine breeds.
"We shop for all our needs at Flying M," Craig Dennis says. "We don't go to the big-box stores. We don't shop online."
"If we don't find something we need, we'll ask Trace to get it in, and she takes cares of it," he adds.
Dennis adds that staff member knowledge is a major plus.
"It's not like walking into a big chain store where the people on the floor can't answer any questions," he says. "Everyone knows about everything in the store."
With plenty of canine mouths to feed at home, Dennis appreciates the buy 10, get one free dog food program.
"I average a free bag a month," he says. "It's a real incentive to keep shopping there, and the prices can't be beat."
In addition, Dennis has had occasion to utilize the store's delivery service.
"I once needed to buy dog food and knew I wouldn't make it to the store before closing time," he says. "So I called and the food was on my doorstep when I got home."
Beyond prices and outstanding customer service, the Dennis' are continually amazed at the range of inventory selections covering every need—and then some.
"It's amazing how they find such unique products and new items come in all the time, from apparel, purses, dog clothes and people clothes to the hydroponic produce," he says. "Flying M Feed is innovative, upbeat and progressive. It's definitely out of the realm of your typical feed store. It's a happy place to be."