"Jungle" Bob Smith is a man of passion. A reptile enthusiast since childhood, Smith's long-time fervor for these creatures is infused with a zeal for sharing his fascination for the "unloved, unusual and unknown." In this way, the owner of Jungle Bob's Reptile World is eager to quell the creepy fallacies of crawly critters, one customer—child, parent or senior citizen—at a time.
"I started my educational journey when my sons, Dylan and Tyler, were youngsters, participating in show-and-tell classroom presentations," Smith says. "Parents brought dogs, guinea pigs or hamsters to share, and I'd show up with an alligator."
Even in those days, Smith yearned to dispel the misconceptions of reptiles as slimy, poisonous or aggressive brutes. Show-and-tell visits set this aspiration in motion.
At the time, Smith's career in computers, overseeing the setup and servicing of systems in New York's financial markets and beyond, was prospering. But reptiles remained a first love.
"I was in corporate business, but I had snakes all over my office, including a 13-foot Burmese that would wreak havoc on visitors," he says. "They couldn't believe a snake was cruising my office."
As word of Smith's reptile acumen and larger-than-life personality spread, so did requests for educational presentations. Soon, dressed in his signature hat and vest, Smith and his favorite animals were visiting schools, libraries, senior homes and children's birthday parties.
"When I started doing these presentations, I had an animated way of introducing the reptiles," he says. "I still do this; I want people to feel them and touch them."
At the time, Smith also published Fauna Magazine, and traveled the world conducting tours in a quest to share the natural habitats of reptiles, amphibians and invertebrates with others.
When a local reptile store in Centereach, N.Y., became available in 2009, Smith bid adieu to the business and publishing realms, instead embracing life as an independent retailer. The location had been a reptile business for some years and had changed hands multiple times.
Under Smith's guidance, the venture quickly found its feet and flourished.
"It wasn't rocket science—we put product in," Smith says.
In 2017, the endeavor relocated to what is considered the flagship store—a spacious, 3,200-square-foot space in Selden, N.Y.
"As far as I know, it's the largest reptile store in the Northeast," Smith says.
A simultaneous opening of a 2,400-square-foot site in Oakdale, N.Y., provides 1,200 square feet of retail shopping, with the remaining area serving as offices and warehouse storage for online inventory and Jungle Bob brand products.
Dispelling the Myths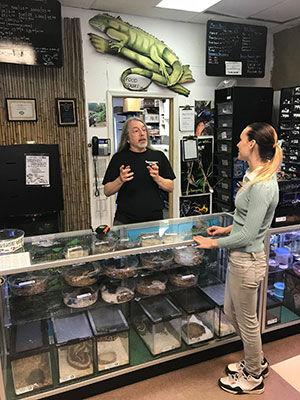 At Jungle Bob's, the crusade to promote the friendly side of the reptile world begins with a welcoming environment. Good housekeeping is the first step in fostering this quality.
"Our stores are well lit and clean," Smith says. "We are hounds about that. Even with 150 animals, people comment on the lack of smell."
Animals are presented in zoolike, natural habitats, which might feature sand, rock or a lush-looking tropical cage.
"Gone are the days of newspaper in a fish tank," he says. "We do vivariums, and when you come to our store, you will see species from every corner of the globe."
To further inspire passion and promote understanding and education, visiting children and parents alike are encouraged to touch and hold animals. "Animal encounters" foster this awareness. For this experience, children select an animal to handle and study, while a Jungle Bob's "reptile guru" answers questions and supervises the session. Weekends and holidays are busy times for this activity.
"It's like a lesson, and during holidays we have someone on staff just for the encounters," Smith says.
For families not quite ready to undertake live animal ownership, the Jungle Bob Natural History Gift Shop features everything from dinosaur teeth to invertebrate fossils. Children can browse a selection of quality, hand-painted, realistic miniature replicas of their favorite reptiles, sea creatures, dinosaurs and other critters.
"The kids may not walk out of the store with a live animal, but they can leave with a true-to-life plastic bearded dragon," Smith says. "It's like a wink to the parents, a 'Hey, when you're ready for a live animal, you know where to come.'"
Smith notes that parental support has changed over the years, and he now sees equal interest from both mothers and fathers.
"Once mom or dad are interested, we're off to the races," Smith says.
Curiosity is often sparked in young children attending a Jungle Bob Smith reptile presentation.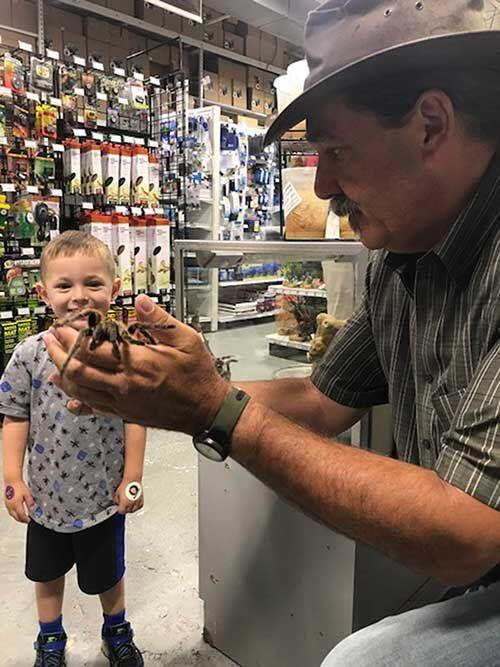 "Most of the kids that come to the store later are not the little precocious ones in the first row, but the child in the back who didn't raise their hand," Smith says. "I can see it in his or her eyes."
"You have to be friendly and welcoming," he says. "We are a fun place to visit."
Contributing to this ambience, Jungle Bob reptile gurus are enthusiastic hobbyists, able to impart education and expertise, and often specializing in their own field of interest. For instance, one staff member is an invertebrate specialist, focusing on tarantulas or scorpions. Another, a former aquarium store owner, is able to assist customers with their aquatic needs. Smith's heart is with snakes and lizards. Smith's sons also work in the business, adding their own unique capabilities to the mix.
"Everyone has their own little niche, but they are also well rounded," Smith says. "If you ask our favorite animal, we will all say something different."
In a new hire, Smith says, formal study isn't as important as enthusiasm; however, a staff with combined years of practical knowledge reaching well into triple digits augments the training process.
"I have a couple of employees who are in their early 20s, and they really dazzle me with their knowledge," he says. "They are so involved in the hobby and, as a result, are well informed through self education."
Everything for the Enthusiast
Enthusiasts can browse a diverse selection of reptiles, amphibians and invertebrates, along with a product mix of foods and supplies to please even the most ardent hobbyist. Smith noted a strong movement toward more natural-looking cages.
"Taking care of a large aquarium can be a full-time job, whereas a 50-gallon tank with colorful poison dart frogs from the Amazon, beautiful plants and a misting system is every bit the relaxing living room conversation piece—at one-fifth the price and a tenth the maintenance," he says.
An inventory of every necessity to create that focal point includes items such as exotic hardwoods, driftwood, rock formations, stones, plants and misters.
Joining these choices is the Jungle Bob's Reptile World brand. Launched in 2015, it features reptile and aquarium products.
"We are private labeling pieces to sell in the store, online or to other retailers," Smith says. "Most of the products are European, so we offer some interesting items that nobody else has."
Vivarium displays not only house a formidable array of animals, but inspire customer creativity. These ready-made tanks are available for purchase, but all components are on-hand and in-store for the do-it-yourselfer.
"Most people prefer to do it themselves, but we'll sell a tank right off the floor if someone falls in love with it," Smith says. "That also helps to rotate things, and keeps the store looking different and interesting."
Aficionados seeking mealtime variety for their animals head to Jungle Bob's Food Court. There, an assortment of delicacies includes crickets, mealworms, superworms, waxworms, black soldier flies, roaches, earthworms, wigglers, frozen mice, guinea pigs or rabbits, live rats and mice, and two different sizes of fruit flies.
"The food court is the place where it all happens," he says. "We get people coming in wanting to see the frozen animals. It's like buying a filet mignon at the butcher."
Crickets dine on a healthful chow and are available in a variety of sizes proportionate to the animal being fed.
"It gets unusually detailed," Smith says. "The average independent pet store might have one little bucket of crickets, where we stock 1,000 crickets every month."
Rodents range in size from pinky mice to large rats for gigantic animals, Smith says.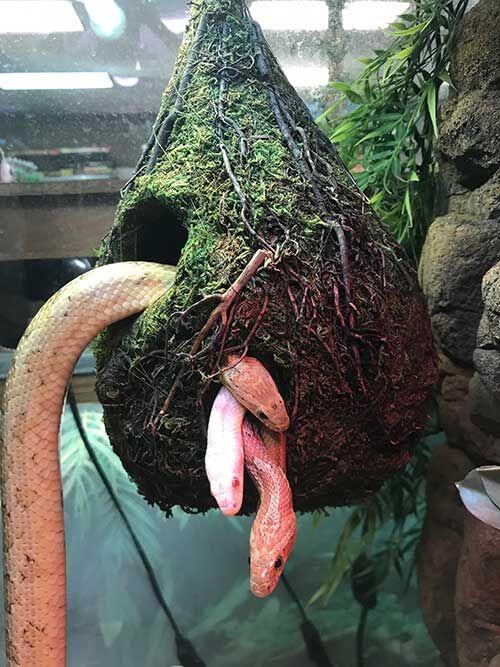 "Customers want certain types of mice for their reptiles, and we have that variety of food where other stores simply do not," he says.
Shoppers walk through the sales floor to reach the food court, which is located at the back of the store, browsing product and animals along the way.
"Our food court is a revenue source and a place where everyone congregates," Smith says.
"It's a skinny percentage of our retail space, but we have two refrigerators, one with a top freezer, along with a second freezer."
When it comes time to enjoy a holiday, hobbyists can have a worry-free trip when their charges are boarded at Jungle Bob's. With a capacity of up to 100 animals per day, the service is reasonably priced—and popular.
"We have knowledgeable people taking care of the animals," Smith says. "Customers even call us from their destination to see how their reptile is doing, and we'll send a picture."
Circling Back
Smith draws on his computer background to hone the technological capabilities of his venture, providing up-to-date benefits and shopping ease for his customers.
"For 2018, we've launched a new program, Perkville Rewards, that offers purchase points good towards merchandise," Smith says.
In addition to shopping benefits, referrals, social media posts and birthdays garner rewards.
Further, a streamlined software program allows inventory to be more tightly controlled between online and brick-and-mortar sales.
"For instance, if the last light bulb is purchased in one of my stores, the online store will pick that up as well and note 'out of stock,'" he says. "We did this with apps and trial and error. Our online store is thriving because people know of our quality and we can ship all over the country. Reptiles ship beautifully.
"Making money is a goal, but that should go hand in hand with accomplishment; if I accomplish something every day, I'm happy," Smith says.
Jungle Bob's Reptile World At a Glance
Location: 984 Middle Country Rd., Selden, NY 11784; 4130 Sunrise Hwy. Oakdale, NY 11769
Owner: Bob Smith
Employees: 7 full time, 5 part time
Years in business: 9 years
Average Square feet: 2,800
Website: junglebobsreptileworld.com
Products and services: Reptiles, amphibians, invertebrates, feeders, full line of supplies, Jungle Bob line of products, Jungle Bob's Food Court, gifts, decorations, habitats, handling equipment, reptile boarding, rescues, lectures, animal encounters
It's A Retail Life
What is Jungle Bob's Reptile World best know for?
Bob Smith: Our knowledge and education.
What is the biggest challenge for pet retailers today?
Smith: The bottom line is keeping the doors open, and that involves seeing the value in change and adaptation, which can be difficult for some mom-and-pop independents. It's important to have an online presence, for starters, and a POS system rather than the run-of-the-mill electronic system. You have to keep moving things around in the store and trying something different to see if it sticks.
What is the biggest challenge for the pet industry overall?
Smith: Online sales. It's not going to serve the pet industry if everybody buys everything online. There is room for brick-and-mortar pet stores. Also, the laws and regulations coming out are worrisome at all levels, and often based on incomplete information. Not every breeder is a puppy mill; not every snake is venomous. Small business owners are the backbone of society, but we are being regulated right out of business.
Are you watching any interesting trends right now?
Smith: There are a couple of new cages coming out that have attracted my eye because they help with setting up conditions inside the cage and controlling the thermostat and humidity using a phone app. This takes the guesswork out of maintaining an environment properly. However, pushing a button to set up a climate for a desert or topical species also takes the knowledge out of the equation. That's where I draw the line—I still want to learn.
For the future?
Smith: I'm predicting good things. We are interested in expanding and are hoping to find the right recipe for that. As for the pet industry, I think it's going to continue to grow. I'm optimistic that somehow consumers will realize the value in shopping with the independent business. Please keep it local and patronize these people.
Reptile Reverie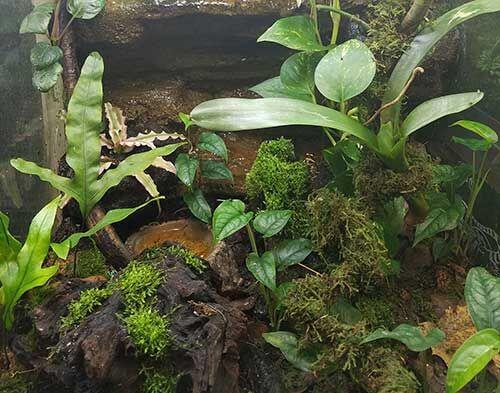 Joey Calamusa knows a good reptile store when he enters one. The aficionado's reptile journey began as a youngster owning box turtles—common near his home on Long Island in New York. As a teenager, he moved on to a boa constrictor. Today, the enthusiast possesses an array of creatures, including Argentine black and white tegus, a green tree python, leopard geckos, red-eyed crocodile skinks and the ball python morphs that he breeds.
"I'm pretty stacked," he says.
A long-time Jungle Bob's customer, Calamusa appreciates both the wide-ranging mix and competitive pricing of both animals and supplies.
"They pretty much have every reptile you can dream of at fair prices," he says.
Calamusa purchases food for his animals at Jungle Bob's.
"The food selection can't be beat," he says. "They have every size of rodent—more than anywhere else in my area," he says. "I often wonder why other stores selling reptiles don't offer the range of food choices that I find at Jungle Bob's."
However, beyond the convenience of one-stop shopping, the outstanding customer service and staff member expertise keep him coming back.
"The experience is so interactive," he says. "They take time to explain things in detail—for instance, where an animal comes from and how to take care of it. So many people walk in and don't have a lot of experience with reptiles, and the staff members are always willing to take an animal out and help visitors get over their fear. They are just really good, kind people."
When Calamusa is creating a new vivarium or terrarium, he turns to these supportive associates for insight and design tips.
"I've had a couple of really cool terrariums built with waterfalls and live plants, and there's a lot of work that goes into putting that together," he says. "They have educated me from top to bottom."
A trip to Jungle Bob's is always an experience, and Calamusa admires the learning curve presented at every turn.
"Even if I'm just standing nearby, I can't help but overhear conversations, and I always discover something new," he says. "I've been into reptiles since I was a little kid and feel very knowledgeable, but it's like the folks at Jungle Bob's were raised with reptiles since they were babies, their knowledge is that extensive."