Persian poet and Sufi master Rumi once wrote, "Anything you lose comes round in another form." These words underline the ethos that one's life path at times can travel a full circle. Adrian Archie, owner and founder of petNmind Naturals and Self-Wash in Coconut Creek, Fla., embodies the spirit of these words. As a child, Archie's love of animals led him to dream of a career as a veterinarian.
"I remember telling my mama that that's what I wanted to be," Archie says.
Following his ambition, Archie worked as a veterinarian's assistant while studying biology and anatomy in high school, eventually entering college as a pre-veterinary medicine major.
"Since I was preparing to go to vet school, I got a lot of background in veterinary care during my high school days," he says.
Archie had another love: football. As a young student, he was a member of the high school team, and he continued to play the game in college. After graduation, and a subsequent two-year stint as a pro-football player, Archie changed the course of his career, channeling his passion for the health and wellness of animals into the human sector with a 10-year career in the field of medical devices.
"My experience in human medicine is a big part of the story I tell my customers," Archie says.
However, it was an Abyssinian cat named Rocko, who arrived in Archie's life 13 years ago, that spun the wheel of fate back toward Archie's first love. Rocko suffered health issues, but when the remedies offered by the cat's veterinarian proved to be unsatisfactory, Archie began his own search for solutions to Rocko's ailments. During the course of his investigations, Archie discovered that a vast number of the pet food offerings available on the market offered substandard ingredients. Rocko flourished on a more nutritious diet.
"Following my own research, I was able to nurse Rocko back to health through better nutrition," he says.
Archie notes that his background in the human health industry proved helpful to his inquiries.
"I'd worked with neurosurgeons and spine surgeons for 10 years. In observing their surgeries, I really got in depth with the products that are helping to cure people," he says.
Further, with the humanization of pets, he observed a pet market that was heading toward a more holistic approach to the dietary requirements of furry family members.
"As a pet parent myself, I was aware of the confusion surrounding pet nutrition," he says.
A mounting desire to be free to chart his own path and refocus on his passion for animals found Archie making the decision to leave corporate America behind to parlay this diverse background into a pet retail business. In 2014, petNmind began welcoming pet-loving customers, with a focus on finding nutritional solutions to a range of issues often created by dietary deficiencies.
"My health care and pre-vet background, particularly the pre-vet, helps from the perspective of understanding what I am talking about and not just regurgitating facts that I have memorized," he says. "But my sales background helps me to condense that information, because even pet food can get complicated if you make it that way."
Archie notes that another central component to the success of his venture is forging relationships and developing an understanding of each pet owner and their dog as individuals.
"People come in with real issues; we spend time with them, and, as a holistic store, it definitely helps to be able to present information in a truthful way that people can understand," he adds. "It definitely helped a lot when starting this business, and the positive market just feels like it is charting the course."
Located in 1,200 square feet of space, petNmind is trimmed in primary greens and reds. The open concept allows customers to shop with their pet and provides easy access to the self-serve dog washing facility, which is positioned at the rear of the store. Natural wood shelving and carts present an array of products. Another advantage to this setup is that it permits staff members to assist and guide customers in their selections.
"It's very natural and open—nothing is closed off," Archie says. "Because we are small format, it is not an intimidating environment with rows and rows of product."
The store's location is also advantageous, as it is situated adjacent to a large grocery store.
"It reduces our marketing costs; there is always traffic in the center," he says.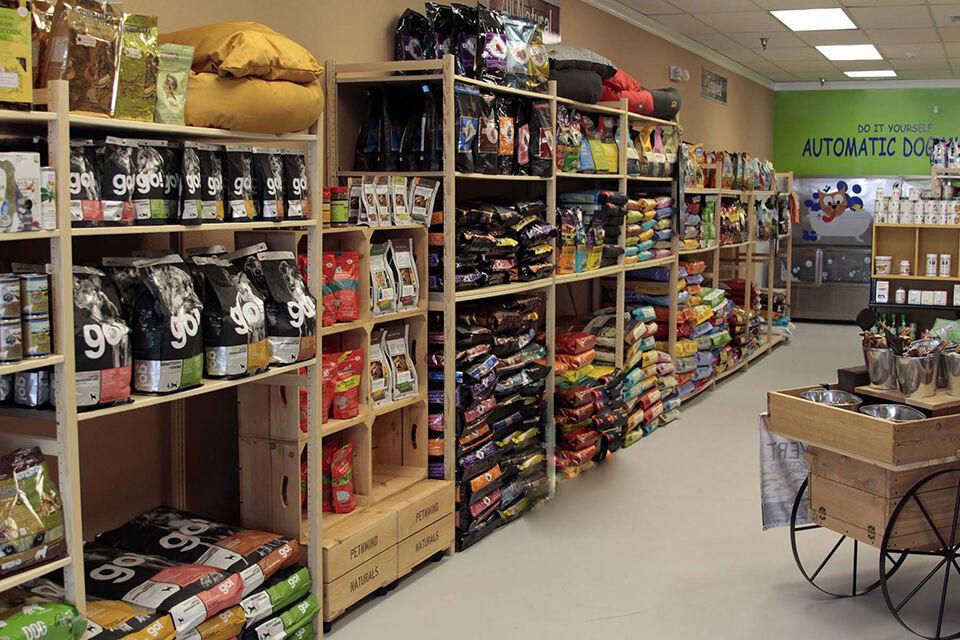 Healthy Pet, Healthy You
petNMind's motto—'Healthy pet, healthy you'—emphasizes the magnitude of the bond between humans and their pets.
"Having a pet is a positive, pet parents benefit from that relationship, and the No. 1 thing that needs to happen is that animal needs to be healthy," Archie says. "It starts with nutrition."
Assisting his customers in understanding the whys behind a purchase builds trust and empowerment.
"Everything in our store is holistic, it's healthy," he adds. "Pet owners can rest assured that they are buying a high-quality product."
For these reasons, teaching and learning are first and foremost to the petNmind experience.
"We are a community store," Archie says. "We want to know our customer, what is going on in their lives, so it's a greater connection than just shopping in a big-box pet store. Our customers know what to expect and feel comfortable while they are here."
While the food array includes raw, freeze-dried, canned, grain-free and age-appropriate selections, kibble is also in the mix.
"No. 1, we want people to feed their pets better so we carry only quality kibble brands that we have researched," Archie says. "We have found that many people are unaware that they are feeding their pets a food that is sub-par, and that's the reason they are going to the vet so often with skin and digestive issues."
However, Archie adds that it can be difficult to convince a consumer feeding a low-quality kibble to shift to raw.
"So, we carry a higher-quality kibble than people are going to find in the big-box or grocery store," he says. "If nothing else, they will be feeding a more nutritious kibble, and then over time we can walk them to better options."
With the belief that digestion is vital to the health of a pet, Archie says research into each brand is the primary focus before bringing a new food product into the store.
"Low-quality foods can cause a dog's health to go haywire, it murders their digestive process and really hurts their immune system, so we focus on superior foods that are easy to digest," he says.
"I'm proud to say that I am a nerd at heart. Even though I was a professional athlete and played football for nearly half my life, I like to read, so I dig into everything I sell from a food perspective. I want to make sure a manufacturer is using real meat," he says. "Most companies will provide deeper information if you ask."
Further, Archie prefers small-batch vendors and novel foods that can be explained to the customer.
"I've found that in sales, it's really about telling the real, true story," he says. "Customers appreciate hearing the story behind a product, especially if the company is focused on quality items for their pets. So, we like products with a story behind them."
A comprehensive selection of supplements is organized into distinct groupings—for example, solutions for digestive ailments, skin and coat products, or remedies for hip and joint issues.
"We have different brands within each section. We want to offer solutions but don't want to bombard people with information to the point where they walk out confused," Archie says. "We give them the opportunity to see what we have and formulate their questions. Then we can jump in."
A chat option on the petNmind website allows customers to check in virtually for answers to questions. In addition, an online store, facilitated through eTailPet, a full-service e-commerce company that offers solutions for independent pet retailers, provides an e-commerce platform, which has proven helpful during the pandemic.
"With the COVID shutdown, customers were ordering online, and that really helped," he says.
Further, curbside delivery is always offered, as is home delivery within a 10-mile radius.
Relationship building is crucial to the petNmind ideology, and Archie looks for honesty and the ability to communicate as fundamental traits in an employee, combined with a love of pets.
"I look for young people who are personable, smart and trustworthy, and passionate about animals," he says. "I believe trust is built through knowledge, but also by just being friendly. It's about communicating all day long; that's why my customers are loyal."
Because many staff members are often young, the training process includes plenty of mentoring and nutritional tutelage.
"I teach solutions. If a customer comes in with a dog experiencing digestive problems, I want my employees to be able to talk about factors that may be contributing to this issue, and to be able to recommend products that might solve the problem," Archie says. "Once they learn to do that, they can start putting the puzzle pieces together."
Knowledge is further enhanced through manufacturer and distributor efforts.
"The distributor reps are really good at coming in and talking to our employees, giving them tips, and most brands have online training portals," he says. "That's the good thing about the small, indie brands, they understand that we are their market and they do a good job of making sure we are taken care of."
As a convenience to his customers, Archie incorporated one self-serve dog wash station into his offerings. petNmind's tub is an all-inclusive coin-operated unit, which dispenses shampoo and conditioners automatically.
"Here in South Florida, there are not a lot of dog washes, and we have customers who drive for miles to wash their dog," Archie says. "Dogs need baths, so the dog washing piece is a growing part of our business."
For a nominal charge, customers may take advantage of employee washing services. Ear cleaning or nail clipping is also available.
"We call this our 'Hygiene Service,' because if you look at nutrition and hygiene, these are the two top factors in pet health," he says.
De-shedding treatments are also in the mix.
"We use a de-shedding shampoo to condition the coat and reduce shedding from an external perspective, but again, because we are a wellness store, we match that with nutrition to make sure the dog is eating properly," he says.
In addition, a monthly non-anesthetic dental clinic completes the hygienic offerings.
A recurring subscription program for dog wash customers allows unlimited use of the facility for a monthly fee and is a popular offering.
In order to bring attention to this service, monthly promotions offer incentives—for instance, a discount on food one month, or treats another, or a free nail clipping.
"The specials really draw attention to our subscription option," Archie says.
The Hub in the Wheel
Bolstering the efforts of local rescues through adoption days, food donations and referrals is central to the petNmind philosophy of networking and teamwork.
"I work with a number of organizations in the area to support adoption," Archie says. "People call me about adoption all the time, and I refer them to three or four rescues depending on what they are looking for."
Pre-pandemic, cats and kittens seeking a forever home received a "paw up" from petNmind's satellite adoption center in cooperation with NAIA's Pet Rescue.
"In a year's time, we homed 12 cats right from the store," he adds.
The petNmind website also provides information and directs potential adoptive families to local rescues and shelters.
However, Archie, who believes fervently in the power of teamwork, does not stop at collaborating with rescues and adoption efforts. Striving to unite pet-related businesses in South Florida, the petNmind website offers an extensive system of recommendations for local pet owners that are looking for pet-related services, including groomers, veterinarians, trainers, dog walks, pet sitters and day care.
"I'm a team guy, I've played football all my life, I know the value of networks and teams, and that is what we have built in our area," Archie says. "We want to help everybody grow and figured out early on that if we can be the hub in the wheel, and people can come to us with all their questions, we can send them to a partner and help them get it done."
It's a winning formula, and Archie is endeavoring to share his recipe for success. Early 2020 saw Archie reaching out to like-minded individuals by developing franchising models.
"I think every industry needs diversity and owners like me which will create more customers, and this is good for the world," he says. "You are building wealth in a community that has traditionally seen challenges and building more acceptance in the pet community, which then grows the industry for everyone involved."
When it comes to acquiring knowledge and know-how, Archie walks the talk, and in order to expand his own expertise, he recently participated in a Leap Venture Academy Bootcamp. The course, which is offered by Michelson Found Animals and Kinship, a division of Mars Petcare, provides access to mentors, investors and other startup founders to pet business professionals through discussions covering topics such as brand development, hiring strategies and investment.
"As a minority owner and founder, and one of the few black-owned brick-and-mortar pet stores in America, the course allowed me to gain exposure and grow my own network," Archie adds. "Working with one of the largest pet food companies in the world has been a great opportunity for me."
Archie notes that the pet industry is poised to grow to more than $100 billion over the next two to three years in the U.S. alone—a forecast that bodes well for his goal of franchising his business.
"We are the tip of the spear as far as the holistic piece, the education piece and the service model that we are offering," he says. "The pet industry is safe, it's stable, and what better way to help minorities, such as people of color or women, to become entrepreneurs and build wealth in a stable industry?
"That's our goal, that's the premise behind our franchising—and obviously we want to see healthier pets," Archie adds. "The franchise model fits my background in selling, training and support. It's what I love to do."
---
PetNmind Naturals and Self-Wash At A Glance
Owner and founder: Adrian Archie
Locations: 6578 FL-7, Coconut Creek, Fla.
Number of employees: 4 part time
Years in business: 6
Square footage: 1,200
Website: petnmind.com
Products and services: Holistic dog and cat foods, supplements, pet supplies, self-serve dog wash, subscription hygiene services, delivery, referral services, franchising
---
It's A Retail Life
What is petNmind best known for?
Adrian Archie: Solutions. People might take their pet to a veterinarian for months, or even years, with an issue that is not resolved. We offer nutritional solutions.
What is the greatest challenge for the pet retailer today?
Archie: E-commerce. Especially with COVID, people have been forced to go in that direction. If an independent retailer doesn't have a real connection with the customer at this point, that is concerning, and this applies to the big-box stores as well.
For the pet industry overall?
Archie: The pet industry is fragmented. There are a lot of different places to get what you need for your pet, but unfortunately, you can't go to one place to get it all. We are trying to solve that issue with nutrition, accessories and supplies, hygiene services and our referral network. I want to be the hub in the wheel piece so that people can come to us to find whatever they need.
Are you watching any interesting trends?
Archie: Premiumization, and not just with products, but in the overall experience. I think that's the trend—people are looking for a cohesive experience for their pet. Not just "I go here to get this, I go there to get that" and not have any knowledge of any of it. We put all the puzzle pieces together.
What do you see for the future of petNmind?
Archie: We want to grow in the southeast to multiple locations from a franchise perspective. It's not just about helping pets eat healthier; we want to help create more diversity and business ownership in the pet industry.
---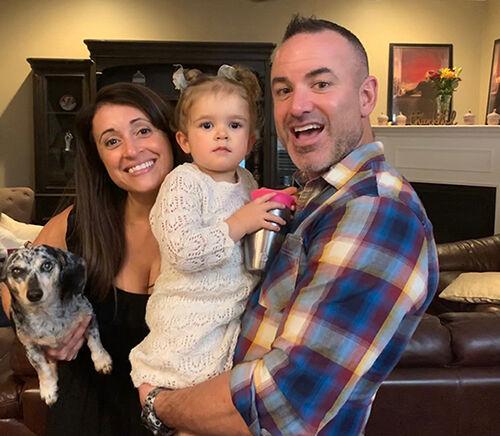 A Go-To Establishment
After turning off the television, Alexandra Sullivan sat stunned. The impact of having just viewed "Pet Fooled," a documentary exploring the nutritional requirements of dogs and cats versus the foods being sold on the market, and the lack of oversight into the pet food industry, was eye opening.
Always vigilant with regards to the mealtime needs of her beloved Mia, Sullivan was ready to take a fresh look at the food she'd been serving to her dapple dachshund.
"Dachshunds tend to have weight problems, so I was always very careful in what I fed her," she says. "But watching this documentary changed my life."
Prior to this discovery, Sullivan had relied on the advice of Mia's veterinarian or the claims of manufacturing conglomerates.
"I had friends who fed their pets a raw diet, way back when, and I thought they were crazy because our vet said it was a terrible diet," she says.
Ready to delve deeper into the realm of pet nutrition, Sullivan conducted an internet search for holistic pet stores, sorted by proximity. This revealed nearby petNmind, and Sullivan decided to check the store out.
"Once I visited and met Adrian, that was it, our relationship was formed," she says.
Sullivan found herself relying on Archie's expertise, even as she consulted with her veterinarian about issues Mia might be facing.
"I've had instances where I was in Mia's veterinarian's exam room and am literally on the phone with Adrian for advice," she says. "He is my go-to guy, and the fact that my dog is now 15 and doing great is an amazing testament."
The trust engendered by Archie's dedication to pet health through sharing knowledge and providing a high-quality selection of foods keeps Sullivan coming back.
"He knows his stuff and says that one of his main goals when he opened his store was to educate the people coming in—not just to sell them food, but to let them know what is going on and why he carries the products he does," she says.
However, Sullivan also admires Archie's personal journey.
"The fact that he had a career in the medical field, and then completely pivoted and opened up something that he was passionate about just speaks volumes."