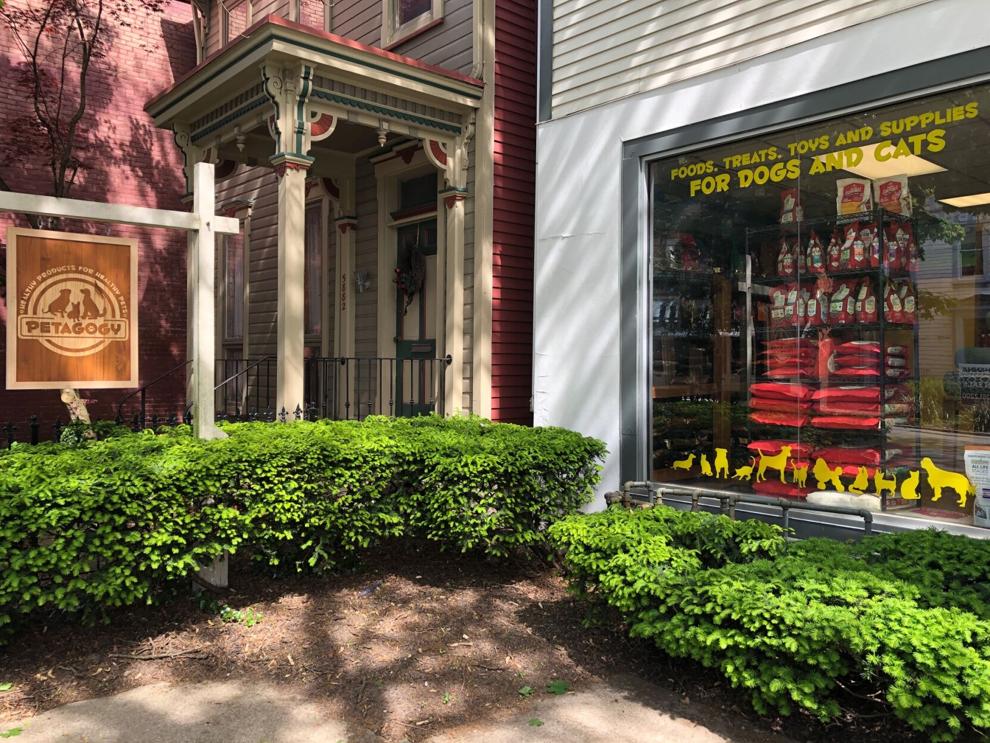 It's a familiar scenario. Good friends gather to share a leisurely evening of camaraderie, conversation and libations. Convivial banter leads to a bit of "what if" brainstorming. Schemes are tossed about, expanded upon, and then most likely filed away in the category of "someday" reveries to be resumed upon the next get-together.
Such was the case when Elsie Lampl and Ben Huber joined Cole Wolfson and Heather Blum for a backyard nip. Both couples had recently welcomed canine members to their family folds. Cole and Heather's corgi-Chihuahua mix, Deeka, rescued in 2010, and Ben and Elsie's Bumblebee, an American bulldog, and Jack, a labradoodle, were all blissfully ensconced at their respective domestic hearths.
On this particular evening, the pups' adoptive families bemoaned the lack of nearby establishments featuring high-quality pet foods.
"We were driving farther than we wanted to in order to purchase more natural, independent food brands for our dogs," Blum says. "Ben also had this idea that he wanted to make ice cream for dogs."
These thoughts posed the question: What if the two couples opened an independent pet supply store carrying premium foods and products in their suburban Pittsburgh neighborhood of Shadyside?
"I walked away from our evening thinking, 'Well, that was fun,' like everybody does after a conversation like that," Blum says.
The next thing Blum knew, her husband, Wolfson, a recent business school graduate and entrepreneurial spirit, had whipped up a business plan and discovered a space in Shadyside's shopping district that he felt would be the perfect fit for their venture.
"I thought, 'Wait, we're doing this? We don't know anything about running a pet store,'" Blum says. "We just dove in."
As a teacher, Huber christened the endeavor Petagogy—a play on the word pedagogy, the method and practice of teaching.
"As you know, everything in the pet industry is a pun," Blum says. "We think it's a great name."
Prior to the 2011 grand opening, the couples canvassed the neighborhood with door hanger announcements. A "Coming Soon" sign graced the soon-to-be storefront. As a result, pet-loving locals were primed to shop when the fledgling endeavor welcomed guests into 600 square feet of space.
"I was so concerned about keeping the doors open, but that first day we had great traffic flow, and have ever since, and I thought, 'OK, this is going to work,'" Blum says.
A diverse residential setting of homes and apartments, Shadyside is also adjacent to three major university campuses: University of Pittsburgh, Carnegie Mellon University and Chatham University. College and graduate students, as well as faculty members, reside in the area or work at nearby hospitals.
"It's a great urban neighborhood with tons of foot traffic," Blum says. "We have many daily visitors, including walkers who stop in for treats and water for their dogs."
Business flourished, amplifying the need for additional space. The opportunity to expand the footprint of the existing location presented itself when the adjoining tenants vacated. The landlords offered to break through the wall, and, by 2014, a more spacious 1,800-square-foot experience awaited Shadyside pet lovers.
"We didn't want to move, and our landlords graciously renovated the whole first floor of the building," Blum says. "We have been there ever since."
A second Petagogy shingle was hung in nearby Greensburg, Pa., in 2016.
"The Greensburg store was in a very different type of neighborhood than Shadyside, a more typical, suburban, strip mall type of location," she says.
In 2012, Allison Stetz, founder of Biggies Bullies rescue and Hungry Hippos Pet Food Pantry, came on board as one of Petagogy's first employees, bringing her own expertise to the mix. With the opening of the Greensburg store, Stetz joined the Petagogy partnership.
Spring 2021 found the concern relocating to the more desired downtown district of Greensburg, which has been undergoing revitalization.
"When we originally opened, we'd wanted to be downtown, but there were no spaces available," Blum says. "Then, Ben and Elsie bought a building there. We are excited because the foot traffic is similar to that of Shadyside."
The owners are strong supporters of pet rescue, so a satellite mini-store dubbed Rescue Re-Tail Powered by Petagogy began operations within the Humane Society Animal Rescue of Pittsburgh in 2018. The 300-square-foot undertaking features pet necessities for adoptive pet owners, such as collars, leashes, litter and litterboxes. In partnering with Fromm Pet Food, Petagogy is able to provide a coupon for a free bag of food, redeemable at the Shadyside or Greensburg locations.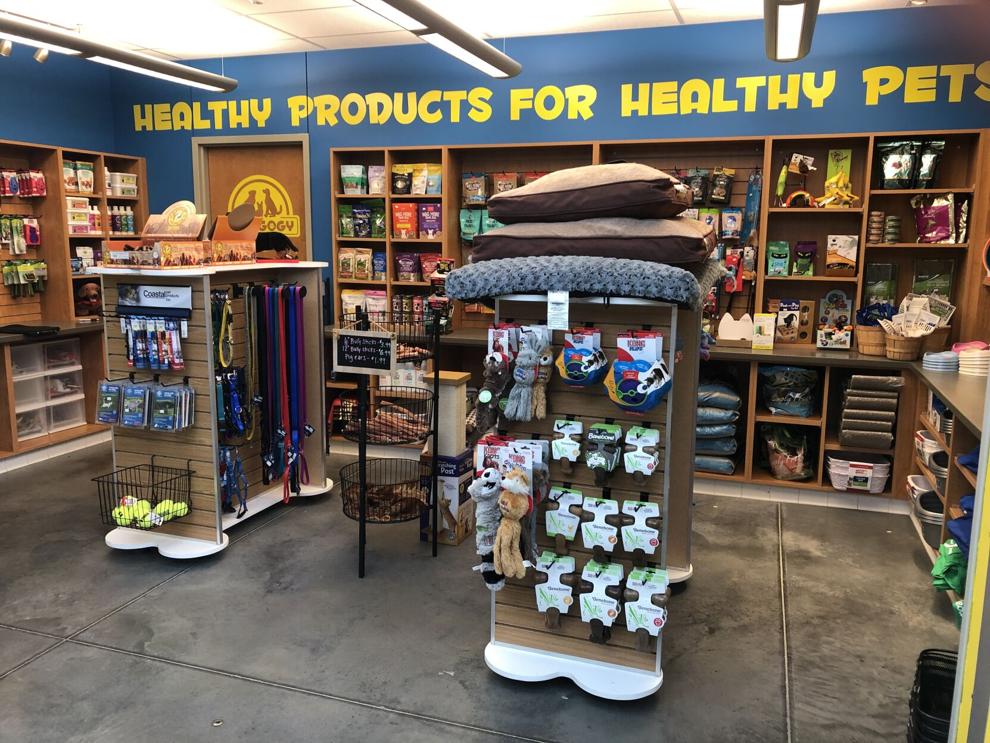 The two main stores are relatively uniform in their product mix of foods and pet supplies; however, the recently unveiled downtown Greensburg location features a self-serve dog washing facility and expanded bakery selections.
"The new store was like starting from scratch—the renovations basically took it down to the studs," Blum says.
While all partners are involved on some level, Blum and Huber initially served as hands-on owner/staffers and still do today, along with Stetz.
Blum noted that this owner presence is central to Petagogy's mission of offering a friendly, knowledgeable setting while melding into each community.
"We are owner-operated and form relationships with our customers; we know their names, and the names of their pets, [and] what they eat or what issues they might be experiencing," Blum says. "We want to be a neighborhood pet store, a resource and a member of the community."
This civic mindset proved advantageous during the uncertain times of a pandemic, and while Petagogy was deemed essential, and thus able to stay open, curbside service was put into place immediately and utilized exclusively during the lockdown.
"We didn't want our staff to feel that they were in an unsafe position," she says. "We don't have an online store, but our customers were so understanding and supported us by calling in orders. The moment we opened back up to a more normal way of doing business, everyone came back, 100 percent."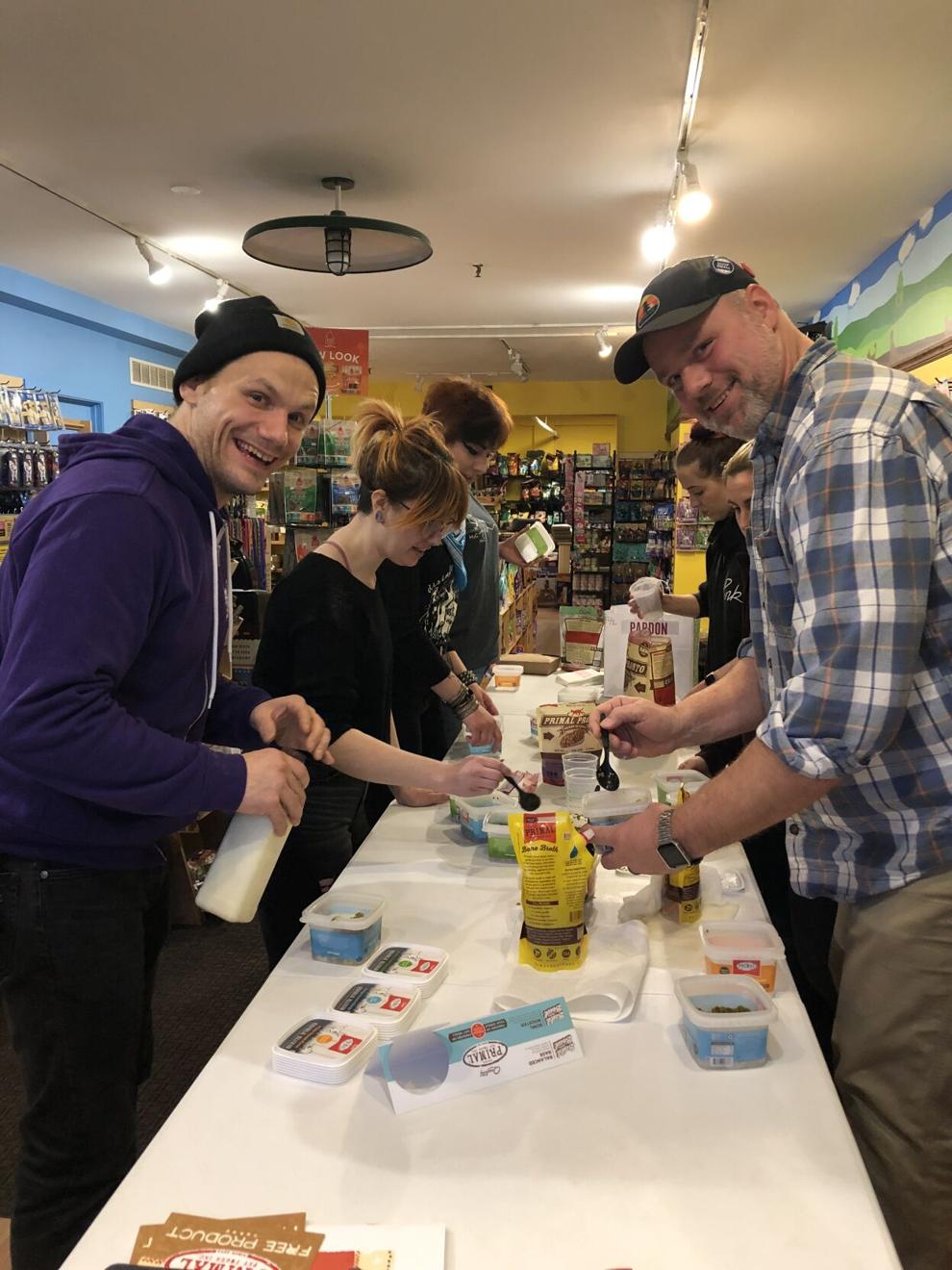 It Starts With a Conversation
Blum cites Petagogy's warm and hospitable customer service as an essential element to its loyal customer base.
"We take time to talk to our customers, and check in while they are shopping to see if there are questions or issues we can help with," she says.
Well-trained staff members embrace this credo and appreciate the value of conversation.
"The ability to get in front of people and discuss our product selections is the No. 1 thing that sets us apart from a big-box or online retailer," she says.
Sales associates often come to Petagogy with familiarity in pet care, such as retail, dog day care or rescue experience.
"They may not have a strong background in nutrition, but that is something we can teach," Blum adds.
Besides on-the-job mentoring, employee education includes online training modules and, pre-pandemic, it included in-store workshops presented by manufacturer representatives.
To further assist customers in their quest for knowledge, a blog, available on the Petagogy website, covers a range of informative topics. The Petagogy Paws Club's monthly newsletter furthers this aim, where members also accrue loyalty points toward discounts and receive coupons throughout the year.
The newsletter spotlights events and discusses pet issues such as flea and tick season, calming products for Fourth of July celebrations or grain-free concerns. Blum adds that during the isolation brought on by the pandemic closures, questions from homebound pet owners regarding behavior and training issues rose to the forefront.
"More now than ever, people are on their computers, so even if we might not have time to discuss a situation in-depth, this is a resource they can be referred to," Blum says.
True to the original concept, Petagogy's focus on natural foods and treats embraces smaller, independent or local brands that might not be found elsewhere.
"That's the reason we opened, to offer products that are not at your local grocery store," Blum says. "As the pet industry changes, some of the items that we originally started carrying can be found in more places."
While many of these products are still stocked, offerings are systematically revised, with innovative, up-and-coming brands joining the inventory.
"It's an evolving business. There will always be new brands down the line," Blum says. "We try to keep the mix fresh, and sometimes that means we have to take a break from something we've been carrying for a while as we cycle products in."
Unique, niche items are sought-after additions to the product assortment.
"Many of our small independents make fantastic products literally in their home," Blum says. "If I see a product and think it's cool, I'll bring it in."
Besides browsing an eclectic array of pet supplies, pet owners select from a wide range of high-quality raw, kibble, canned, air-dried, freeze-dried and dehydrated natural foods. Locally created goodies join the assortment of treats and chews.
Blum emphasizes the importance of one-on-one dialogue when educating customers regarding pet health and nutrition. Informational fliers further that aim.
"It's a gradual relationship. A lot of people come in and might be buying food in a big-box store or online, and that's OK," she says. "In their first experience with us, we'll put a flier in their bag and talk about ingredients in a general way. With the next visit, or even three visits down the road, they might mention they've been thinking about switching foods, and then the conversation starts, and that's really how we get people on board with our foods."
What about Huber's "what if" dream of creating doggie ice cream? It came to be.
"It's basically goat's milk and gelatin that he runs through a batch freezer, so it's like a digestive aid," Blum says.
Throughout the year, the furry set savors the toothsome delight, whether it's served plain or flavored according to the season, with pumpkin in the fall or peppermint over the winter holidays, for example.
On special occasions, a topping bar is set up, and customers select delicacies such as dried chicken hearts, bone broth or bone treats to enhance a cup of canine ice cream. During COVID, an outdoor table was laid out, allowing pets to indulge in the open air with their people.
While bakery goodies are in the mix at Shadyside, the new, more spacious Greensburg location showcases an expanded array of delights, including birthday cakes, all crafted by a local baker.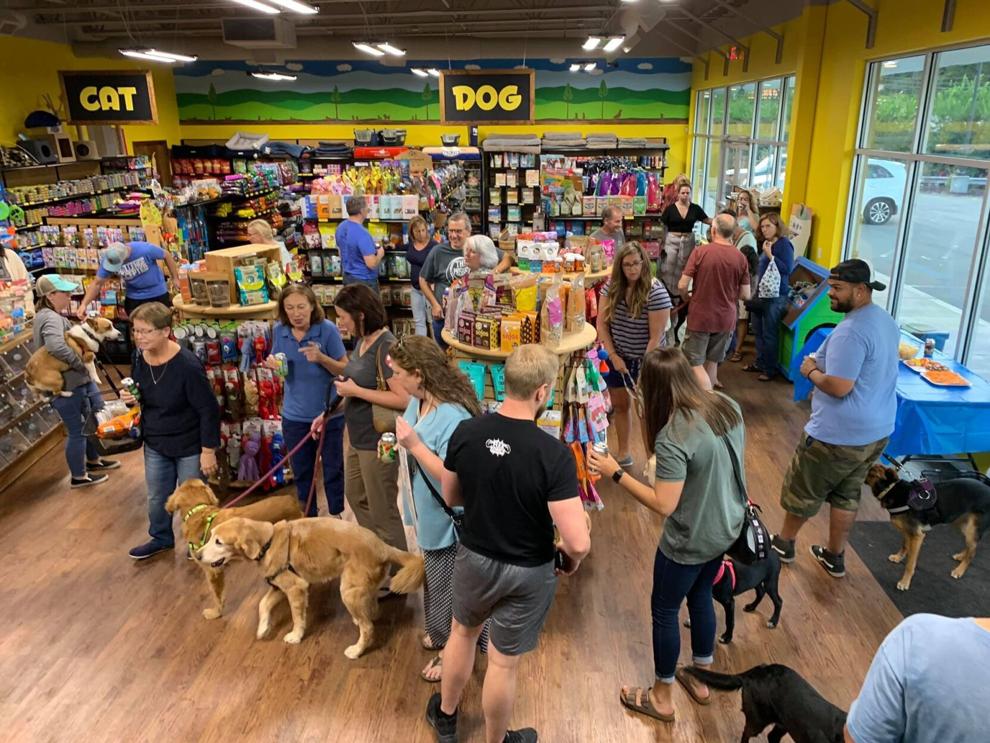 It Takes a Village
Community forms the core of Petagogy's principles. That aim is furthered through participation in the Chamber of Commerce and other downtown business organizations and activities.
For example, when Pittsburgh area restaurant workers experienced hardship during the pandemic shutdowns, Petagogy joined Hungry Hippos Pet Food Pantry founder Stetz in providing pet sustenance.
"We partnered with Pittsburgh Restaurant Workers Aid, a mutual aid organization, to provide a weekly pet food order specifically benefitting restaurant workers during those difficult months," Blum says.
Annually, a food drive takes place in December to benefit the Humane Animal Rescue of Pittsburgh. For every pound of food purchased that day, an equal amount is matched by Petagogy and donated in support of homeless pets.
"We try to make it as easy as possible for the community to donate," she says.
Petagogy's Anniversary Pawties are a customer favorite. Feting the opening of each location, the outdoor bash imparts a festival-like vibe, alive with vendors passing out samples and information, nail trimming and even a pet photographer.
"Those are always big annual events for us," Blum says.
To minimize social gathering, the celebration was adjusted in 2020, with the revelry spread out over two weeks. Daily product specials, a giveaway table of samples, an ice cream bar and a day of nail trims were on tap. Limited-edition reusable bags, free with each purchase, depicted store logo dogs, Deeka, Bumblebee and Jack, sporting masks.
"We tried to stay on theme," she says.
The event was renamed the "Customer Appreciation Celebration." To avoid conflict, the Shadyside event took place in June, with Greensburg celebrating in the fall.
"We didn't want to hold them too close to each other," Blum says.
When the holiday season rolls around, photos with Santa is a standout event. Huber creates imaginative photo backdrops, and dons a Santa costume to pose with pets and their people
"For our Santa photos, Ben is sort of a one-man show," Blum says.
True to his teaching background, Huber's elaborate scenes follow a consecutive timeline, and when placed in a pet photo album, a story emerges. For instance, one year featured Santa in his workshop, followed up a year later by the jolly old elf readying his sleigh, and later hitching his reindeer up.
"It's a pretty elaborate story," Blum says.
During the height of COVID crisis, this customer favorite was modified, with pet owners lining up outside in socially distanced order. Pets posed solo.
"In past years, we had families in the photos as well, but due to COVID, we photographed pets only," she says. "At our Greensburg store, we walked pets to Ben, and our fantastic photographer, who is so quick, took the photo. It worked out really well."
Unfortunately, due to a surge in COVID-19 cases, Allegheny County shuttered businesses three days before the Shadyside photo session was to take place.
"Out of an abundance of caution, we decided to cancel our event," Blum says.
Quarterly Yappy Hours are another well-loved happening that will resume when folks can congregate once more. Held in-store, local pet rescues supply the bartenders, and a tip jar collects monies designated for the participating entity.
"We also donate 10 percent of the sales made during the event to the rescue," Blum says.
Petagogy's objective of supporting local business focuses on introducing shoppers to Shadyside or Greensburg shopping districts. This spotlight is underlined by a love of the pet community and beyond.
"We are a small, family-owned business; our neighbors have seen our families grow, and we have seen them grow their families, both human and animal," Blum says. "Shoppers coming into Petagogy might dine at the restaurant next door, or stroll down the street to the antique store. We want to support the other small businesses in our neighborhood."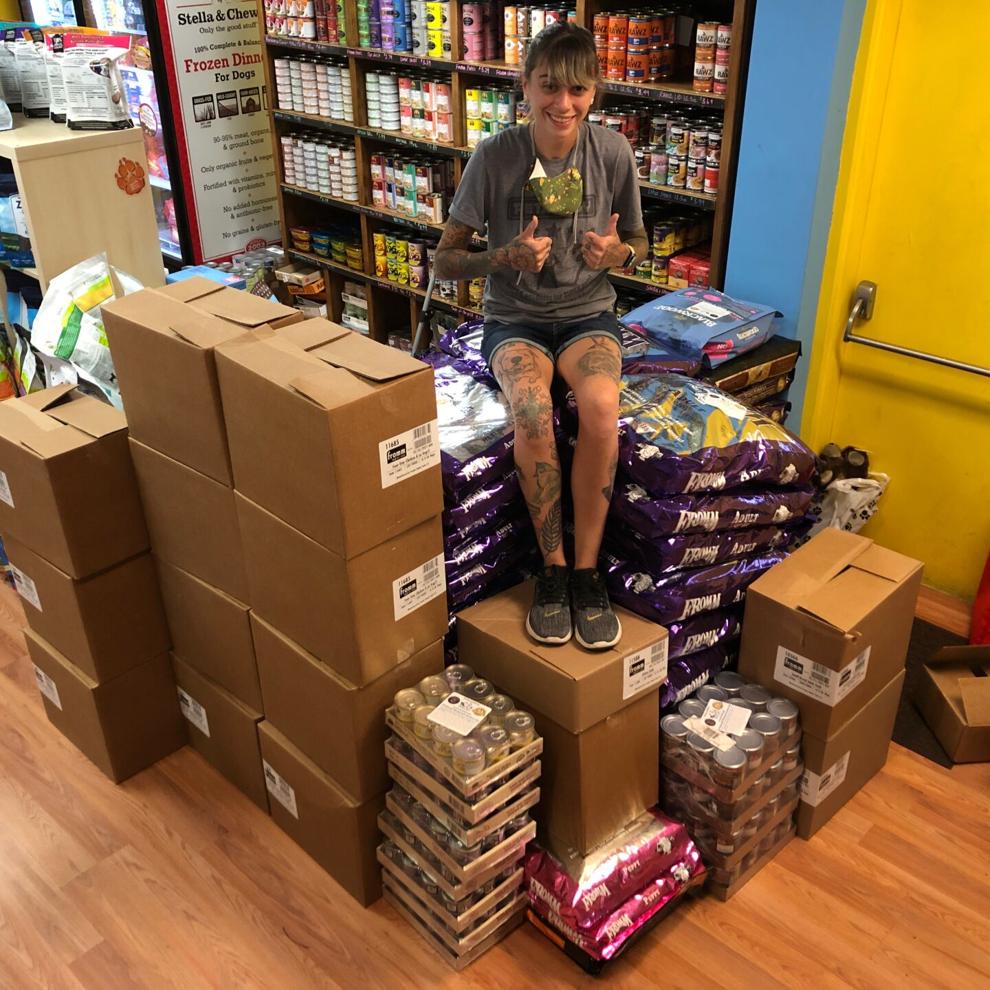 ---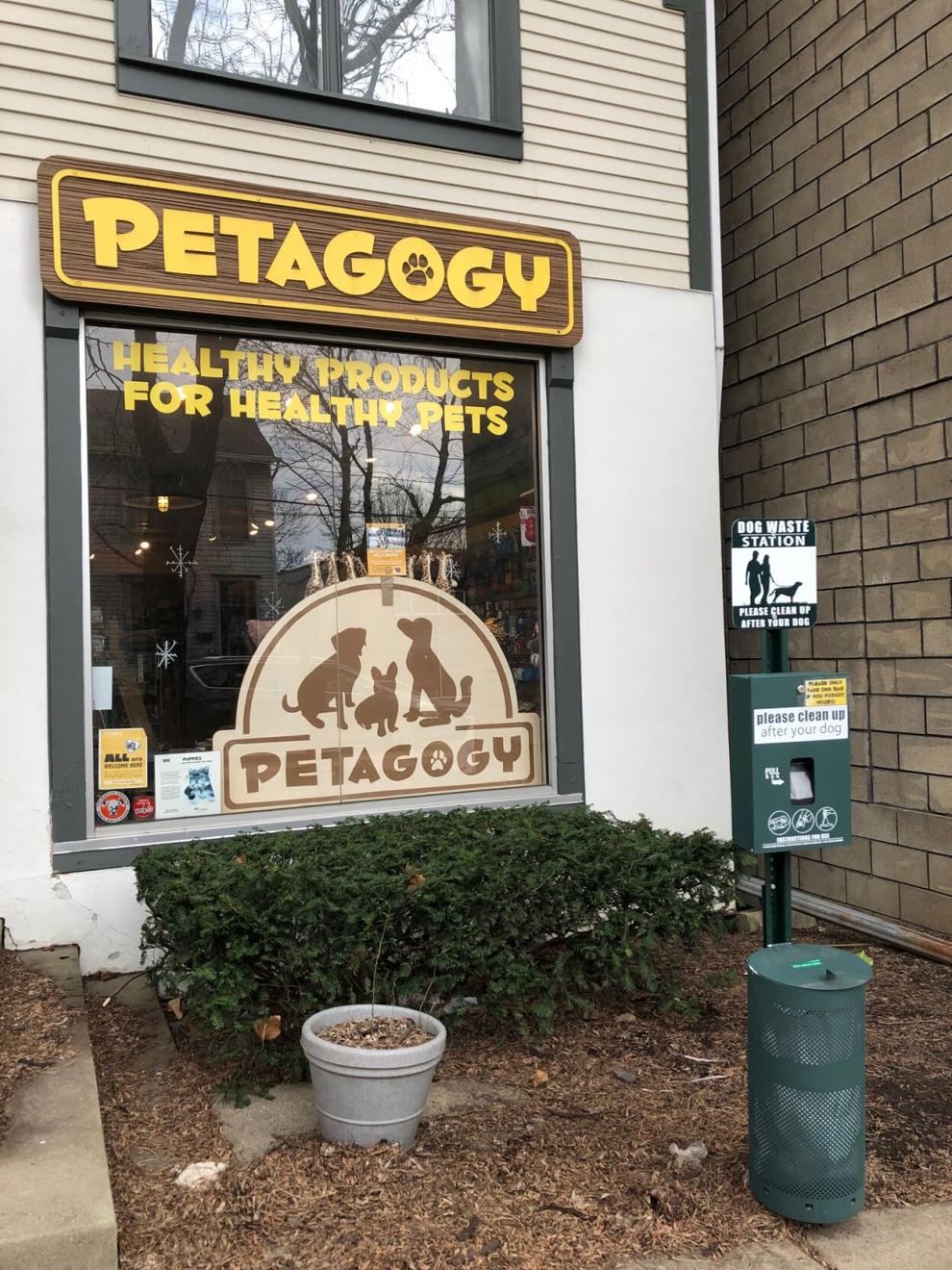 Petagogy At a Glance
Partners: Heather Blum, Ben Huber, Elsie Lampl, Allison Stetz and Cole Wolfson
Locations: Shadyside, 5880 Ellsworth Ave., Pittsburgh; Greensburg, 6150 Route 30, Suite 300 Greensburg, Pa.; Rescue Re-Tail Powered by Petagogy within the Humane Society Animal Rescue of Pittsburgh, 6926 Hamilton Ave., Pittsburgh
Number of employees: 2 full time, 1 part time
Years in business: 10
Square footage: 1,200
Website: petagogy.com
Products and services: Natural cat and dog foods and supplies, Rescue Re-Tail Powered by Petagogy, bakery, adoption days, curbside service, self-serve dog wash, educational newsletter, fliers and blog, fundraisers
---
It's a Retail Life 
What is Petagogy best known for?
Heather Blum: Our superior customer service, events and, of course, our dog ice cream.
What is the greatest challenge for the independent pet retailer?
Blum: Staying relevant and changing with the times.
What is the greatest challenge for the pet industry overall?
Blum: Understanding what pet owners are really looking for and making sure that everything put out there is useful. We can create for the sake of creation, but it's important to make sure there's a benefit to the pet owner.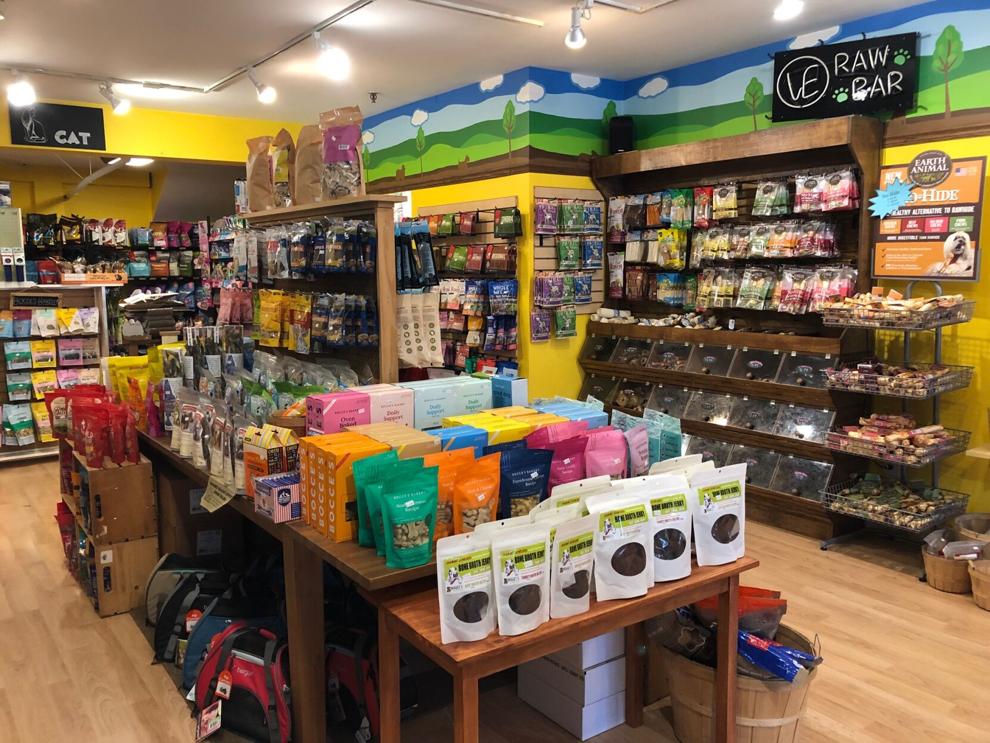 Are you watching any interesting trends?
Blum: Enrichment and purposeful playtime is a trend that is continuing to explode with products designed to keep pets' brains going.
What do you see for the future of Petagogy?
Blum: We will keep doing what we do in the best way that we can. Our new location in Greensburg is our latest endeavor, but we just want to keep engaging with our customers and ensuring that Petagogy is a fun place to be.
---
Friendship, Succor, Community Spirit
Kate Bahl discovered Petagogy by happenstance.
"I really sort of stumbled upon Petagogy shortly after they opened while out on a walk with my dog Milo," she says. "Ben Huber was the first person I talked to. He owned a bulldog, and we talked about bully rescues. From that conversation, I kept coming back."
Milo, a Rhodesian ridgeback/pit bull mix, suffered from allergies. The Petagogy crew suggested a kangaroo food formula, and Milo's health flourished. Bahl lost Milo in early 2020, and Gus joined the family later that year. Not only was the abused pit bull mix severally underweight, he was deaf and suffered multiple issues, including skin allergies and lumbar arthritis, which responded to treatment with cannabidiol (CBD) oil.
"Just by figuring out his diet, the transformation from how he looked when I got him and how he looks now has been crazy," Bahl says.
It's this attentiveness to the individual needs of each pet that Bahl appreciates.
"Just feeling like someone knows you and cares about what you are doing with your dog is wonderful," she says. "They are invested and excited whenever they see progress."
Petagogy's community involvement is another plus.
"That's the second layer. I really like that Petagogy is a small business and active in the community," she adds. "A magnetic wall in the store posts community fliers, and the Petagogy Facebook page is active, for instance, people missing dogs or food recalls, even if it is a product they don't carry, the information is reaching people."
Support of independent and local pet businesses is another factor valued by Bahl.
"They stock treats and other products crafted by local people," she says.
But it's Petagogy's personal touch that keeps Bahl coming back.
"My best friend's dog, Ellie, was diagnosed with terminal renal cancer. Ellie was also dog reactive, so it was difficult to bring her to the store during normal business hours," she says. "Heather and Allie had us bring Ellie in after closing one night so she could pick out treats without other dogs around."
Bahl's own Milo was also dog reactive, and when it came time for Santa photos, an early, pre-opening appointment time was arranged so Milo, too, could pose with St. Nick.
Even though Bahl is no longer a Shadyside resident, this personal touch keeps her coming back to Petagogy.
"I know everyone's name, and they all know my name. Where we used to just pop in while out on a walk, now we are popping over for specific items, but everyone still remembers us," she says. "I go in there to talk and get ideas, and they are always so helpful with suggestions."