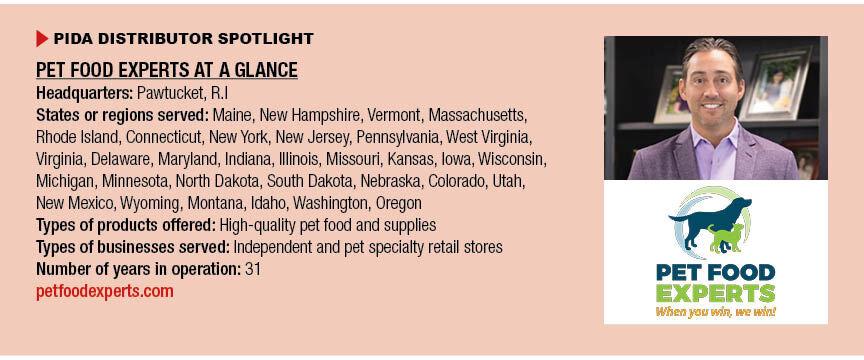 What's the secret to your company's success? 
The real secret to our success is not a secret at all—all of it is all thanks to our people. Everyone in the PFX family is aligned around the same goal, to support independent pet retailers. We work hard to cultivate strong relationships with our customers and vendor partners. These relationships allow us to work together better and consistently offer the best service in the industry. Our customers and vendors know and trust that we will support their business and help ensure that they succeed—even during a global pandemic.
On your website, it says, "Pet retail is complicated. We can help with that." Tell us what you mean and how you assist independent pet specialty retailers in an ever-more competitive market. And have you been offering any special programs or assistance for your retailer partners during the COVID-19 pandemic?
With more than 80 years of experience as an independent pet retailer and 31 years distributing pet food and treats, my team and I are uniquely qualified to understand the challenges that retailers face today, simply because we have lived through them ourselves. Our industry has never faced a challenge like COVID-19, and like everyone else, this pandemic has turned our world upside down. This is why it is important that we continue to provide the uninterrupted service and additional support our retailers rely on to guide them through these complicated times. 
In terms of picking and delivering orders to customers during COVID-19, our operations and transportation teams have implemented new practices to help mitigate the current health risks and keep retailers stocked and ready to serve their local communities. This includes adjusting lead times to improve our order fill rates and picking accuracy, dropping pallets outside of stores to maintain a safe distance and increasing sanitizing procedures. We have also implemented "hero-pay" for all of our frontline workers in the distribution centers including our amazing PFX drivers. We continue to be inspired and humbled by the risks they are taking every day to serve our retailers.
We also understand that maintaining open lines of communication and sharing information is the best way to dispel any fears and provide retailers with the tools needed to adapt to these fast-changing circumstances. In that spirit, we have held several live webinars, deemed "fireside chats," in an effort to keep viewers informed and inspired.
I have been blessed to invite several special guests from across the pet industry to highlight helpful tools, resources and inspirational stories in an effort to keep spirits high. These webinars have been well received by our retailer and vendor partners, and we fully expect to continue hosting these fireside chats through the duration of this health crisis.
In what ways has Pet Food Experts leveraged technology to meet the evolving needs of its retailer partners and to improve the service you provide? 
Over the years, we have heavily invested in technology to help ensure our customers get the best-in-the-industry service they expect. Like our voice-activated picking solution, Lydia. However, during these uncertain times, we have pivoted a bit to help our friends at eTailPet.
Although the shift toward online shopping has been gaining traction for years now, this pandemic has only amplified the need to offer consumers an omnichannel shopping experience. Let's face it: Right now, even the most loyal pet parents are stuck at home. In this time of social distancing, more and more pet parents are turning toward online shopping options in order to get what they need, and it is important that independent retailers jump on the opportunity to fill that void.
We recently surveyed a select group of retailers and have concluded that stores with an e-commerce option to help supplement curbside pickup and/or home delivery are doing exponentially better than retailers that are just taking orders over the phone to do the same. Specifically, stores that use the eTailPet platform.
eTailpet offers small business owners an affordable and completely customizable online storefront allowing independent pet retailers to connect with customers online and on mobile, reap the benefits of those extra sales, and continue to get products out to their local community. [Recently], we have fully trained and transitioned our 28-person outside sales team to assist the small team at eTailPet with onboarding customers and setting up retailer websites to be able to start selling online in just a few days' time.
Both our team at PFX and the team at eTailPet are dedicated to empowering the independent pet retailer community with the tools, knowledge and support they need to be successful in this omnichannel space. 
What would you say are the top trends retailers need to keep their eye on in the second half of 2020?
Overall, it seems that 2020 will be a year of unknowns for us all, so it is tough to say what may be "trending." It is difficult to predict how [COVID-19] will shape our industry in the months or even years to come. What I am sure of is that all of us, both manufacturers and distributors alike, will continue to steadfastly support independent pet retailers however we can. This will surely change our world forever, but the reason we all work to support retailers, and thus the pets of our nation, will only be strengthened by this experience. 
Now more than ever in our history we must stand together as an industry, as pet lovers and as human beings.