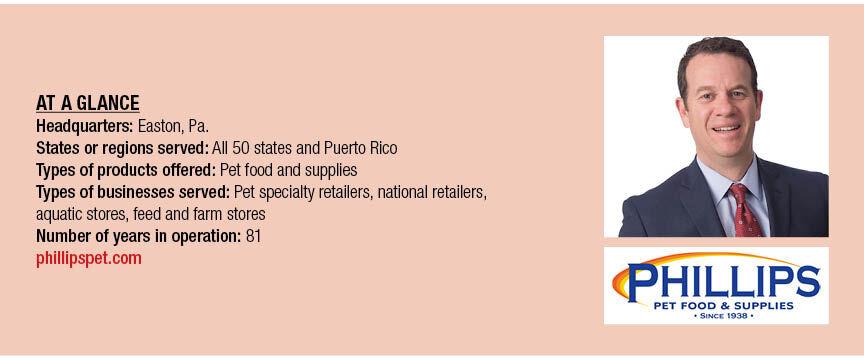 What is the secret of Phillips' success?
Phillips Pet Food & Supplies began as a local feed store in Pennsylvania and has evolved to an industry-leading distribution platform that serves pet specialty retailers. Our local distribution centers and national drop shipment capabilities are well positioned to meet the evolving needs of pet consumers. We listen closely to our retail and brand partners for insights into capabilities they need to meet consumer expectations and have invested accordingly to keep our business competitive and viable. 
Our recently completed Midwest Unification Project is an excellent example of new capabilities and investment in support of our retail and brand partners. Phillips created a hub-and-spoke model across four Midwest distribution facilities, offering a larger assortment of products to local customers on a daily basis with a single delivery. We expect to replicate this capability across our network.
As a distributor, what role does Phillips play in helping to support the growth of pet specialty retailers and the pet industry in general?
While pet specialty is evolving rapidly, neighborhood pet retailers are well positioned to delight consumers with their local presence, informed staff, product availability and with 24/7 access online. Distributors like Phillips provide market access for new and innovative brands and make it cost effective for retailers to access a broad assortment of products. 
We also work with retailers to address changing consumer behavior and compete in an increasingly digital marketplace. We help brand partners inform retailers of new brand offerings, and we track sales performance through proprietary tools like SwitchBoard. We offer our independent pet customers Endless Aisles, which has a web portal to place special orders in-store and an option for e-commerce integration. Our partnership with Promoboxx for Endless Marketing makes it easy for brands to tell their story to retailers and, in turn, for retailers to share the brands they sell through social media.
Phillips believes it is our role to understand consumer trends and develop capabilities that enable our partners. An example is to adapt our Intentional Assortment of products to reflect local, regional and national trends. We then help our brand partners focus their resources on the most logical and relevant markets.
Tell us about Endless Aisles.
Endless Aisles was launched in 2017 for neighborhood pet retailers to extend their product offering beyond their shelves. Endless Aisles is an e-commerce solution for neighborhood pet retailers that offers complete online solutions or simple special ordering at the point of sale, with shipments sent directly to consumers. Retailers have the opportunity to make every sale when they have the best product assortment in their stores and an expanded inventory of 10,000 SKUs with Endless Aisles.
In 2018, we added Endless Marketing in partnership with Promoboxx. Endless Marketing is a digital marketing solution that offers social media content in a simple, easy-to-access portal. With just a few clicks, retailers can select from a social media campaign dashboard, customize the content to their local markets, and post it immediately or schedule it for later. A dashboard on consumer engagement is available to participating retailers so they can make the right marketing decisions for their businesses. Helping our brands and retailers tell their story is another way we help our partners succeed.
More than 375 retailers are using Endless Aisles, shipping more than 1,400 orders per week. Average orders are nearly $70, with the retailer making an average of $10 per order. All are billed on their standard Phillips account. Our investments in Endless Aisles and Endless Marketing are early examples of how Phillips is helping pet specialty compete in the digital world!