Pet owners stepping into a Cool Dog Gear store expect the extraordinary and know their canine companions will delight in a well-rounded sensory experience.
As such, the store's owners adopted a mouthful of a mantra: "The Different—Hard to Find—Awesome—My Dog Can't Destroy This—I've Never Seen This Before—This Is So Cool."
"That motto is literally right out of the mouths of our customers," says Sue Hepner, co-owner of Cool Dog Gear. "In our first year, these were common comments, and it's still true eight years later."
Hepner and co-owner Paula Jaffe opened Cool Dog Gear with a vision of offering expanded play and healthful options to dogs. Today, their concern embraces human and animal customers alike in a welcoming, family-oriented environment, topped off with an emphasis on education.
"If you go to a big-box store, it's all about selling, they don't help out with education," Hepner says. "We want to be appealing, to be there to help everyone and to make a difference in the lives of pets."
With a shared love of animals in common, each woman contributes unique talents and backgrounds to the company. Hepner's retail experience in management for a large pet store chain, combined with her athletic training as a dragon boat crew member, melds well with what Jaffe brings to the table. Jaffe, a retired inner-city special-education teacher, recognizes the value of patience and guidance.
In 2010, Cool Dog Gear began welcoming Montgomery Mall shoppers in North Wales, Pa. Six years later, a second store opened its doors to patrons of Oxford Valley Mall in nearby Langhorne, Pa. 
Setting up shop in mall locations was a strategic decision, and the boutiquelike atmosphere beckons human and canine visitors alike.
"We saw it as a way to grow a bit quicker, and, in my opinion, we get a lot more exposure in a mall," Hepner says. "There's a wider variety of customers than the big boxes. Professionals, such as veterinarians and trainers, have found us because they also shop in the mall."
It's a blueprint for success. In October 2017, the first Cool Dog Gear franchise opened in Plymouth Meeting Mall in Plymouth Meeting, Pa., with owner Kelly Klusman at the helm. Klusman brings her own retail background to the effort. 
"We are all basically working owners," she says. "I typically hang out at Oxford, Paula at Montgomery, and Kelly is at Plymouth."
A smaller satellite store, opened in 2017, is sited at a local grooming salon, offering a limited selection of treats, gifts and pet apparel. Additionally, during Labor Day weekend this year, Cool Dog Gear launched a pop-up location at a local outdoor outlet mall. The holiday served as a location test-run. 
"A lot of tourists visit that mall," she says. "If nothing else, the pop-up served to get our name out there a little more."
Pets are welcomed at each store, and four-legged shoppers enter through specified mall entrances with their owners. 
"People think it's really cool that they can bring their pet with them to the mall, and it also provides unique exposures for the dogs," she says. "That's something we negotiated in our leases."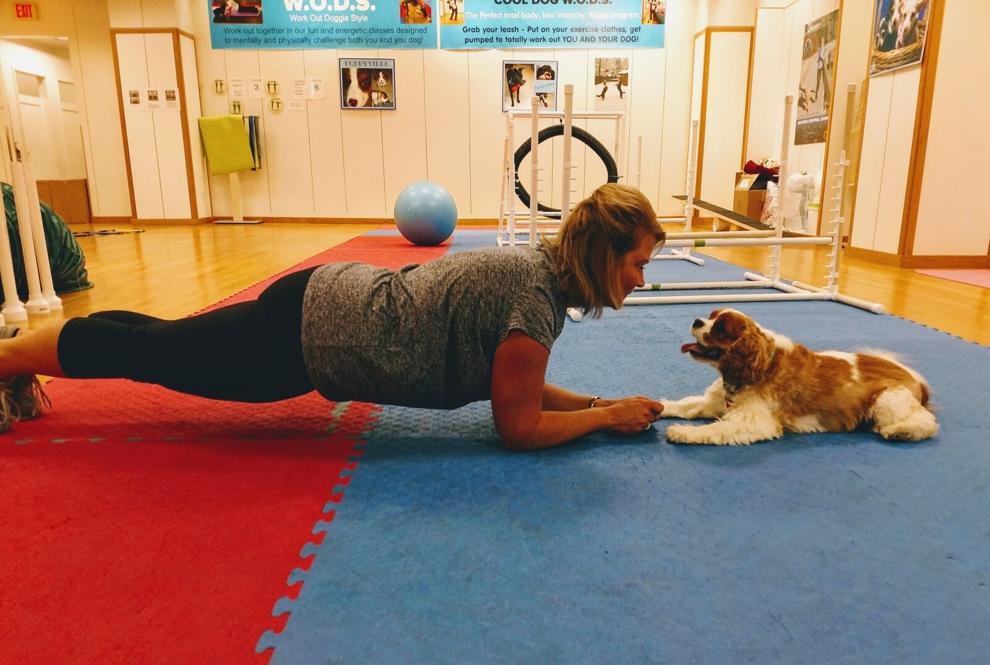 A Team Workout
Aside from the socialization prospects posed by a mall outing, the access enables dogs and their owners to participate in a key component to the Cool Dog Gear experience. "Work Out Doggie Style," or WODS, is a total-body fitness program allowing dogs and their owners to exercise and play together in a fun, supportive environment.
"If an owner takes their pet to doggie day care, it is engaging in play with other dogs," Hepner says. 
As a dragon boat crew member, Hepner spends plenty of time in a gym. Coming home, tired from a workout, she noticed her own dogs craved playtime. She recognized the value of a gymlike atmosphere geared toward both dog and owner exercising as a team.
"So, I decided to create something," she says. "We offer a 45-minute program for dogs and owners to work out together."
The WODS canine agility course provides a spirited challenge that is both mental and physical. Obstacle navigation may be creative at times, but pup participants are rewarded with a sniff in a kiddy pool full of balls, where treats are hidden.
"The average pet owner might be intimidated by an agility course, so we offer stations without the rules and intensity," she says. "If a dog doesn't want to do it, it's no big deal."
Hepner sought the expertise of a retired gym teacher to assist in the creation of the human exercise course.
"We have people who jog or walk, or we will rotate between laps and maybe weaves with their dog," she says. "We might do kettle ball, jump rope, wall sits or use resistance bands." 
While their owners are exercising, dogs are content to watch and catch their breath.
The one-on-one, low-key format is scheduled by appointment, and requires no contract. 
"We opted not to do membership packages because life gets in the way, vacations happen, kids happen," she says. "It's about trying to do the right thing for the dog and the pet parent, and making sure it's workable."
Hepner, Klusman and Jaffe serve as coaches, along with associate instructors and trainers who help maintain a busy schedule at each location. Hepner noted that serving in this capacity offers its own rewards.
"The magical moment is seeing the proud smile on a dog's face when praised for doing a good job through the weaves, for example," she says. "The dogs are happy, and that's the win." 
The workout ends with a little ball play.
"We move all the stations and just throw the ball; it leaves the workout on a good note," she says. "A dog might be worn out after the exercise, but they remember that they played ball and had a good time."
When it comes time for a little serene enlightenment, a yoga instructor and dog trainer teach the Yoga Zen Dog classes in tandem. Pet owners learn to relax their dogs through massage and other techniques.
A certified dog trainer is also available to assist pet owners with behavior challenges or with a new puppy. 
"It's another way to make a difference in the life of a dog," Hepner says. 
In this way, the Puppy Concierge Program allows a pet owner to take advantage of the services of an expert in the privacy of their own home. Guidance includes puppy proofing the home, suitable toy recommendations, assistance with crate training, and mentally stimulating game selections and coaching in their use.
"If a pet parent is not happy with their dog or puppy's behavior, we want to help," she says. "At the end of the day, if we don't, that dog might go back to the shelter."
Along these lines, puppy socialization classes, held in-store, expose youngsters to new people and novel surroundings as they play, mingle with their peers and take part in exploration activities.
Promoting good behavior through mental and physical stimulation is the foundation of the Cool Dog Gear credo. 
"We are really big into mentally stimulating games, such as puzzles, that people don't normally see," Hepner says.
As a result, veterinarian and trainer referrals are common, as is finding those same dog trainers shopping for items not normally found elsewhere.
Customer requests for products are honored willingly. 
"It's as simple as asking us," she says. "If it's realistic for us to bring it in, we will."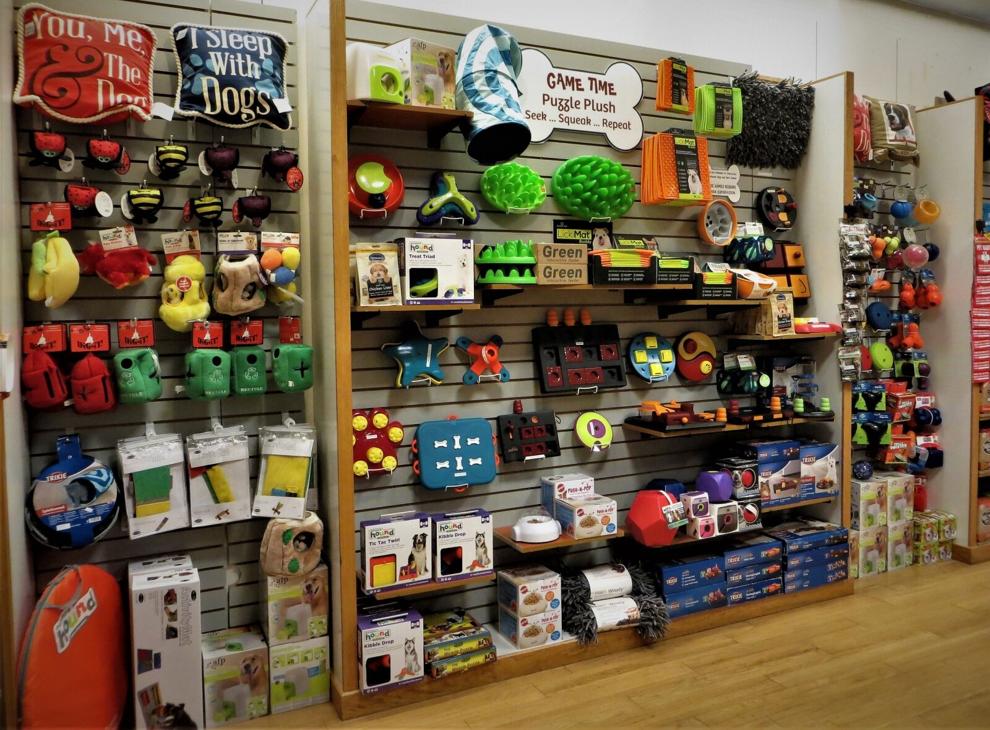 Toys and treats, for both dogs and cats, spotlight the unusual and the healthful with an emphasis on USA-made and locally sourced goodies. For instance, a locally sourced marrow bone, which has been smoked on a barbecue for 12 hours, is a sought-after goodie for the canine set.
"It adds crazy flavor and makes it harder for the dog to chew, so no pieces break off," she says. "We do really well with treats."
Decorated, USA-sourced-and-made bakery cookies are displayed on open trays, allowing customers to make their own selections. 
"We carry a lot of treats made in Pennsylvania," Hepner says. "But we take it one step further and try to shake out independent manufacturers that actually source and make their product in Pennsylvania."
These items are displayed in a special "Made in Pennsylvania" section.
"The more local, the better," she says. "Our customers appreciate that."
Cool Dog Gear customers are celebrated at the All About You event, which takes place in early November. Shoppers enjoy pre-season discounts, snacks, games, prizes and a good time. 
"It's like a pre-Christmas party," Hepner says.
The holiday spirit continues during Pet Night, where festive animal celebrants pose with St. Nick. 
"We keep the store open after the mall closes," she says. "Our customers come in and dress their dog up for a photo with Santa." 
People Make the Difference
Education is fundamental to the Cool Dog Gear experience, and staff members are considered resident experts.
"Education is huge," she says. "Our customers are pretty comfortable with our staff and readily seek them out."
An outgoing personality paired with a passion for pets are sought-after characteristics in an associate. New hires learn the ropes by shadowing more-experienced employees and studying the product mix.
"We go through all the information, let them digest it and then go through it again," Hepner says. "It's a lot to take in."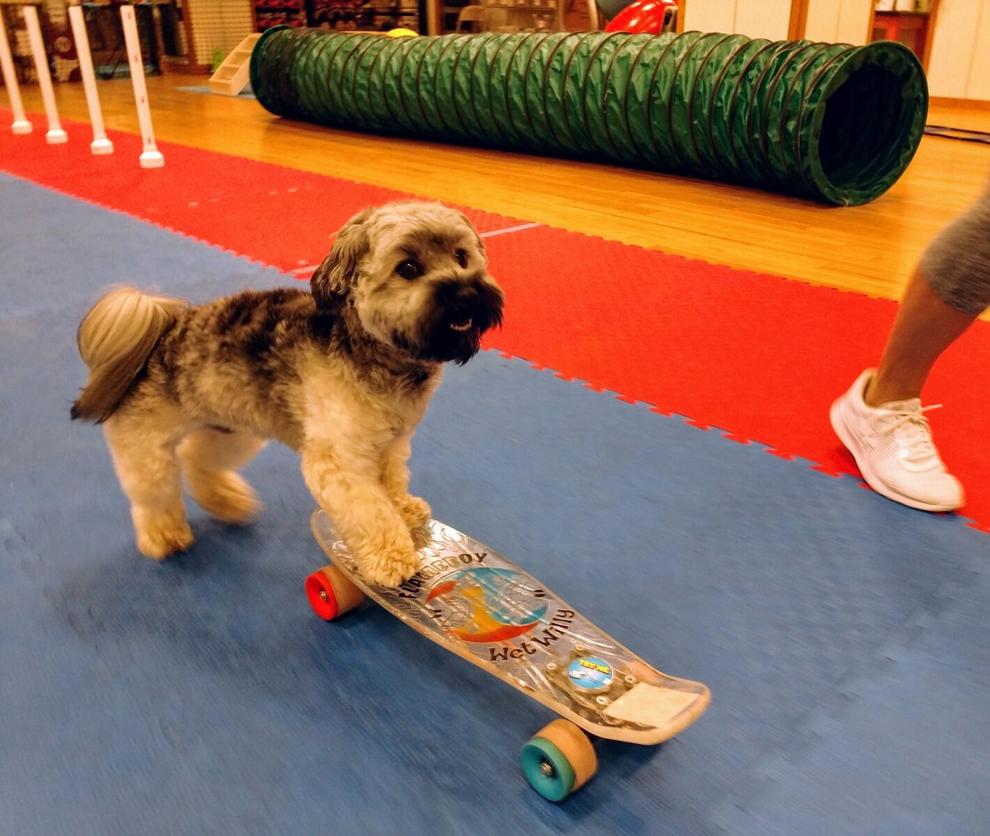 Once product familiarity is acquired, staff members take part in scavenger hunts. A list of questions might send an associate to USA-made toys or to treats addressing specific benefits.
"They go looking for a product and read the packaging to identify it and the light bulb goes off," she says. "We want them to see it, touch it, feel it and be comfortable with it."
Supporting pet rescue and adoption efforts is central to Cool Dog Gear's philosophy.
"We help support several local pet rescues, as well as shelters down south where the rescues pull their pups," she says. "Our mall locations make it a little difficult to host adoption days; however, we set up our tent at several rescue events, with a portion of the proceeds donated to the sponsoring rescue."
In addition, gift certificates and raffle baskets are contributed to pet rescues, as well as organizations such as local schools, scouting troops, churches and area hospitals.
As a cancer survivor, aiding area hospitals is near and dear to Hepner's heart. 
Cool Dog Gear participates in an annual sale held at Thomas Jefferson University hospital. Participating vendors set up booths, with a percentage of the proceeds tagged to support underfunded hospital programs.
"I did my treatments there, so it's our chance to give back," Hepner says. "We come together twice a year, in spring and before Thanksgiving."
The sale also benefits the hospital's canine therapy program. Besides funding, Cool Dog Gear provides tools and ideas to facilitate the dog's role in patient care.
"For instance, a patient undergoing hand therapy might mix a batch of dog ice cream and then feed it to the therapy dog," she says. "The power of having a dog involved is just amazing." 
It's a Retail Life
What is Cool Dog Gear best known for?
Sue Hepner: We are known for being different, for our cool items, our education and making a difference in the lives of dogs.
The biggest challenge facing pet retailers today?
Hepner: The online retailers. I don't know how they sell cheaper than our purchase price. What is really frustrating is seeing customers come in, look at a product, take a picture, and then pull it up on the internet, on the spot, to compare pricing.  
What challenges is the pet industry facing overall?
Hepner: Promoting pet health and keeping the dog as a family member as opposed to just a pet.
Are you watching any interesting trends?
Hepner: Made in the USA is increasing in popularity, and keeping it local is pretty big for us. Our customers like that.  
What do you see for the future?
Hepner: Hopefully more stores. We are relocating the Montgomery Mall location to a larger space, where we will be adding grooming services. However, we want to continue to be different and unique and have no interest in doing what everyone else is doing. 
A Heartfelt Endeavor 
Denise Machinia met Sue Hepner while both were on staff at a local big-box pet store. 
At the time, Machinia was the proud owner of two rescue dogs, Pyrrah, a Bernese mountain dog, and Buster, a black Labrador.
When Hepner left the big box to open Cool Dog Gear, her former co-worker was impressed with the unique product mix presented at the new endeavor.
"I was her first customer," she says. "The second the store opened, I was there."
Machinia remained a loyal shopper. She appreciated finding products that were not offered elsewhere and provided unique benefits that met the needs of both Pyrrah and Buster.
"I absolutely loved finding items not available at a big-box store," she says. "For instance, as my dogs aged, I was able to purchase a support sling at Cool Dog Gear."
The assortment of healthful, USA-made treats proved another draw, along with a selection of indestructible chew toys.
"Buster was a real chewer, and some of those toys lasted his entire life," she says.
Buster and Pyrrah have since passed, but Machinia still patronizes Cool Dog Gear, purchasing treats and supplies for her eight adopted feral cats.
"The store carries some great toys for my cats, along with treats, trees, scratchers and other supplies," she says. "It's a nice assortment of cat products displayed in a separate section."
Since those early big-box days, Machinia has opened her own store, Arts and Carafes Painting Party in Southampton, Pa. The entrepreneur often refers her guests to Cool Dog Gear.
"We offer a Paint My Pet class, so I am always hearing stories about people's pets," she says. "I send everyone there for the personalized attention. Cool Dog Gear absolutely has the best interest of the pet and pet parent at heart."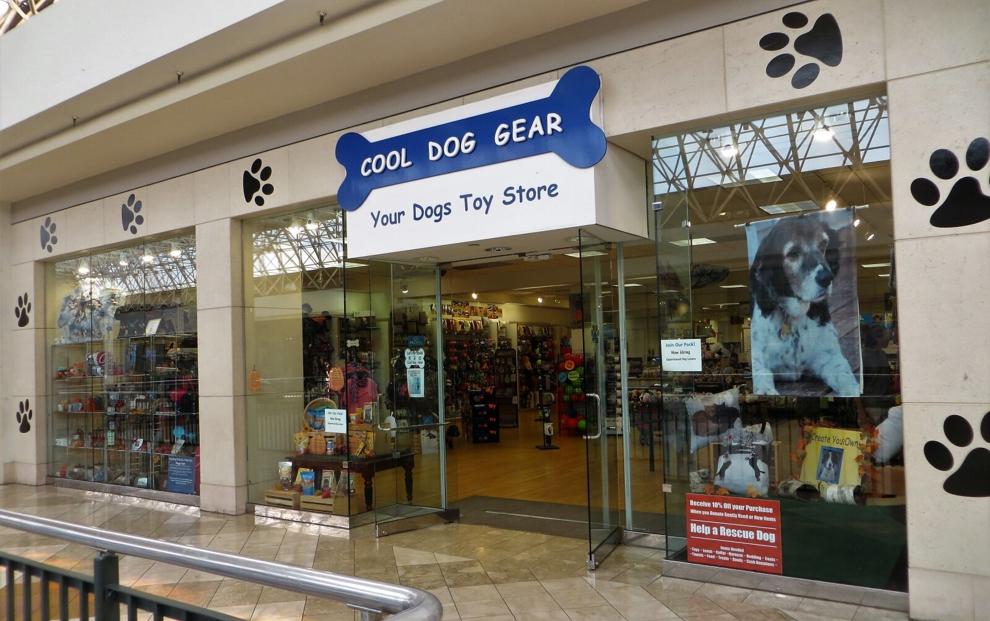 Cool Dog Gear at a Glance
Locations: 286 Montgomery Mall, North Wales, PA; 2300 E. Lincoln Drive #2608, Langhorne, PA; 500 W. Germantown Pike #2305, Plymouth Meeting, PA
Officers: Sue Hepner, Paula Jaffe, co-owners, and Kelly Klusman, franchisee
Number of employees: 18 part time
Years in business: 8
Average square feet: 2,000
Website: cooldog-gear.com
Products and services: Dog and cat treats, toys and supplies, USA and locally sourced products, mentally and physically stimulating games, 
Work Out Doggie Style, Puppy Concierge Program, puppy socialization, Yoga Zen Dog